Stand up for the facts!
Our only agenda is to publish the truth so you can be an informed participant in democracy.
We need your help.
I would like to contribute
On whether the United States should intervene in Libya.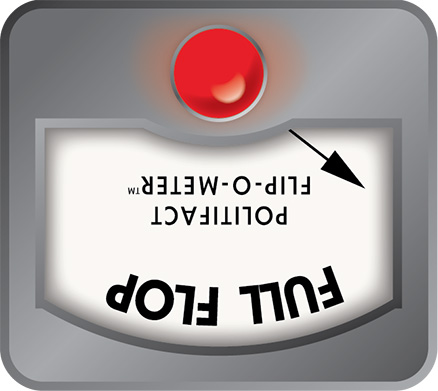 Newt Gingrich accused of flip-flopping on Libyan no-fly zone
United States involvement in establishing a "no-fly" zone over Libya has prompted widespread commentary among politicians and pundits -- not all of it consistent.

Yesterday, we looked at whether President Barack Obama had flip-flopped between a principle for U.S. military interventions laid down in 2007 when he was a presidential candidate, and actions he took this year, when he mobilized U.S. forces to implement a United Nations-backed no-fly zone targeting Libya's long-serving dictator, Moammar Gadhafi.

Now, we'll look at one of the candidates who may challenge Obama for the presidency in 2012 -- former House Speaker Newt Gingrich, R-Ga.

Seemingly contradictory comments by Gingrich about the wisdom of imposing a no-fly zone prompted a flurry of commentary on the Internet and on cable news shows. It got to the point where Gingrich felt he needed to address his apparent rhetorical contradiction in a Facebook post titled, "My position on Libya."

First, we'll look at the two comments that drove the questions about Gingrich's stance.
The first comment came during a March 7, 2011,  interview with Greta Van Susteren of Fox News. Here's an excerpt.

Van Susteren: "First let me ask you about Libya. It's in the news. The president has said that military options with NATO are not off the table. What would you do about Libya?"

Gingrich: "Exercise a no-fly zone this evening, communicate to the Libyan military that Gadhafi was gone and that the sooner they switch sides, the more like they were to survive, provided help to the rebels to replace him. I mean, the idea that we're confused about a man who has been an anti-American dictator since 1969 just tells you how inept this administration is. They were very quick to jump on Mubarak, who was their ally for 30 years, and they were confused about getting rid of Gadhafi. This is a moment to get rid of him. Do it. Get it over with. …

"All we have to say is that we think that slaughtering your own citizens is unacceptable and that we're intervening. And we don't have to send troops. All we have to do is suppress his air force, which we could do in minutes. And then we have to say publicly that he is gone, that the military should switch sides now, and we should help the rebels. And if that means getting them weapons or whatever it means, the fact that there's no more Libyan air power and the fact that the United States has publicly come out for decisively replacing him, I suspect the military will dump him."

Now let's look at the second comment that attracted attention. It was made during a March 23, 2011, interview with Matt Lauer on NBC's Today show.

Lauer: "Do you think Moammar Gadhafi has to go as a result of this military intervention?"

Gingrich: "I think that now -- let me draw a distinction. I would not have intervened. I think there were a lot of other ways to affect Gadhafi. I think there are a lot of allies in the region that we could have worked with. I would not have used American and European forces, bombing Arab and that country."

In the blogosphere, critics on both the left and the right charged that Gingrich had flip-flopped. The liberal blog ThinkProgress wrote that "there is no other reasonable explanation for Gingrich's complete flip-flop" than "opportunism and news media publicity." At the conservative blog site Hot Air, the anonymous AllahPundit suggested that Gingrich's comments amounted to a flip-flop and asked, "Is this anti-Obama pandering or just a big misunderstanding?"

We won't address whether Gingrich's position in either interview was accurate or justified. We'll only look at whether Gingrich changed his position between March 7 and March 23, and if so, whether any extenuating circumstances can help explain his shift.

In his March 23, 2011, Facebook post, Gingrich dismissed the notion that he had flip-flopped, arguing that the apparent contradictory positions in the two interviews were actually consistent.

Gingrich's argument hinges on a difference between what he would have liked to have done in theory, and what he felt he had to do given the actions Obama took. The key moment for Gingrich came on March 3, 2011, when Obama declared that Gadhafi had to go.

"Going forward," Obama said, "we will continue to send a clear message: The violence must stop. Moammar Gadhafi has lost the legitimacy to lead, and he must leave. Those who perpetrate violence against the Libyan people will be held accountable. And the aspirations of the Libyan people for freedom, democracy and dignity must be met."

Gingrich said in his Facebook post that prior to the March 3 statement "there were options to be indirect and subtle to achieve this result without United States military forces. … The president, however, took those options off the table with his public statement. From the moment of the president's declaration, he put the prestige and authority of the United States on the line. After March 3, anything short of a successful, public campaign for regime change would have been seen as a defeat for the United States.

"That's why during a March 7th Greta van Susteren interview, I asserted that the president should establish a no-fly zone 'this evening.' After March 3rd, the President should have moved immediately to consult with Congress to implement a no-fly zone, while also making it clear the U.S. would welcome involvement from other nations."

Gingrich concluded the post by reinforcing his support for the mission. "Now that we have U.S. forces engaged, any result less than the removal of Gadhafi from power will be considered a defeat," he said. "For that reason, I believe we must support the mission and see it through."

Gingrich has not persuaded us that his comments were consistent. The best evidence supporting Gingrich's explanation is that he did raise some of the themes from his Facebook post during the interview with Today. Gingrich reminded Lauer that "the president said on March 3rd Gadhafi has to go," and he raised the possibility that a  failure could be harmful to the United States' standing. "Having decided to go there, if Gadhafi does not leave power it will be a defeat for the United States," Gingrich told Lauer. "It will lengthen our engagement, it will increase our costs."

However, if Gingrich's position is that he was making two separate arguments -- a hypothetical one about what he would have done prior to Obama's March 3 statement, and a practical one about what he would do once the U.S. had crossed the Rubicon of advocating Gadhafi's ouster -- he didn't do a very clear job of explaining himself. In neither interview did he frame the arguments in that fashion. So we think it's reasonable for viewers to conclude that he'd flip-flopped on the issue of imposing a no-fly zone.

So where does this leave us? Gingrich has a point that Obama's March 3 declaration about Gadhafi had consequences, and if Gingrich had provided that context of his thinking in both interviews, he could have made a reasonable argument that the two statements were consistent. However, Gingrich didn't clarify his comments in that way until after he started taking heat for having flip-flopped. Because he didn't, we give him a Full Flop.
Newt Gingrich, interview with Greta Van Susteren on Fox News, March 7, 2011 (CQ subscribers only)

Newt Gingrich, interview with Matt Lauer on NBC's Today show, March 23, 2011 (transcript via Lexis-Nexis)

Newt Gingrich, Facebook post, March 23, 2011

Wall Street Journal, "Gingrich: No Flip-Flop in My Libya Positions," March 23, 2011

New York Times, "Gingrich Calls For No-Fly Zone, Then Attacks It" (Caucus blog post), March 23, 2011

HotAir.com, "Gingrich: For attacking Qaddafi before he was against it?" (blog post by AllahPundit), March 23, 2011

ThinkProgress.com, "Gingrich Criticized Obama For Not Intervening In Libya, But Now Criticizes Him For Intervening In Libya," March 23, 2011

White House, remarks by President Obama and President Calderón of Mexico at joint press conference, March 3, 2011

White House, "Readout of President Obama's Call with Chancellor Angela Merkel of Germany," Feb. 26, 2011

New York Times, "Attacks by Government Forces in Libya Deal Setback to Rebel Advance," March 7, 2011 (accessed via Lexis-Nexis)
Browse the Truth-O-Meter
More by Louis Jacobson
Support independent fact-checking.
Become a member!
In a world of wild talk and fake news, help us stand up for the facts.