Stand up for the facts!
Our only agenda is to publish the truth so you can be an informed participant in democracy.
We need your help.
I would like to contribute
"The problem with invasive species today in the Great Lakes isn't ballast water."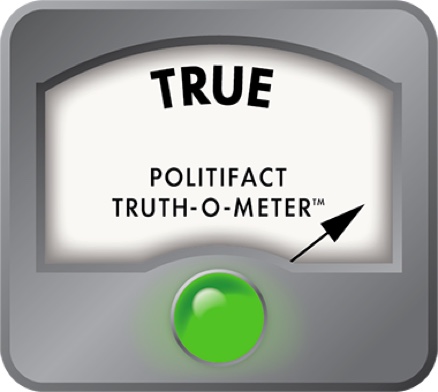 Ballast water no longer key cause of invasive species in Great Lakes, Steve LaTourette says
For the past several months, GOP Rep. Steve LaTourette has been weighted down in a congressional dispute over ballast water on the Great Lakes.
Invasive species, like zebra mussels, round gobies and bloody red shrimp, have hitchhiked in ballast water that ships take on for stability in one body of water, and discharge elsewhere. The stowaways crowd out native species, cause structural damage, and spread disease.
Everyone wants to crack down on invasive species, but LaTourette says the state of New York has gone too far by imposing new ballast water regulations on shippers that are so strict they can't be met by current technology.
"The problem with invasive species today in the Great Lakes isn't ballast water," LaTourette said.
He said he has talked with many people about the issue, including longshoremen, Canadian officials and others on the St. Lawrence Seaway, and noted that the U.S., Canadian and state governments have worked hard to improve ballast water treatment practices.
At the moment, he said the Asian Carp is the lakes' biggest invasive species threat. An electric barrier has been built to keep them from spreading into the lakes from the Mississippi River system.
PolitiFact Ohio decided to check out LaTourette's claim.
LaTourette, from Bainbridge Township in Northeast Ohio, and other foes of the new rules argue the scheduled imposition of the New York regulations in 2013 will effectively shut down the St. Lawrence Seaway, which allows ships from the Atlantic Ocean to reach the Great Lakes, costing thousands of shipping jobs.
This summer, LaTourette tried to pressure New York to change its rules by securing language in a spending bill that would block the state from getting any Environmental Protection Agency money until its ballast water policy is altered. He and GOP Rep. Bob Gibbs, a fellow Ohioan from Holmes County, also co-sponsored a measure, which is now part of a Coast Guard funding bill, that would set a nationwide ballast water policy instead of letting states do it themselves.
"Vessels involved in interstate and foreign commerce are mobile and cannot be expected to comply with potentially scores of inconsistent state requirements as they navigate from one jurisdiction to the next," Gibbs
argued
on the House of Representatives floor. "These inconsistent state requirements will impose serious economic burdens on interstate and foreign commerce."
Not everyone shares the views of LaTourette and Gibbs. Several legislators stuck up for New York, arguing that states should be permitted to establish more stringent standards in their own waters. The amendments they suggested were
defeated
when the House
voted
.
PolitiFact Ohio checked with LaTourette's staff about his claim. They referred us to a
study
produced by the Canadian government's fisheries and oceans division, which says that since current ballast water regulations were introduced in 2006, "no new invasive species attributed to ballast water release and transoceanic shipping in general have been recorded in the Great Lakes."
Because invasive plants and animals from foreign freshwater ports are most likely to thrive in the Great Lakes, ships that from abroad that travel to the Great Lakes must exchange fresh water in their ballast tanks with salt water while they are still in the ocean. That kills off any freshwater species that sneak into the ballast tanks. Marine organisms that enter the ballast tanks in the ocean don't survive when they're released into the Great Lakes' fresh water. Canadian regulations also require ships to rinse out their empty ballast tanks with salt water in the middle of the ocean to kill any lingering freshwater organisms.
Jordan Lubetkin, a spokesman for the National Wildlife Federation, is fighting LaTourette's efforts to relax New York's ballast water rules, contending the bill is a sop to the shipping industry that would leave the Great Lakes vulnerable to future invasions.
But he does not dispute the study's findings.
While progress has been made to prevent ballast water from spreading invasive species between water bodies,  Lubetkin says more should be done.  He noted that more than 65 percent of the aquatic invasive species which got into the Great Lakes since the St. Lawrence Seaway's 1959 opening arrived in ballast water.
"One must only look at how one single invader—the zebra mussel—entered the Great Lakes through ballast water and disrupted the Lakes from top to bottom to understand that we need a zero tolerance policy toward new invaders," Lubetkin said. "The people, communities and businesses that have picked up the tab for the biological pollution dumped into the Great Lakes deserve a solution that offers the strongest water quality protections to protect our Lakes, jobs, health and quality of life."
Although invasive species are a serious problem in the Great Lakes, LaTourette does have research to back his assertion that they haven't been spreading through ballast water.
On the Truth-O-Meter, LaTourette's claim rates True.
Congressional Record,
pages H7373 to H7376
, November 4, 2011
House of Representatives
floor
speech
by Holmes County GOP Rep, Bob Gibbs, November 4, 2011
The Journal of Environmental Science and Technology,
Ballast Water Management in the Great Lakes Reduces the Introduction of Aquatic Invasive Species: Fisheries and Oceans Canada Study
, March 9, 2011
National Oceanic and Atmospheric Administration,
Great Lakes Environmental Research Laboratory, Aquatic Invaders and the Great Lakes: Simple Questions, Complex Answers,
June 2007
The Plain Dealer,
Great Lakes Governors Including Ohio's John Kasich Ask New York to Relax Stiff Ballast Water Rules
, September 23, 2011
Emails with Deborah Setliff, press secretary for Rep. Steve LaTourette, Nov. 4, 2011
Emails with National Wildlife Federation Spokesman Jordan Lubetkin, Nov. 4, 2011
Browse the Truth-O-Meter
More by Sabrina Eaton
Support independent fact-checking.
Become a member!
In a world of wild talk and fake news, help us stand up for the facts.