Stand up for the facts!
Misinformation isn't going away just because it's a new year. Support trusted, factual information with a tax deductible contribution to PolitiFact.
I would like to contribute
PIP fraud is "$1 billion in fraud."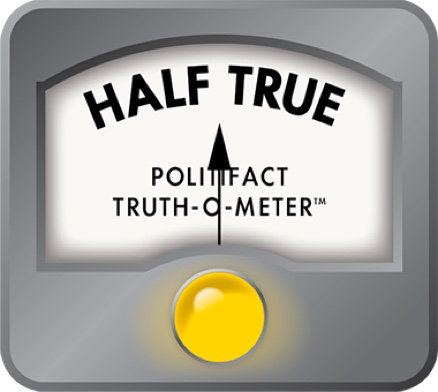 Rick Scott says PIP fraud costs $1 billion
Just about every time Gov. Rick Scott mentioned his goal to reform Florida's no-fault insurance law this legislative session he includes something else: PIP fraud accounts for $1 billion.

He calls it a "fraud tax" on consumers. Chief Financial Officer Jeff Atwater, the Florida Chamber of Commerce, insurance groups and other advocates for change have also used the figure.

Scott repeats the $1 billion claim to reporters and interest groups and average Floridians.

"We are the No. 1 state for staged auto accidents where people fake an accident," Scott said. "If we don't fix this — it's already $1 billion in fraud — it will go up 30 percent year after year after year."

With a cost so central to the push for reform, we wondered where it came from -- and if it's right.

Scott's communications team pointed us a to presentation outlining the problems with PIP from the Florida Office of Insurance Regulation. Total payments of PIP benefits jumped 70 percent from 2008 to 2010. In 2008, it was $1.45 billion. In 2010, it was $2.45 billion.

Reform advocates see it this way: What else but fraud could explain an increase in PIP payouts when the number of drivers stayed constant and traffic accidents have declined over recent years?

"Ironically, the number of lawsuits also doubled in the last two years," wrote Insurance Commissioner Kevin McCarty in a January letter to the editor, "which undermines the entire premise of the 'no-fault' legal system."

Scott's press office also pointed us to a December 2011 report from a working group written by the state's insurance consumer advocate, Robin Westcott, who works for Atwater. This report uses slightly different numbers, based on what is called "direct variable cost," to measure the burden on insurance companies.

The direct variable costs include direct incurred losses, money to defend and investigate suspicious claims, commissions, taxes, licenses and fees, and policyholder dividends. This measure does not include overhead expenses and investment income.

These costs increased from $1.8 billion in 2008 to $2.7 billion in 2010, creating the $910 million "fraud tax."

"There is no other cause attributable for this increase but that of fraud and abuse in the PIP system reflected as a $910,695(000) fraud tax on consumers," the report states.

The reports use different data, which may explain their differing measuring points. The Office of Insurance Regulation uses PIP data reported by insurers in early 2011. The CFO report uses numbers from the National Association of Insurance Commissioners.

We went outside the state and consulted the Insurance Information Institute.

By their calculations, Florida's no-fault insurance law has cost insurers $1.3 billion from 2009 to 2011. The institute did not have a comparison for 2008-2010.

The group adjusted its estimate for the rising cost of health care by incorporating the medical component of the Consumer Price Index. We should note that the $1.3 billion estimate includes actual data through the second quarter of 2011, so part of it is an estimate.

So, if you ask the insurance industry and its self-reported data on PIP payouts, Scott's right.

Some say it's not all fraud

Ask the other side of the bitter PIP reform fight and you'll get a different perspective.

Opponents of insurers in the PIP fight -- mainly lawyers -- told us they questioned the methodology of both measurements of the $1 billion Scott mentions.

Florida Justice Institute officials pointed us to a college professor's analysis of the Office of Insurance Regulation's data. Florida State professor Lorilee Medders dinged the agency's data for being voluntarily submitted by companies and unaudited by the Office of Insurance Regulation.
Beyond that, though, lawyers say there could be other reasons besides fraud for the increased payouts.

A big one: the economy.

Russel Lazega, a personal injury attorney who represents hospitals and emergency rooms across the state, as well as a small insurance company, said he's seeing more middle-class clients file PIP claims. Normally they might have eaten the cost of medical care and missed work for fear of increased premiums. These days, he said, they can't afford to pay out-of-pocket for care and have to file claims.

"Now they don't have a choice," said Lazega, a critic of the changes Scott supports.

Lazega added he represents St. Petersburg emergency rooms and hospitals trying to get trauma bills paid. "I have a hard time wrapping my head around where they come up with a $1 billion number," he aid.

Kim Driggers, a Tallahassee attorney who represents chiropractors and works with the Florida Justice Association, called the notion of "$1 billion in fraud" an overreach.

"Just because more in benefits were paid in a year certainly does not mean every dollar spent was on a fraudulent claim," she said.

"It's not like the CFO went out and said here's $1 billion I was able to recover in fraudulent claims being filed," she said. "That to me would be a fraud ... the ones that you put in jail, the ones that you prosecuted, because those are the crooks that were caught that were scheming the system."

These lawyers acknowledge fraud is out there but agree the industry is overstating and oversimplifying with their cries of fraud.

"He (Scott) can show a correlation but that's a hell of a long way from causation," said Bill Newton, a member of the Coalition Against Insurance Fraud's board of directors and executive director of the Florida Consumer Action Network. He has criticized Scott's preferred reform for PIP as a gift to insurance companies.

Other voices

You won't hear the $1 billion thrown around by PIP reform's sponsor in the Senate, Joe Negron, a Republican from Stuart.

"I haven't seen strong evidence to verify that," Negron said in an interview. "People are mixing fraud and over-utilization. They mean different things to me."

To Negron, a trial lawyer, fraud means billing someone for services you don't receive.
Over-utilization, though, means billing someone for services you received but did not need, such as visits to massage therapists and chiropractors.

Sen. Garrett Richter, R-Naples, also working on the PIP issue, said he leans with Scott: requiring insurers to pay for unnecessary services is fraud.
"I think there's a nexis," he said.

Robin Westcott, the insurance consumer advocate, said the $1 billion "fraud tax" total in her report could more accurately be described as a "fraud and abuse tax," which was her intent.

Still, she said, "something's gotta be wrong about this."

The National Association of Insurance Commissioners recently released unaudited 2011 data showing more escalation in PIP losses -- $1.4 billion since 2008.

Our ruling

Scott has industry data on his side when he uses the number $1 billion, but it's not clear to us that all of that money is caused by fraud.
Those opposed to PIP reform put forward interesting arguments that the economy might be driving some of the increase in payouts, to people who otherwise might have paid for care on their own if they could afford it.
Nevertheless, most people following the issue agree that fraud is a factor of increased PIP payouts by insurers. The question is how much, and it's not crystal-clear. We rate Scott's statement Half True.
Scott calls for changes to auto insurance law, WTSP, Feb. 25, 2012
Email interview with Jack McDermott, Office of Insurance Regulation spokesman, Feb. 27, 2012
"Florida auto insurance rates climbing steadily," Tampa Bay Times, July 31, 2011
"Report on Florida Motor Vehicle No-Fault Insurance," Florida Office of the Consumer Advocate, Dec. 14, 2011
Email interview with Jeremy Wilkinson, National Association of Insurance Commissioners spokesman, Feb. 28, 2012
Cabinet PIP presentation, Florida Office of Insurance Regulation, August 2011
HB 119 bill analysis, Feb. 27, 2012
SB 1860 bill analysis, Feb. 24, 2012
"Scott leads charge on changing no-fault auto insurance laws," Palm Beach Post, Jan. 25, 2012
"Staged accidents plummet in Hillsborough after county crackdown on clinics," Tampa Bay Times, Feb. 26, 2012
Interview with Sen. Garrett Richter, March 6, 2012
Kevin McCarty letter to the editor on PIP reform, Jan. 27, 2012
Interviews with Lynne McChristian, Florida representative for Insurance Information Institute
Interview with Sen. Joe Negron
Insurance consumer advocate's report on PIP reform, December 2011
Interview with Bill Newton, member of the Coalition Against Insurance Fraud's board of directors and executive director of the Florida Consumer Action Network
Interview with Erin VanSickle, Florida Medical Association communications consultant
Browse the Truth-O-Meter
More by Katie Sanders
Support independent fact-checking.
Become a member!
In a world of wild talk and fake news, help us stand up for the facts.