Stand up for the facts!
Our only agenda is to publish the truth so you can be an informed participant in democracy.
We need your help.
I would like to contribute
"Two-thirds of the people who receive the minimum wage are female."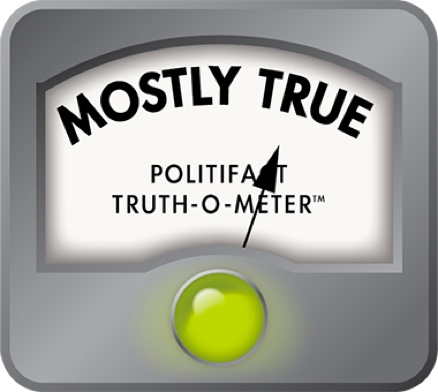 Cokie Roberts: Two-thirds of minimum-wage earners are women
Many Democrats are eager to debate raising the federal minimum wage because it's a popular issue to the party base, especially women, says ABC News political commentator Cokie Roberts.
"When you're talking about the minimum wage, you're talking about women," Roberts said March 31 on NPR's Morning Edition. "Two-thirds of the people who receive the minimum wage are female, and this is one of many attempts on the part of Democrats to get out the voters who normally don't vote in an off-year election, to try to get them to the polls this year. We'll see whether that works or not."
Is her statistic accurate?
The federal Bureau of Labor Statistics, a hub for data on American workers and the unemployed, had just the report, "Characteristics of Minimum Wage Workers, 2013." The BLS collects this data through a national monthly survey of households called the Current Population Survey. It does not account for overtime pay, tips or commissions workers earn above their hourly wage.
Of the 75.9 million Americans who earn hourly wages (and make up half of the nation's workforce), 1.5 million earn exactly the federal minimum wage of $7.25 an hour, and 1.8 million earn less than that, according to BLS.
Here, we're focused on the gender composition of those 3.3 million workers who earn at or below the minimum wage. We found it's true that women have a disproportionately high place in the minimum-wage workforce than men.
In 2013, 62.4 percent of workers, or 2.06 million people, who earned at or below the federal minimum wage were women. This was down slightly from the year before, when it was 64 percent.
It's important to know this data only isolates workers who make the federal minimum wage of $7.25 or below. Many states have set a higher minimum wage for their residents. The BLS measure would not account for minimum-wage earners in California, who earn $8 an hour, or their counterparts in Washington, who earn the highest minimum pay in the country of $9.32. A recent Congressional Budget Office report pointed out half of all workers live in states where the minimum wage is more than $7.25 an hour.
Still, these caveats do not undermine Roberts' point, said Heidi Shierholz, a labor economist at the liberal Economic Policy Institute, which supports increasing the minimum wage.
An increased federal minimum wage to $10.10 would set a new floor for all workers in the country, even those in states that set their own minimum wages. And it wouldn't just lift the pay of workers who earn $7.25 an hour, but also those who make slightly more, such as $8 or $9 an hour.
A study by the Economic Policy Institute found women would make up 55 percent percent of workers who would benefit from raising the minimum wage to $10.10 by the second half of 2016, a congressional proposal backed by the White House. That figure aligns with CBO data, too.
"If you raise the wage floor, more women will be affected by that," Shierholz said. "That's the bottom line."
The discrepancy in pay between men and women known as the "gender gap" is closer at the bottom of the income distribution than at the top 1 percent of earners, Shierholz said. The gap is closing as a result of more women going to college and stagnated male wages. The White House argues raising the minimum wage would further tighten the gap because women are overrepresented in low-paying professions.
The amount of women in tips-based jobs, such as hairstylists and waitresses, is even higher than the female share of the federal minimum wage workforce, Shierholz said. Employers are allowed to pay workers a minimum of $2.13 an hour as long as their tips or at least $5.12, or the difference between $2.13 and $7.25. The White House also wants an increase in the tipped minimum wage of $2.13 an hour to $4.90 by 2016 under the proposed Harkin-Miller legislation.
Efforts to reach Roberts through ABC News were unsuccessful.
Our ruling
Roberts said, "Two-thirds of the people who receive the minimum wage are female."
The actual figure is just a little bit lower. Federal data shows 62 percent of people who earn the federal minimum wage or below are women. The federal data has limitations, as it does not account for women in states with a higher minimum wage.
One study says that if the federal government raises the minimum wage to $10.10 an hour, women will benefit more than men by a 55-45 percent spread.
Roberts claim is on the right track but needs some additional information. That falls into a rating of Mostly True.
Interview with Heidi Shierholz, Economic Policy Institute labor economist, April 1, 2014
The Hill, "Minimum wage deal emerging?" April 1, 2014
Bureau of Labor Statistics, Characteristics of Minimum Wage Workers: 2013, March 2014
NPR, "Politics in the News: Ukraine and Obamacare," March 31, 2014
PolitiFact, "Nancy Pelosi says 64 percent of minimum-wage earners are women," March 13, 2013
PolitiFact, "Rob Portman says 'about 2 percent of Americans get paid the minimum wage,' " Dec. 8, 2013
Economic Policy Institute, "Raising the Federal Minimum Wage to $10.10 Would Lift Wages for Millions and Provide a Modest Economic Boost," Dec. 19, 2013
WhiteHouse.Gov, "The importance of raising the minimum wage for women," March 2014
Browse the Truth-O-Meter
More by Katie Sanders
Support independent fact-checking.
Become a member!
In a world of wild talk and fake news, help us stand up for the facts.