Stand up for the facts!
Our only agenda is to publish the truth so you can be an informed participant in democracy.
We need your help.
I would like to contribute
"1/3 of our kids drop out (of high school), cannot go to college or start a career."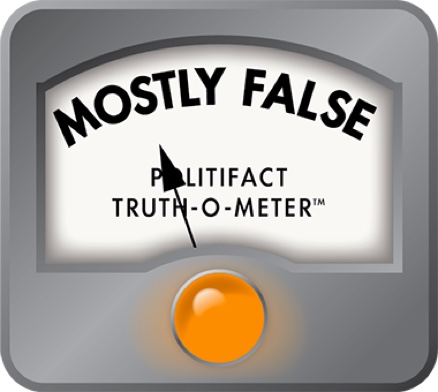 Jeb Bush says one-third of students drop out and can't go on to college or a career
With the 2014 elections in the rear-view mirror and 2016 coming up fast, the political world has begun speculating about whether former Florida Gov. Jeb Bush -- son of one president and brother of a second -- could seek the White House himself.
In a recent fundraising letter sent on behalf of the Excellence in Education Foundation, Bush discusses one of his signature issues.
"In order to have any lasting success, we must first transform our failing education system and have no tolerance for the adult-centered K-12 system that exists today.
"America's education system is a prime example of government that is completely out-of-control. Instead of focusing on what's best for our children, education in America is focused on the adults who organize in more than 13,000 heavily unionized government monopolies.
"As a result, America's high school graduation standards are shamefully low.
"Only 25% of America's high school graduates are college or career ready.
"1/3 of America's high school graduates need remediation.
"1/3 of our kids drop out, cannot go to college or start a career.
"This is a tragedy unfolding in our country in ways that will overwhelm us."
This is a lot to chew on, but we decided to check one of these claims -- that one-third of American students "drop out, cannot go to college or start a career."
The problem, we quickly found, is that Bush's one-third figure isn't correct for dropouts alone, for those who do not go to college, or for the combination of the two.
Before we look at the numbers, we should explain that there is more than one way to measure dropout frequency.
One of the most common is the "status dropout rate," which measures, at a specific point in time, what percent of people within a certain age range are dropouts.
By this measure, Bush's figure is significantly inflated. In 2012, 6.6 percent of 16-to-24-year-olds were neither enrolled in school nor possessed an alternative high school credential such as a GED. That's one-fifth of Bush's number.
Another way of measuring dropouts is to use the "event dropout rate." This measures what percentage of people in an age range dropped out during the prior year. In 2011 -- the most recent year this statistic was calculated -- the percentage was 3 percent. That's less than 10 percent of what Bush had said.
So what's going on here? When we asked Bush's staff to explain their reasoning, they said that multiple reports show high numbers of minority students, black and Hispanic in particular, are not graduating from high school.
It pointed to another federal estimate -- one that looks at how many public high school students who started as freshmen finished high school within four years. According to provisional data, the Averaged Freshman Graduation Rate, as it is known, found that 78.2 percent of of freshmen finished school in four years. That figure was 66.1 for black students and 71.4 percent for Hispanics. That flip side would be that nearly 34 percent of black freshmen and about 29 percent of Hispanic freshmen didn't graduate in four years. Education Week data showed similar numbers for members of the high school class of 2012.
However, the fundraising letter doesn't mention anything about minority students. So the most appropriate number to use would be the overall number -- and that would be 19 percent to 22 percent, depending on the parameters you use. Either way, that's well below one-third.
Bush's staff also pointed to data from the publishers of the ACT college-entrance exam. It found that 31 percent of those who graduated from high school and took the ACT were not ready for entry-level college courses in English, reading, math or science. However, ACT test-takers represent a fraction all of students, and it's not wise to assume they're the same, said David Bills, an education professor at the University of Iowa.
Overall, Bills said, the Bush camp's justifications strike him as cherry-picking. "I think we're getting a pretty motivated use of data," he said.
Our ruling
Bush said that "1/3 of our kids drop out (of high school), cannot go to college or start a career."
Traditional dropout figures peg the dropout rate at 3 percent to 6 percent, and even the most generous failure-to-graduate figures are running no higher than 22 percent for the U.S. population as a whole. The percentages are higher for African-American and Hispanic students, and at the most expansive level they can reach one-third. However, Bush's claim said nothing limiting the statistic to minority students, so using this evidence to back up that claim is misleading.
The statement contains some element of truth but ignores critical facts that would give a different impression, so we rate it Mostly False.
Clarification: The headline on this story has been changed to better reflect the statement we fact-checked. 
Jeb Bush, fundraising letter, received Oct. 27, 2014
National Center for Education Statistics, "Table 302.60, Percentage of 18- to 24-year-olds enrolled in degree-granting institutions, by level of institution and sex and race/ethnicity of student: 1967 through 2012," accessed Nov. 6, 2014
National Center for Education Statistics, "Table 219.70, Percentage of high school dropouts among persons 16 through 24 years old (status dropout rate), by sex and race/ethnicity: Selected years, 1960 through 2012," accessed Nov. 6, 2014
National Center for Education Statistics, "Averaged Freshmen Graduation Rate (AFGR) by race/ethnicity, gender, state or jurisdiction, and year: School years 2002–03 through 2008–09," accessed Nov. 6, 2014
National Center for Education Statistics, "Fast Facts" page, accessed Nov. 6, 2014
U.S. Census Bureau, "Table 1. Event Drop Out Rates and High School Noncompleters, Aged 15–24: 2011," September 2013
U.S. News and World Report, "High School Graduates Still Struggle With College Readiness," Aug. 21, 2013
Education Week, "Graduation in the United States: Rate tops 80 percent," accessed Nov. 6, 2011
Education Week, "Graduation in the United States: High School Completion Gains Momentum," accessed Nov. 6, 2014
Alliance for Excellent Education, "The High Cost of High School Dropouts: What the Nation Pays for Inadequate High Schools," November 2011
Civic Enterprises, "Building a Grad Nation Progress and Challenge in Ending the High School Dropout Epidemic, Annual Update," February 2013
Email interview with David Bills, education professor at the University of Iowa, Nov. 6, 2014
Browse the Truth-O-Meter
More by Louis Jacobson
Support independent fact-checking.
Become a member!
In a world of wild talk and fake news, help us stand up for the facts.