Stand up for the facts!
Misinformation isn't going away just because it's a new year. Support trusted, factual information with a tax deductible contribution to PolitiFact.
I would like to contribute
Says giving Motrin and Robitussin together can cause heart attacks in children.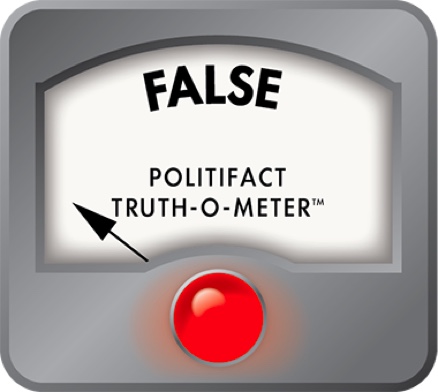 No evidence combo of Motrin, Robitussin causes heart attacks in children. Talk to your doctor
Dubious medical advice is not only plentiful on social media – it's persistent.
Such is the case for a decade-old email chain that warns against giving children a combination of Motrin and Robitussin, because they may have a heart attack. 
One example of the claim, which has been popping up in email inboxes since at least 2008, has gotten over 115,000 shares on Facebook and says that an 8-year-old girl named Madison passed away after she was allegedly given both medications:
"This was sent to us from a nurse in our district  … thought I'd pass along just as an FYI. Motrin and Robitussin don't mix!!! Madison, age 8, passed away just a few days ago. We've been asked to pass this on. Doctors told her family that there have been quite a few children Madison's age that have died recently the same way that she did. The only common link between them was that they were given Motrin (ibuprofen) and Robitussin together, this caused a heart attack. They believe this is what happened to them. They told her to alert everyone to this. 'Do not give children both of these medicines together.' You can give them one or the other but not both. When Madison collapsed she suffered a heart attack and they were able to revive her but the loss of oxygen damaged her brain and she was put on the respirator. After this she had four strokes before she died after being taken off the respirator. Please pass this on !!!!!!!!!"
The bottom of the post has the email signature: "Lisa Lopez M.A. Children's Medical Center of Dallas Pulmonary Clinic."
The post was flagged as part of Facebook's efforts to combat false news and misinformation on its News Feed. (Read more about our partnership with Facebook.)
This rumor is just that –– a rumor. There is no evidence to suggest that a Motrin-Robitussin combination causes heart attacks in otherwise healthy children.
The Children's Medical Center in Dallas, Texas, that appeared in the email signature came out to dispel the rumor in 2010, roughly a year after it started being shared.
The hospital's announcement said the following:
"In 2009, a Children's employee received the e-mail from a friend and inadvertently forwarded it from a work account. Because the employee's professional signature was included at the bottom of the e-mail, the information appeared to come from a reliable source at Children's Medical Center. This is not the case."
All medications have side effects, the hospital noted, and "parents of children with underlying medical conditions must always be vigilant about the medications their child is taking." The hospital statement advised parents to consult with their children's doctor or a pharmacist before mixing any over-the-counter drugs.
The Children's Medical Center also addressed the rumor in a tweet on Dec. 22, 2014: "Facebook post about Motrin & Robitussin is not correct & was not posted by one of our employees." The tweet linked to a 2009 fact-check by Snopes on the topic.
It's important to note that the Food and Drug Administration does not recommend children under the age of two be given cough-cold medications. But the agency has not issued any warnings that the ingredients in Motrin (which contains ibuprofen) or Robitussin (which contains dextromethorphan and/or pseudoephedrine or sometimes chlorpheniramine) could cause heart attacks in children when combined. These ingredients are also in many other medications on the market, yet the chain email only singles out Motrin and Robitussin. 
If the danger of heart attacks, strokes or death was prevalent in the combination of two commonly used medications, health officials would have issued widespread public health warnings.
Motrin alone is a nonsteroidal anti-inflammatory drug, and according to the FDA, the labels of over-the-counter versions warn that for adults and children "(nonsteroidal anti-inflammatory drugs), except aspirin, increase the risk of heart attack, heart failure, and stroke. These can be fatal. The risk is higher if you use more than directed or for longer than directed."
Ashley Turney, an FDA spokesperson for over-the-counter drugs, told PolitiFact that "use of Robitussin products, with or without Motrin, is not associated with heart attacks." She described Robitussin as an umbrella brand containing a series of children's cough and cold products that may contain a single ingredient or combinations of dextromethorphan hydrobromide, guaifenesin, phenylephrine hydrochloride, or chlorpheniramine maleate.
"The recommended use, dosing, and warnings vary amongst the seven Robitussin products that are intended for use in children over 4 or 6 years," she said. 
Turney noted that it's important for people to read the drug facts label directions for all over-the-counter medications. 
Our ruling
An old rumor claims combining Motrin and Robitussin can cause heart attacks in children.
There is no evidence that giving both of these medications to children causes heart attacks. Children who are too young or have underlying medical conditions can experience adverse side effects from taking any combination of over-the-counter medicine, health officials say. Parents are recommended to talk with their child's health care provider, or a pharmacist, if they have any questions about mixing medications.
This rumor is False.
Facebook post, Sept. 4, 2015
Children's Medical Center press release via Business Wire, Robitussin and Motrin: Safe to Use Together, E-mail in Wide Internet Circulation Causing Confusion, Feb. 10, 2010
Twitter, Children's Medical Center tweet, Dec. 22, 2014
Snopes, Does the Interaction of Motrin and Robitussin Cause Heart Attacks in Children?, Feb. 11, 2009
Verywellhealth.com, Can Robitussin and Motrin Cause Heart Attacks in Kids?, Sept. 19, 2019
Drugs.com, Drug Interactions between Motrin and Robitussin Children' s Cough & Chest Congestion DM, Accessed Oct. 24, 2019
Food and Drug Administration, When to Give Kids Medicine for Coughs and Colds, Nov. 27, 2018
Food and Drug Administration, Use Caution When Giving Cough and Cold Products to Kids, Feb. 8, 2018
Email interview, Amanda Turney spokesperson for the FDA, Oct. 25, 2019
Browse the Truth-O-Meter
More by Samantha Putterman
Support independent fact-checking.
Become a member!
In a world of wild talk and fake news, help us stand up for the facts.