Stand up for the facts!
Our only agenda is to publish the truth so you can be an informed participant in democracy.
We need your help.
I would like to contribute
"The legislature has long maintained that the law never allowed these illegal drop boxes."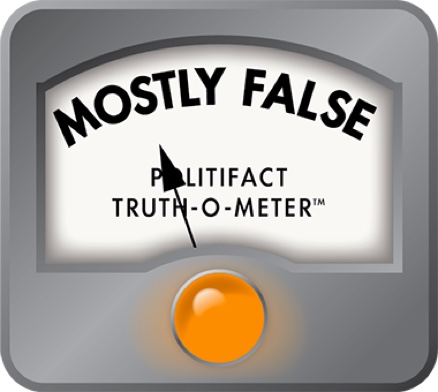 Vos' claim on 'illegal' drop boxes conflicts with earlier stance on their use
If Your Time is short
In a September 2020 letter sent to the Madison city clerk on behalf of Vos and Fitzgerald, the Republican leaders decried the city's Democracy in the Park event and instead suggested voters drop ballots in "authorized" drop boxes that were secure and locked.

As a reference, they cited guidance from the Wisconsin Elections Commission that OK'd boxes in other places than the clerk's office, as long as they were secure and locked. "We wholeheartedly support" the methods described, the letter says.

That would make Vos' claim — that Republicans have long opposed drop box locations that conflict with the recent Supreme Court ruling — a stretch, given that less than two years ago, that letter advocated their use.
On July 8, 2022, the Wisconsin Supreme Court ruled 4-3 that the use of drop boxes to collect absentee ballots was illegal.
It was a victory for Wisconsin Republicans, who now oppose the longstanding use of drop boxes — a voting approach that had grown increasingly popular during the coronavirus pandemic, including the 2020 presidential election. 
Former President Donald Trump has heavily criticized drop boxes in his continued baseless allegations that fraudulent voting led to his reelection loss that year. (Multiple lawsuits, recounts and audits have failed to turn up evidence of widespread voting fraud. Trump even claimed the court's ruling was retroactive to 2020, which we rated Pants on Fire.)
Assembly Speaker Robin Vos was among those cheering the court ruling, tweeting: "The legislature has long maintained that the law never allowed these illegal drop boxes and we're happy to be vindicated by today's decision." 
But some were skeptical of the first part of his statement, questioning just how long the party held that stance and pointing to an instance two years ago where Vos had advocated for the use of drop boxes. 
Let's check it out. 
Letter on behalf of Vos says he 'wholeheartedly supports' secured drop boxes
When Vos tweeted the sentiment, another Twitter user quote-tweeted his statement with the caption: "This you?" 
That tweet featured a Sept. 25, 2020, letter that Vos and then-Senate Majority Leader Scott Fitzgerald sent through a lawyer to Maribeth Witzel-Behl, Madison's city clerk, before two "Democracy in the Park" events that were held in September and October 2020.
At the events, more than 17,000 voters dropped off absentee ballots at stations set up in Madison's 206 city parks. The events were staffed by poll workers who had either worked in the past or were scheduled to work the Nov. 3, 2020, election.  
The Supreme Court decision, which said that state law does not permit drop boxes anywhere other than election clerk offices, and that the boxes have to be manned at all times, would render future events like that illegal. 
The Vos and Fitzgerald letter, the one sent before the events, decries what they describe as the "imminent, illegal collection of absentee ballots" at the events. (Vos spokesperson Angela Joyce told us Vos was concerned that at the events, ballots "were received in an unsecured manner with no clear statutory authority to do so.") 
The letter suggested that voters instead use other available methods of returning their ballots. 
Specifically, among the approaches they suggested: Dropping ballots in "authorized 'drop boxes,' which 'must be secured and locked at all times' to protect ballot integrity." As a reference, the letter cites an Aug. 19, 2020, memo from Wisconsin Elections Commission Administrator Meagan Wolfe describing absentee ballot drop box information.
"We wholeheartedly support any of these convenient, secure and expressly authorized absentee-ballot-return methods," the letter says. 
Now, it's important to pause here and note what kinds of drop boxes were authorized at the time.
The memo from Wolfe outlines a handful of locations for municipalities to offer drop boxes. In addition to the clerk's office, it instructs them to be placed in "convenient, accessible locations, including places close to public transportation routes, near or on college campuses, and public buildings, such as libraries and community centers familiar to voters and easy to find." 
Since the letter from Vos and Fitzgerald cites this particular guidance and notes that they "wholeheartedly support" the methods they listed, it would seem that they supported such drop boxes at locations other than the clerk's office, as long as they were secured and locked. 
According to an affidavit from Wolfe, the commission was aware of 528 drop boxes across the state in 2020. For the following spring election, there were 570, including ones in at least 66 of the state's 72 counties.
So, when Vos says Republicans have long maintained the boxes were illegal, "long" would have had to mean less than two years ago, which is when that letter was sent.
When we asked Vos' office for evidence of the long opposition, Joyce did not point us to earlier statements or prior legal action as backup. Rather, she pointed us to the very same letter that we just examined.
How long is 'long'?
Let's return to the issue: How long have legislative leaders maintained that the law did not allow such drop boxes? 
Vos' office did not point to any pre-2020 letters, legislative bills, lawsuits or other actions meant to curb them. Instead, Joyce also circled back to 2020, writing that Vos "has opposed unsecured drop boxes since they became an issue in the 2020 election." 
She pointed to the Legislature's ordering a nonpartisan audit of Wisconsin's elections last February and the hiring of former state Supreme Court Justice Michael Gableman to probe the 2020 election as proof that lawmakers were concerned about drop boxes. (The nonpartisan auditors concluded that rules on how to use drop boxes needed to be adopted should they continue to be used; Gableman's review is ongoing.)
But all of that has happened since 2020, which underscores that the boxes had not been an issue for many years. 
Our ruling
Vos claimed that the Legislature has "long maintained that the law never allowed these illegal drop boxes."
His spokesperson drew a distinction between what was authorized by the court ruling and events like Democracy in the Park. But that seems to miss the point. 
At the time that Vos sent a letter suggesting the Madison clerk's office instead use approved methods like drop boxes, the state Supreme Court ruling was many months in the future. So, we can only assume the letter was referring to the drop box practice in place at the time.
More importantly, his own staff noted his concern only arose during the 2020 election, when the boxes – which had been around for many years — gained widespread attention. So, we think that claiming long-standing opposition overstates the case.
We rate this claim Mostly False.
Browse the Truth-O-Meter
More by Madeline Heim
Support independent fact-checking.
Become a member!
In a world of wild talk and fake news, help us stand up for the facts.