Get PolitiFact in your inbox.
The 2017 Unite the Right rally in Charlottesville, Virginia, was "an American intel op against Trump."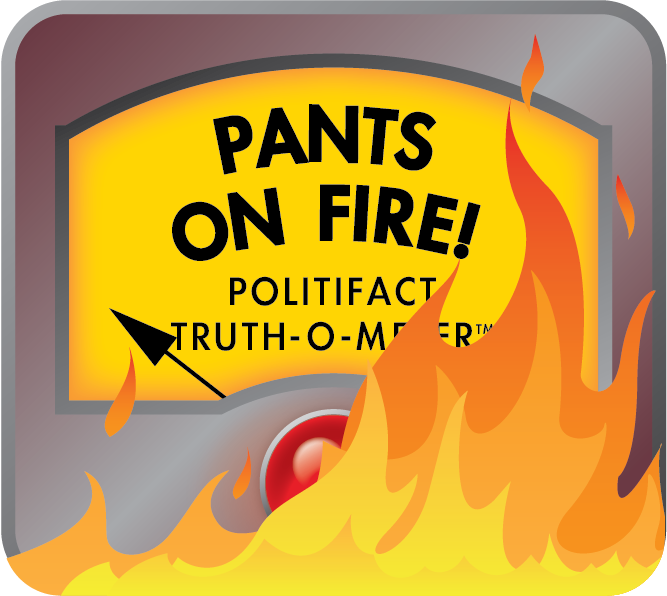 Unite the Right rally was real, not a staged 'intel op'
If Your Time is short
The Unite the Right rally was real, and not staged. It was organized and attended by members of the alt-right and white supremacists who protested against city measures to rename a park in Charlottesville, Virginia, and remove a statue of Confederate Gen. Robert E. Lee. One person died during the two-day event and many others were injured.

Neo-Nazi and alt-right protesters who were at that rally, including Jan. 6, 2021, defendant Timothy Gionet and alt-right leader Nick Fuentes, have since shared their pro-Trump political affiliations.

The Justice Department under then-President Donald Trump launched a civil rights investigation into the matter. Trump at the time said he would hold "fully accountable" anyone who "acted criminally."
On Aug. 11, 2017, hundreds of alt-right and neo-Nazi supporters gathered in Charlottesville, Virginia, to protest the city's decision to remove Confederate monuments. Armed with weapons and lit tiki torches that glowed in the night, they marched on University of Virginia's campus, shouting antisemitic chants. The next day, the rally took a deadly turn when a vehicle drove into a crowd of counter-protesters, killing one. 
But "Dilbert" comic strip creator Scott Adams recently suggested the rally was a false flag operation staged against former President Donald Trump. Hundreds of newspapers recently dropped Adams' strip from their pages following racist comments he made on his video podcast.
"What are the odds those tiki torch carrying neo-Nazis from Charlottesville would only rally once?" Scott wrote in a March 8 tweet. "Feels like it was an American intel op against Trump. That's my working assumption."
PolitiFact reached out to Adams for comment, but he did not respond. 
There is overwhelming evidence that the Unite the Right rally wasn't staged. Some alt-right protesters who were there, like Nick Fuentes and Timothy "Baked Alaska" Gionet, have since declared their political support for Trump. News reports, court documents and other evidence prove that the rally — and the violence that unfolded there — was real.
On Feb. 7, 2017, city council members of Charlottesville, Virginia, voted to rename Lee Park as Emancipation Park — later renamed again as Market Street Park — and remove a monument of Confederate Gen. Robert E. Lee. Alt-right activists and white nationalists decried the move.
According to court records, white nationalist Jason Kessler submitted a request on May 30, 2017, to obtain a permit for the Unite the Right rally to be held at the park Aug. 11-12 of that year. 
The rally's purpose, Kessler wrote in the request, was a "free speech rally in support of the Lee monument." Kessler did not mention Trump in that document. It was expected to be the "largest public rally by white supremacists in 10 to 15 years," the Anti-Defamation League wrote ahead of the event. Thousands of white nationalists and alt-right leaders were expected to attend from across the country. Then-Virginia Gov. Terry McAuliffe warned people ahead of time to stay away, and the Virginia National Guard was ready to respond. 
Unite the Right activists clashed with counterprotesters on Aug. 12 in a violent turn of events. Images of violence made national headlines. Self-proclaimed neo-Nazi James Fields Jr., then 22, of Ohio, plowed his car into a crowd of counterprotesters, killing Heather Heyer, 32, and injuring dozens of others. Fields was sentenced to life in prison.
The Justice Department under Trump launched a civil rights investigation into the matter. And while Trump faced controversy over comments he made about the rally, he decried the violence: "To anyone who acted criminally in this weekend's racist violence, you will be held fully accountable," he said. "Justice will be delivered." 
Since then, Unite the Right supporters have mobilized in other places. 
Members of groups including Patriot Front, Vanguard America and white nationalist leaders such as Fuentes and Gionet have appeared in other extremist demonstrations. Fuentes and Gionet have shared their affinities for Trump — both were in Washington, D.C., during the Jan. 6, 2021, Stop the Steal rally and attack on the U.S. Capitol. Gionet is a named defendant and pleaded guilty for his actions. Alt-right activist Richard Spencer, who shouted "Hail Trump" when the former president was elected, was at the rally and later returned to Charlottesville in October 2017 for another white nationalist rally. Spencer later disavowed himself from Trump. 
Adams' claim that the Unite the Right rally was staged is Pants on Fire!
PolitiFact researcher Caryn Baird contributed to this report.
Time Magazine, Unrest in Virginia, accessed March 9, 2023
Poynter, Opinion | Hundreds of newspapers drop the comic Dilbert after its author's racist comments, Feb. 27, 2023
Scott Adams, Twitter post, March 8, 2023
The Cavalier Daily, City Council votes to remove Robert E. Lee statue, Feb. 7, 2017
Southern Poverty Law Center, Jason Kessler, accessed March 9, 2023
Court Listener, Kessler v. City of Charlottesville (3:17-cv-00056), accessed March 9, 2023
Anti-Defamation League, "Unite the Right" Rally Could Be Largest White Supremacist Gathering in a Decade, Aug. 7, 2017
CBS 6 News Richmond, 'Stay away' from Charlottesville rally urges Va. governor, Aug. 11, 2017
Twitter post, Aug. 11. 2017
Southern Poverty Law Center, 'Unite the Right' 5 years later: Where are they now? Aug. 11, 2022
ABC News, Timeline: What led to the violence that unfolded in Charlottesville Aug. 14, 2017
U.S. Department of Justice, Capitol Breach Cases, Anthime Joseph Gionet, accessed March 10, 2023
The Atlantic, 'Hail Trump!': White Nationalists Salute the President-Elect, Nov. 21, 2016 
 The New York Times, White Nationalists Reappear in Charlottesville in Torch-Lit Protest, Oct. 8, 2017
CNN Politics, White nationalist: Trump gives nothing but racist tweets, accessed March 10, 2023 
PolitiFact, In Context: Donald Trump's 'very fine people on both sides' remarks (transcript), April 26, 2019
Wall Street Journal, Justice Department Launches Charlottesville Civil Rights Probe, Aug. 13, 2017
NPR, Justice Department Launches Civil Rights Investigation Into Charlottesville Attack, Aug. 14, 2017 
Browse the Truth-O-Meter
More by Gabrielle Settles
Support independent fact-checking.
Become a member!
In a world of wild talk and fake news, help us stand up for the facts.