MSNBC host: Some GOP members said 'we don't know' where to put more border patrol agents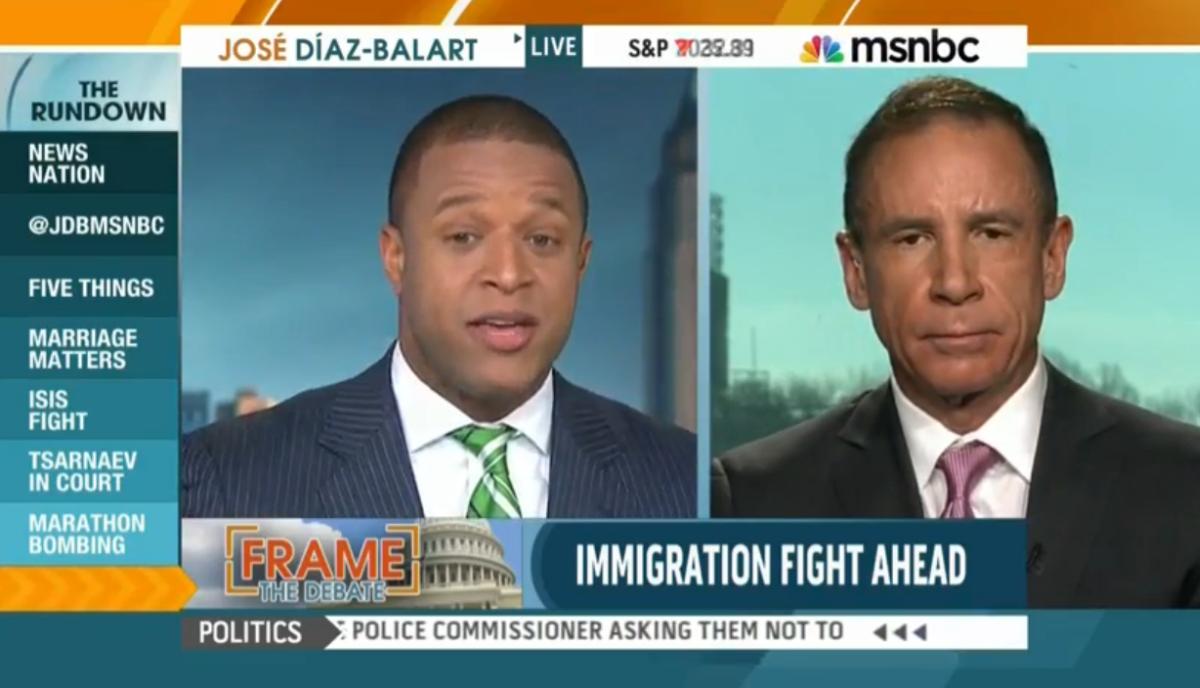 We admit to feeling like we've heard it all before when it comes to debate on long-stalled immigration reform in Congress. Recently, though, we heard something new -- and if true, shocking -- in a little-noticed segment after the winter holidays.
NBC News correspondent Craig Melvin was talking about the implications of the House speaker's race for immigration policy and federal funding of immigration enforcement during the Jan. 5, 2015, edition of The Rundown with Jose Diaz-Balart (Melvin was filling in as host).
The border is more secure since President Barack Obama took over, Melvin said, adding that some Republicans have actually conceded that things are going well in that department.
"There have even been Republican congressmen who have said, 'If you give us more money we don't know where we would even put additional Border Patrol agents.' Is that not accurate?" Melvin asked his guests.
We decided to check if it was. Did GOP members, who have made securing the border a priority over any type of amnesty, actually say they wouldn't know where to place more Border Patrol agents if they approved the money?
Melvin referred us to a Dec. 26 interview he conducted for MSNBC with Rep. John Yarmuth of Kentucky. Yarmuth is a Democrat, not a Republican, and a member of the House's "gang" of eight who worked on a bipartisan immigration solution in 2013. The Senate had its own gang of eight; neither resulted in a law.
Yarmuth told Melvin that Obama had done much to secure the border, and there were guards aplenty. Key to this fact-check, he relayed what he said were the words of two Texas Republicans.
"Illegal border crossings are about half what they were before the Obama administration took over. We have as many Border Patrol people on guard as we can possibly need. I was part of the group of eight in the House, the bipartisan group that worked on immigration reform during the last Congress, and our Texas members basically said we would not know where to put more border guards right now."
So Melvin's comments come from Yarmuth, who says they came from two Texas members serving on the House's gang of eight -- Republican Reps. John Carter and Sam Johnson.
PunditFact reached out to Carter and Johnson several times and heard nothing back from their staff. Yarmuth's office, meanwhile, didn't offer us more details behind his comments.
So we have very little to go on other than one congressman's word, which was then repeated by an MSNBC host.
But that doesn't quite put us at a dead end.
We can say we found no record of Carter or Johnson making the type of comment Yarmuth said they did in public. In fact, we found evidence of the opposite.
Carter and Johnson left the immigration policy group in September 2013, announcing in a joint press release that they had "a lack of faith" in Obama's enforcement approach and would support their GOP colleagues' approach that "starts with a genuinely secure border."
In an Aug. 11, 2014, interview with Fox Business Network, Carter made the case for additional border patrol agents along the Southern border.
"We have to put resources on the border," Carter said. "Fencing, experience along the Rio Grande, is a very difficult issue because that's a very windy river, awfully hard to build. And remember, in Texas, we have private property that borders on our border in Texas. So all that fencing would have to be done on private property.
"We need to put the resources, the human resources, out there. I'm proud of our governor for sending our Texas Department of Public Safety down there, and a massive amount, and also, the willingness to use the Texas National Guard, both of which will assist an overwhelmed and very dedicated border patrol."
And a month earlier, Johnson issued a July 2014 statement calling on additional border patrol agents.
"As it is the responsibility of the federal government to secure our borders, Washington must do so now and send more border patrol agents to Texas. I will continue working to ensure Texas has the resources and manpower it needs to secure the border. It can and must be done."
We should note that both of these comments came at a time when many were upset by the influx of children crossing the border from Central America. The comments, however, came months before Yarmuth and then Melvin said the opposite.
Victor Manjarrez, associate director of the National Center for Border Security & Immigration at the University of Texas at El Paso, said he never heard Carter or Johnson say the border didn't need more manpower.
"Quite honestly that would be a little shocking to hear members of Congress from Texas saying that," Manjarrez said. "You typically have members of Congress want to throw resources at you."
On the other hand, members of the federal enforcement community deemed a proposal to double the number of Border Patrol agents to about 39,000 unnecessary, said Manjarrez, who retired from the Border Patrol in May 2011 as a sector chief in Tucson, Ariz.
After the Sept. 11 attacks, when border enforcement was moved to the newly created Department of Homeland Security, the number of border patrol agents doubled from about 2,000 in the 2002 fiscal year to more than 20,800 as of the 2014 fiscal year (a small decrease from 2013). Another doubling of resources within a year or so would be drastic, he said.
"When they talk about doubling the size of Border Patrol last year ... just from my previous experience and my peers that won't be allowed to talk, that was really overkill," Manjarrez said.
Our ruling
Melvin said, "There have even been Republican congressmen who have said, 'If you give us more money we don't know where we would even put additional Border Patrol agents.' "
Melvin got his information from an interview he conducted with a Democratic congressman who quoted two Texas Republicans as saying as much. But there is no public record of the two Texas Republicans, Reps. Carter and Johnson, saying remarks along those lines that we could find.
While it may have transpired behind closed doors, we have no evidence that it did.
What we do know is that both Texas congressmen have more recently advocated for additional border patrol agents, a fact that neither Yarmuth or Melvin mentioned.
For Melvin, he accurately recounted what he heard. But in this game of telephone, all we get is a busy signal at the other end.
Because of a lack of evidence, and the public comments of Carter and Johnson, we rate this claim Mostly False.
Help fund PolitiFact's Kickstarter to live fact-check the 2015 State of the Union and GOP response.