Get PolitiFact in your inbox.
End no-bid contracts above $25,000
"Will ensure that federal contracts over $25,000 are competitively bid."
Obameter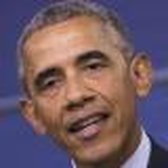 It was the political equivalent of Barack Obama's eyes being too big for his stomach.

Obama's campaign pledge to require competition for all contracts over $25,000 sure sounded good, but even the most ardent watchdogs say it would be all but impossible.

Indeed, since Obama took office, none of the instructions from the White House's Office of Management and Budget -- which serves as the administration's controller -- has put any limits on the value of no-bid contracts. The guidance from the president and OMB appears to acknowledge that federal agencies may not always bid a project competitively, and instead has encouraged managers to do more to increase competition among contractors.

There is a paper trail:
In a memo March 4, 2009, President Obama ordered the OMB to develop rules to "govern the appropriate use and oversight of sole-source and other types of noncompetitive contracts and to maximize the use of full and open competition and other competitive procurement processes." But no mention of any $25,000 rule.

The OMB followed up with a July 29, 2009, memo ordering agencies to cut by 10 percent the total dollars awarded via three types of so-called "risky" contracts, including no-bid or single-bid contracts. Again, nothing on a $25,000 rule.

Then, on Oct. 27, 2009, the OMB's Office of Federal Procurement issued guidelines for agencies that asked procurement officers to find more ways to use competitive contracts. But it didn't mention the $25,000 rule that candidate Obama had promised either.

Scott Amey, an expert in government contracting and counsel for the nonprofit Project on Government Oversight, said Obama deserves credit for addressing the issue, but it's unrealistic to think he could fulfilll his promise.

"There are certain times and certain circumstances where there's public interest or national security that you have to limit competition, or (a contract) might not be full and open," said Amey, who frequently testifies before Congress on the matter.

Ron Utt, a senior research fellow at the Heritage Foundation, a conservative think tank, offers this scenario: The Army realizes it needs 20,000 more heavy sleeping bags for troops in Iraq as winter arrives. "You can put them out for bid, and by the time spring comes around, you may be able to award a contract," he said. "But that doesn't help the soldier who spent the winter freezing."

Instead, the government would probably turn to a supplier with which it already has a master service contract -- an agreement to provide needed goods or services at cost plus an agreed-upon markup.

Utt said Obama's campaign pledge probably reflected his naivete about contracting when he was a candidate. For instance, it would probably not be cost-effective to bid out many smaller contracts, even some over $25,000. "Any savings would be quickly erased by the paperwork" of bidding them out, he said.
Based on the stream of guidance flowing from the OMB and White House to the federal agencies, it seems clear to us the administration does not plan to fulfill the president's promise of requiring competitive bids for every contract worth more than $25,000. And neither the OMB nor the White House disputes this, emphasizing instead their effort to encourage competitive bidding wherever possible.

"It is the policy of the federal government that executive agencies shall not engage in noncompetitive contracts except in those circumstances where their use can be fully justified and where appropriate safeguards have been put in place to protect the taxpayer," the OMB said in a statement to PolitiFact.

An e-mail from White House spokeswoman Kate Bedingfield and OMB spokesman Ken Baer said the president has directed agencies to cut so-called "high-risk contracting authorities," which include no-bid contracts, by 10 percent this year alone.

"Improving federal contracting and ensuring that our taxpayer dollars are spent well are top priorities," their e-mail said. "The President has charged federal departments and agencies with saving $40 billion annually by Fiscal Year (FY) 2011 through terminating unnecessary contracts, strengthening acquisition management, ending the overreliance on contractors, and reducing the use of high-risk contracts across government. The government"s major contracting agencies – which account for more than 98 percent of contract spending – are on track to meet this goal, identifying more than $19 billion of savings for the first year of this reform effort."

Progress? Watchdogs such as the Project on Government Oversight say yes. But that's still not fulfilling Obama's pledge to require competitive bidding for all contracts over $25,000. So we rate this one a Promise Broken.
Jan. 5, 2010, statement from the Office of Management and Budget and the White House.
Jan. 5, 2010, phone interview with Ron Utt, senior research fellow at the Heritage Foundation.

Jan. 4, 2010, phone interview with Scott Amey, counsel, Project on Government Oversight.

Congressional testimony of Scott Amey, POGO, on contracting.

President Obama's March 4, 2009, memo to agency heads on government contracting.

July 29, 2009, memo from Office of Management and Budget Director Peter Orszag to agency and department heads regarding contracts.

Oct. 27, 2009, memo from the Office of Management and Budget to federal procurement officers.

Federal Contract Awards by Extent of Competition , from USASpending.gov.

OMB Pushes Agencies to Increase Contract Competition , Oct. 27, 2009, Washington Technology magazine.