Stand up for the facts!
Our only agenda is to publish the truth so you can be an informed participant in democracy.
We need your help.
I would like to contribute
Get his daughters a puppy
"The pledge is (Sasha and Malia) will get their dog, win or lose."
Obameter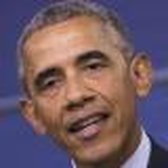 It may not be as momentous as his promises to end the Iraq war or cut taxes for 95 percent of American families , but President Barack Obama's pledge to buy his daughters a puppy has spawned intrigue (the dog's identity was disclosed by a mysterious Web site ), lobbying (a Washington Labradoodle owner launched "Labradoodles for Obama" ) and controversy (a PolitiFact reader wrote us recently to consider this a broken promise because, two months into his presidency, Obama still hadn't delivered the dog).
But Obama has fulfilled the promise. The White House announced Sunday that the Obamas are adopting Bo, a 6-month-old Portuguese water dog.
The dog is a gift from Sen. Ted Kennedy, a Portie owner, which means that Bo comes, in the words of Howard Dean, from the Democratic wing of the Democratic Party. According to exhaustive reporting by the
Washington Post,
we also know
details of the dog's conception
, such as the fact that the kennel owner sipped a Budweiser while Bo's parents mated.
Originally named Amigo's New Hope, the dog was adopted by a woman in Washington who named him Charlie. But he didn't get along with her older Portie, so the woman returned him. At that point, Kennedy's wife Victoria, who had gotten another puppy from the litter, suggested he would be perfect for the Obama girls. They named him Bo because their cousins have a cat by the same name and Michelle Obama's father was nicknamed Diddley.
Bo's adoption was announced on April 12, 2009, but he won't arrive at the White House for another day or two. He first must complete his education — not at Harvard like so many Obama appointees, but at the Merit Puppy Training in Hume, Va. The academy's Web site says it uses "shaping and luring techniques combined with behavior modification" to teach dogs " basic manners."
The Web site says, "It is far easier to train them now rather than try to cure behavior problems later on."
Obama pet, likely a Portuguese Water Dog, coming in April
We know a lot of PolitiFact readers are counting on us for the latest in the Obama dog search, and we think we have what qualifies as breaking news.

The dog is coming in April.

Under the breathless online headline "Michelle Obama: White House Dog Coming Soon!" People magazine broke this news in an exclusive interview with Michelle Obama, who "leaned in and confided" the scoop that the family pet would arrive after her daughters' return from a family spring break trip.

More news: Michelle Obama told People the family is looking to rescue a Portuguese Water Dog. That's not good news for those who were backing a Labradoodle, the other breed on the Obamas' short list.

And even more news: Two potential names being kicked around by the Obama family — Frank and Moose — have been nixed. "I'm like, no, come on, let's work with the names a little bit," Michelle Obama said. The full interview will hit the newsstands in People' s Feb. 27 editions.

Lastly, we can't help but note a little irony from our last update on this promise, when we cited a Jan. 10, 2009, interview in which then President-elect Barack Obama told George Stephanopoulos that narrowing down the breed of their new dog "has been tougher than finding a commerce secretary." That was a joke about his first pick for commerce secretary, New Mexico Gov. Bill Richardson, who withdrew due to a grand jury investigation into allegations of improper awarding of contracts. More trouble followed in February when Obama tapped Republican Sen. Judd Gregg, who stepped down after citing "irresolvable conflicts" with the Obama agenda. Obama announced his third stab on Feb. 25: former Washington Gov. Gary Locke.

No word on whether the dog vetting process will include a review of tax returns.

Stay tuned.
A presidential decision: Labradoodle or Portuguese water hound?
Barack Obama said he's been surprised at the huge amount of interest in what kind of dog the family will get. Obama told his daughters that if he ran for president, they would get a dog, and now he has found himself overwhelmed with advice.
"We're getting more advice about this than my economic policy," he told Barbara Walters on Nov. 25, 2008. "No doubt about it."
He said he hoped the family would get a rescue dog, but that it would have to be a hypoallergenic breed, because his older daughter Malia is allergic. He also said they would not get the dog until they were settled into the White House, probably in early spring.
But we do know they have narrowed down their choices on breed. It's going to be either a labradoodle or a Portuguese water hound, Obama said on Jan. 10, 2009.
"We're closing in on it," Obama told George Stephanopoulos. "This has been tougher than finding a Commerce secretary."
Narrowing the choice to two breeds seems like progress to us, doggone it. We're moving this item to In the Works.