Stand up for the facts!
Our only agenda is to publish the truth so you can be an informed participant in democracy.
We need your help.
I would like to contribute
Previewing Arizona's U.S. Senate primary
Republican primary voters in Arizona will decide Aug. 28 whether Trump-pardoned Joe Arpaio deserves another stint in public office — this time as a U.S. senator — and whether he's the better candidate to defeat whom Democrats' believe could be their first Arizona senator in decades.
Arizona's open U.S. Senate seat, vacated by retiring Republican Sen. Jeff Flake, is being contested in the Republican primary by Arpaio, Rep. Martha McSally and former Arizona state senator Kelli Ward.
The Democratic primary race has been deemed largely uncontested, with Rep. Kyrsten Sinema expected to defeat attorney Deedra Abboud. Sinema campaigned as being independent and willing to work across the political aisle. Democrats believe she has a strong chance of becoming the first Arizona Democrat elected to the U.S. Senate since Dennis W. DeConcini's re-election in 1988. The general election is Nov. 6.
President Donald Trump in 2016 defeated Hillary Clinton in Arizona by 3.5 percent of the votes. As Arizonans get ready to head to the polls, here's a recap of how the Republican primary played out.
No public debates
Arizona voters did not get a chance to see the primary candidates — Republican or Democrat — present their platforms or challenge their opponents in public debates.
On the Democratic side, Abboud offered a more progressive agenda compared with Sinema's centrist stance. For instance, Abboud favors a single-payer health care system, and Sinema has called for fixing and also protecting parts of the Affordable Care Act.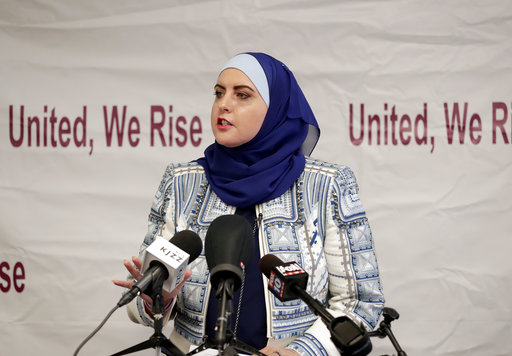 Deedra Abboud announced her candidacy for the U.S. Senate, July 31, 2017, at the Democratic headquarters in Phoenix. (AP Photo/Matt York)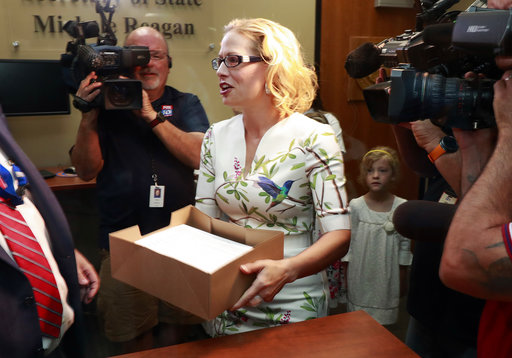 U.S. Rep. Kyrsten Sinema, D-Ariz., delivers her signatures to Arizona Director of Elections Eric Spencer at the Arizona Secretary of State's office, May 29, 2018 in Phoenix. (AP Photo/Matt York)
Republican candidates diverged in style but presented similar views on key issues that aligned with Trump's agenda: They want to build the border wall, support the military, and back the tax cuts Trump signed into law late 2017.
In January, Ward proposed a series of six debates leading up to the August primary election. In July and early August, Ward repeated calls for debates. Arpaio on Aug. 15 retweeted a letter from his campaign challenging Ward and McSally for a debate. McSally has said she's focused on engaging primary voters and that they know where the candidates stand on a lot of issues.
The Arizona Republic reported that McSally and Sinema refused to participate in televised debates.
No support from Trump, but plenty of love for Trump
Unlike other Senate races, Trump refrained from campaigning for either of the three top Republican candidates or from tweeting an endorsement. That didn't stop the candidates from promoting their support for Trump or from championing his views on immigration and other national issues.
In a campaign ad, McSally resurfaced Trump's praise for her as "the real deal" and positioned herself as the one candidate who would stand with Trump. McSally has been perceived as a moderate Republican in the House, but embraced a more conservative tone and stronger alliance to Trump during the Senate primary race.
Ward, a vocal Trump supporter, was called out for sending campaign mailers giving a misleading impression that Trump endorsed her in the primary. The mailers featured a truncated Trump tweet from August 2017, posted months before McSally and Arpaio entered the race. The mailer said, "Great to see that Dr. Kelli Ward is running." But the original tweet — pinned at the top of Ward's Twitter page — said, "Great to see that Dr. Kelli Ward is running against Flake Jeff Flake, who is WEAK on borders, crime and a non-factor in Senate. He's toxic!" The tweet was more about Flake than about Ward.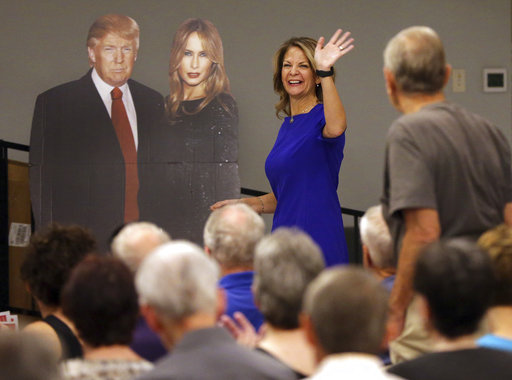 U.S. Senate candidate Kelli Ward waves to volunteers and voters as she walks past a cardboard cut-out of President Donald Trump and first lady Melania Trump at the Sun Lakes Republican Club meeting in Sun Lakes, Ariz., May 8, 2018. (AP Photo/Matt York)
Arpaio's campaign website featured on its homepage a photo of Trump with his arm over Arpaio. The site included an article highlighting Vice President Mike Pence's visit in Arizona in May, where Pence said Arpaio was "a great friend of this president, a tireless champion of strong borders and the rule of law." In August 2017, Trump pardoned Arpaio's contempt-of-court criminal conviction related to his immigration practices as sheriff of Maricopa County.
McSally leads the polls in the Republican primary. But polls favor Sinema in potential contests against McSally, Ward, or Arpaio.
Controversial guests in Ward, Arpaio bus tours
Ward in mid August announced a "Road to Victory" bus tour with a guest list that included Mike Cernovich, known for controversial remarks and for having promoted the debunked Pizzagate conspiracy theory claiming Hillary Clinton was part of a pedophile ring.
"I don't really know what Mike Cernovich's views are. I know he's got an audience and we want to serve everyone," Ward told NBC's Kasie Hunt.
Arpaio launched an "ICE Tour" with bus stops around the state, including some near the border and by a U.S. Immigration and Customs Enforcement's office in Phoenix.
Courtland Sykes, a Republican who unsuccessfully ran in the Missouri Senate primary race, reportedly joined Arpaio's bus tour Aug. 20. Asked about Sykes' previous remarks that feminists are "she devils" with "nasty, snake-filled heads," Arpaio said: "that's his opinion, all I can tell you, I've been married 61 years, you know that, I think I like women." Arpaio said he didn't check Sykes' background.
Arpaio kept a relatively low profile for most of the primary. At an Aug. 9 town hall, he said he wasn't in it "to get my name on the paper."
U.S. Senate candidate and former Maricopa County Sheriff Joe Arpaio speaks to a voter at a campaign stop Thursday, Aug. 23, 2018, in Scottsdale, Ariz. (AP Photo/Matt York)
But he made headlines after being pranked by comedian Sacha Baron Cohen on the Showtime show "Who Is America?" Cohen, pretending to be a Finnish celebrity, had Arpaio discuss gun control with a donut toy, and asked him if he would accept a sexual act from Trump. Arpaio later told The Arizona Republic that he was "kind of disappointed I fell for their trap." Cohen has pranked other former and current elected officials.
Arpaio also garnered attention not for policy positions, but for adding two campaign staffers who used to work for Ward and are "out for revenge." Arpaio's communications director Jennifer Lawrence and senior strategist Dustin Stockton, former Breitbart News reporters, launched a series of social media accusations against Ward and her husband, including allegations of harassment.

Related fact-checks
Half True: Ward claimed McSally is a border hawk flip-flopper.
Mostly False: Arizona Democratic Party claimed McSally voted to sell internet users' data.
Half True: Sinema said she is "the only candidate for Senate who refuses to cut Medicare and Social Security or raise the retirement age."
Mostly False: McSally claimed Ward attacked Trump's plans to crack down on illegal immigration.
Mostly False: Defend Arizona claimed Ward call for "restraint in fighting terrorism."
Arizona's race is among 16 PolitiFact is tracking, read more about other key races.
Azcentral.com, Arizona's Democratic Senate race should be more of a contest. Here's why it's not, Aug. 12, 2018, updated Aug. 21, 2018
Senate.gov, States in the Senate - Arizona
Azcentral.com, Kelli Ward doctors President Trump tweet in campaign mailer 2 weeks before Senate primary, Aug. 15, 2018
Twitter, @realdonaldtrump tweet, Aug. 17, 2018
PolitiFact, Arpaio falsely ties conviction to Obama administration, Aug. 29, 2017
PolitiFact, Trump and pardoning Joe Arpaio: What to know about the process, Aug. 22, 2017
Realclearpolitics.com, 2018 Arizona Senate
Kelli Ward campaign website, Dr. Kelli Ward Announces "Road to Victory" Bus Tour, Aug. 17, 2018; Dr. Kelli Ward proposes comprehensive, issue-oriented debates for U.S. Senate race, Jan. 29, 2018; Dr. Kelli Ward presses McSally, Arpaio to agree to primary debate hosted by Fox News, July 20, 2018; Dr. Kelli Ward agrees to sign GOP Unity Pledge on debate stage, Aug. 7, 2018
PolitiFact, How Pizzagate went from fake news to a real problem for a D.C. business, Dec. 5, 2016
Southern Poverty Law Center, Mike Cernovich
Azcentral.com, Kelli Ward to tour with Pizzagate conspiracy theorist Mike Cernovich. No, really, Aug. 20, 2018
Chron.com, Trump Jr.: Pizzagate blogger deserves Pulitzer for Susan Rice story, April 4, 2017
Nypost.com, Columbia welcoming alt-right speakers to campus, Sept. 7, 2017
Mediamatters.org, Mike Cernovich's far-right conspiracy theories, bigotry, and association with white supremacists, Aug. 21, 2018
Twitter, @AynRandPaulRyan tweet, Aug. 21, 2018
Twitter, @KasieDC tweet, Aug. 19, 2018
Twitter, @RealSheriffJoe tweet, Aug. 19, 2018; tweet, Aug. 22, 2018; tweet, Aug. 9, 2018
12news.com, Politician who called feminists 'she devils' joins Joe Arpaio on campaign bus, Aug. 21, 2018
Twitter, @VaughnHillyard tweet, Aug. 20, 2018
Thedailybeast.com, Sacha Baron Cohen Gets Joe Arpaio to Accept 'Amazing Blow Job' From Trump, Aug. 5, 2018
The Washington Post, Sacha Baron Cohen pranks former Arizona sheriff Joe Arpaio into debating gun control with a Shopkins toy, Aug. 6, 2018
Azcentral.com, Joe Arpaio says he was punked by comedian Sacha Baron Cohen in 'fake' interview, July 12, 2018
Vulture.com, All the People Sacha Baron Cohen Has Duped So Far, July 21, 2018
Washingtonexaminer.com, With campaign aides out for 'revenge,' Joe Arpaio takes sharp turn against Kelli Ward, Aug. 14, 2018
Azcentral.com, Joe Arpaio's campaign in chaos in final days of Arizona's U.S. Senate race, Aug. 21, 2018
Twitter, @JenLawrence21 tweet, Aug. 6, 2018
Twitter, @DustinStockton tweet, Aug. 1, 2018
Twitter, @RightWingLawMan tweet, Aug. 15, 2018
Azcentral.com, Bannon endorses Ward, signaling Trump supporters have settled on a challenger to Flake, Oct. 17, 2017, updated Nov. 14, 2017
Azcentral.com, Martha McSally, Kyrsten Sinema refuse to debate rivals in Senate races, Aug. 15, 2018
APnews.com, Arizona voters won't see primary debates, Aug. 16, 2018
Browse the Truth-O-Meter
More by Miriam Valverde