Stand up for the facts!
Our only agenda is to publish the truth so you can be an informed participant in democracy.
We need your help.
I would like to contribute
Does Mike Pence call his wife 'Mother'?
The old-fashioned quality of Vice President Mike Pence's relationship with wife Karen has made their marriage something of an obsession.
Pence said in 2002 that in the interest of "building a zone around (his) marriage," he never dines alone with a woman other than Karen and avoids attending events without her if alcohol is present. It's unclear if this remains his practice, but the Pences' distinctive relationship has taken on greater interest since the former Indiana governor became vice president. (His boss President Donald Trump has noted his wingman "has one hell of a good marriage going.")
Several days after the inaugural, Rolling Stone published a 6,500-word profile on Pence, which revealed a colorful detail about the vice president and the second lady. Citing an anonymous source, the magazine reported that Pence refers to wife Karen as "Mother."
The article described a scene from a dinner at the governor's mansion where Pence was hosting Democratic state lawmakers. In the presence of his dinner guests, Pence was reportedly overheard shouting to Karen from one end of the table to the other:
"Mother, Mother, who prepared our meal this evening?"
The legislators looked at one another, speaking with their eyes: He just called his wife "Mother."
Maybe it was a joke, the legislator reasoned. But a few minutes later, Pence shouted again.
"Mother, Mother, whose china are we eating on?"
A couple of his dinner guests raised their eyebrows at the nickname, but Pence wouldn't be the first man at the highest rungs of the executive branch to call his wife "Mother," or some variation of it, according to Carl Sferrazza Anthony, a historian of first ladies.
Abraham Lincoln called Mary "Mother" (or Molly), and Calvin Coolidge referred to wife Grace as "Mamma." More recently, Gerald Ford referred to Betty as "Mother" (after they had children) and Ronald Reagan called Nancy "Mommy."
We emailed the vice president's office to ask if Pence refers to Karen as "Mother." His office initially declined to comment on the record, before an aide later emailed to say: "This is false."
We decided to break from our usual mission of analyzing the nitty gritty of public policy to look into this unusual feature of Pences' relationship that has captured readers' interest. We found several people willing to go on the record that Pence calls his wife "Mother," but we were unable to find video or other documentary evidence, so the claim will remain unrated.
'Mother, Mother'
On the evening of March 12, 2013, seven Democratic lawmakers from the Indiana Legislature arrived at the governor's mansion in Indianapolis for dinner with the Pences. Rep. Linda Lawson recalled being seated nearest to Pence.
The evening was intended to bridge the gulf between Pence, whose Republican party held a supermajority in the state Legislature, and the Democratic minority. But for Lawson — who confirmed she was the source of the Rolling Stone story — the dinner was memorable more for what it revealed about the Pences' relationship than for any bipartisan bonhomie it may have stirred.
Here's how Lawson recalled the evening to PolitiFact:
"We didn't have an awful lot to talk about because we haven't anything in common. I mean, his concerns about women's reproductive rights and LGBT issues weren't part of his priority list and they were part of ours.
"So there was a big lull in our conversation and he shouted down at the end of the table to his wife and said: 'Mother! Mother! Could you tell us who's china we're eating on this evening?' And she responded by saying, 'Yes, this belonged to (former Indiana Gov. Mitch) Daniels' family. It's very efficient and it's white and you can use it with everything, blah, blah, blah.'
"So the conversation went on and we were oohing and aahing at how great that was. But then there was still nothing to talk about. So maybe 15 minutes later it was, 'Mother! Mother! Who prepared our meal this evening?' And she went on to explain it was a caterer in town and he was new and he was really good and blah blah blah."
"The leader of the Democrats was sitting next to me on my right side, and I looked at him and I said, 'He called his wife f------ 'Mother'!' "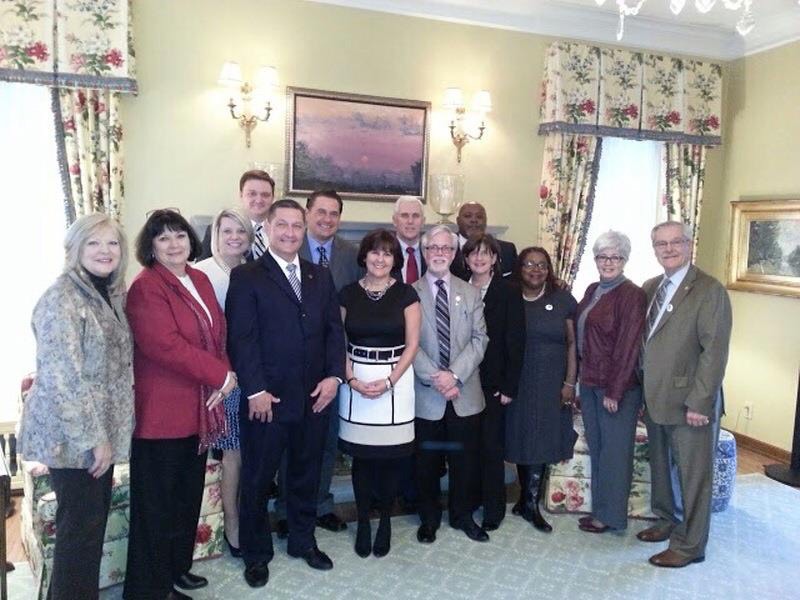 A group photo of the Democratic guests on the evening when then-Indiana Gov. Mike Pence was overheard referring to wife Karen Pence as "Mother." Rep. Linda Lawson is second from left. (March 12, 2013. Courtesy of Ryan Dvorak)
We asked Lawson if men referring to their wives as "Mother" was a regional custom, or a commonplace term of endearment in her neck of the woods.
"I am going to be 70 years old in November. I was in the General Assembly for 20 years, and I was a police officer for 24 years before that, and I have never heard a man call his wife 'Mother,' " she said. "I just never have. So that's why I was so shocked."
Pence's office referred us to Marc Lotter, who served as Pence's press secretary until he resigned last fall. Lotter, who's known and worked for Pence since the mid 1990s, said Lawson is "not a fan" of the vice president.
"I don't ever recall hearing that," he said. "About the closest you could come would be if the kids were in the room or something and it was, you know, 'Talk to your mom, talk to your mother,' those kinds of things like many parents do."
Lotter did not attend dinner at the governor's mansion with the Democratic lawmakers. But he held out the possibility that Pence had been "making some kind of joke or something along those lines."
But according to a former Democratic lawmaker who sat next to the governor at one of the dinners, Pence himself seemed to indicate "Mother" was more of an enduring moniker rather than an isolated reference.
"I remember him saying that about Karen — referring to his lovely wife — saying, you know, 'I refer to her as 'Mother.' 'Mother Pence,' " said former Indiana Democratic State Sen. James Arnold. "It was just kind of comical. But then again all of us in politics need somebody to watch over us. We all need mothers, I'll tell ya."
Arnold's former aide, Michelle Moody, said that while she couldn't confirm the context of the conversation, "I do know that Pence referred to his wife as 'mother' several times during the dinner." (It's unclear if Moody herself attended the dinner, or if she heard this secondhand.)
Separately, longtime Indiana politics reporter Jim Shella, who covered the Pences, recalled hearing the nickname in 2013 while at the governor's residence to conduct an interview.
"Offhand, I'm going to say that I did hear him use that term on at least one occasion, but it's not a clear memory," said Shella, a political reporter with Indianapolis-based WISH-TV Channel 8. "It certainly fits with his general demeanor."
Democratic Rep. Scott Pelath said he remembers attending dinner at the governor's mansion. He doesn't recall hearing Pence call Karen "Mother," though he doesn't dispute it either, in part because it aligns with the Pences' quaint manner.
"When I was a child, I personally knew a lot of rural progenitors born in the 1800s, and perhaps that archaic manner of address skipped past my ears," Pelath said. "There were countless other things about the Pences that left a lasting impression. One, perhaps, is that they reminded me of rural progenitors born in the 1800s."
Tweet by Harry Siegel, March 30, 2017
The Hill, "Trump: Pence has 'one hell of a good marriage,' " March 31, 2017
Rolling Stone, "The Radical Crusade of Mike Pence," Jan. 23, 2017
Email interview with Carl Sferrazza Anthony, a historian of first ladies, March 24, 2018
Email interview with Alyssa Farah, press secretary for Vice President Mike Pence, March 22, 26
Interview with Indiana state Rep. Linda Lawson, March 22, 2018
Photograph, courtesy of Rep. Ryan Dvorak, March 12, 2013
Interview with Marc Lotter, former press secretary for Vice President Mike Pence, March 22, 2018
Interview with former Indiana State Sen. James Arnold, March 25, 2018
Email interview with Michelle Moody, former aide to retired Indiana State Sen. James Arnold, March 22, 2018
Email interview with Jim Shella, an Indiana politics reporter with Indianapolis-based WISH-TV Channel 8, March 24, 2018
Email interview with Indiana state Rep. Scott Pelath, March 22, 2018
Browse the Truth-O-Meter
More by John Kruzel