Stand up for the facts!
Our only agenda is to publish the truth so you can be an informed participant in democracy.
We need your help.
I would like to contribute
Jared Kushner appears to have misled Congress about his security clearance
Jared Kushner's security clearance is getting an audit in the press.
This year alone, MSNBC and CNN have mentioned Kushner's clearance more than four dozen times. Democrats who have pressed for his clearance to be pulled are becoming familiar faces on cable news.
"I've kind of been after it in the last two years," Rep. Raja Krishnamoorthi, D-Ill., told MSNBC's Rachel Maddow Feb. 19, referring to questions around Kushner's clearance. "As you might recall, Jared Kushner had 100 errors and omissions on his own security clearance form. And so these guys (Kushner and Michael Flynn) are in my opinion walking, talking conflicts of interest."
The Democratic-led House is vowing to ramp up its probe of Trump team clearances, and Kushner in particular is under scrutiny.
Trump supporters, for their part, say curtailing Kushner's access to sensitive intelligence is nothing more than a ploy to hamper his effectiveness and dirty up Trump before the 2020 vote.
National security experts say legitimate questions remain unanswered about whether security clearance protocols were breached, and if Kushner, the president's son-in-law and senior adviser, received special treatment. Kushner is likely to face the following questions about his security clearance.
Why were foreign contacts omitted?
Kushner claims he made a startling discovery about his own security clearance application two days before Trump's inaugural. The application had been submitted, but the section that asks about foreign contacts was left blank — despite his numerous encounters with foreign officials.
Kushner alerted the FBI the next day. Then, after a four-month delay, he eventually disclosed more than 100 foreign contacts, including with the Russian ambassador and the chairman of a major Russian state-owned bank that is under U.S. sanctions.
MSNBC's Nicolle Wallace on the set of her show "Deadline: White House," in Washington. (MSNBC via AP)
National security lawyers we spoke to said an omission of this nature and scale is highly unusual.
When Kushner offered an explanation — that an aide sent his application prematurely — Democrats were incredulous.
"You don't just forget about these meetings. Jared Kushner deliberately omitted those on his security clearance form. That's a felony and it also puts him in a compromised position," Rep. Ted Lieu, D-Calif., said May 30, 2017, on CNN. "I would love for Jared Kushner to answer why he lied on his security clearance form under oath."
More than two years after Kushner's initial filing, Lieu, a frequent cable news guest, is keeping the pressure on.
"Today seems like a good day to ask again," Lieu tweeted this month. "Why does Jared Kushner still have a security clearance?"
Today seems like a good day to ask again:

WHY DOES JARED KUSHNER STILL HAVE A SECURITY CLEARANCE? https://t.co/ObKbqIRIVp

— Ted Lieu (@tedlieu) February 20, 2019
Did Trump's son-in-law get preferential treatment?
By all accounts, Kushner did immediately alert investigators that his security clearance form had omitted his foreign contacts.
But according to reports, Kushner did not disclose his first tranche of foreign contacts until mid May 2017, more than four months later.
Yet Kushner's disclosures were still incomplete. Once again he had not told investigators about the June 2016 meeting at Trump Tower with a Kremlin-linked lawyer who was said to have incriminating information about Hillary Clinton. He disclosed that meeting in another update to the FBI in June 2017.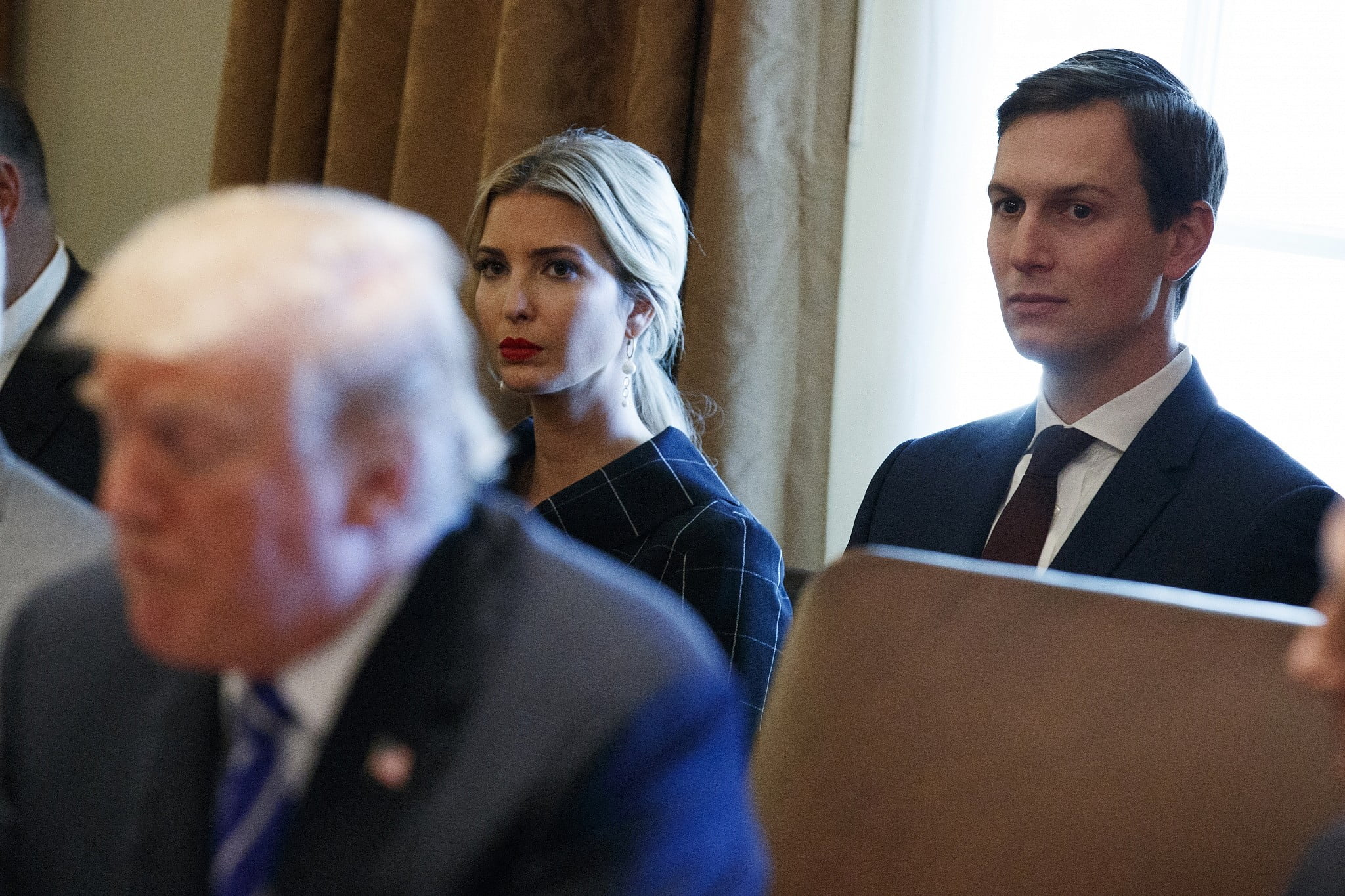 Ivanka Trump, center, and Kushner, right, listen to President Donald Trump during a cabinet meeting at the White House on Nov, 20, 2017. (AP)
"I have never heard of any of my clients being able to amend their SF-86 in this fashion," said John Berry, an attorney who specializes in security clearances, referring to the national security questionnaire by its technical name. "It should have been rectified right away, and definitely not on a rolling basis, if that is what occurred."
Meanwhile, Kushner possessed an interim security clearance during this period, and had regular access to the President's Daily Brief, a top-secret dispatch of the country's most highly sensitive intelligence, according to the New Yorker. David Priess, a former CIA officer who delivered the President's Daily Brief to top officials during the George W. Bush administration and penned a book about its history, told the magazine Kushner's arrangement was unprecedented.
Democrats, liberal pundits and independent legal experts have raised concerns that a double standard was applied to the president's son-in-law.
"The decision to grant him interim access in that context reeked of special favors for Kushner," said attorney Bradley Moss, a widely cited national security law and clearance expert. "I have never seen a person in that situation get an interim clearance."
Rep. Elijah Cummings, D.-Md., chairman of the House Oversight and Reform Committee, told NBC News the circumstances surrounding Kushner's clearance would be a focus of the investigation the committee announced Jan. 23.
Did Kushner mislead Congress?
House Democrats, now armed with subpoena power, are likely to pursue long-standing questions about whether Kushner was fully candid when he testified before Congress in July 2017.
While reviewing Kushner's only known public remarks about his clearance, PunditFact identified a little-noticed instance where Kushner seems to have misled Congress about his follow-up disclosures to the FBI.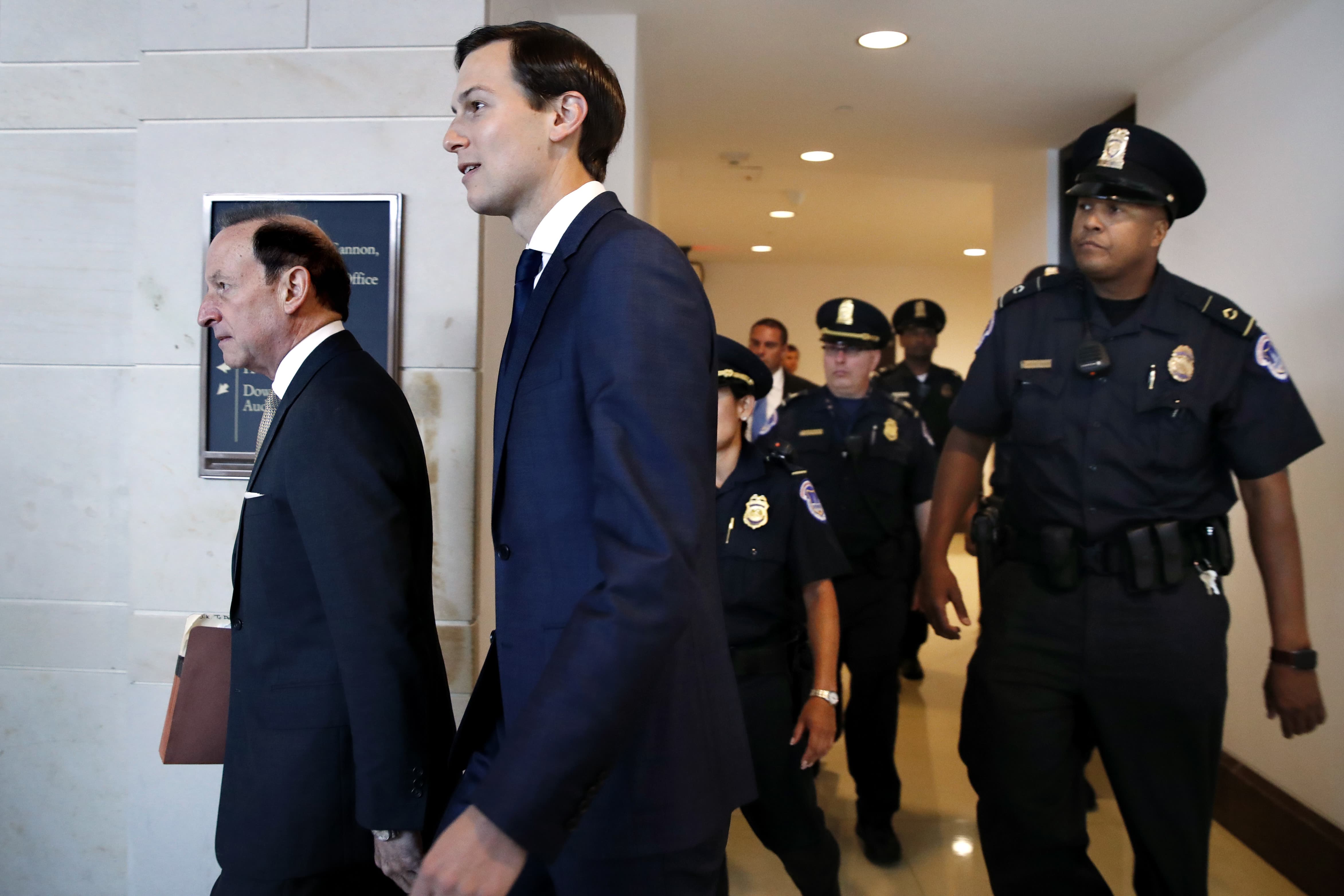 Kushner, center, and his attorney Abbe Lowell, left, arrive on Capitol Hill in Washington on July 25, 2017, to be interviewed by the House Intelligence Committee. (AP)
Security clearance adjudicators look favorably upon applicants who are proactive, not reactive, in rectifying errors. Federal guidelines say "prompt, good-faith efforts to correct the omission, (...) before being confronted with the facts" can mitigate security concerns.
Kushner claims to have to done so. But a review of the timeline from spring 2017 calls his account into question.
While Kushner was prompt in notifying investigators about his omission, it appears he only gave the FBI a list of foreign contacts after reports in the press revealed his failure to do so.
In a statement to Congress, however, Kushner created a different impression.
"I provided a list of those contacts in the normal course, before my background investigation interview, and prior to any inquiries or media reports about my form," Kushner said.
On April 6, 2017, the New York Times published a report with the headline "Kushner Omitted Meeting With Russians on Security Clearance Forms." CNN matched the New York Times later that day with a report titled, "Kushner hasn't yet detailed foreign contacts for security clearance."
Yet Kushner did not provide the FBI a list of foreign contacts until mid May, according to the Washington Post and Yahoo News investigative correspondent Michael Isikoff.
Because Kushner's application is private, much of what has been publicly learned about its contents and filing dates come from investigative reporting.
"Assuming the reports are accurate and Kushner did not provide the missing information until May 2017," Moss said, "then his statements to Congress were unequivocally false and inaccurate."
Kushner's legal counsel Jamie Gorelick and Abbe Lowell did not provide a statement for the story. The White House did not reply to a request for comment.
Rep. Eric Swalwell, D-Calif., who sits on the House Intelligence Committee, one of the panels Kushner addressed, told us the issue PunditFact raised is among the "red flags" that warrant a broad look at Trump's handling of clearances.
"I'm eager to help lead the long-overdue conversation on reforming our security clearance procedures," Swalwell told PunditFact. "Jared Kushner isn't the only case in which we have tough questions to ask about evasiveness and possible breaches of protocol. Considering the cast of characters this president has around him, these red flags could be more widespread."
National security lawyers we spoke with said Kushner's apparent discrepancy was at a minimum bad optics, but could be grounds for revocation of his security clearance.
"Providing false information to Congress is a problem — and potentially a crime — all by itself," said Steven Aftergood, an expert on government secrecy at the Federation of American Scientists. "Beyond that, it suggests bad faith and a lack of cooperation with security officials, particularly because it is part of what looks like a pattern of evasiveness."
MSNBC, The Rachel Maddow Show, Feb. 19, 2019
CNN, May 30, 2017
Tweet by Ted Lieu, D-Calif., Feb. 3, 2019
The New Yorker, "Jared Kushner Is China's Trump Card," Jan 29, 2018
NBC News, "Officials rejected Jared Kushner for top secret security clearance, but were overruled," Jan. 24, 2019
Letter from Rep. Elijah Cummings, D.-Md., chairman of the House Oversight and Reform Committee, announcing investigation into Trump administration security clearances, Jan. 23, 2019
Mother Jones, "Kushner May Have Withheld Even More Key Information From Congress," Nov. 17, 2017
The Atlantic, "The Secret Correspondence Between Donald Trump Jr. and WikiLeaks," Nov. 13, 2017
Adjudicative Guidelines for Determining Eligibility for Access to Classified Information, Dec. 29, 2005
Statement of Jared Kushner to congressional committees, July 24, 2017
New York Times, "Kushner Omitted Meeting With Russians on Security Clearance Forms," April 6, 2017
CNN, "Kushner hasn't yet detailed foreign contacts for security clearance," April 26, 2017
Washington Post, "Why Jared Kushner has had to update his disclosure of foreign contacts more than once," July 17, 2017
Yahoo News, "Sources: Trump lawyers knew of Russia emails three weeks ago," July 13, 2017
Email interview with Steven Aftergood, an expert on government secrecy at the Federation of American Scientists, Jan. 30, 2019
Interview with Virginia Canter, chief ethics counsel, Citizens for Responsibility and Ethics in Washington, Jan. 30, 2019
Email interview with John Berry, an attorney who specializes in security clearances, Feb. 20, 2019
Email interview with Sean Bigley, a national security attorney at Bigley Ranish, LLP, Feb. 20, 2019
Email interview with Ned Price, director of policy and communications at National Security Action, Feb. 20, 2019
Email interview with Kel McClanahan, executive director, National Security Counselors, Feb. 20, 2019
Email interview with Bradley Moss, a national security law and clearance expert, Feb. 20, 2019
Email interview with aide to Rep. Eric Swalwell, D-Calif., Feb. 20, 2019
Email interview with aide to Rep. Don Beyer, D-Va., Feb. 21, 2019
Browse the Truth-O-Meter
More by John Kruzel