Stand up for the facts!
Our only agenda is to publish the truth so you can be an informed participant in democracy.
We need your help.
I would like to contribute
Pot 101 Update: What are the rules for advertising recreational marijuana in California?
Driving down a busy street in South Sacramento, signs advertising cannabis deliveries can be seen every few blocks. On one there is a picture of a pineapple, accompanied by the promise of 'Free same day delivery'; on another: 'Recreational Cannabis available' with directions to the dispensary.
For more than a year, PolitiFact California has been addressing readers questions in our Pot 101 Updates since the legalization of recreational marijuana took effect in January 2018. We decided to tackle another question from a reader who asked about the laws surrounding marijuana advertisements.
"Recreational marijuana is subject to the same secondhand smoke laws in California as tobacco, and may not be used in any place where tobacco use is prohibited," a reader wrote in an email. "But can it be advertised in ways and places that tobacco advertising is not allowed?"
Technically, yes. Marijuana products can legally be advertised in places tobacco cannot. Despite the longevity of smoking in society, rules governing tobacco advertising were not implemented until 2009, and experts we spoke to believe it will take some time before similar advertising rules are put in place for marijuana.
Rules on advertising pot
While marijuana is an illegal drug federally, advertisement restrictions vary by state. Although, some platforms such as Twitter, have outright banned ads for the drug.
Chapter 15 of California's Proposition 64 outlines restrictions for advertising marijuana. Radio, cable, print, and digital ads can only be displayed where at least 71.6% of the audience is expected to be over the age of 21. This is determined by the most recent audience composition data.
Ads also cannot be posted within 1,000 feet of day care centers, schools between kindergarten through 12th grade, playgrounds or youth centers.
Josh Drayton, spokesman for the California Cannabis Industry Association, says Prop 64 isn't stopping businesses from finding ways to market products.
"They're forced to be creative," Drayton said. "They do have some pathways where they can advertise— in magazines, print media. Social media has become a little bit more challenging as Facebook, Instagram, and some of these other social media platforms have become more restrictive on advertising for cannabis products."
Facebook policy states it will not run ads promoting any sale or use of tobacco products, illegal, prescription and recreational drugs. Facebook does allow verified cannabis business pages to be found via their search bar. On the verified business pages, prices and sales for marijuana products cannot be posted.
Twitter has also banned the promotion of drugs and drug paraphernalia worldwide — except in Canada, where recreational marijuana is legal. A spokesperson for Twitter would not say if the ban on marijuana ads would be changed if the US were to legalize the drug.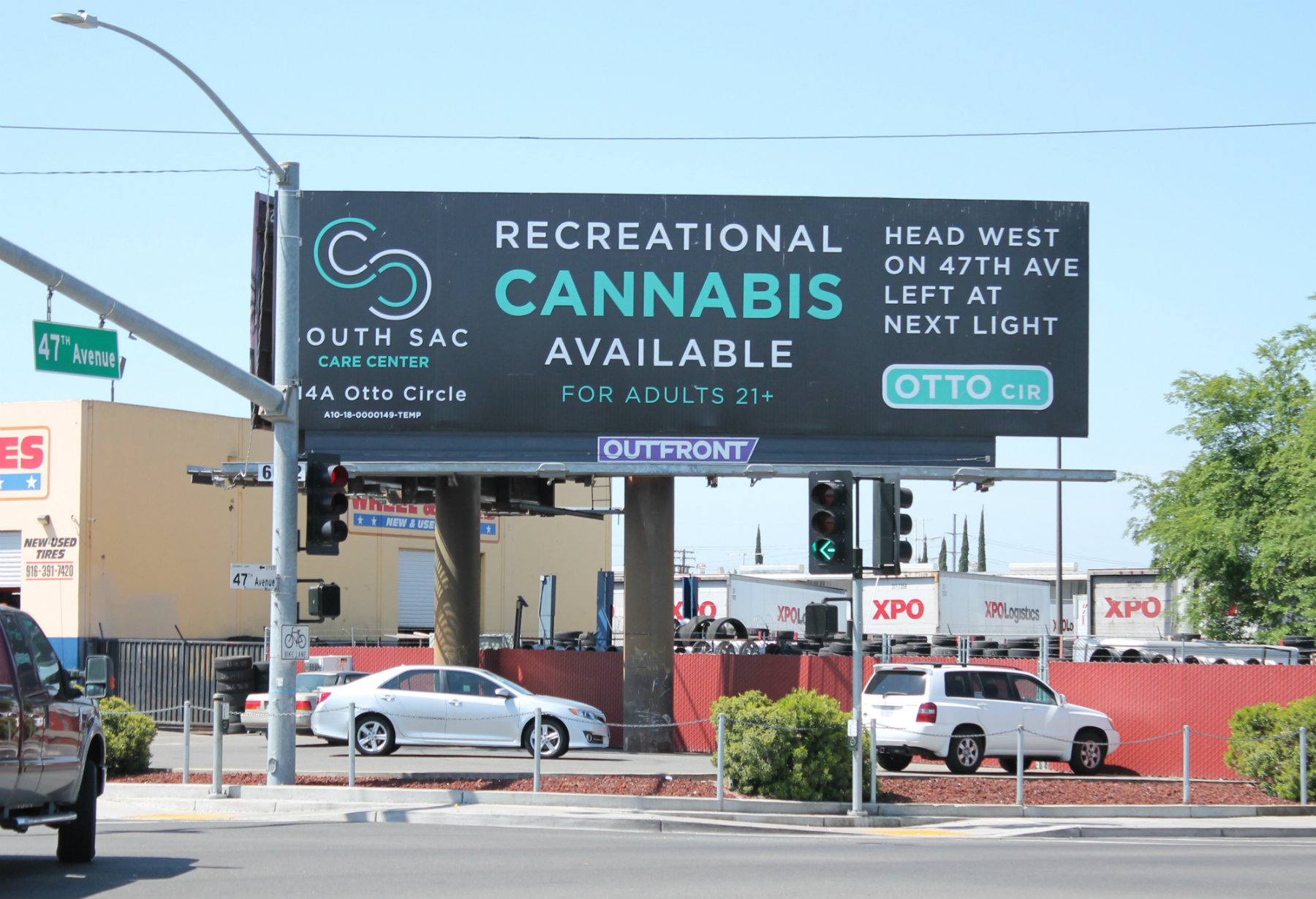 Marijuana ads in California cannot be posted within 1,000 feet of day care centers, K-12 schools, playgrounds or youth centers. Photo by Sami Soto / Capital Public Radio
Tobacco Ads
Laws for tobacco products were established under the Family Smoking Prevention and Tobacco Control Act. The act gave the FDA authority to regulate tobacco marketing practices.
Similar to marijuana, tobacco advertisements are banned from within 1,000 feet of schools and playgrounds. The act also limits advertising in publications to black text on white backgrounds only.
Tobacco products, including smokeless tobacco products, cannot be advertised on TV or radio under FCC regulations.
In California, tobacco companies are prohibited from any "outdoor advertising", which includes billboards, signs, and placards in arenas, stadiums, shopping malls, and arcades. Companies can advertise cigarettes and smokeless cigarettes outside retail stores, adult-only facilities, or sponsored events. Any business with advertisements posted is required to post an age-of-sale warning sign.
Under the FDA, tobacco product advertisements must have a warning that takes up at least 20% of the ad. This goes for print signs, web pages, and emails.
The California News Publisher's Association does not have formal guidelines in place for marijuana advertisements. Newspapers that do accept cannabis ads are advised to outline their own standards and comply with advertising laws.
Sacramento News & Review, an alternative weekly newspaper, allows ads with the requirement that the business must display their license number.
Kelsi White, the marketing consultant for News & Review, says companies are limited when it comes to how they can advertise.
"I personally don't allow people to have cartoons in their ads and that's also for tobacco ads," White said. "So if people try to have cartoons in their ads— I advise against it mainly because the cannabis industry does not want any association with kids."
Kevin Sabet, president of the non-profit Smart Approaches to Marijuana, believes marijuana ads should be as limited as tobacco products.
"I think it's a real problem. And I don't think the average California voter thought they were voting on resurrecting Joe Camel when they voted for marijuana legalization," Sabet said. "They actually thought they were voting really on decriminalization, not legalization, and not commercialization."
In contrast, Morgan Fox with the National Cannabis Industry Association, says the laws surrounding marijuana advertisements are already too restrictive.
"It really doesn't make much sense for adult-use cannabis advertising to be more heavily restricted than alcohol considering the former is objectively safer than the latter," Fox said.
Attempts to change pot advertisements
There have been attempts by city leaders and lawmakers across the state to restrict ads. In October 2018, a member of San Diego's city council tried to expand the list of prohibited sites for billboards to include libraries, churches, and residential care facilities. The effort did not pass.
In the state Legislature, there are also a few bills aimed at imposing more advertisement restrictions for marijuana businesses. Assembly Bill 1470 would levy penalties on advertisers who fail to comply with advertising laws. The legislation would also require cannabis operators to include their license numbers on advertisements including billboards, magazine, and any tech platform.
"I think right now it's all about breaking down and creating a cultural shift," Drayton, of the cannabis industry association, said. "Breaking down the stigma and further legitimizing the industry. And that's going to take a little bit more time."
No clear cut answer
It's a mixed bag when it comes to how marijuana can be advertised compared to tobacco. Marijuana can be advertised on billboards, where cigerettes cannot.
Both marijuana and cigerette products cannot be advertised within 1,000 feet of schools and are prohibited from using any graphics that cater to kids. Social media sets their own guidelines, with most platforms like Facebook and Twitter banning drug ads altogether.
More questions?
There's still a lot to learn about California's legal pot. We want to know your questions about what's allowed and what's not under the law.
Email us at [email protected], or contact us on Twitter or Facebook.
We'll consider your question for a future article.
Related:
PolitiFact California, Pot 101: Facts you should know about California's legal marijuana, Jan. 5, 2018
PolitiFact California, Pot 101 update: Are there limits on smoking pot at home near kids? Where else is it legal to smoke?, July 17, 2018
PolitiFact California, How much privacy do you have when you buy marijuana in California?, Feb. 13, 2018
PolitiFact California, Pot 101 Update: What are the laws surrounding second-hand marijuana smoke?, Dec. 20, 2018
Josh Drayton, Communications Director for the California Cannabis Industry Association, interview May 2019
Kelsi White, marketing consultant for Sacramento News & Review, interview May 2019
Kevin Sabet, president of Smart Approaches to Marijuana, interview May 2019
Morgan Fox, National Cannabis Industry Association, interview May 2019
Oag.ca.gov, Proposition 64, Chapter 15. Advertising and Marketing Restrictions, accessed May 8, 2019
Facebook.com, 5. Drugs & Drug-Related Products, accessed May 8, 2019
Twitter.com, Drugs and Drug Paraphernalia, accessed May 8, 2019
Tobacco Control Legal Consortium, Tobacco Product Marketing Restrictions, July 2009
ChangeLab Solutions, Tobacco Laws Affecting California 2018, January 2018
Cdtfa.ca.gov, Tobacco Control Laws, 2017
U.S. Food & Drug Administration, Advertising and Promotion, August 13, 2018
Browse the Truth-O-Meter
More by Sami Soto