Get PolitiFact in your inbox.
If Your Time is short
Online mentions of the false narrative that schools are providing litter boxes for students who identify as cats or furries intensified in the months before the 2022 midterm election, an analysis shows.

Despite a complete lack of evidence and rebuttals from schools, conservative political candidates, pundits and elected officials continued to repeat the unsubstantiated claim.

The falsehood reflects a misunderstanding of gender identity and the furry community that dehumanizes LGBTQ people, experts told us.
Since January 2022, when it was propelled across the internet in the U.S. by a conservative Twitter account, the false claim has stubbornly persisted that school districts are providing litter boxes for students who identify as cats or furries.
Republican politicians and right-wing figures with large followings kept the claim alive, often repeating stories they'd supposedly heard from friends or seen online, without offering evidence to substantiate them.
"In my district, I had a pastor come to me and he said he is being told that in the one school district — and I'm not saying this is the case, we don't know, it's unconfirmed," said Minnesota state Rep. Tim Miller, a Republican, in April. "But he is being told by multiple people that there is a litter box in one of the locker rooms."
Miller was one of three lawmakers in the state who shared the unsubstantiated rumor that month.
In the months leading up to the midterm election, online mentions of the false narrative increased significantly, as Republican candidates repeated the hoax and news outlets tried to put the falsehood to rest.
The highest number of mentions in a single week — more than 25,000 — came the week of Oct. 10, analysis from Zignal Labs, a media intelligence company, shows. That spike coincided with two things: an NBC News investigation that debunked the myth and subsequently increased online conversation of the hoax; and false claims amplified by talk show host Joe Rogan. (Rogan initially claimed he heard the story from his friend's wife, who is a teacher; he later said it was unsubstantiated.)
School officials nationwide have said time and again that the claims have no merit. PolitiFact and other fact-checkers have repeatedly looked into these claims in various states accused of installing school litter boxes. Every time, there has been no evidence to support the allegations, which experts say are transphobic.
After claims about one location are disproved, the narrative often reemerges in a different location, targeting a different school district.
Researchers who specialize in furries — a community of people with an interest in depictions of anthropomorphic, cartoon animals — told PolitiFact that they'd never heard of furries requesting litter boxes as accommodations and said the inaccurate narrative reflects a fundamental misunderstanding of the furry fandom.
Claim emerged from mocking rhetoric
The claims are related to the weaponization of the phrase "identify as," used in flippant remarks or harmful jokes meant to deride diverse gender identities. In one 2014 example, the phrase "I sexually identify as an attack helicopter" emerged as a transphobic meme.
In April 2016, The Christian Post published an opinion piece titled, "Should we provide litter boxes for people who identify as cats?" It portrayed bathroom accommodations for gender-diverse people as "social madness" and suggested allowing them would result in people requesting litter boxes next.
The specific claim that schools are providing litter boxes for students who identify as cats or furries seemed to first emerge in 2021, targeting the Prince Edward Island's Public Schools Branch in Canada. After months of calls and emails about the rumors, Director Norbert Carpenter dismissed them publicly. He said the claim was "simply false," and told CBC that the rumor seemed to be a backlash to some school policies.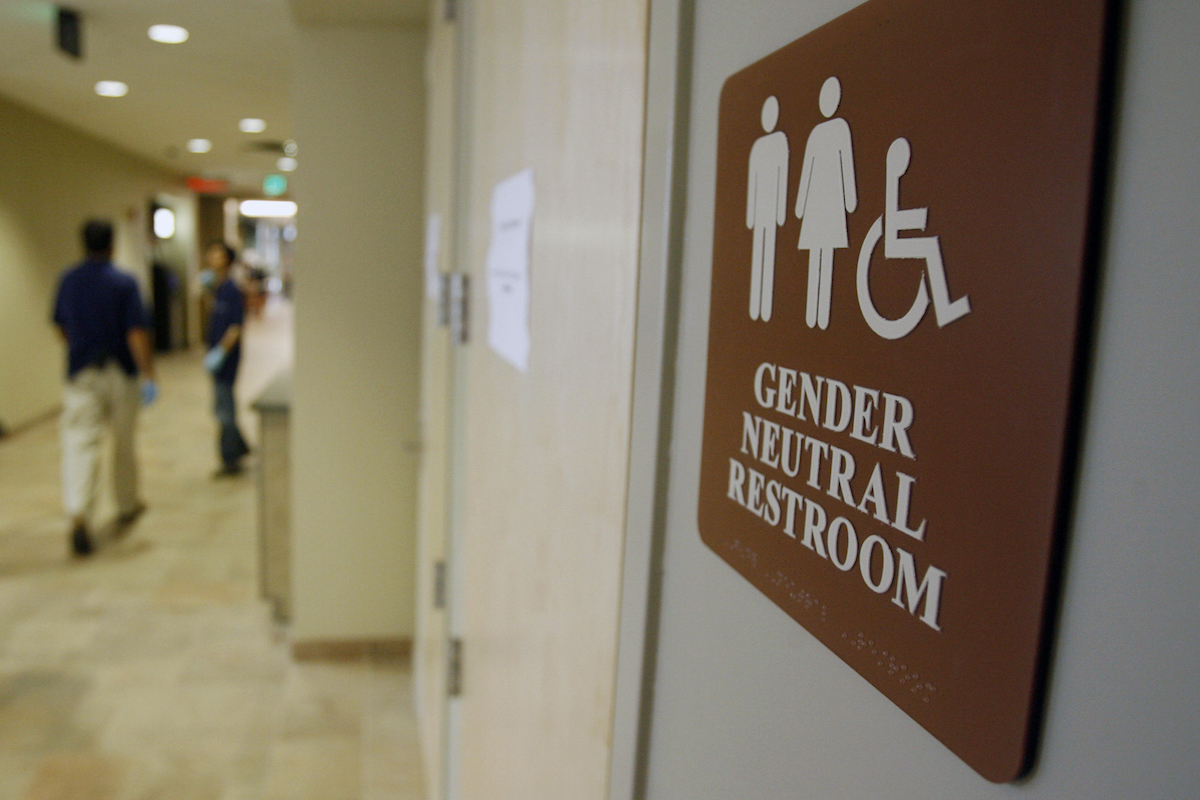 A sign marks the entrance to a gender-neutral restroom at the University of Vermont in Burlington, Vermont, Aug. 23, 2007. (AP)
Pushed by conservatives
The litter box falsehood was repeatedly pushed by conservative politicians and right-wing pundits with large social media followings.
Zignal Labs reported that the narrative accumulated more than 110,000 mentions online from Oct. 1, 2021, to Dec. 5, 2022. Although that number also included mentions from news organizations and others noting that the claim was false, it also included posts that spread misinformation.
Zignal Labs reported that the first major spike in mentions of the narrative happened after Libs of TikTok, a conservative Twitter account with more than 1.5 million followers, shared a video Jan. 21, 2022, of a woman who claimed she'd heard from someone that a Midland, Michigan, school had provided a litter box for a student who identified as a cat.
Meshawn Maddock, co-chair of Michigan's Republican Party, also promoted the rumor on Facebook.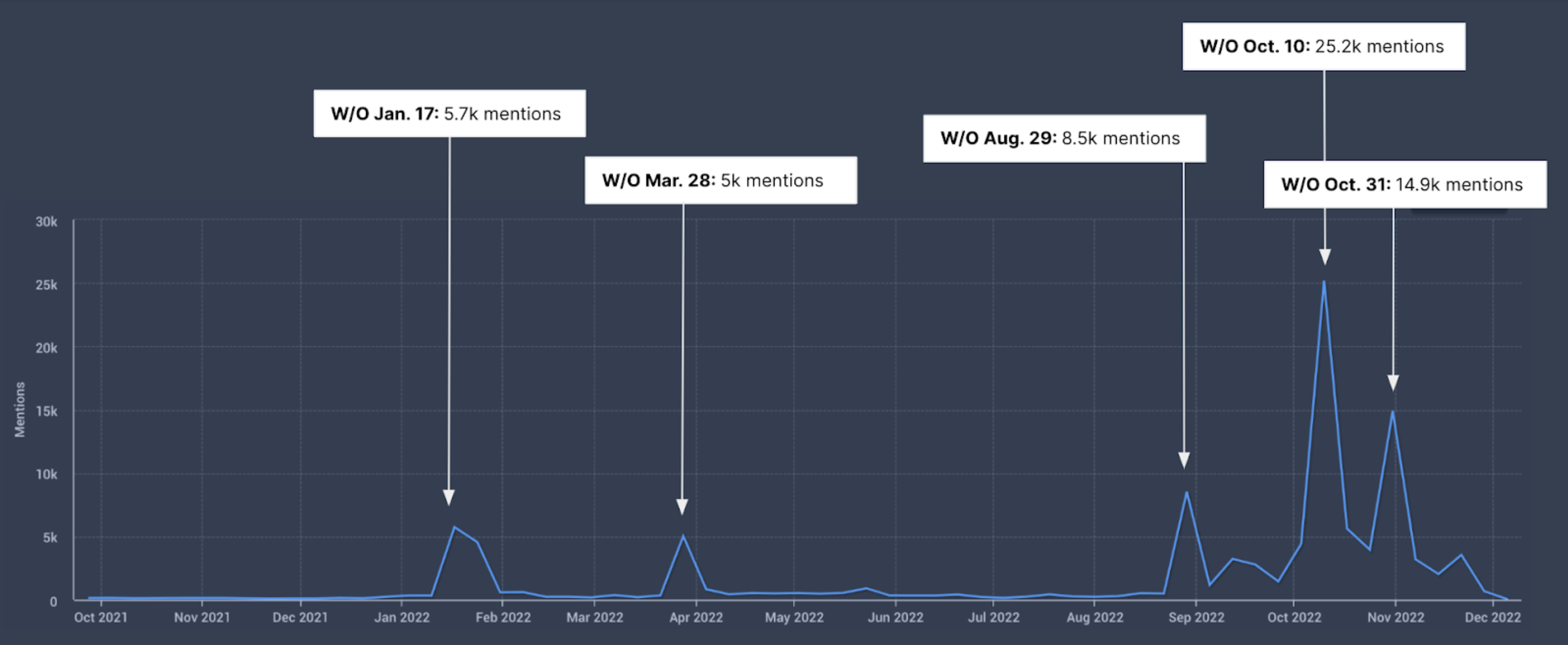 Graph documenting mentions of the "litter boxes in schools" narrative from Oct. 1, 2021, to Dec. 5, 2022. (Courtesy of Zignal Labs Inc.)
In March, a Republican state senator in Nebraska repeated the claim — and he later apologized.)
But the number of litter box claims increased with the midterm election cycle.
In late August, Rep. Marjorie Taylor Greene, R-Ga., talked about it at a rally for former President Donald Trump.
This fall, the claim was repeated by Republican New Hampshire Senate candidate Don Bolduc, Republican lawmakers in Tennessee; Scott Jensen, the Republican candidate for governor in Minnesota; U.S. Rep. Lauren Boebert, R-Colo.; and Rogan.
Rogan later walked back his claim: "It doesn't seem that there's any proof that they put a litter box in there."
The claims proliferated as schools remained a focal point of culture wars, with activists calling for the removal of books with LGBTQ representation or themes and lawmakers prohibiting instruction on concepts such as sexual orientation and gender identity.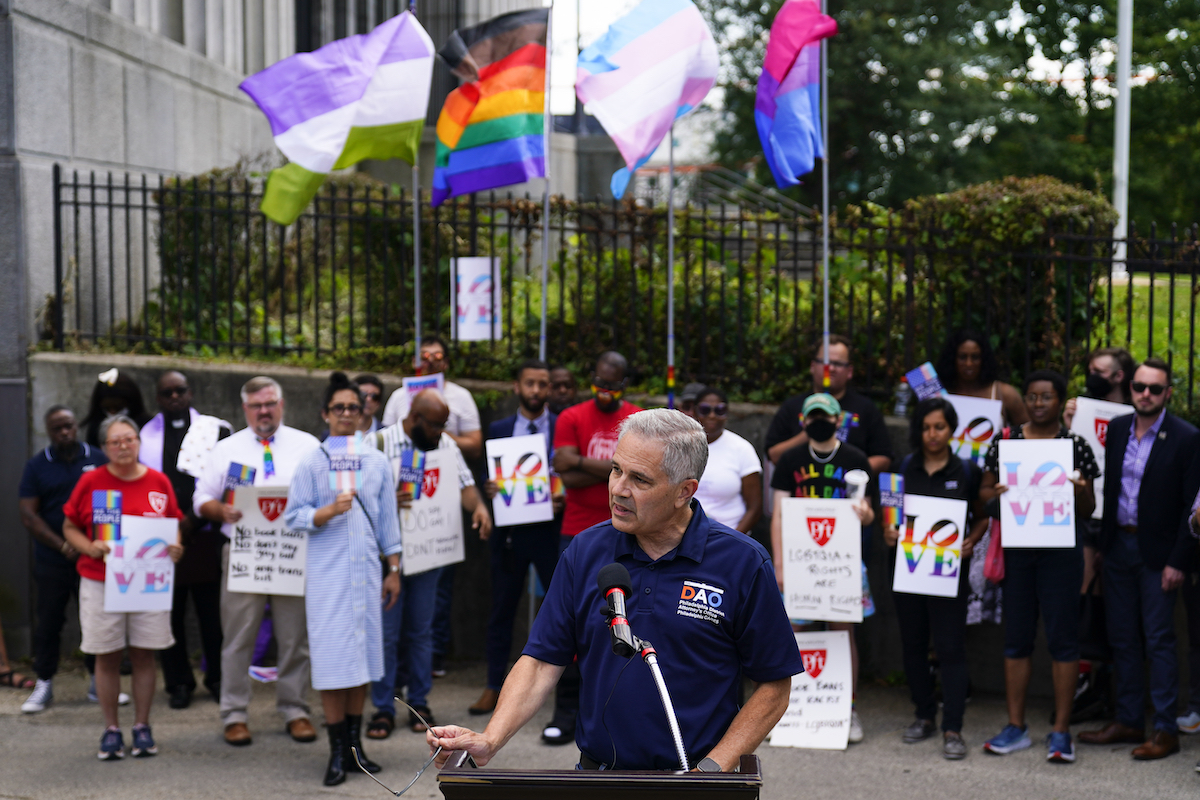 During a June 30, 2022, news conference in Philadelphia, District Attorney Larry Krasner denounces Pennsylvania's Republican-controlled Senate's approval of a bill that prohibits classroom instruction on sexual orientation and gender identity. (AP)
School districts targeted by the litter box hoax have had to issue correction after correction.
The superintendent of Midland Public Schools in Michigan wrote in a districtwide email in January 2022 that the claim had "no truth whatsoever" and that it was "such a source of disappointment that I felt the necessity to communicate this message to you."

The Carroll School District Superintendent in Iowa said the claim was "simply and emphatically not true."

Other school administrators in North Dakota, New Hampshire and Oregon dismissed the claims.
In October, NBC News examined litter box claims made by more than 20 conservative political candidates and elected officials and found that every district named by those politicians said the allegations were false.
The outlet found one instance of a school keeping cat litter on campus for student use, but it was part of a "go bucket" of emergency supplies in case students are locked in a classroom for a prolonged time because of a threat.
Falsehood reflects a "dangerous misunderstanding"
The narrative flourished because it offered a "slippery slope" argument for allowing transgender people various rights, experts said.
The claims are meant to "delegitimize the fight for LGBTQ rights and accommodations," said Yotam Ophir, a professor of communication at the State University of New York at Buffalo.
Josie Baker said when she first heard about the claim, she immediately knew it was "transphobic trolling." Baker is executive director of PEERS Alliance PEI, a Canada-based organization providing LGBTQ competency training to public schools.
She said the claims felt like a clear reaction to recent pushes for accommodations for transgender and gender nonconforming students, such as gender-neutral bathrooms in schools.
"It's that old homophobic trope, which was like, 'Well, gay marriage? What's next? Marrying your dog?'" Baker said. "It's that kind of thing."
Ophir said the litter box falsehood reflects a "dangerous misunderstanding" of both gender identity and the furry community. The narrative could cause people to regard LGBTQ people as unnatural or animalistic, which can result in increased risk of violence to LGBTQ people or harm to the community via laws or regulation that threaten human rights.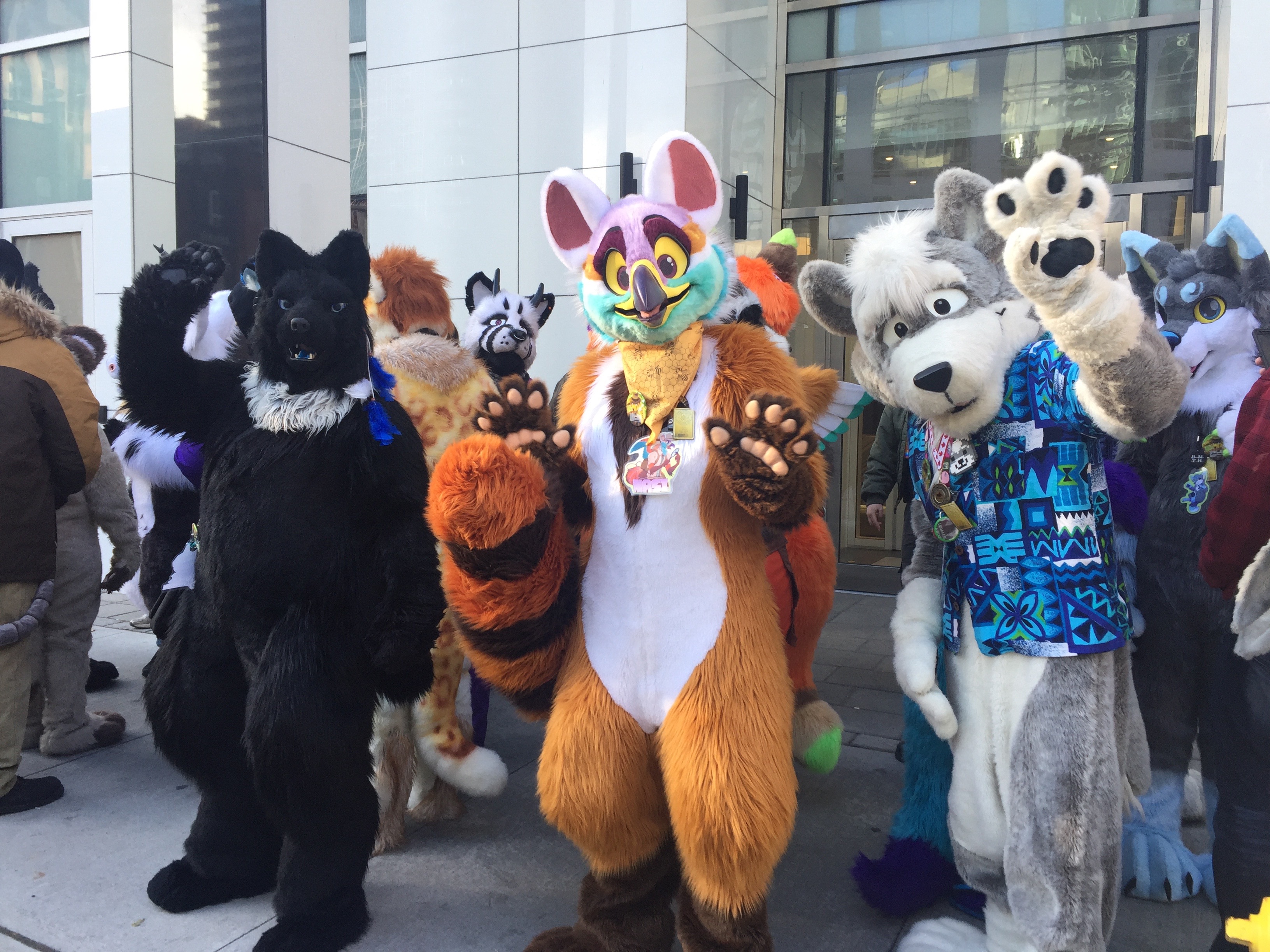 A group of furries pose for a photo at Anthrocon in 2017. Anthrocon is an annual furry convention held in Pittsburgh. (Courtesy of Furscience)
Furries don't pretend to be animals, said Kameron Dunn, a researcher at the University of Texas at Austin who has studied furries. They are interested in "the genre of animal that walks on two feet and talks like a person."
Being a furry is "not about pretending to be a cat who eats cat food and defecates and pees in a litter box," Dunn said. "The furry fandom is, more than anything, a hobby community for nerdy people. To see it as some sort of pathology or serious, day-in day-out alternative lifestyle is to miss the point entirely."
Sharon E. Roberts, an associate professor of social development studies at Renison University College, is a furry fandom researcher who co-founded a furry research group.
"Most furries do not identify as animals — they identify with animals," she said. Furries will often create a "fursona" or "a unique, avatarlike representation of self."
And fursona characters and their stories "don't seem to include bathroom narratives in the same way it seems no one goes to the bathroom on the Enterprise in 'Star Trek' or on the Death Star in 'Star Wars,'" Roberts said.
"Like cosplayers, role players, and fantasy sport fans presumably do, furries take time out from their fantasy activities to go to the bathroom," she added.
RELATED: Why it's not 'grooming': What research says about gender and sexuality in schools
RELATED: 'Don't say gay' vs. 'parental rights': Fact-checking claims about Florida's HB 1557
Interview with Meredithe McNamara, assistant professor of pediatrics at the Yale School of Medicine, Dec. 4, 2022
Interview with Josie Baker, executive director of PEERS Alliance PEI, Dec. 6, 2022
Interview with Barbara M. Hunter, executive director of the National School Public Relations Association, Dec. 7, 2022
Email interview with Sharon E. Roberts, associate professor of social development studies at Renison University College, University of Waterloo, Dec. 5, 2022
Email interview with Kameron Dunn, doctoral student and researcher at the University of Texas at Austin, Dec. 3, 2022
Email interview with Yotam Ophir, a professor of communication at the University at Buffalo, State University of New York, Dec. 6, 2022
Zignal Labs, Inc., Zignal Labs: Litter box in schools narrative, Dec. 6, 2022
Emailed statement from PFLAG, Dec. 6, 2022
The Associated Press, Claim about litter boxes in New York school is unfounded, April 7, 2022
USA Today, Fact check: No, a Michigan public school did not provide litter boxes for students identifying as cats, Jan. 30, 2022
Statesman Journal, Did Salem-Keizer allow a student who identifies as a cat to bring a litter box to school? Sept. 1, 2022
WABI 5, Superintendent denies rumors of litter boxes in restrooms for students who 'identify as cats,' Feb. 11, 2022
Concord Monitor, No, New Hampshire students aren't using litterboxes, school officials say in response to Bolduc's claim, Nov. 2, 2022
Salem-Keizer Public Schools, Do SKPS schools provide some students litter boxes for bathrooms? Nov. 10, 2022
WILX 10, Midland superintendent: 'There have never been litter boxes within our schools,' Jan. 24, 2022
KARE 11 Minnesota on YouTube, ​​Scott Jensen pushes debunked claim about litter boxes in schools, Oct. 5, 2022
KARE 11 Minnesota, Scott Jensen repeats debunked claim about litter boxes in schools, Oct. 4, 2022
NBC News, How an urban myth about litter boxes in schools became a GOP talking point, Oct. 14, 2022
Bay City Times, No, litter boxes are not in Midland Public Schools for 'furry' students, superintendent says, Jan. 21, 2022
Midland Public Schools on YouTube, Midland Public Schools December 2021 oard of Education meeting, Dec. 21, 2022
The Washington Post, LGBTQ clubs were havens for students. Now they're under attack, June 28, 2022
The Guardian, Joe Rogan admits schools don't have litter boxes for kids who 'identify' as furries, Nov. 4, 2022
News@Northeastern, Did you hear the rumor about kitty litter boxes for 'furries' in public schools? Nov. 4, 2022
The Forum, Are there furries in Fargo-Moorhead schools? Yes, but no litter boxes, April 4, 2022
Education Week, Litter boxes in schools: How a disruptive and demeaning hoax frustrated school leaders, Nov. 29, 2022
The Christian Post, Should we provide litter boxes for people who identify as cats?, April 21, 2016
9 News NBC, JeffCo schools have emergency buckets where people can pee during lockdowns, Oct. 5, 2017
Prince Edward Island Public Schools Branch on Facebook, Oct. 19, 2021
CBC, Rumors about students identifying as cats are rooted in hate, says P.E.I. Public Schools Branch, Oct. 20, 2021
SaltWire, False stories of litter boxes in P.E.I. schools meant to ridicule trans community, advocates say, Oct. 22, 2021
Midland Public Schools Superintendent on Facebook, Jan. 20, 2022
Them, Transphobes are worried schools are installing litterboxes for "furry" students, Jan. 25, 2022
Human Rights Campaign statement: ICYMI – NBC: 20+ Politicians Promote Bizarre Claim That Youth Are Identifying as Cats, Oct. 14, 2022
Slate, Fur-mongering, May 6, 2022
DogPatch Press, Origins of an urban legend: "litter boxes for furries" joke gets revived for moral panic Jan. 31, 2022
Know Your Meme, I sexually identify as an attack helicopter, accessed Dec. 8, 2022
The Conversation, What are 'furries?' Debunking myths about kids identifying as animals, and litter boxes in schools, Nov. 7, 2022
Grand Forks Public Schools, Rumor has it, accessed Dec. 7, 2022
CNN, GOP New Hampshire Senate nominee repeats hoax that kids are using litter boxes in schools, Oct. 13, 2022
FurScience, What's a Furry? accessed Dec. 7, 2022
Pinkerton Academy on Twitter, Oct. 31, 2022
Michigan Republican Party co-chair on Facebook, Jan. 20, 2022
Tyler Kingkade on Twitter, Sept. 29, 2022
CNN, Minnesota GOP nominee for governor claimed kids are using litter boxes in schools – it's an internet hoax, Oct. 3, 2022
Colorado Times Recorder, 'They are putting litter boxes in schools for people who identify as cats,' says Boebert. 'Not true,' responds Durango School District, Oct. 4, 2022
Emily R. West on Twitter, April 12, 2022
KnowYourMeme, I sexually identify as an attack helicopter images, accessed Dec. 8, 2022
The Babylon Bee, 9 things you should know about the transgender bathroom debate, Feb. 25, 2017
WLWT5, Kentucky school district: Students are dressing and acting like cats, Aug. 25, 2021
WUSA9 CBS, Yes, new reports show a record number of 'banned books' in schools, libraries, Sept. 22, 2022
PolitiFact, What is critical race theory, and why are conservatives blocking it? May 24, 2021
PolitiFact, 'Don't say gay' vs. 'parental rights': Fact-checking claims about Florida's HB 1557, March 23, 2022
Education Week, Who's behind the escalating push to ban books? A new report has answers, Sept. 19, 2022
Browse the Truth-O-Meter
More by Madison Czopek