Stand up for the facts!
Our only agenda is to publish the truth so you can be an informed participant in democracy.
We need your help.
I would like to contribute
What's missing from claims comparing unmasked Super Bowl fans with children in schools
If Your Time is short
Although many ignored the mandate, fans attending the Super Bowl on Feb. 13 were told to wear masks "at all times within SoFi stadium unless actively eating or drinking."

Attendees were also required to show either proof of vaccination or proof of a recent negative COVID-19 test.

The CDC recommends "universal indoor masking" for K-12 schools, regardless of vaccination status. But requirements vary widely across the country.
This year's Super Bowl brought a capacity crowd of more than 70,000 to SoFi Stadium in Inglewood, California.
The decision not to limit the number of fans in attendance was a contrast with last year, when the Super Bowl was played in front of a crowd of just 25,000 fans (and 30,000 cardboard cutouts).
Some social media users said the packed stadium was proof that Americans have nothing to fear from the coronavirus.
"If 70,048 unmasked fans can gather for the #SuperBowl in LA," said one Feb. 13 post, "kids should go unmasked in school, churches should be packed, fear should be GONE from Americans."
The post was flagged as part of Facebook's efforts to combat false news and misinformation on its News Feed. (Read more about our partnership with Facebook.)
The post is expressed as an opinion about what the rules should be in schools, so we didn't issue a Truth-O-Meter rating. But we did want to take a closer look at the premise of the argument, and the comparison the post makes between the stadium and school environments.
What we found is that the post, and others like it, ignore the safety rules that were in effect at SoFi stadium. They also gloss over important differences in the risk of COVID-19 transmission between an indoor-outdoor stadium filled with fans bound by the Super Bowl's entry rules and school buildings, where testing is not always required and some children are not vaccinated.
Super Bowl COVID-19 protocols
The Facebook post says that "70,048 unmasked fans" gathered for the game. Many fans were seen without masks, but several steps were taken to help prevent the spread of COVID-19, including a mask requirement.
In accordance with Los Angeles County's mask policies, Super Bowl attendees were required to wear masks "​​at all times within SoFi stadium unless actively eating or drinking," the NFL's website said. Fans were given KN95 masks when entering the stadium, and masks were mandatory for everyone inside the stadium over 2 years old, regardless of vaccination status.
Ahead of the game, officials reiterated their commitment to the rule and said they would enforce it. Only those drinking and eating would be allowed to remove their masks, they said. "That doesn't mean you buy a bucket of popcorn and eat it for two hours," said Russ Simons, who is in charge of the campus and facility operations for SoFi Stadium. "We're on to you."
Some fans complied, like this Bengals fan whose mask showed team spirit.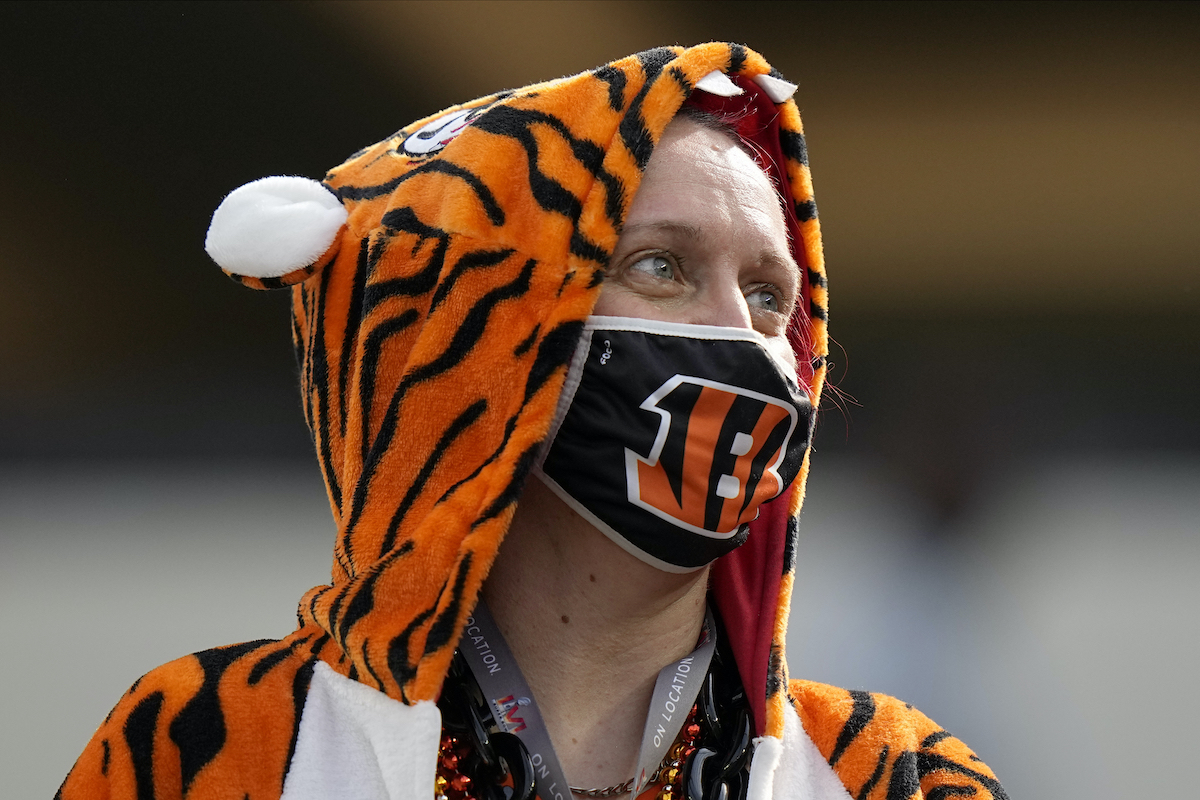 A Cincinnati Bengals fan watches players warm up before the Super Bowl. (AP)
But TV coverage and images from the Feb. 13 game suggest the enforcement was spotty at best. Many spectators appeared to be ignoring the mask rule.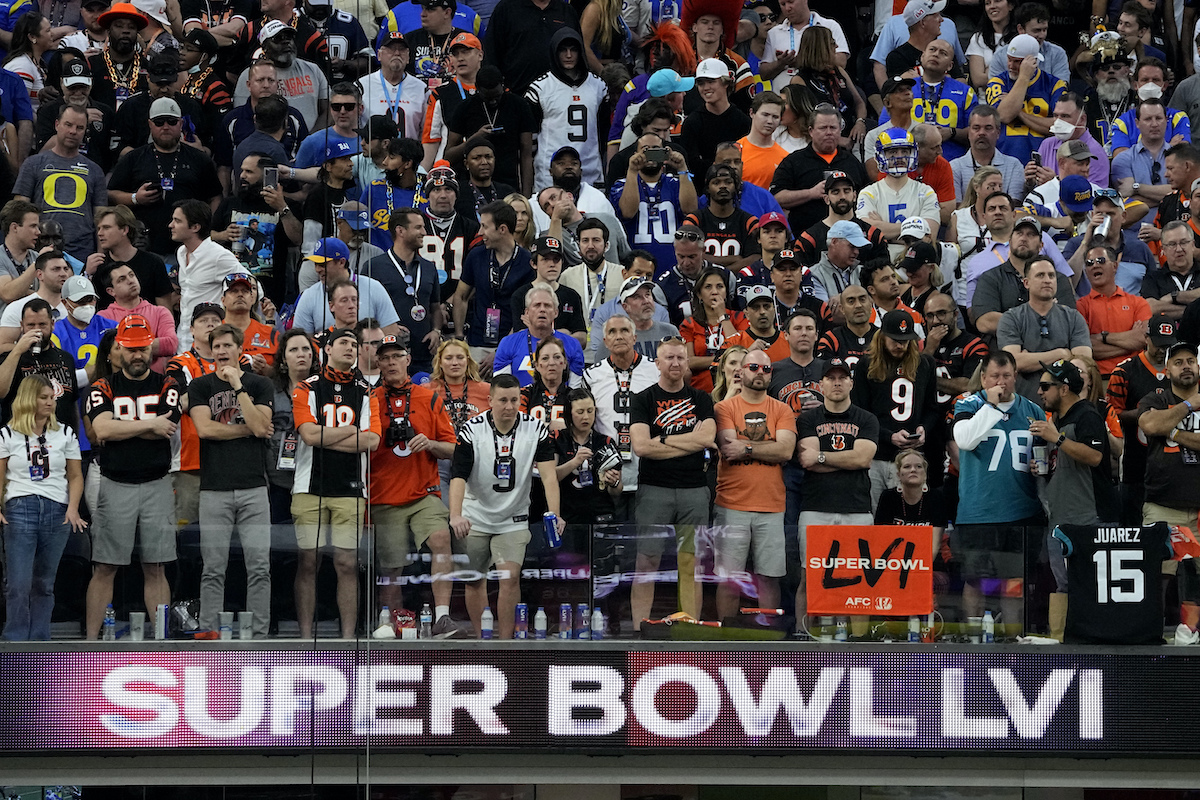 Fans watch the action during the first half of the Super Bowl. (AP)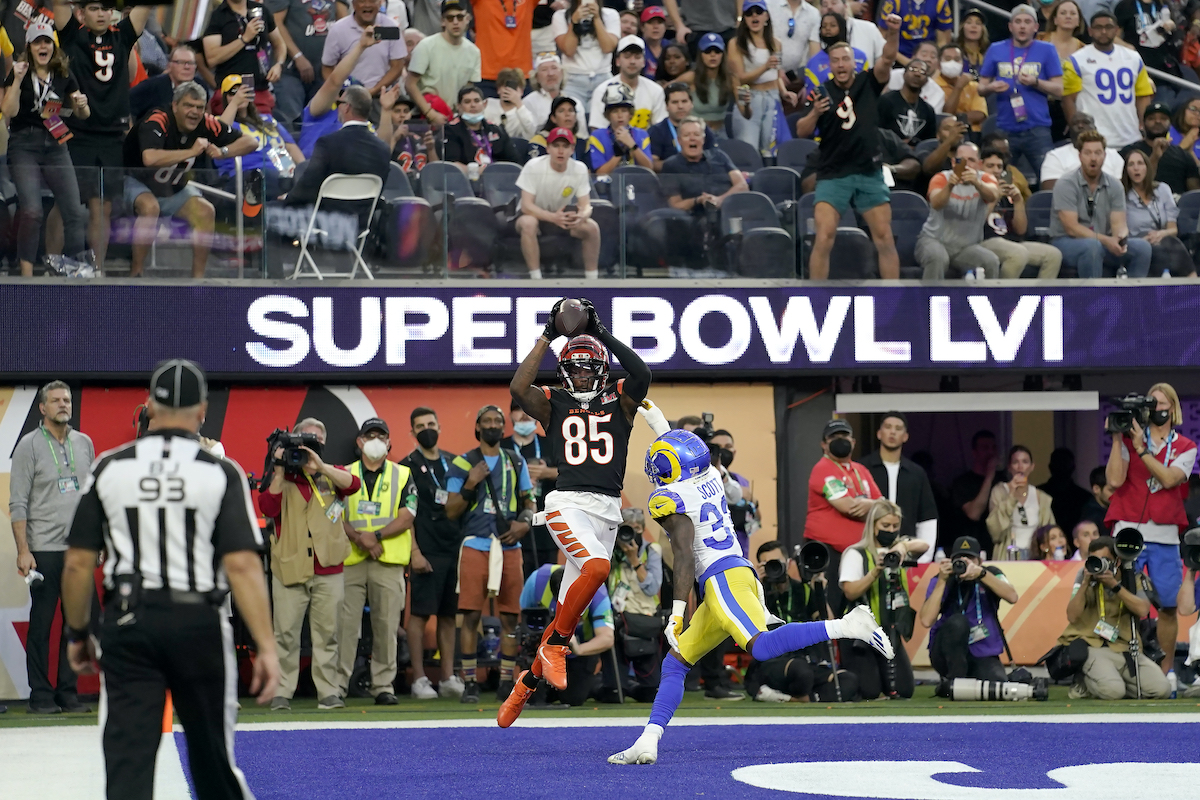 Unmasked fans in the front rows look on as Cincinnati Bengals wide receiver Tee Higgins catches a touchdown pass. (AP)
In addition to the mask rule, fans were required to provide proof of vaccination or a negative COVID-19 test, according to the NFL guidelines and news reports. For those providing negative tests, PCR tests had to have been administered within 48 hours before the game, and rapid/antigen tests had to have been administered within 24 hours.
Those added rules make it difficult to compare the risks at the stadium to a typical school building that may have a mask requirement.
Rules in schools
The CDC recommends "universal indoor masking" for students, staff, teachers and visitors to K-12 schools, regardless of vaccination status.
The rules vary widely across the country, though, based on state policies and local health regulations. Many areas and districts are relaxing their mask rules in response to declining COVID-19 cases.
Four states prohibit districts from implementing universal mask mandates in schools, according to Education Week. As of Feb. 15, 14 states had mask mandates in place — though some states, such as Massachusetts, Oregon and Rhode Island, recently announced plans to end them.
California, where the Super Bowl was played, will reevaluate its statewide school mask mandate on Feb. 28.
As for COVID-19 vaccines, in most school districts, they are not mandatory for students.
In 17 states, districts are not allowed to list COVID-19 vaccines as required vaccinations.
New Orleans' public school district has a COVID-19 vaccine mandate in place for eligible students, and districts in Louisiana and California plan to mandate COVID-19 vaccines for the next school year.
Vaccination of young children has slowed after an early spike. Using Centers for Disease Control and Prevention data, the Kaiser Family Foundation estimated that only about 19% of 5- to 11-year-olds were fully vaccinated as of Jan 22, 2022, with wide variations between states and regions. Meanwhile, 61% of parents of 12- to 17-year-olds said their child had gotten at least one dose of a COVID-19 vaccine as of January 2022, a Kaiser survey found. A quarter of the parents said they will "definitely not" get their 12- to 17-year-old vaccinated.
There are no COVID-19 vaccines yet authorized for children under the age of 5, some of whom attend school.
COVID-19 testing rules also vary widely among schools and regions.
In some districts, for example, students have been required to provide negative COVID-19 tests before returning to school after a break. In contrast, school districts in Massachusetts were prohibited from requiring such a test.
Some students are required to provide proof of a negative test after they've been exposed to COVID-19, though this requirement varies from district to district and is sometimes dependent on vaccination status.
In some places, students who were exposed to the virus are required to either quarantine or participate in a "test to stay" program, where asymptomatic students are repeatedly tested for COVID-19 in the days following their exposure.
Dr. Mark Ghaly, secretary of the California Health and Human Services Agency, addressed the issue at a news conference the day after the Super Bowl, the same day the state announced it would delay lifting the state's school mask mandate.
When asked why California wasn't dropping its mask mandate for schools despite thousands appearing to be unmasked at the Super Bowl just a day earlier, Ghaly said the agency was taking time to work with local communities and was waiting to see if trends in data persist.
"We've always let local conditions be an important driver in determinations," he said. "We are taking a little bit more time to consider the information, work with our partners across the state to make sure, when the move is made, that we are doing it successfully and with communities empowered to continue to be safe."
RELATED: Did the NFL ask Eminem not to kneel? What we know about Super Bowl halftime show claims
Facebook post, Feb. 13, 2022
Facebook post, Feb. 14, 2022
NFL, "Health and Safety Protocols for entry into the Stadium on Gameday," accessed Feb. 14, 2022
ABC 7, "COVID-19 precautions in place for Super Bowl LVI at SoFi Stadium, but will fans obey mask rule?" Feb. 12, 2022
The Sports Rush, "Super Bowl Attendance: How many people are at Super Bowl 2022?" accessed Feb. 14, 2022
Los Angeles Times, "COVID rules and guidelines for Super Bowl LVI visitors," Feb. 1, 2022
RadioTimes.com, "How many fans are at the Super Bowl? Official attendance confirmed at SoFi Stadium," Feb. 10, 2022
NBC Sports, "Super Bowl 2022 tickets: Prices, seating capacity at SoFi Stadium, attendance, stats and more," Feb. 13, 2022
USA Today, "Fact check: COVID-19 rules in place for Super Bowl in Los Angeles, despite online claims," Feb. 11, 2022
CBS Sports, "Super Bowl 2021: Here's how many fans will be inside Raymond James Stadium for Super Bowl LV," Feb. 2, 2021
KStat.com, "Will this be lowest-attended Super Bowl ever?" Feb. 4, 2021
NBC Sports, "Super Bowl 2021: How many fans will attend Chiefs vs. Buccaneers today? Official attendance, cutouts," Feb. 7, 2021
The Sporting News, "Inside SoFi Stadium: Cost, capacity & more to know about the site of 2022 Super Bowl," Feb. 12, 2022
Los Angeles Daily News, "With a SoFi Super Bowl imminent, it's not time to throw out mask rules, leaders say," Feb. 2, 2022
KTLA, "KN95 masks were given out at the Super Bowl. Many fans at SoFi Stadium didn't wear them," Feb. 14, 2022
ABC 7, "Many celebrities, fans ignored mask mandate at Super Bowl," Feb. 14, 2022
NBC Los Angeles, "State to Ease Indoor Mask-Wearing Rule, but LA County Still Requires Them," Feb. 7, 2022
Vox, "Will schools require Covid-19 vaccines for students?" Feb. 11, 2022
Ed Source, "Oakland Unified pushes back vaccine mandate to the fall semester," Jan. 27, 2022
NPR, "New Orleans will be the first major school district to mandate COVID vaccinations," Jan. 31, 2022
Axios, "Red states fight school vaccine mandates," Jan. 9, 2022
Daily Advertiser, "Louisiana Governor John Bel Edwards adds COVID vaccine to required school shots, joining California," Dec. 15, 2021
Centers for Disease Control and Prevention, "Guidance for COVID-19 Prevention in K-12 Schools," updated Jan. 13, 2022
Education Week, "Which States Ban Mask Mandates in Schools, and Which Require Masks?" Aug. 20, 2021
Boston Herald, "Massachusetts lifting school mask mandate February 28," Feb. 9, 2022
The Providence Journal, "McKee lifting RI indoor mask mandate this weekend, and school mask mandate next month," Feb. 9, 2022
The Oregonian, "Oregon will lift mask mandate by March 31, officials say," Feb. 7, 2022
Kaiser Family Foundation, "Update on COVID-19 Vaccination of 5-11 Year Olds in the U.S.," Jan. 20, 2022
The Sacramento Bee, "California won't lift its mask mandate for schools just yet despite drop in COVID cases," Feb. 14, 2022
Kaiser Family Foundation, "KFF COVID-19 Vaccine Monitor: Winter 2021 Update On Parents' Views Of Vaccines For Kids," Dec. 9, 2021
Kaiser Family Foundation, "KFF COVID-19 Vaccine Monitor," accessed Feb. 16, 2022
NBC Washington, "DC Schools to Require Negative COVID Test Results," Dec. 29, 2021
MassLive, "Massachusetts schools cannot require negative COVID test for a student's return to class after holidays or vacations, DESE says," Oct. 26, 2021
International School of Louisiana, "2021-22 COVID-19 Campus Guidelines, Policies And Procedures," accessed Feb. 15, 2022
Chalkbeat, "COVID protocols: What you need to know about changing guidance in Chicago schools," Jan. 31, 2022
Michigan.gov, "MI Safer Schools Guidance for Managing COVID-19 Exposures in K-12 School Settings," updated Jan. 10, 2022
YouTube, "2/14/2022: CalHHS Secretary Dr. Mark Ghaly Provides Update on COVID-19 in California," Feb. 14, 2022
Associated Press, "California delays decision on lifting school mask mandate," Feb. 14, 2022
Browse the Truth-O-Meter
More by Madison Czopek