Stand up for the facts!
Our only agenda is to publish the truth so you can be an informed participant in democracy.
We need your help.
I would like to contribute
In Context: What a Martha's Vineyard homeless shelter coordinator said about migrant housing
If Your Time is short
Florida Gov. Ron DeSantis said he was responsible for chartering two planes to fly about 50 Venezuelan migrants to Martha's Vineyard in Massachusetts on Sept. 14.

The day after the migrants' arrival, the homeless shelter coordinator in Martha's Vineyard's said the migrants would soon need to move elsewhere, partly because of the island's persistent housing shortage.
A Massachusetts homeless shelter coordinator's comments about the lack of housing available for Venezuelan migrants who were recently flown to Martha's Vineyard triggered a flurry of criticism from the political right.
On Sept. 14, about 50 Venezuelan migrants were flown to the island of Martha's Vineyard, off the Bay State's coast, at Florida Gov. Ron DeSantis' behest. Although island residents were surprised by the immigrants' arrival, officials quickly gathered resources and established a temporary shelter for them.
The next day, a 30-second news clip featuring the homeless shelter coordinator, Lisa Belcastro, was posted on Rumble, a video-sharing site known for politically conservative content. The clip was titled, "Martha's Vineyard liberal claims they don't have housing for 50 migrants."
It went viral on Facebook, amassing about 29,000 views in 24 hours.
Christina Pushaw, who works for DeSantis' re-election campaign, shared the same 30-second clip in a tweet.
"Wow! This Martha's Vineyard Democrat doesn't seem very welcoming or progressive," Pushaw wrote. "'We don't have housing for 50 immigrants.' Uh, don't the Obamas have a 10 bedroom mansion there? That will fit half of them."
We wanted to take a closer look at Belcastro's full comments and their context.
The 30-second clip that went viral is part of a longer interview Belcastro published by the Cape Cod Times that lasted more than three and a half minutes.
The housing crisis on Martha's Vineyard
Local officials expressed concern about long-term shelter plans for the migrants because of the island's well-documented housing crisis.
Although Martha's Vineyard is best known as a popular summer destination for wealthy elites, its year-round population, which had been growing for years, increased sharply due to the COVID-19 pandemic. That quick growth intensified the affordable housing shortage that had existed for years.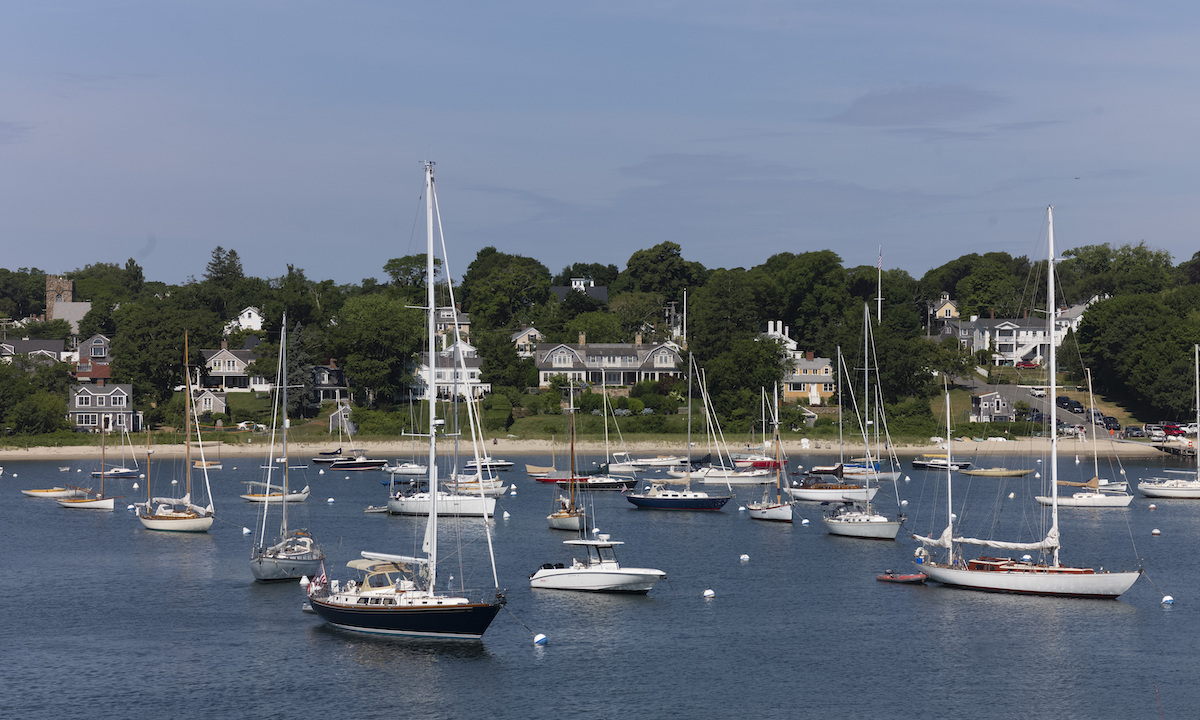 Sailboats and motorboats are anchored in Vineyard Haven harbor, June 28, 2020, in Tisbury, Mass. on the island of Martha's Vineyard. (AP)
The housing shortage affects many aspects of life on the island.
In May, business owners told the Martha's Vineyard Times that they couldn't hire enough staff for the busy summer season because of the housing crisis.
"Schools have struggled to staff classrooms," The Washington Post reported in September. "Indigenous people whose families have lived on the island for centuries have been forced to leave their homeland. Firefighters and government workers can't afford to stay in the communities they serve."
Martha's Vineyard Hospital, the island's largest employer, has been operating with a quarter of its staff jobs vacant for months, a hiring problem its CEO attributes to the housing crisis, the Post reported.
Belcastro, the island's homeless shelter coordinator, mentioned the housing woes during an interview with reporters Sept. 15.
Here is a transcript of a selection of her remarks to The Cape Cod Times:
Belcastro: "Everyone is jumping in to help. We literally have everything we need. I mean, we need for all of our guests to get the help they need to be in this country and safe and (have) housing. And that's not something that we can do here at the shelter, right? We're a stop gap. This is an emergency shelter. We're not long-term care.
"So, you know, everyone is meeting about this. There's multiple wheels that are turning and departments that are working together. It really is a community effort — and that community is, you know, from here to Boston, probably to the White House."
Reporter: "What are the most difficult challenges right now?"
Belcastro: "The difficult challenges are … at some point in time, they have to move from here to somewhere else. We cannot — we don't have the services to take care of 50 immigrants. We certainly don't have housing. We're in a housing crisis as we are on this island. We can't house everyone here that lives here and works here. We don't have housing for 50 more people.
"So that is our primary crisis. We have this emergency shelter set up and it's working wonderfully. Every single person that has been here — and I really want to say this — every single person has come up and said 'I want a job.' They are not looking for a handout. Not one person has asked for a handout. Every single person is like, 'I need to work.'
"I had one young man come to me and he said, 'Can I go to the ferry now? I have to go get a job today. I've been gone for two months. My family needs money.' All right, he wasn't asking me for money. He wanted to know if he could leave to go get a job. Like, that says something about him as an individual."
Reporter: "These are the migrants you're speaking of?"
Belcastro: "Yes, yeah — the refugees. I mean, every single one of them wants a job. They're not here saying, 'Give me money' or 'Give me clothing' or 'Give me this.' They want to work. They want to provide for their families. They want to support their families. They want to take care of them.
"And we — we just want to help them do that. But there is a legal process. And I think, all of you in the press, you know this is a political game — that all of this that has happened is a political game and shame on everyone involved. And please print that really, really loudly if you're in the paper.
"These people are pawns, and we have to stop the chess game right now. And if you guys can help do it, please do it. Because they're human beings, just like you, just like your spouses and just like your kids. And they don't deserve to be treated as they're being treated.
"And each one of us — I know this is a story. But if you could make it more personal and pretend that it's your child, and they need care, and they need our help. And so I'm asking you to use your power as the press to help them. Because we'll do everything we can, and you can believe this island community will do everything they can, but they need more."
Reporter: "How can we stop the political game?"
Belcastro: "Oh, wow, I wish I had the answer to that question. Everyone, get out and vote. That's the first thing I want every single person in this country to do, is vote. Because your vote matters and you have a voice — use it. That's one thing you can do. And really, don't vote for DeSantis — and yes, I said that."
Cape Cod Times, Migrants flown to Martha's Vineyard may move to Cape Cod military base: What we know, Sept. 15, 2022
Cape Cod Times, Martha's Vineyard homeless shelter coordinator Lisa Belcastro on the migrants flown, Sept. 15, 2022
Newsweek, 'They have to move' — reaction to migrants in Martha's Vineyard goes viral, Sept. 16, 2022
Rumble, WATCH: Martha's Vineyard liberal claims they don't have housing for 50 migrants, Sept. 15, 2022
Christina Pushaw tweet, Sept. 15, 2022
Mass Live, Migrants flown to Martha's Vineyard will be offered shelter at Joint Base Cape Cod shelter, Sept. 16, 2022
NPR, After migrants arrived in Martha's Vineyard, a community gathered to welcome them, Sept. 16, 2022
CNN, The migrants sent to Martha's Vineyard will be voluntarily taken to a military base for shelter and support, Sept 16, 2022
Martha's Vineyard Times, Migrants land on Martha's Vineyard, Sept. 14, 2022
CNN, DeSantis claims credit for sending 2 planes carrying migrants to Martha's Vineyard in Massachusetts, Sept. 15, 2022
Business Insider, Martha's Vineyard is a magnet for millionaires, CEOs, and celebs - and the Obamas reportedly just bought a $12 million mansion on the island. Here's a look at the rich and famous who flock there every summer, Dec. 7, 2019
WBUR, The pandemic has turned Martha's Vineyard's housing crunch into a crisis, Oct. 22, 2021
Vineyard Gazette, Housing problems on Martha's Vineyard are deep, but not unique, Dec. 1, 2016
Browse the Truth-O-Meter
More by Madison Czopek