Stand up for the facts!
Our only agenda is to publish the truth so you can be an informed participant in democracy.
We need your help.
I would like to contribute
The misinformation trap: the business of misleading migrants
People who are hoping to migrate to the United States are increasingly using social media as a source of information. On Facebook and WhatsApp groups, migrants find immediate information that projects confidence and seriousness. But official information often doesn't reach these online groups.
Without meaning to, migrants in Latin America finance misinformation during their journey toward the U.S., and they fall victim to frauds and scams that can cost them thousands of dollars. 
Multiple factors facilitate the deceptions, including emotional manipulation, a fear of complex processes and hopes of a better life. 
Migrants are vulnerable to the traps set out by fake job recruiters, human traffickers, "legal advisers," influencers and even those who call themselves "migration coaches." Some offer work visas, political asylum or other ways to cross the border between Mexico and the United States.
To reveal the workings of these traps, between May and June 2023, a group of media outlets formed by PolitiFact, Verificado, Conexión Migrante, The Associated Press and Data-Pop Alliance carried out a broad investigation in Mexico and the United States, particularly in Tijuana, Ciudad Juárez, Mexico City and Florida. 
Eleven journalists and researchers worked on the investigation, supported by the Disarming Disinformation program from the International Center for Journalists. The group conducted interviews with migrants, binational authorities and civil society organizations, researched online groups and ads on social media platforms such as Facebook and TikTok, and analyzed databases about scams, studies and documents from international organizations. The group also performed an explorative analysis of public WhatsApp groups using the platform Palver.
Results from an online survey conducted from June 2 to June 16 showed that of the 210 migrants surveyed, more than a quarter have received false messages about immigration processes and work offers, primarily via Facebook and WhatsApp groups. Nearly two-thirds said they were affected by fraud and or misinformation.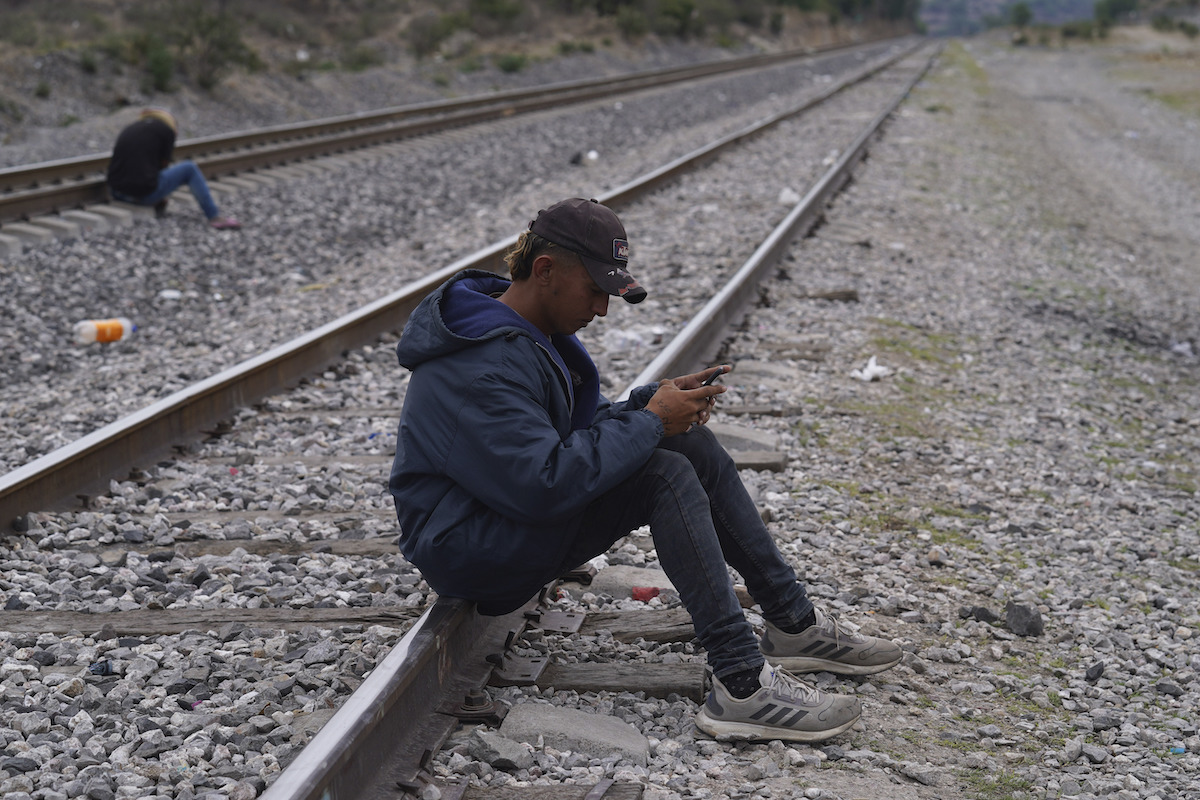 Venezuelan migrant Gerardo Escobar Guerra sits on a railroad track looking to board a northbound freight train May 12, 2023, in Huehuetoca, Mexico. (AP)
How misinformation became a business
A variety of services are promoted on WhatsApp and on social media, primarily on Facebook and TikTok. According to testimonies from the survey, some people have lost up to $20,000 to these alleged services. 
Some people create paid content, masked as explanations, claiming to offer help with immigration processes. These posts include links for migrants to contact content creators via WhatsApp or Messenger, which moves the communication to a personalized setting where they make many promises.
This is how Mercedes Pérez, from Honduras, contacted Jaime Díaz Márquez, who promised he would get her and her family political asylum. He asked for $55 per family member, in exchange for a certificate from a religious organization with which he said she would be able to receive parole, a temporary permit to stay in the U.S. for urgent humanitarian reasons. 
"At first it looked fake, but when he said that 10 people had already (crossed the border this way), I believed him," Pérez said in an interview in Spanish with Conexión Migrante. 
Pérez said that during a Facebook Live video that lasted less than three minutes, Díaz Márquez assured that Dec. 9, 2022, would be the day her family and other migrants could "pick up their papers" to legally cross the border. He then deleted the videos and stopped posting on the account. 
Pérez said she lost $770 and reported Díaz Márquez to Al Otro Lado, an organization that supports migrants. Currently, the group is preparing a case against Díaz Márquez and has found at least 200 people who have allegedly been misled by him. 
We tried to contact Díaz Márquez four times via phone calls and WhatsApp messages, but got no response.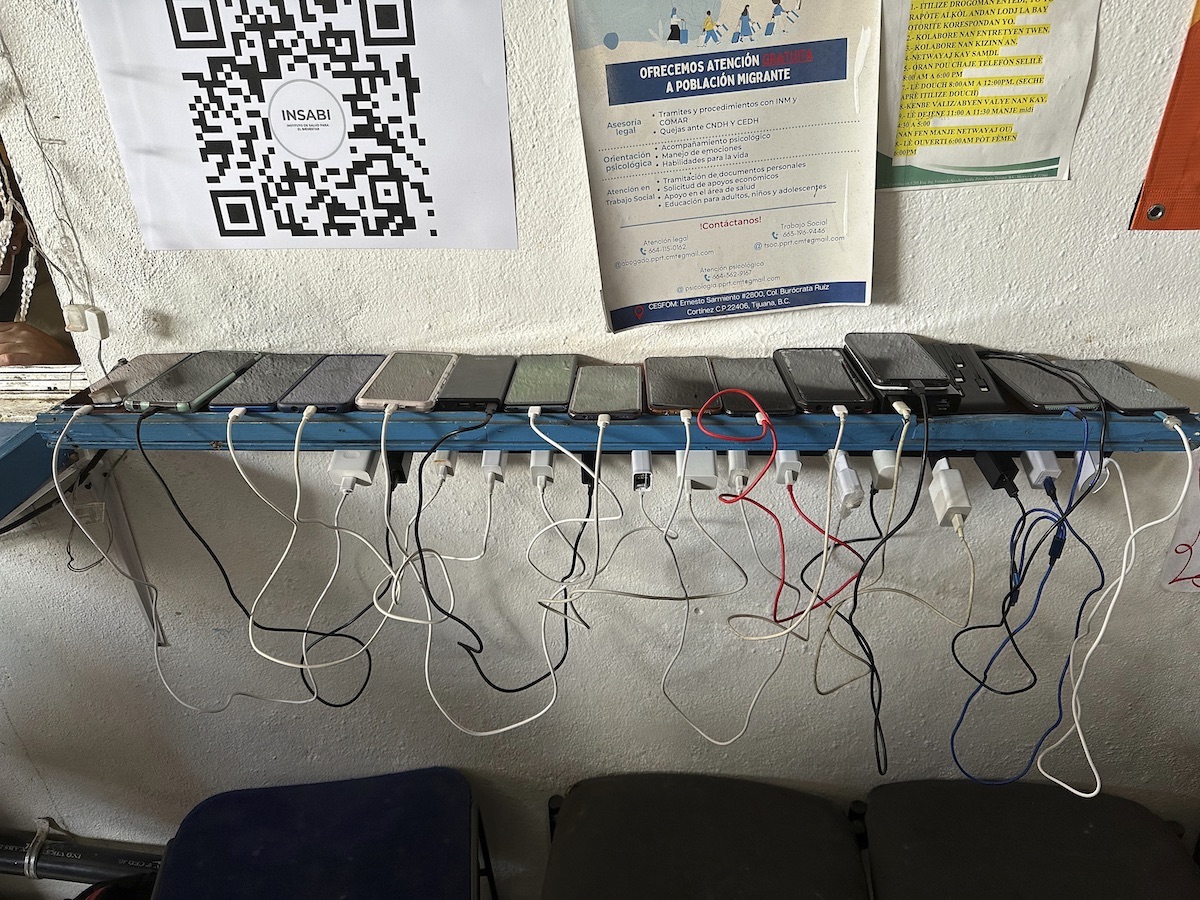 Mobile phones are charged at Juventud 2000, a migrant shelter in Tijuana, Mexico, May 11, 2023. (AP)
Evelyn Reyes, originally from Mexico, shared that her husband was charged nearly 36,000 Mexican pesos, or about  $2,000. The money would be used to pay for flights and a visa, among other things, according to Reyes, but "they even stole his passport. They were going to fly out of Mexico City and said they would give it to him there, but when he arrived there was no one. Only ghosts."
"Many migrants don't even have savings, so they go into massive debt to pay coyotes for these services," Jorge Gallo, a regional spokesperson for the United Nations' International Organization for Migration said. "And in many cases they lose everything."
Financial losses are only one of the many consequences of misinformation.
Additionally, there are influencers who sell "legal consults" to their followers. One example is Dario Andres Oviedo Melendez, who posts videos on TikTok and Instagram, where he has more than 600,000 combined followers. 
The self-identified lawyer and his business partner, Jose Rafael Roman Argotte, offer consults from Florida. However, neither of them appears to be registered in the U.S. as lawyers, according to PolitiFact's research.
These profiles share a lot of information about immigration processes.
But they also share incorrect information. On April 9, 2023, Roman Argotte posted a video speaking about Title 42, and falsely suggesting the U.S.-Mexico border would be open to some immigrants. (Title 42, a public health policy that expired May 11, allowed border officials to quickly expel people arriving at the southern border, without the possibility of seeking asylum.)
The next day, hundreds of immigrants reached the Paso del Norte International Bridge between Chihuahua, Mexico and El Paso, Texas, believing they would be able to legally enter the U.S.
MOMENTS LATER, Jesus and a few friends he met during the journey crossed muddy Rio Bravo and turned themselves in, armed w nothing about social media posts, inspired by Breitbart article saying Border Patrol (thread) pic.twitter.com/WbitKqSVIK

— Alfredo Corchado (@ajcorchado) April 11, 2023
PolitiFact tried to contact both influencers via calls and messages on WhatsApp, TikTok and Instagram, but did not hear back. 
'Huge power gaps and imbalances' in access to information 
Because of a lack of accessible and timely information, many people who seek jobs in the United States find themselves relying on what recruiters say via social media or in person, according to a report from Centro de Derechos del Migrante, a binational organization that advocates for migrants.
Since 2016, Centro de Derechos del Migrante in Mexico City has noticed an increase in migrant employment recruitment fraud online, especially via Facebook ads. 
Jocelyn Reyes, outreach director at Centro de Derechos del Migrante, said that the recruitment process for the temporary work system is irregular and informal.
"This opens up huge power gaps and imbalances among workers, recruiters who are the middleman and employers in the U.S.," she said. 
Recruiters monopolize information and control access to jobs and temporary work visas known as H-2A, Reyes said, and this leads recruiters to impose prices and other illegal conditions to access work opportunities, Reyes said. 
"There are recruiting agencies that dedicate their work to offering these services to U.S. employers," Reyes said. "The problem is that while they receive a salary from the employers, they also look for additional benefits." 
This coincides with findings by the Fraud Prevention department of the U.S. consulate in Monterrey, Mexico. The office, which processes the majority of the world's H-2A temporary agricultural work visas, reported that since 2019, they have documented a 12 to 15% increase in calls and messages to their hotline. 
The most common type of fraud comes from scammers who disguise themselves as authorized companies to hire temporary workers in the U.S. These people request personal documents from employees to allegedly run criminal background checks.
Other misinformation claims that the U.S. Consulate in Monterrey has recruitment offices, or that there are job offers with longer employment terms than are allowed under an H-2A visa.
Misinformation also fuels impunity 
Samantha Hernández, a spokesperson for CafeMin, a migrant shelter in Mexico City, said certain misinformation narratives make people believe they "cannot travel across Mexico City without an authorization document or that if people go to government offices they will be deported." 
Many migrants don't know their rights, and that allows misinformation to prosper. 
Misinformation also affects people who are not in Mexico legally, and isolates them from official services, reliable information sources and international organizations such as the United Nations High Commissioner for Refugees. 
As a result, both misinformation and scams multiply and go unpunished.
According to data from the Mexican government, between 2016 and November 2022, there were 5,684 reports of crimes against migrants in Mexico. Of these, 1,849 were classified as illegal trafficking, 2,655 as theft and eight as fraud. 
There are limited reports of fraud, because in most cases, people have to seek out legal representation from civil society organizations. However, tracking and following up on these cases becomes increasingly complicated as people continue trying to cross the Mexico-U.S. border. If they make it to the U.S., their cases remain unsolved.
As they believe and pay for these alleged services, migrants unintentionally fuel the misinformation machinery. 
This article was originally written in Spanish and translated by María Ramírez Uribe. 
This story was produced with the support of the International Center for Journalists' Disarming Disinformation program, a three-year global effort with lead funding from the Scripps Howard Fund.
The investigative team includes: Abril Mulato, Gabriela Martínez, María Ramírez Uribe, Angélica Villegas, Anna Carolina Spinardi, Yvette Yañez, Ivonne Valdés.
Interview, Mercedes Perez, May 2023
Interview, Soraya Vazquez, deputy director of Mexico programming at Al Otro Lado, May 2023
Interview, Evelyn Reyes, May 2023
Interview, Jorge Gallo, oficial regional de prensa de la Organización Integral para las Migraciones, May 2023
Interview, Jocelyn Reyes, director of promotion, education and leadership development  at Centro de los Derechos del Migrante, May 2023
Interview, Samantha Hernández, communications specialist at CaféMin, May 2023
Florida Division of Corporations, Florida Limited Liability Company, accessed June 29, 2023
U.S. Customs and Border Protection, tweet, April 10, 2023
PolitiFact, Title 42 expiration: What's next for migrants applying for asylum at US' southern border?, May 8, 2023
The Dallas Morning News, Texas-Mexico border faces steep challenges as migrant numbers rise in Juárez-El Paso, April 13, 2023
Twitter, post, April 10, 2023
Centro de los Derechos del Migrante, Fake Jobs for Sale: Analyzing Fraud and Advancing Transparency in U.S. Labor Recruitment, accessed June 29, 2023
U.S. Department of State, Nonimmigrant Visas Issued by Issuing Office, accessed June 29, 2023
Wilson Center, The H-2A Program in 2020, May 19, 2020
Secretaría de Gobernación México, Boletín de estadísticas sobre delitos perpetrados en contra de personas migrantes irregulares en México 2022, January 2023
Browse the Truth-O-Meter
More by Daniela Mendoza