Get PolitiFact in your inbox.
Title 42 expiration: What's next for migrants applying for asylum at US' southern border?
If Your Time is short
Title 42, a public health policy that has prevented many migrants from applying for asylum at the southern U.S. border, is expiring May 11. Government officials expect a migration spike once the policy expires.

The Biden administration has announced several policies to mitigate the expected spike in migration, such as additional troops at the border for administrative support, a phone app to make appointments, and regional migration centers in Guatemala and Colombia. Time will tell if the strategy is effective.
Every day, hundreds of men, women and children cross the Rio Grande on inflatable mattresses, hoping to eventually live in the United States. Nearby, in Mexican towns close to the U.S. border, people use cardboard boxes and sheets to shield themselves from the sun as they rest on pavement because local shelters are full.
They are waiting for a chance to seek asylum in the U.S., an option most have not had for the past three years.
Since March 2020, border officials have used a public health policy to quickly expel people arriving at the southern border, essentially blocking their ability to apply for asylum. 
When the U.S. COVID-19 public health emergency expires May 11, so will the policy, known as Title 42.
What does this mean for the bottleneck of migrants in Mexico seeking asylum in the U.S., and for the U.S. government trying to mitigate their arrival?  
El Paso, Texas, which borders Mexico's Ciudad Juárez, issued a "declaration of disaster" ahead of the policy's expiration, citing humanitarian, security and economic crises.
The declaration said the Mexican government estimates that about 15,000 people are camped in Ciudad Juárez "awaiting an opportunity to cross the border."
A time lapse of one city block/alley in El Paso, showing 100s of migrants. Tonight on @ErinBurnett @OutFrontCNN @CNN obtained video of migrants arriving to Juarez, Mexico by train as tens of thousands of migrants wait in northern Mexico for the lifting of Title 42 on May 11. pic.twitter.com/8tgQcz4qT0

— Rosa Flores (@RosaFlores) May 2, 2023
The Biden administration plans to send an additional 1,500 active duty troops to support immigration officials at the southern border (2,500 National Guard troops have been stationed there since October). Military personnel will not interact with migrants, according to the Department of Homeland Security. Instead, they will help border officials with administrative tasks, such as entering data. 
President Joe Biden has overseen historic high migration since his inauguration in 2021, and experts believe this will not subside once Title 42 is lifted. 
For many migrants fearing for their safety in their home countries, applying for asylum is their best bet for a new life in the United States. But it's no guarantee.
PolitiFact decided to take a closer look at the immigration laws governing asylum and how the U.S. is preparing for an influx of arrivals at the southern border.
Haga clic aquí para leer este artículo en español.
What people must prove to get asylum in the U.S.
The reason for so many arrivals was baked into U.S. immigration law, long before Biden took office. 
People seeking asylum must be on U.S. soil.
People can request asylum whether they arrived here legally at an airport or crossed the southern border without authorization.  
Before 2013, the majority of asylum seekers weren't walking up to the U.S.- Mexico border, "they were coming through airports," said Theresa Cardinal Brown, senior adviser for immigration and border policy at the Bipartisan Policy Center, a Washnington. D.C., think tank.
"Safe pathways have really been cut back and so asylum seekers and others have no choice but to amass at the border, and that's what's creating this situation at the border," said Jaya Ramji-Nogales, an immigration law professor at Temple University.
Asylees must meet the U.S. definition for refugees: People who are unable or unwilling to return to their home countries because of a "persecution or a well-founded fear of persecution based on race, religion, nationality, political opinion, or membership in a particular social group."
Asylum rule meant to be the exception has become the norm
In the 1990s, U.S. Border Patrol encountered mainly Mexican men traveling alone who wanted to come to the U.S. because they couldn't find good-paying jobs in Mexico. They often were trying to evade immigration authorities.
To counter this illegal immigration, Congress passed a law in 1996 that established expedited removal — a process to quickly deport people who were apprehended after crossing the southern border.
But the law carved out an exception for people who said they feared returning to their home countries and wanted to apply for asylum. Instead of being quickly deported, they were eligible for interviews with asylum officers, and then detained or released into the U.S. to wait for an immigration judge to hear their cases. 
Most Mexican migrants coming to the U.S. for economic reasons typically didn't seek asylum, so this exception to expedited removal was rarely used in the 1990s. But that has changed.
Today, most people reaching the border are seeking asylum. Since the 2010s, and before the public health policy largely halted asylum, most people at the border who were placed into expedited removal used the exception to seek asylum,  Brown said.  
Since 2014, border officials mainly encounter families and children coming alone and fleeing gang violence, political instability and climate crises in their home countries. Extreme poverty is also a key driver — especially after the COVID-19 pandemic. Most migrants are from Central and South America. 
Unlike the Mexican migrants of the 1990s, today's asylum seekers are not trying to avoid immigration officials, said Muzaffar Chishti, a senior fellow at the nonpartisan Migration Policy Institute. He said that migrants are telling authorities: "Hi, I'm here looking for a Border Patrol agent … Yes, I'm applying for asylum."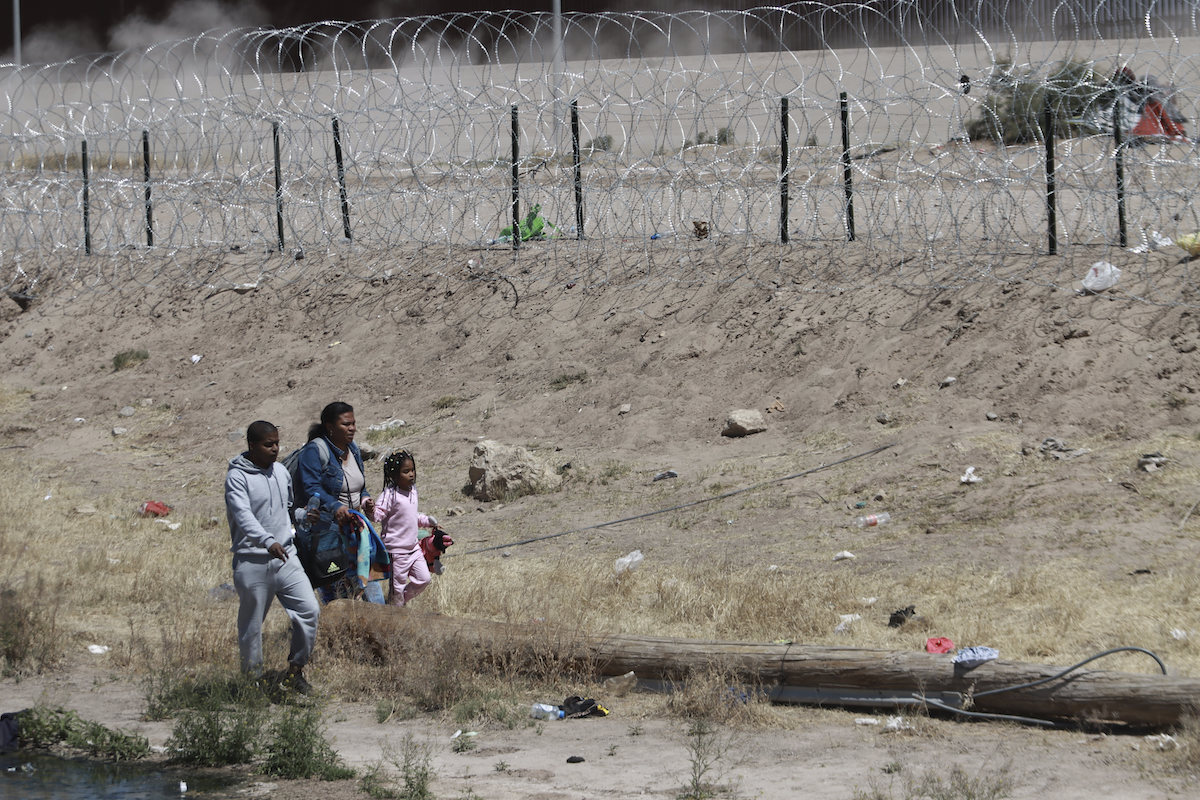 Migrants walk toward the U.S. side of the U.S.-Mexico border in Ciudad Juárez, Mexico, on April 30, 2023. (AP)
How the Biden administration plans to deal with an immigration spike post-Title 42 
The pandemic made it much harder to apply for asylum in the United States. Immigration experts expect Title 42's expiration will lead to a bottleneck of asylum applications.
U.S. immigration officials expect to encounter twice as many people at the southern border without this public health rule in place. The Biden administration has laid out several policies to prepare for the influx.
Since January, the U.S. is letting up to 30,000 immigrants from Venezuela, Cuba, Haiti and Nicaragua enter the country under a parole program and live and work in the U.S. for two years. It's unclear what immigration status they will have after two years. 
Meanwhile, Mexico agreed to continue accepting, on humanitarian grounds, people from Venezuela, Cuba, Haiti and Nicaragua who are turned away by U.S. border authorities (up to 30,000 people a month).
Illegal immigration from those countries has dropped significantly. In December, before the new policy took effect, U.S. Border Patrol agents stopped migrants from those countries more than 84,000 times. That number was down to less than 4,000 in March. 
The Biden administration in January launched a smartphone app to let migrants exempt from Title 42 schedule asylum appointments at official ports of entry. (U.S. policy exempts children traveling alone and people from countries that have strained relations with the U.S.) Once Title 42 is lifted, the app will become available to any migrant who is in central and northern Mexico. 
Migrants and immigration advocates have said the app doesn't offer sufficient appointments and  has technical glitches.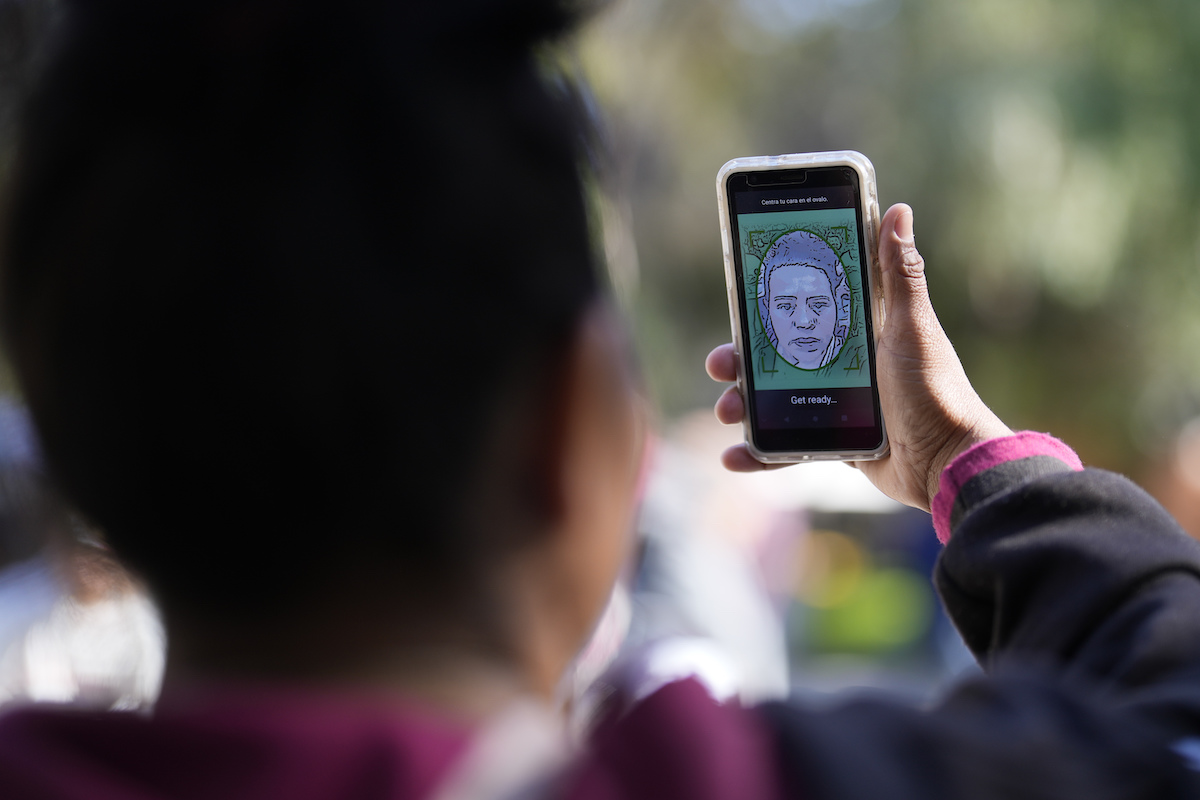 A migrant from Michoacan, Mexico, uses the CBPOne app, Jan. 24, 2023, in Tijuana, Mexico. (AP)
A proposed rule would require all asylum seekers to use the app to schedule an appointment in the U.S. Migrants who don't do this must prove they unsuccessfully applied for asylum in another country before reaching the U.S.; otherwise, immigration officials will presume they are ineligible for asylum.  
To deter people from trekking to the southern border, the Biden administration is opening regional migration centers in Colombia and Guatemala. Immigrants can schedule interviews with specialists who will help them determine their legal options for entering the U.S., staying in the country where the center is located, or migrating to Canada or Spain.
So far, there is little information on how these centers will be run or when they will open.
The White House forwarded PolitiFact's request for comment to DHS. The agency did not weigh in. 
Will these new policies lead to fewer people seeking asylum at the southern border?
That's unclear, because some of these policies could be challenged in court.
"What the world after May 11 will look like may actually get determined more by a federal district court judge than by (Homeland) Secretary (Alejandro) Mayorkas," Chishti, of the Migration Policy Institute, said.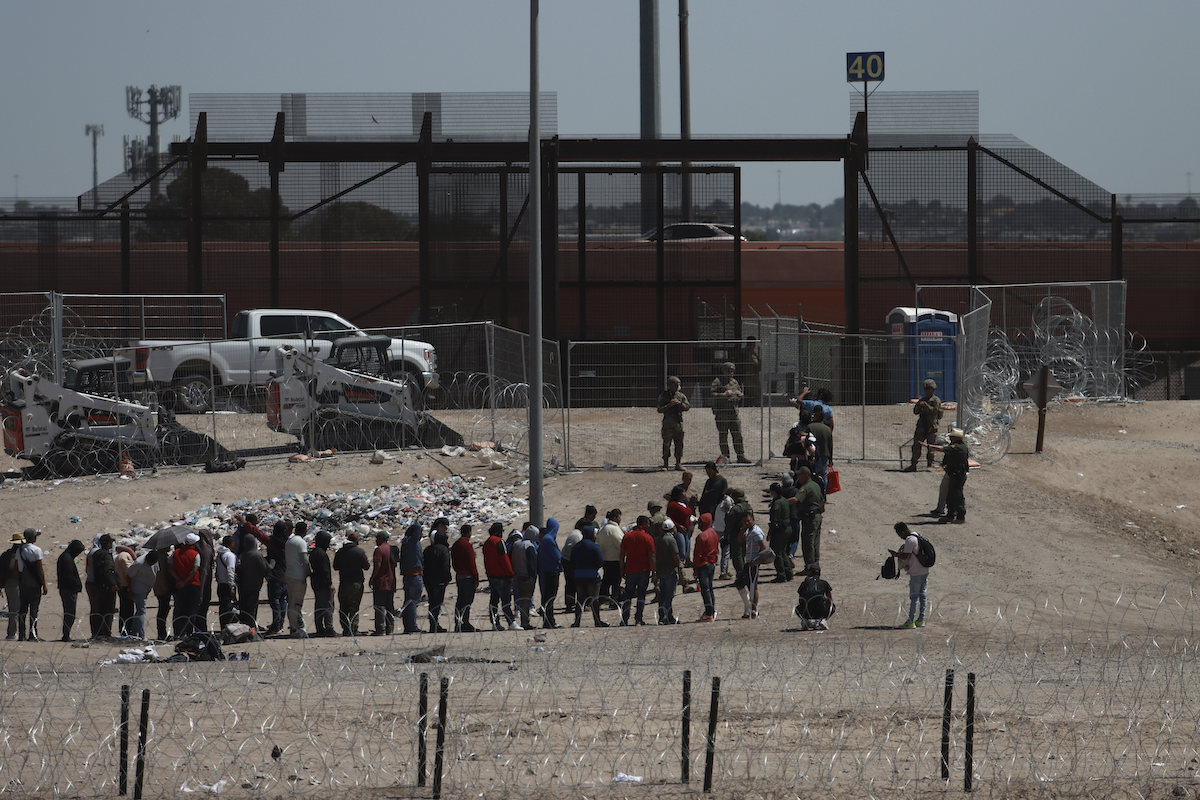 Migrants line up after being detained by U.S. authorities at the U.S.-Mexico border in Ciudad Juárez, Mexico, April 30, 2023. (AP)
Why people aren't 'getting in line'
Images of masses of people trying to enter the southern border often prompt some elected officials and pundits to question why these migrants aren't coming here "the right way" or "getting in line."
The problem with that argument is that "there's not a line," said Ramji-Nogales. "It's very difficult to get here legally." 
There are limited paths for people to come to the U.S. legally, mainly through family or an employer. A U.S. citizen or lawful permanent resident can "sponsor" legal migration for their parents, siblings and spouses. But that can take one to more than 20 years to materialize, depending on immigrants' country of origin and their relationship to the sponsor.
Ninety percent of asylum applicants enter the U.S. without authorization, according to data from the Transactional Records Access Clearinghouse at Syracuse University. 
"We've just made it so difficult to get to the United States or to get any other type of visa," Brown said.
Some people also come in legally as refugees, but that vetting and approval process isn't immediate, either. 
Most asylum seekers don't have time to wait years for those alternatives, said Claire Thomas, director of the Asylum Clinic at New York Law School.
She said: "Especially if you're in danger, like, 'Oh the house is burning, I'm going to wait in the burning house for 20 or 30 years?' No, right? That doesn't work."
NBC News, Migrant crossings expected to spike ahead of end of Title 42, April 29, 2023
NBC News, Texas border cities in state of emergency with Title 42 set to end, May 3, 2023
CNN, Border detention facilities reach capacity amid spike in migrants, April 29, 2023
City of El Paso, Declaration of disaster, April 30, 2023
Rosa Flores, Tweet, May 2, 2023
Politico, 'Unacceptable': Top Dem rips Biden plan to send 1,500 more troops to southern border, May 2, 2023
CNN, Biden administration to send 1,500 troops to southern border for support roles ahead of expected migrant surge, May 2, 2023
Department of Homeland Security, DHS statement on request for additional Defense Department support on the southwest border, May 2, 2023
Congress, S.643 - Refugee Act of 1979, March 17, 1980
Legal Information Institute, Illegal Immigration Reform and Immigration Responsibility Act, accessed, May 4, 2023
Congressional Research Service, Expedited removal of aliens: An itroduction, March 25, 2022
PolitiFact, Central America and the root causes of migration to the US, June 7, 2021
PolitiFact, U.S. policies, and other factors, lead to overcrowded conditions for migrants in Mexico, April 5, 2023
House Appropriations Committee, Budget Hearing – Fiscal year 2024 request for the U.S. Customs and Border Protection Agency, April 19, 2023
American Immigration Council, The end of Title 42 might be chaotic, but it doesn't have to be vonfusing. Here's what you should know, May 2, 2021
PolitiFact, Illegal immigration dropped after new Venezuela program, but public health policy also contributed, Jan. 6, 2023
White House, Mexico and United States strengthen joint humanitarian plan on migration, May 2, 2023
U.S. Customs and Border Protection, Nationwide Encounters, accessed May 4, 2023
Department of Homeland Security, DHS scheduling system for safe, orderly and humane border processing goes live on CBP OneTM app, Jan. 12, 2023
CBS, CBP One app becomes main portal to U.S. asylum system under Biden border strategy, April 11, 2023
PolitiFact, Ask PolitiFact: How does Joe Biden's proposed asylum rule differ from Donald Trump's 'transit ban'?, March 2, 2023
U.S. Department of State, Senior administration officials on new regional migration management measures, April 27, 2023
Department of Homeland Security, Fact Sheet: U.S. government announces sweeping new actions to manage regional migration, April 27, 2023
ABC, Biden administration to launch regional processing centers for migrants throughout Central and South America, April 27, 2023
Politico, Florida GOP passes sweeping anti-immigration bill that gives DeSantis $12 million for migrant transports, May 2, 2023
House Committee on the Judiciary, Why don't they just get in line? Barriers to legal immigration, April 28, 2021
American Immigration Council, How the United States immigration system works, Sept. 14, 2021
Boundless, Green Card Processing Times, accessed May 3, 2023
Cato Institute, ​​Immigration wait times from quotas have doubled: Green card backlogs are long, growing, and inequitable, June 18, 2019
Phone interview, Theresa Cardinal Brown, senior advisor for immigration and border policy at the Bipartisan Policy Center, April 27, 2023
Phone interview, Muzaffar Chishti, senior fellow at the Migration Policy Institute, April 26, 2023
Phone interview, Jaya Ramji-Nogales, immigration law professor at Temple University, April 26 2023
Phone interview, Claire Thomas, director of the Asylum Clinic at New York Law School, April 26, 2023
Browse the Truth-O-Meter
More by Maria Ramirez Uribe