Get PolitiFact in your inbox.
RFK Jr.'s Wi-Fi claim about human blood-brain barriers isn't backed by definitive research
If Your Time is short
The blood-brain barrier acts as a filter that keeps pathogens and toxins from entering a person's brain.

Experts told PolitiFact that existing research does not show that radio frequency energy from Wi-Fi disrupts or harms human blood-brain barriers. But it's important to note that very few long-term, peer-reviewed studies have been conducted specifically on Wi-Fi radiation's health effects on humans.

Research suggests that high radiation levels, from activities such as radiation therapy to treat brain tumors, can increase the blood-brain barrier's permeability in humans. The existing research does not support claims that exposure to Wi-Fi carries the same risk.
It's nearly impossible to avoid things that use wireless internet. Laptop computers, cellphones, tablets, smartwatches and smart TVs all rely partly on Wi-Fi connectivity. 
So, some people may have been alarmed when 2024 Democratic presidential candidate Robert F. Kennedy Jr. called Wi-Fi radiation a threat to people's brains.
"Wi-Fi radiation opens up your blood-brain barrier, so all these toxins that are in your body can now go into your brain," Kennedy told Joe Rogan an hour and 11 minutes into the June 15 episode of Rogan's  podcast, "The Joe Rogan Experience."
"How does Wi-Fii radiation open up your blood-brain barrier?" Rogan asked. 
Kennedy replied: "Now you're going beyond my expertise." 
A few minutes later, a member of Rogan's staff found an article that repeated a version of Kennedy's claim. The staff member warned, however, that he had not checked the source's validity. The article was published in 2017 by Environmental Health Trust, a nonprofit think tank that says cellphones, Wi-Fi and 5G, a wireless network standard, threaten human health and advocates for policy change to address those risks.
That article cited a few studies and research presentations, almost all of which were more than 10 years old, including by two researchers whose findings have not been replicated or verified by others. The article also included a 2015 study on rats that examined exposure to electromagnetic radiation levels that an expert told us are far above the levels created by Wi-Fi.
When we reached out to Kennedy, a spokesperson for his campaign pointed us to a 2017 literature review published in the Journal of Microscopy and Ultrastructure. 
An expert who reviewed this evidence for PolitiFact said Kennedy and the Environmental Health Trust were "cherry-picking results that support their case" without considering the research's quality, contradictory evidence or whether the research is relevant to the radio frequency signal levels people are exposed to from standard Wi-Fi. 
Researchers and scientists with radiation expertise told PolitiFact that although there is some evidence that radiation at high levels can harm human brains, no definitive research shows Wi-Fi radiation is strong enough to degrade human blood-brain barriers. 
The blood-brain barrier
Anne Perrin, a biologist and specialist in electromagnetic risk who is a member of the French Society of Radiation Protection, described the blood-brain barrier as a filter that prevents pathogens and toxins in the bloodstream from entering the brain, while allowing vital nutrients through. 
The blood-brain barrier isolates the brain from the rest of the body by allowing to pass only the blood-borne substances the brain needs, Perrin said. "This filter is an integral part of the wall of blood vessels that supply the brain, hence the name blood-brain barrier."
Tightly packed endothelial cells within the brain's blood vessels comprise the blood-brain barrier's primary component, according to the Queensland Brain Institute. (Endothelial cells line all human blood vessels and regulate exchanges between the bloodstream and surrounding tissues.)
Wi-Fi radiation and the blood-brain barrier
Radiation is energy that comes from a source and travels through space at light speed, according to the U.S. Centers for Disease Control and Prevention. It has wavelike properties and a magnetic field associated with it, the CDC said.
Wi-Fi is a wireless communications technology. Devices that use Wi-Fi emit radio frequency waves, a form of electromagnetic fields, to transfer information.
Kenneth Foster, an emeritus bioengineering professor at the University of Pennsylvania, said everyone in modern society is exposed to radio frequency signals from many sources. Wi-Fi is "only a minor contribution" compared with what a person might be exposed to when using a cellphone, he said.  
At the frequencies used for Wi-Fi, Perrin said, "these electromagnetic fields belong to the family of nonionizing radiation." This means that they do not have enough energy to cause the ionizing effects that would be capable of breaking down molecules in living matter, she said.
The only known effect of radio frequency on living matter or on matter containing water is heating, which is how things are warmed in a microwave oven, Perrin said.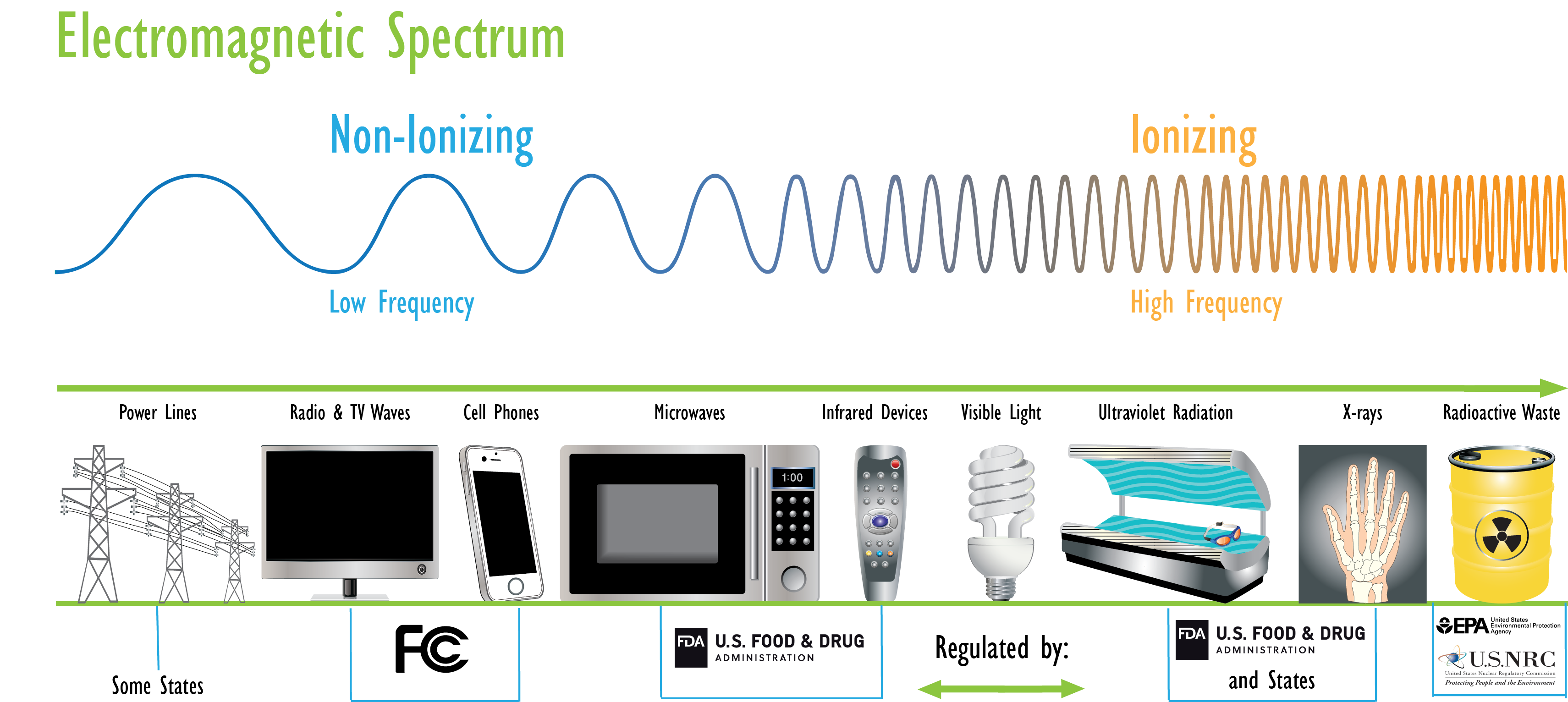 (Screenshot from the EPA)
Foster said the idea that radio frequency energy affects the blood-brain barrier began circulating in the 1970s, after a scientist published what Foster described as "a crude study." It claimed that exposure to radio frequency energy — at levels far above what's emitted by Wi-Fi — disrupted the blood-brain barrier. Subsequent studies repeatedly failed to replicate the result, he said.
There have now been more than 50 studies on radio frequency energy's possible effects on the blood-brain barrier, many involving far higher levels than people receive from Wi-Fi, Foster said. The studies "have not provided clear evidence for (blood-brain barrier) disruption at exposure levels below those causing hazardous heating of the brain," he said.
Analyzed together, many studies of radio frequency fields' effects on the blood-brain barrier suggest "that there is no risk at the levels of exposure encountered in our environment," Perrin said.
Foster said health agencies agree that there is no convincing evidence that radio frequency energy is a health hazard at exposure levels below accepted limits — and Wi-Fi exposures are "far below those limits," he said. 
Not all scientists agree on what the research shows, however.
Very few long-term, peer-reviewed studies have been conducted specifically on Wi-Fi radiation's health effects on humans, experts told PolitiFact. And there is no conclusive research on how Wi-Fi radiation may affect the blood-brain barrier, said Henry Lai, a University of Washington emeritus bioengineering professor, and Joel Moskowitz, director of the Center of Family and Community Health at the University of California, Berkeley.
Some studies have shown exposure to low-intensity microwaves from cellphones caused a leaky blood-brain barrier in animals, Lai said. Other experts, including Foster, disagree on the merit of those studies, saying other researchers had not independently confirmed the findings or failed to replicate them.
However, there is scant information on how humans may be affected, Lai said. And even if exposure to low-intensity microwaves degrades human blood-brain barriers, it is not clear what that could mean. "The health impact of a leaky blood-brain barrier remains to be investigated," Lai said.
Foster and Perrin emphasized that Wi-Fi radiation exposure levels are lower than cellphone radiation exposures. 
But because the scientific research is not uniform, health agencies typically acknowledge a degree of uncertainty and say more research is needed, Foster said. 
It is also difficult for researchers to study Wi-Fi radiation's long-term on humans, Moskowitz said. For example, it would be difficult to find people who have been exposed primarily to Wi-Fi radiation and not other forms of nonionizing radiation, such as cellphones and radios. Similarly, it would be nearly impossible to find people who have had little to no exposure to these types of radiation.
In the U.S., exposure to radio frequency radiation is regulated by government agencies such as the Federal Communications Commission and the Food and Drug Administration. 
The FCC's wireless radiation safety standards haven't changed since 1996. But in 2021 a federal appeals court ordered the FCC to revisit the standards after it determined the agency had ignored evidence that cellphone radiation might harm humans, animals and the environment, ProPublica reported.
In a statement to PolitiFact, Kennedy's spokesperson highlighted a sentence of the 2017 literature review that cited three pieces of research pertaining to electromagnetic fields altering the blood-brain barrier's permeability.
Foster described the 2017 review overall as "highly speculative" and said it cherry-picked information and lacked a critical review of evidence. Of the specific studies cited in the sentence Kennedy's team referred to, two were narrative reviews that presented no new data. One of the narrative reviews, from 2008, noted that the findings are mixed: "Some studies show effects on the blood-brain barrier, whereas others do not," it said. The third piece of research was a 1977 study on rats, which found that certain levels of exposure to microwave energy could temporarily harm the blood-brain barrier. Foster said that study involved exposure at levels more than 30 times higher than the FCC's exposure limits — far higher than anything a person gets from Wi-Fi. He also said two subsequent studies couldn't produce similar results.
RELATED: There's no evidence that radiation emitted from Apple AirPods will cook your brain
RELATED: Fact-checking a conspiracy theory about 5G and the coronavirus
"The Joe Rogan Experience," #1999 Robert Kennedy, Jr., June 15, 2023
Email interview with Anne Perrin, a biologist and specialist in electromagnetic risk who is part of the French Society of Radiation Protection, June 21, 2023
Email interview with Kenneth Foster, a professor emeritus of bioengineering at the University of Pennsylvania, June 20, 2023
Email interview with Robyn Tanguay, a distinguished professor of environmental and molecular toxicology at Oregon State University, June 21, 2023
Email statement from the Kennedy press team, June 22, 2023
Email interview with Joel Moskowitz, director of the Center for Family and Community Health at the University of California-Berkeley, June 27, 2023
Email interview with Henry Lai, an emeritus professor of bioengineering at the University of Washington, June 26, 2023
The National Center for Biotechnology Information, "The Blood–Brain Barrier," published Jan. 2015
BrainFacts.org, "The Blood-Brain Barrier," July 2, 2014
University of Queensland Queensland Brain Institute, "What is the blood-brain barrier?" accessed July 8, 2020
ScienceDirect, Effects of radiofrequency field on the blood-brain barrier: A systematic review from 2005 to 2009, published November 2010 
Insider, What a CDC nuclear radiation expert says to people who worry about cancer from cellphones and Bluetooth devices, June 9, 2021 
U.S. Environmental Protection Agency, Radiation basics, accessed June 20, 2023
Radio Science Bulletin, Interaction of Wireless Communication Fields with Blood-Brain Barrier of Laboratory Animals, December 2005
CNET, Is 5G making you sick? Probably not, July 30, 2020
HealthLine, Does Wi-Fi Cause Cancer? June 22, 2021
PolitiFact, No, the COVID-19 test is not going anywhere near your blood-brain barrier, July 8, 2020
PolitiFact, There's no evidence that radiation emitted from Apple AirPods will cook your brain, Aug. 4, 2022
Government of Canada, Wi-Fi equipment, accessed June 21, 2023
Forbes, A Radiation Oncologist Says Everything You Need To Hear About WiFi And Cancer Risk, May 19, 2016
Cleveland Clinic, Blood-Brain Barrier, accessed June 20, 2023
The Radiation Safety Journal Health Physics, Wi-Fi and Health Review of Current Status of Research, December 2013
Federal Communications Commission, Radio Frequency Safety, accessed June 21, 2023
Federal Communications Commission, Why Has The Fcc Adopted Guidelines For Rf Exposure? accessed June 21, 2023
National Library of Medicine, Blood-brain barrier permeability following conventional photon radiotherapy – A systematic review and meta-analysis of clinical and preclinical studies, May 4, 2022
Environmental Health Trust, Brain development, cell phones and wireless: Scientific research on the neurotoxic effects of wireless radiation, Nov. 1, 2017
ProPublica, What to Know About Cellphone Radiation, Jan. 4, 2023
MoCo360, UPDATED: D.C. Court of Appeals rules FCC must provide more information related to 5G, Aug. 16, 2021
The Scientist, Opinion: Cell Phone Health Risk? Sept. 25, 2012
National Library of Medicine, Effects of electromagnetic fields exposure on the antioxidant defense system, Aug. 2, 2017
ScienceDirect, Microwave alteration of the blood-brain barrier system of rats, May 6, 1977
National Library of Medicine, Blood-brain barrier permeation in the rat during exposure to low-power 1.7-GHz microwave radiation, published 1985
SpringerLink, Studies on blood-brain barrier permeability after microwave-radiation, published December 1978
National Library of Medicine, The electromagnetic fields of cellular phones and the health of children and of teenagers (the situation requiring to take an urgent measure), published 2005
National Library of Medicine, Radiofrequency and extremely low-frequency electromagnetic field effects on the blood-brain barrier, published 2008
ScienceDirect, Exposure to 900 MHz electromagnetic fields activates the mkp-1/ERK pathway and causes blood-brain barrier damage and cognitive impairment in rats, March 19, 2015
Annals of The New York Academy of Sciences, Neural Function and Behavior: Defining the Relationship, February 1975
Browse the Truth-O-Meter
More by Madison Czopek