Get PolitiFact in your inbox.
Who is Fani Willis, the prosecutor in Trump's Fulton County, Georgia, election interference case?
If Your Time is short
Fulton County Georgia District Attorney Fani Willis is leading an investigation into former President Trump and his allies' possible interference in the 2020 presidential election.
Former President Donald Trump is bracing for another possible indictment. This time, it may be in Fulton County, Georgia, in connection with his and his allies' possible interference in the 2020 presidential election.
Fani Willis, the county's Democratic district attorney, has been investigating Trump's phone calls to Georgia officials and the arrangement of a fake slate of electors. 
Willis took office Jan. 1, 2021, a day before Trump's infamous call with Georgia Secretary of State Brad Raffensperger, during which Trump sought to "find" enough ballots to win the state. Willis has been investigating this call since February 2021.
"How soon I knew an investigation may be warranted was on Day One," Willis told USA Today. "The phone call was enough to raise eyes — eyebrows — or even cause grave concern. We are looking at the total scope."
Throughout the investigation, Willis has been criticized for being partisan. Trump, Gov. Brian Kemp, R-Ga, and attorneys for a slate of so-called fake electors requested Willis be disqualified from prosecution over political bias. 
Most of these requests have been denied. But in July 2022, a Georgia judge blocked Willis from investigating Georgia Lt. Gov. Burt Jones, one of Trump's fake electors, because Willis held a campaign fundraiser for Jones' opponent, Democrat Charlie Bailey.
"This is NOT a politically motivated investigation. It is a criminal investigation and often at the end of criminal investigations, people are cleared and often they go to prison," Willis wrote in an email to Kemp's lawyer, according to Politico. "You repeatedly referring to it as a politically motivated investigation, does not make it so."
Without explanation, Trump also called Willis, who is Black, "a local racist Democrat district attorney," in a speech April 4 after being arraigned in New York.  
"The comment does not concern me at all. It's ridiculous in nature, but I support his right to be protected by the First Amendment and say what he likes," Willis told WSB-TV.
Willis has led multiple high-profile cases in Fulton County both as district attorney and as deputy district attorney. She has used the state's Racketeer Influenced and Corrupt Organizations (RICO) Act, which allows the prosecution of organized crime by showing a pattern of illegal misconduct, to pursue Atlanta public school educators and renowned rappers. Legal experts predict she might use this statute against Trump.
Here's some background about Willis and the cases she has prosecuted.
Who is Fani Willis? 
Willis began her career at Fulton County's district attorney's office in 2001 as a deputy district attorney. In that role, she served as lead prosecutor in more than 100 jury trials. Among those was a controversial case targeting Atlanta public school teachers and staff for their roles in inflating standardized test scores. 
In 2018, she left the district attorney's office and opened a firm focused on criminal defense and family law. In 2019, she served as a judge in the South Fulton, Georgia, municipal court. 
Willis campaigned on a platform of reforming the county's criminal justice system.
"If an elected official violates the law, they're going to be prosecuted. Should a police officer violate the law, and should a citizen violate the law, they're going to be prosecuted," Willis said in an interview July 10, 2020, with WAGA-TV. "But all will be done with due process. All will be done after proper investigation."
Willis said the intention while pursuing a prosecution is "to get a grand jury indictment and ultimately a conviction."
In 2020, Willis won the bid for district attorney, becoming the first Black woman elected to the position. She defeated incumbent Paul Howard, who had been her boss at the district attorney's office. 
Willis graduated from Howard University with a bachelor's degree in 1992 and from Emory University School of Law in 1996.
Willis' high profile and controversial cases 
Conviction of 11 Black Atlanta Public Schools teachers and staff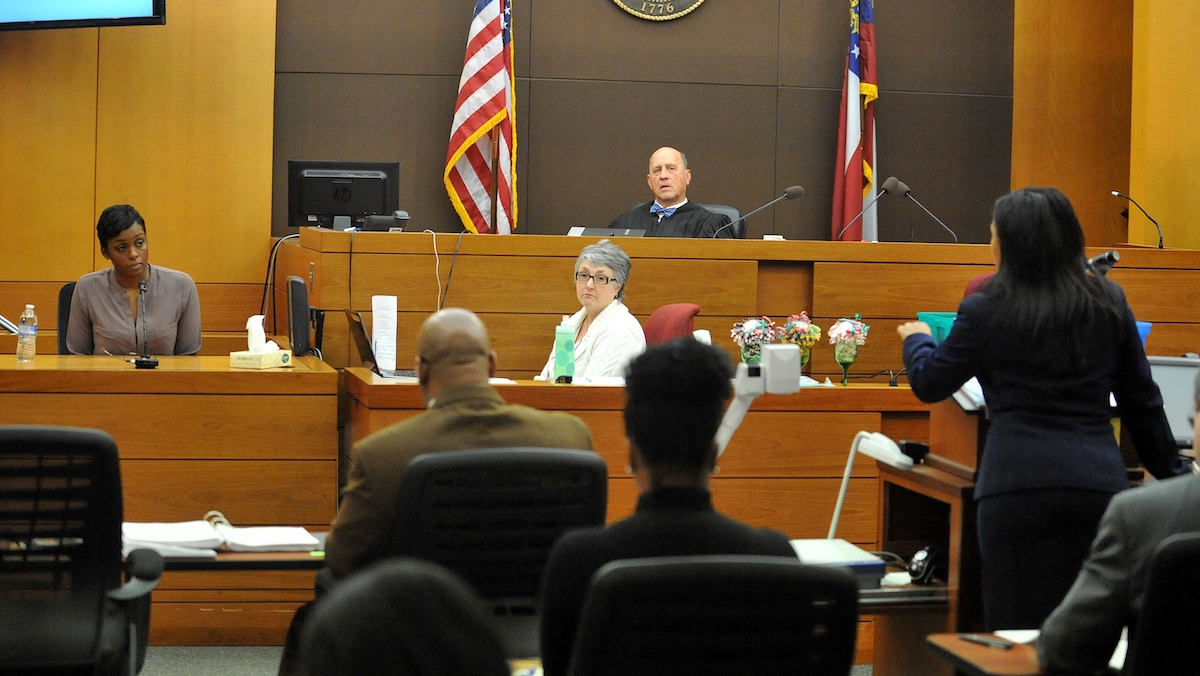 Shayla Smith, a teacher at Dobbs Elementary testifies as testimony resumes after a two week holiday break in the Atlanta Public Schools test-cheating trial before Judge Jerry Baxter in Fulton County Superior Court, in Atlanta, Jan. 5, 2015. (AP)
In 2015, a jury convicted 11 Black educators from Atlanta Public Schools for their role in inflating standardized testing scores. Eight of the convicted educators were sentenced to fines and prison time ranging from one to seven years plus probation. 
As a deputy district attorney in the Fulton County district attorney's office, Willis served as the case's lead prosecutor. 
In 2013, a grand jury indicted 35 educators, but most reached plea agreements. 
As the case drew national attention, the district attorney's office received backlash as some people questioned Willis' decision to pursue educators.
"The jury has made a determination, and in some respects, that affirms what the prosecution has done in this case," William H. Thomas, a former Georgia federal prosecutor, told The New York Times. "For me, the real question is: Was the victory worth the candle? Have they killed a fly with the proverbial sledgehammer?"
Defendants in the case are still appealing the decision.
Prosecution of Young Thug and YSL: Controversial rap lyric as evidence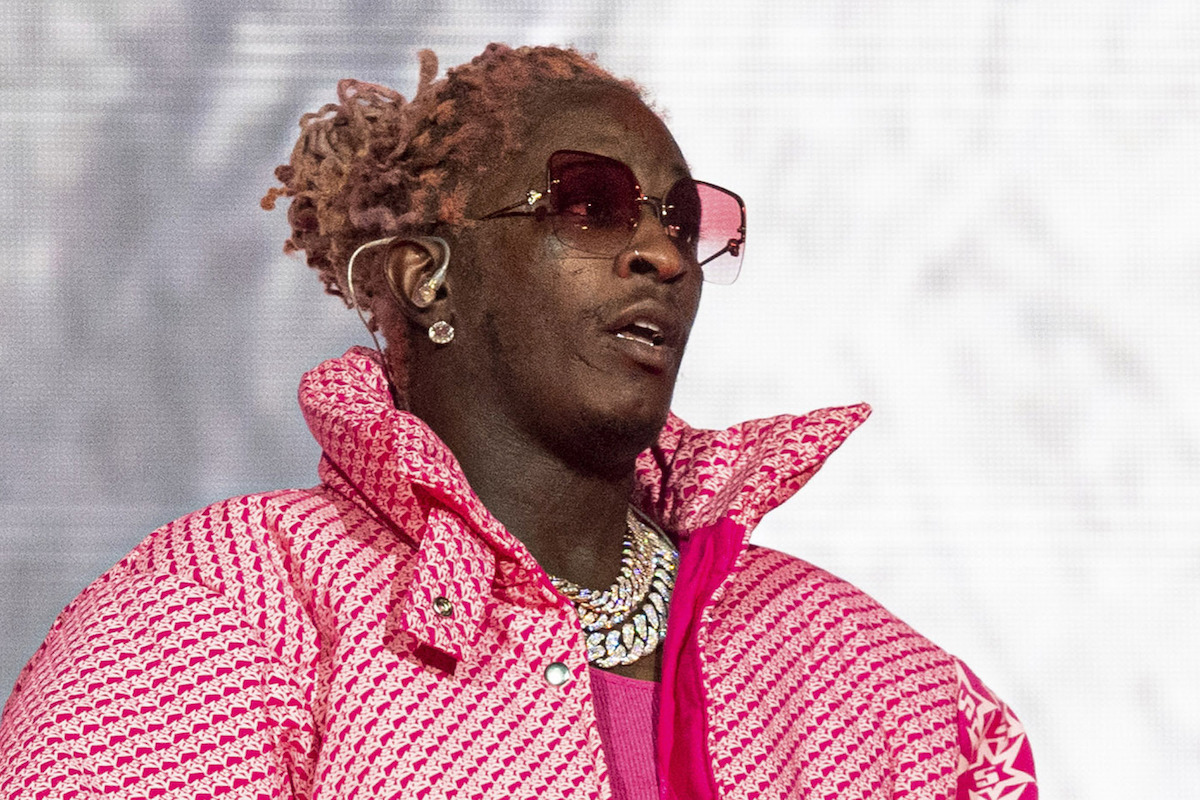 Young Thug performs at the Lollapalooza Music Festival in Chicago on Aug. 1, 2021. Jury selection has been slow going in the Atlanta racketeering and gang case against rapper Young Thug and others. (AP)
Willis' campaign against gang-related crime has brought its own attention as she's gone after hip-hop stars including Young Thug, born Jeffery Lamar Williams. 
In May 2022, 28 people, including the artist, were indicted on gang and racketeering charges in Fulton County, facing allegations of gang activity as members of Young Thug's YSL record label. Many of those indicted eventually took plea deals; Young Thug did not.
YSL's gang association is muddied, with The New York Times calling it a "hybrid gang." 
Williams founded Young Stoner Life Records — sometimes called Young Slime Life — in 2016. Supporters called it a "music movement filled with love," and his defense argued that YSL was simply the name of the star's record label. Nevertheless, former associates of the group who received plea deals have testified that it was both a music label and a gang.
Prosecutors alleged multiple crimes by the organization — murders, shootings and carjackings —  were connected to the notorious Bloods gang.
Critics pushed back against Willis for her controversial use of Young Thug's lyrics as evidence of criminal activity during the prosecution. This evoked First Amendment concerns among several music industry figures, but the practice is legal, as ruled by a Maryland court in 2021, and has been used before. 
Willis defended the decision to use lyrics in the case and said, "If you decide to admit your crimes over a beat, I'm going to use it."
Indictment of shooter in Atlanta spa killings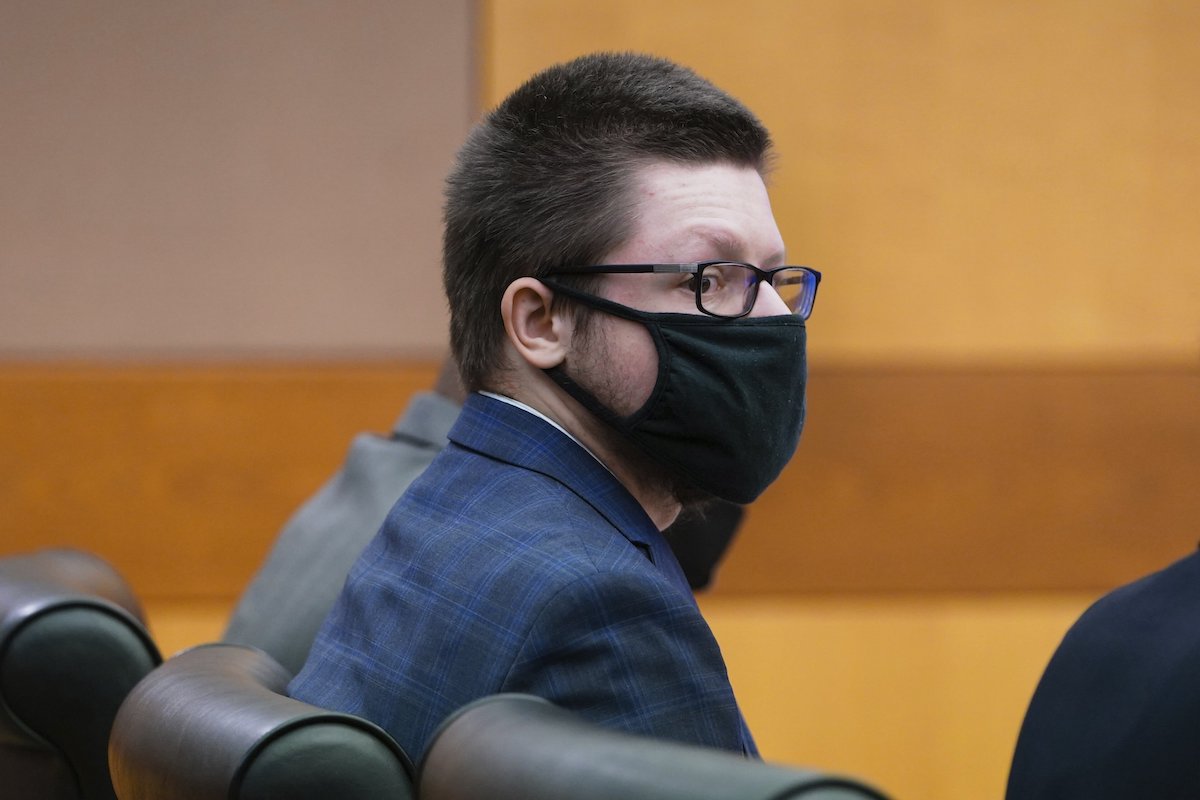 Robert Aaron Long is seen during his arraignment in Fulton County Superior Court on Tuesday, Sept. 28, 2021, in Atlanta. (AP)
Willis is seeking the death penalty against the shooter involved in the March 2021 killings of eight women, six of them of Asian descent, in Georgia. 
Robert Aaron Long pleaded guilty to murder, was convicted and received four consecutive life sentences for the deaths of four women in Cherokee County. 
However, the case over the killings in Fulton County continues as Willis seeks hate crime charges and the death penalty against Long. This marks a departure from her 2020 district attorney campaign stance, when she said she would refuse to seek the death penalty.
"Last year, I told the voters of Fulton County that I could not imagine a circumstance where I would seek it," Willis said during a May 2021 news conference. "Unfortunately, a case has arisen in the first few months of my term that I believe warrants the ultimate penalty, and we shall seek it."
PolitiFact Staff Writer Nuria Diaz Muñoz and Copy Chief Matthew Crowley contributed research.
RELATED:  Here's what Donald Trump asked Georgia election officials in phone call about 2020 election
RELATED: What was the fake elector plot by Trump allies following the 2020 election?
RELATED: What did Trump say in the other phone calls to Georgia officials?
Browse the Truth-O-Meter
More by Sofia Bliss-Carrascosa