Get PolitiFact in your inbox.
The differences in Donald Trump and Hillary Clinton's classified document cases
If Your Time is short
Former 2016 Democratic nominee Hillary Clinton was investigated by the FBI for her use of a private email server for exchanges with her staff during her time as secretary of state. The FBI did not bring charges against her; then-Director James Comey said she handled classified information carelessly, there was no evidence that she intended to break the law.

By contrast, the federal indictment against Donald Trump shows that he knew he had classified documents stored in his Mar-a-Lago home and social club. The Trump indictment lays out how Trump stymied efforts by the federal government to recover them.
Former President Donald Trump's indictment over classified documents has spurred criticism against the FBI and the Justice Department. Trump's allies and supporters say the case is politically motivated and evidence of bias. The proof? An investigation into Trump's 2016 Democratic opponent, Hillary Clinton's handling of classified information did not lead to an indictment. 
"Most Republicans believe we live in a country where Hillary Clinton did very similar things and nothing happened to her," Sen. Lindsey Graham, R-S.C., said June 11 in an ABC News interview. 
But Clinton's use of a private email account for exchanges with her staff during her time as secretary of state, and the hundreds of classified documents stored in boxes in Trump's Mar-a-Lago residence are not comparable, experts told PolitiFact. 
"The situation of Mrs. Clinton is, at most, only superficially comparable to what has been alleged against Mr. Trump in the federal indictment," said Bradley Moss, a Washington, D.C.-based lawyer who works on national security cases. 
Here's a refresher on both cases.
An investigation into Clinton's emails did not lead to charges
Clinton's email troubles started in 2014, when the House Select Committee on Benghazi asked the State Department for all of her emails. The department didn't have them all because, instead of using only the State Department email system (with an email address ending in @state.gov), Clinton used a personal email address (ending in @clintonemail.com) housed on private servers in her Chappaqua, New York, home.
In 2014, Clinton's lawyers combed through the private server and turned over about 30,000 work-related emails to the State Department and deleted the rest, which Clinton said involved personal matters, such as her daughter's wedding plans.
On July 5, 2016 — four months before the presidential election — the FBI released its findings on an investigation into Clinton's emails. Broadly, it said classified information had been improperly transmitted, but carelessness, not an intent to skirt the law, was the cause. 
Then-FBI Director James Comey said of the 30,000 emails, 113 were determined to have contained classified information at the time they were sent. Comey said three of those had a marking indicating they were classified, and that 2,000 more were marked as classified after the fact by various agencies.
The State Department cited Clinton for three security violations for failing to follow department protocols. In 2017, after she appealed, the department dropped two, but affirmed one. A 2018 Justice Department review of how the FBI handled its investigation noted that prosecutors found no evidence that Clinton and her colleagues ever intended to put classified materials into their email exchanges.
"The emails in question lacked proper classification markings," the Justice Department report said. "The senders often refrained from using specific classified facts or terms in emails and worded emails carefully in an attempt to 'talk around' classified information."
Ultimately, Clinton paid a political price, not a legal one, for her email practices. 
Trump is charged with knowingly taking classified documents and obstructing justice 
Flash forward to 2023: Trump is again running for president after Joe Biden unseated him in the 2020 election. But this time, Trump is doing so amid several active investigations into his business practices in New York, his actions to pressure state election officials, his response to the U.S. Capitol riot and his handling of classified documents.
After leaving the White House, in January 2021, Trump took troves of boxes containing hundreds of classified documents to his home in Florida, according to the federal indictment released June 9. 
"Trump was not authorized to possess or retain those classified documents," according to the indictment. And Mar-a-Lago, Trump's residence and social club, "was not an authorized location" to keep, display or discuss classified documents.
Trump kept documents that included information about defense weapons capabilities, the United State's nuclear programs and U.S. military weaknesses throughout the property, the indictment said. The indictment includes photos of stacks of boxes stored in a ballroom, bathroom, shower, storage room and his bedroom. 
In May 2021, the National Archives and Records Administration requested that Trump return missing records from his time as president. In January 2022, Trump returned 15 boxes containing 197 documents with classification markings. 
In March 2022, the FBI opened a criminal investigation into Trump's "unlawful retention of classified documents," and in April a grand jury issued a subpoena demanding Trump turn over documents with classification markings. According to the indictment, one of Trump's lawyers recalled Trump saying, "What happens if we just don't respond at all?" and "Wouldn't it be better if we don't have anything here?" 
Before Trump's attorney searched Mar-a-Lago for the subpoenaed documents, Trump's aide Walt Nauta, who was also indicted, moved 64 boxes from the storage room to Trump's residence, at Trump's instruction. Trump's attorney eventually searched Mar-a-Lago and found 38 documents with classification markings, which he provided to the FBI.   
But during an August search of Mar-a-Lago, the FBI found around 100 more documents with classification markings.
In November, Attorney General Merrick Garland appointed Jack Smith as special counsel to investigate the handling of documents found at Mar-a-Lago. On June 8, Smith's team indicted Trump on about three dozen counts, including charges of willful retention of national defense information, conspiracy to obstruct justice, and making false statements.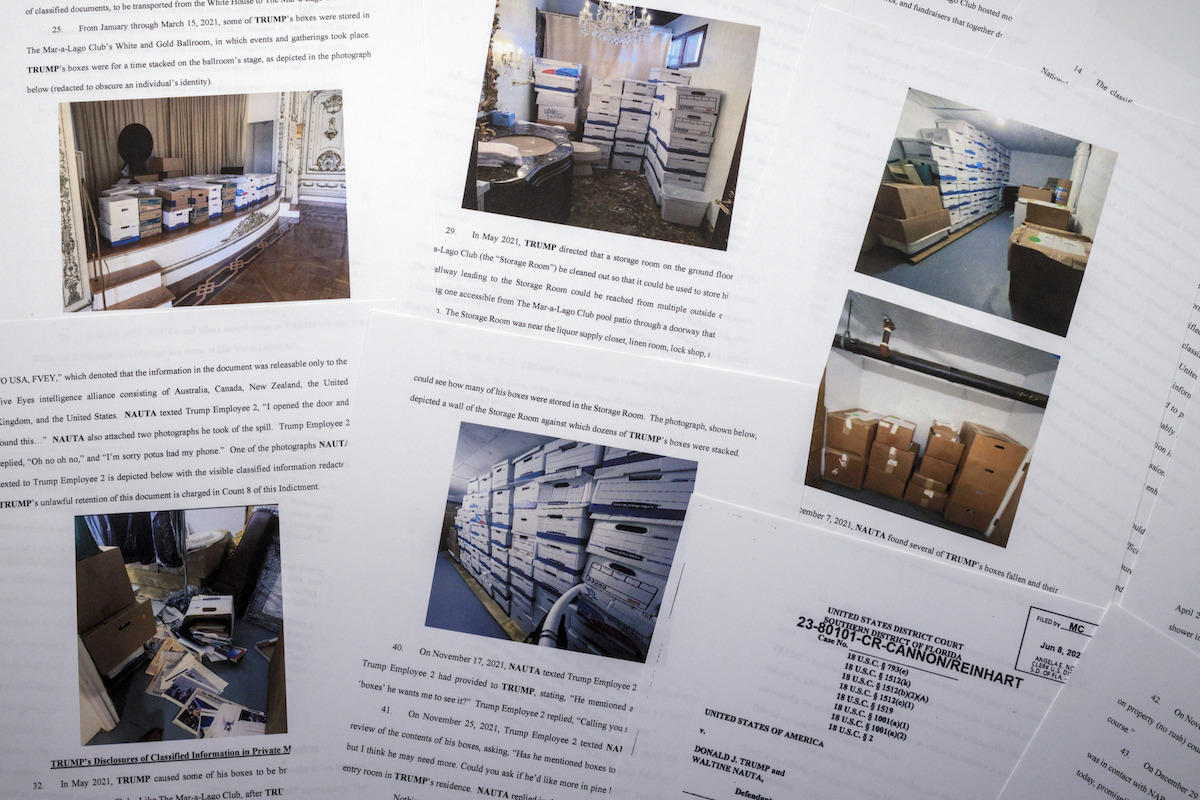 The indictment against former President Donald Trump is photographed on June 9, 2023. Trump is facing 37 felony charges related to the mishandling of classified documents according to the unsealed indictment. (AP)
The key differences in Clinton and Trump's cases
Jeffrey Fields, a University of Southern California political science professor, told PolitiFact "there's simply no comparison in these two cases." They differ significantly in scale and scope.
The main distinction is intent. 
The federal indictment of Trump cites an audio recording from a meeting and recollections from Trump's lawyers to show Trump was aware there were classified documents in his possession improperly.
The indictment goes over two instances in which Trump showed classified documents to people without security clearances. In July 2021, the indictment says, Trump showed a Defense Department document to a writer, publisher and two staff members. According to the indictment, which referenced an audio recording of the meeting, Trump said the information was "highly confidential" and that "as president I could have declassified it," and "now I can't." 
When instructed to turn over all documents with classification markings, Trump did not comply, the indictment said. Instead, investigators said Trump suggested his attorneys lie to the FBI and the grand jury, instructed his aide to move and conceal the boxes, and suggested his attorney destroy the documents. 
In contrast, Comey concluded Clinton had not intended to send or receive classified information on her private email server. "We did not find clear evidence that Secretary Clinton or her colleagues intended to violate laws governing the handling of classified information," Comey said in a July 2016 statement. 
Comey said "no reasonable prosecutor would bring such a case."
The Justice Department generally does not indict people "for mishandling classified information unless there is evidence of intent or obstruction," Moss said.
"Both the intent and the obstruction factors are present in Mr. Trump's situation," he said. "And it is for that reason that Special Counsel Smith chose to move forward with an indictment."
Another difference is the content of the information. In Clinton's case, the CIA deemed some of the information in the emails classified, while the State Department disagreed.
"This was actually a State-versus-CIA dispute rather than clear cut documents with classification markings on them," Tom Blanton, director of the National Security Archive at George Washington University, told PolitiFact.
In Trump's case, documents had clear classification markings. According to the indictment, Trump's documents included "TOP SECRET," "SECRET" and "CONFIDENTIAL" markings.
Senior Correspondent Jon Greenberg contributed to this report.
​RELATED: 9 Trump claims about the Mar-a-Lago classified documents probe, fact-checked
RELATED: The Trump documents indictment: Which charges are most serious? Can he still run in 2024?
RELATED: Timeline: Classified documents seized at Donald Trump's Mar-a-Lago homeå
ABC News, 'I'm not justifying' Trump's 'behavior' handling classified documents: Sen. Graham, June 11, 2023
PolitiFact, Comparing Hillary Clinton's emails and Donald Trump's boxes of files, Aug. 9, 2023
PolitiFact, Read Donald Trump's indictment in the Mar-a-Lago classified documents investigation, June 9, 2023
PolitiFact, Fact-checking Benghazi: The rhetoric hasn't matched up with reality, May 16, 2014
FBI, Statement by FBI Director James B. Comey on the Investigation of Secretary Hillary Clinton's Use of a Personal E-Mail System, July 5, 2016
U.S. Department of Justice, A Review of Various Actions by the Federal Bureau of Investigation and Department of Justice in Advance of the 2016 Election, June 2018
PolitiFact, Trump indicted in classified documents case: Here's the timeline, Jan. 27, 2023
PolitiFact, Read Donald Trump's indictment in the Mar-a-Lago classified documents investigation, June 9, 2023
PolitiFact, Ask PolitiFact: Who is Jack Smith, the special counsel in the Trump classified documents case?, June 9, 2023
Email exchange, Jeffrey Fields, Political Science and International Relations professor at the University of Southern California, June 12, 2023
Email exchange, Bradley Moss, attorney, June 12, 2023
Email exchange, Tom Blanton, director of the National Security Archive at George Washington University, June 13, 2023
Browse the Truth-O-Meter
More by Maria Ramirez Uribe