Stand up for the facts!
Our only agenda is to publish the truth so you can be an informed participant in democracy.
We need your help.
I would like to contribute
US frets about TikTok feeding data to China; banning app won't end the threat, experts say
If Your Time is short
The Biden administration has asked TikTok's China-based parent company to sell its stake in the platform or risk the app being banned in the U.S.

U.S. officials are concerned that the Chinese government could demand access to the extensive data TikTok collects on its users, more than 100 million of whom are in the U.S. Officials say that data could be used to surveil individuals or create tailored foreign influence campaigns.

Banning TikTok might make it harder for the Chinese government to disseminate a targeted foreign influence campaign, experts said. But similar data from other apps would still be available for purchase through third-party brokers.
The idea of the U.S. government banning TikTok, the popular video app with more than 100 million American users, might sound implausible. 
But federal legislation that would pave the way for such a ban has rare bipartisan support. And President Joe Biden signaled in early March that his administration would consider banning the app because of security concerns about TikTok's China-based parent company, ByteDance. 
On March 15, TikTok confirmed that the Biden administration threatened to ban the app in the U.S. if ByteDance doesn't divest from the platform. 
As the app has gained popularity in the U.S., TikTok's potential vulnerability to the Chinese Communist Party has vexed U.S. officials. Most criticism centers on national security risks posed by the app's data collection, which ranges from users' email addresses to messages sent within the app and keystroke patterns.
Concerns about the app aren't new. Former President Donald Trump tried in 2020 to ban TikTok in the U.S., but federal judges blocked his attempts. Over the past two years, TikTok has negotiated with the Committee on Foreign Investment in the United States, a U.S. multiagency group, to address officials' concerns about national security and privacy.
TikTok's CEO Shou Zi Chew is slated to testify March 23 before the U.S. House of Representatives' Energy and Commerce Committee. 
Experts say a ban would not prevent the Chinese government from accessing sensitive data about U.S. social media users. Even if the TikTok app were banned, similar data from other apps would remain available for purchase from third-party brokers. 
TikTok did not respond to a request for comment. PolitiFact has a fact-checking partnership with TikTok; you can read more about it here.
What data does TikTok collect?
TikTok collects data that users share outright with the app and data that's created when using the app, according to its privacy policy. 
That includes:
TikTok account information, such as names, ages, languages, email addresses, phone numbers and profile images;

Content users create on the app, such as audio and video recordings, messages sent and comments on posts;

Metadata associated with content created on the app, which can include when and where the content was created. 
TikTok also automatically collects information about users' devices and networks, including internet protocol addresses (numeric addresses assigned to internet-connected computers), mobile carriers, keystroke patterns and rhythms. The app automatically collects approximate location data based on a device's subscriber identity module card or IP address and will also collect precise location data if users choose to share it.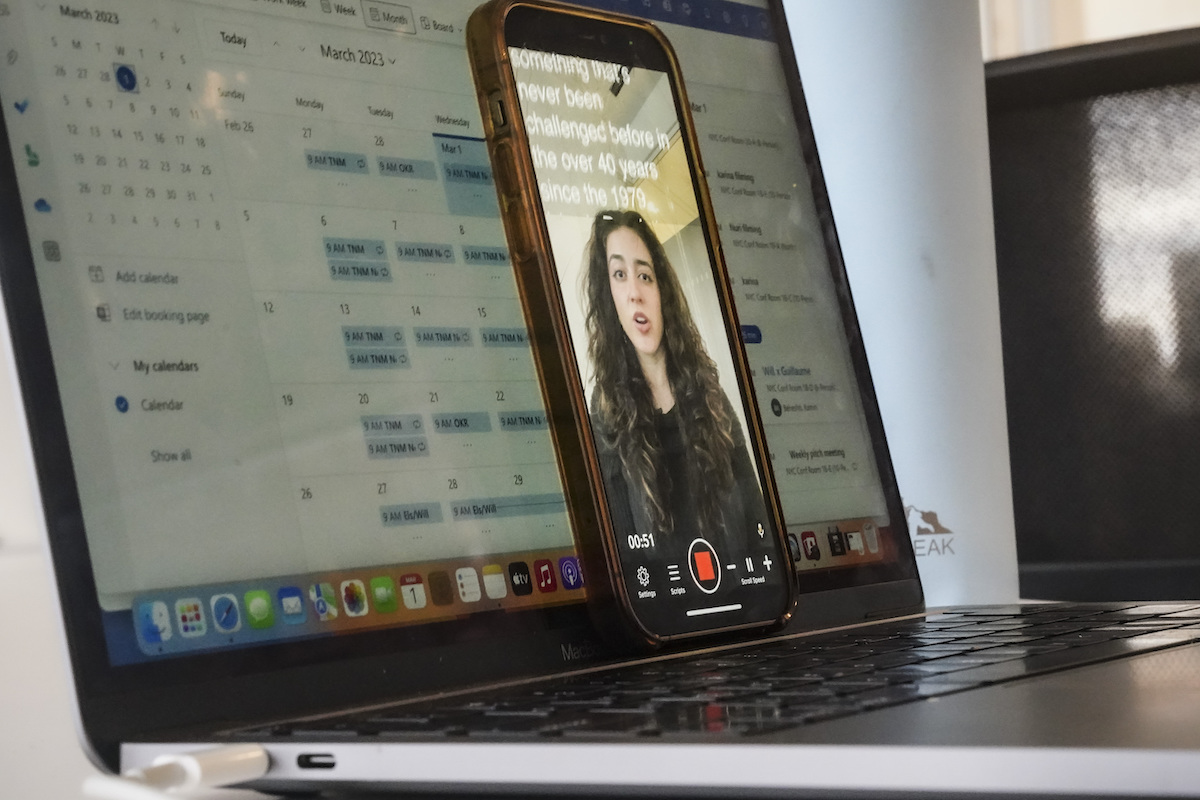 A reporter for The News Movement, a social media news operation re-imagined for Gen-Z consumers, uses her phone to produce a TikTok video on March 1, 2023, in New York. (AP)
A 2022 analysis found that TikTok is more aggressive and more persistent in its data collection than other apps, repeatedly requesting access to user data, even after it has been denied. That analysis, conducted by Internet 2.0, an Australia-based cybersecurity company, also found that the app "can and will run successfully without any of this data being gathered," which suggests it is collected only for data harvesting. 
What can this data be used for?
The collected data can be used to construct comprehensive profiles of individual users, experts said.
When combined, "it's a lot more than, 'How many cat videos did you watch?'" said Philip Napoli, director of Duke University's Dewitt Wallace Center for Media and Democracy, where he researches social media regulation. 
By knowing a person's precise location at specific times, for example, "you can infer somebody's personal relationships, somebody's religion, and a wide range of other factors," said Caitlin Chin, a fellow at the Center for Strategic and International Studies, a national-security think tank in Washington, D.C. 
Experts said U.S. officials' concerns about TikTok's data collection are based on two possible scenarios. 
First, the Chinese government could leverage China's national intelligence and cybersecurity laws to demand access from ByteDance to U.S. TikTok user data. This is particularly concerning for certain categories of people, including government officials, journalists, Chinese nationals in the U.S. who might oppose the Chinese Communist Party and people with ties to individuals in any of those categories, experts told PolitiFact. (This concern appeared to drive the Biden administration's late 2022 decision to ban TikTok on government-issued devices.)
Second, if given access to TikTok users' data, the Chinese government could create comprehensive profiles of TikTok users to deploy tailored propaganda or disinformation campaigns. There's understandable concern about what influence the Chinese government could wield over the content seen by and messages delivered to millions of Americans, said Robyn Caplan, a senior researcher at Data & Society Research Institute, a nonprofit think tank focused on data-centric technology.
National security is also of concern; lawmakers pushing a ban have argued that Chinese government officials could collect data on U.S. government employees and contractors with confidential or sensitive jobs. That data could reveal secure information or be used for blackmail or espionage. 
PolitiFact's TikTok account has about 150,000 followers.
Data access issues have already emerged, such as when ByteDance employees accessed data of U.S. journalists and used it to track their movements. There was no evidence that China's government compelled ByteDance employees to access the data. It appeared to be a corporate-driven effort to discover who was leaking information to the press. The Justice Department is investigating this incident, according to news reports. 
To address concerns, TikTok has proposed a $1.5 billion restructuring plan that includes, among other measures, transferring U.S. user data to servers owned by the Texas-based tech company Oracle. 
Would a TikTok ban keep China from accessing U.S. social media data?
Banning TikTok would not eliminate China's access to U.S. social media user data, experts told PolitiFact. Similar data from other apps would still be available for purchase through third-party brokers.
For data collection practices, TikTok is "the norm, not the exception," Chin said. 
U.S.-based tech companies such as Google, YouTube, Twitter and Meta, the company behind Facebook and Instagram, collect much of the same user data. And U.S. law does not significantly restrict how Americans' data can be collected or used, experts said. 
Duke University's Napoli said data brokers amass all sorts of user data from social media apps:  "Would they have any qualms about selling that data to the Chinese government? Probably not."
Jen King, privacy and data policy fellow at the Stanford University Institute for Human-Centered Artificial Intelligence, said there are no federal laws to keep Americans' consumer data from being sold to foreign companies or governments, though data purchased from brokers might be lower-quality than what the Chinese government could obtain directly from TikTok. 
Napoli said TikTok is unique because it has the potential to become a worst-case scenario: It could provide the Chinese government direct access to detailed user data and also could enable the dissemination of a targeted foreign influence campaign on behalf of that government.
TikTok is not the only app used in the U.S. with a connection to China. Other popular apps with China-based owners include WeChat, a messaging app, and Shein, a fashion app. As of September 2020, WeChat had been downloaded almost 22 million times in the U.S. Shein has an estimated 75 million active shoppers, about 13.7 million of whom are U.S.-based, Business of Apps reported.
In September 2022, TikTok Chief Operating Officer Vanessa Pappas told Congress that the company has employees in China, but also has "very strict access controls" for user data.
But TikTok likely has been in lawmakers' crosshairs because of its large number of U.S. users, particularly younger ones, experts said. Also at play are increased geopolitical tensions between the U.S. and China and a heightened understanding of the impact social media has on people's everyday lives.
Organizations including the American Civil Liberties Union and Fight for the Future, an advocacy group focused on digital privacy and censorship, oppose the TikTok ban, arguing it would constitute online censorship. Fight for the Future has called for stronger data privacy laws that would limit all companies' ability to collect sensitive data. 
Caplan said the United States has never banned an app and predicted such an action would be challenged on First Amendment grounds. She advocated for more discussion about a ban's ramifications.
"If we are going to make this monumental decision, there needs to be evidence shown that kind of substantiates the concern." 
PolitiFact staff researcher Caryn Baird contributed to this report.
Interview with Jen King, the Privacy and Data Policy Fellow at the Stanford University Institute for Human-Centered Artificial Intelligence, March 14, 2023 
Interview with Philip Napoli, the James R. Shepley Professor of Public Policy at Duke University, March 14, 2023 
Interview with Caitlin Chin, a fellow at the Center for Strategic and International Studies, March 14, 2023
Interview with Robyn Caplan, a senior researcher at Data & Society Research Institute, March 15, 2023
Email interview with Anton T. Dahbura, the executive director of Johns Hopkins University's Information Security Institute, March 14, 2023
Email exchange with a spokesperson for Internet 2.0, a cybersecurity company, March 15, 2023
The Washington Post, The U.S. government thinks TikTok is a national security threat. So why can't the government decide what to do? Sept. 23, 2020
Congressional Research Service, The International Emergency Economic Powers Act: Origins, Evolution, and Use, July 14, 2020
The National Law Review, Spotlight On Sensitive Personal Data As Foreign Investment Rules Take Force, Feb. 18, 2020
The Washington Post, U.S. government investigating TikTok over national security concerns, Nov. 1, 2019
The Washington Post, TikTok tussle shows the uneven economic 'decoupling' that has accelerated between U.S. and China, Sept. 21, 2020
Lawfare, Beijing's New National Intelligence Law: From Defense to Offense, July 20, 2017
The Washington Post, Trump says he plans to bar TikTok from operating in the U.S., July 31, 2020
Reuters, TikTok CEO to testify before U.S. Congress over security concerns, Jan. 30, 2023
TikTok, Government Removal Requests Report, published May 17, 2022
The Washington Post, As Washington wavers on TikTok, Beijing exerts control, Oct. 30, 2022
The Washington Post, How TikTok ate the internet, Oct. 14, 2020
Internet 2.0, TikTok analysis, accessed March 14, 2023
The Guardian, TikTok has been accused of 'aggressive' data harvesting. Is your information at risk? July 19, 2022
The National Post, 'Unacceptable level of risk': Canada bans TikTok from federal government devices, Feb. 27, 2023
Government of Canada, ​​Statement by Minister Fortier announcing a ban on the use of TikTok on government mobile devices, Feb. 27, 2023
Backlinko, TikTok User Statistics (2022), Jan. 5, 2022
Duke Today, Scholars: TikTok Ban Not a Panacea But Could Prompt Important Data Privacy Conversations, Feb. 2, 2023
The American Civil Liberties Union, RE: Oppose Censorship and Protect Free Speech by Voting "NO" on HR 1153, Feb. 27, 2023
Fight for the Future, New #DontBanTikTok campaign calls for privacy legislation instead of hypocrisy and censorship, Feb. 28, 2023
Mashable, It looks like China does have access to U.S. TikTok user data, Nov. 3, 2022
The New York Times, TikTok tells Republican senators how it plans to keep American data away from China, July 1, 2022
Yahoo, TikTok not the only concerning China-based app, March 3, 2023
Mashable, TikTok's updated privacy policy may let it collect your biometric data, June 4, 2021
Wired, All the ways TikTok tracks you and how to stop it, Oct. 23, 2021
TechCrunch, Proposed US bipartisan bill could lead to TikTok ban, March 8, 2023
Warner.senate.gov, Restricting the Emergence of Security Threats that Risk Information and Communications Technology (RESTRICT) Act Summary, accessed March 15, 2023
NPR, The Biden administration demands that TikTok be sold, or risk a nationwide ban, March 15, 2023
CNN Business, The Biden administration is shifting its approach to TikTok, March 8, 2023
The White House, Statement from National Security Advisor Jake Sullivan on the Introduction of the RESTRICT Act, March 7, 2023
The Washington Post, Biden administration wants TikTok's Chinese owners to divest, March 15, 2023
NPR, U.S. Judge Halts Trump's TikTok Ban, The 2nd Court To Fully Block The Action, Dec. 7, 2020
CNN, Biden administration demands TikTok's Chinese owners spin off their share or face US ban, March 15, 2023
Reuters, TikTok CEO to testify before U.S. Congress over security concerns, Jan. 30, 2023
NBC News, Biden signs TikTok ban for government devices, setting up a chaotic 2023 for the app, Dec. 30, 2022
Energy & Commerce Committee, TikTok CEO to Testify at Energy and Commerce Committee, Jan. 30, 2023
TikTok, Privacy Policy, accessed March 16, 2023
TikTok, Delivering on our US data governance, June 17, 2022
The Guardian, TikTok admits using its app to spy on reporters in effort to track leaks, Dec. 23, 2022
TikTok letter to U.S. Senators, June 30, 2022
YouTube, Social media chiefs testify before Senate on security, Sept. 14, 2022
BuzzFeed, Leaked Audio From 80 Internal TikTok Meetings Shows That US User Data Has Been Repeatedly Accessed From China, June 17, 2022
Forbes, EXCLUSIVE: TikTok Spied On Forbes Journalists, Dec. 22, 2022
Forbes, TikTok Parent ByteDance Planned To Use TikTok To Monitor The Physical Location Of Specific American Citizens, Oct. 20, 2022
The New York Times, ByteDance Inquiry Finds Employees Obtained User Data of 2 Journalists, Dec. 22, 2022
The Guardian, TikTok tells European users its staff in China get access to their data, Nov. 2, 2022
The Wall Street Journal, TikTok CEO's Message to Washington: A Sale Won't Solve Security Concerns, March 16, 2023
CNN, TikTok may push potentially harmful content to teens within minutes, study finds, Dec. 15, 2022
The Associated Press, States launch probe into TikTok's effect on kids' health, March 2, 2022
Wired, How the US Can Stop Data Brokers' Worst Practices — Right Now, Feb. 8, 2023
Fashion United, Shein becomes the world's largest online-only retailer, Aug. 24, 2021 
Business of Apps, Shein revenue and usage statistics (2023), Jan. 31, 2023
The New York TImes, U.S. Judge Temporarily Halts Trump's WeChat Ban, Sept. 20, 2020
The Washington Post, Opinion: TikTok, time's up. The app should be banned in America, Nov. 10, 2022
Lawfare, Unpacking TikTok, Mobile Apps and National Security Risks, April 2, 2020
NPR, The FBI alleges TikTok poses national security concerns, Dec. 17, 2022
Forbes, The FBI And DOJ Are Investigating ByteDance's Use Of TikTok To Spy On Journalists, March 16, 2023
Lawfare, The Open Data Market and Risks to National Security, Feb. 3, 2022
The Associated Press, Why TikTok is being banned on gov't phones in US and beyond, Feb. 28, 2023
Texas Monthly, TikTok Is Banking On "Project Texas" to Avoid a U.S. Ban. But What Is It? Feb. 27, 2023
Browse the Truth-O-Meter
More by Madison Czopek