Stand up for the facts!
Our only agenda is to publish the truth so you can be an informed participant in democracy.
We need your help.
I would like to contribute
If Your Time is short
Republican presidential candidate Vivek Ramaswamy has repeatedly said he wants "paper ballots," but hasn't detailed what he means and hasn't acknowledged they are already widely used.

Over the past two decades, states have increasingly moved to using paper ballots for in-person voting.

In 2024, about 69% of registered voters will be living in jurisdictions that use hand-marked paper ballots.

Learn more about PolitiFact's fact-checking process and rating system.
Republican presidential candidate Vivek Ramaswamy has repeatedly shared his four-point plan for improving elections.
He's mentioned it in interviews, written it out on social media and released videos of himself articulating what he describes as "a clear answer on how to move forward on election integrity."
It looks like this, he says:
"1. Make Election Day a National Holiday
"2. Single-Day Voting on Election Day
"3. Paper Ballots
"4. Government-issued photo ID matched to the voter file."
However, we've found no instances in which the 38-year-old entrepreneur gave any detail about what he means by "paper ballots" other than to say it's part of a plan that is "easily doable" and "will lead *all Americans* regardless of political party to move beyond the debates about election outcomes or ballot fraud.

In isolation, Ramaswamy's comments could create the impression that paper ballots are a new idea, or at least not the norm. 
"We still don't have paper ballots as the standard," Ramaswamy told YouTuber Albert Faleski in September. (Faleski, aka An0maly, is known for making antisemitic statements.)
But referring to "paper ballots" as if they're something new ignores that they're already widely used. More American voters live in communities that use paper ballots than live in communities that don't.
"The vast majority of voters are using paper ballots or records that they can verify, and that is much more true now than in recent years," said Mark Lindeman, who formed the election tracking group Verified Voting in 2004 to advocate for paper ballots. 
We repeatedly asked Ramaswamy's campaign to elaborate on his paper ballots position because it was unclear whether he was calling for anything new. We asked his campaign spokesperson Tricia McLaughlin whether he wanted hand counts — a radical solution that election experts say is widely impractical — and she said she would get back to us. (She hasn't.) 
Absent details about Ramaswamy's stance, we explored an idea that some other Republican election reform advocates have floated: hand-counting ballots.

If Ramaswamy meant that he wanted paper ballots with a hand count, experts say the idea is unrealistic. If he simply meant paper ballots with machine counts, that already exists in the majority of states.
Hand counts are an expensive and impractical way to tabulate results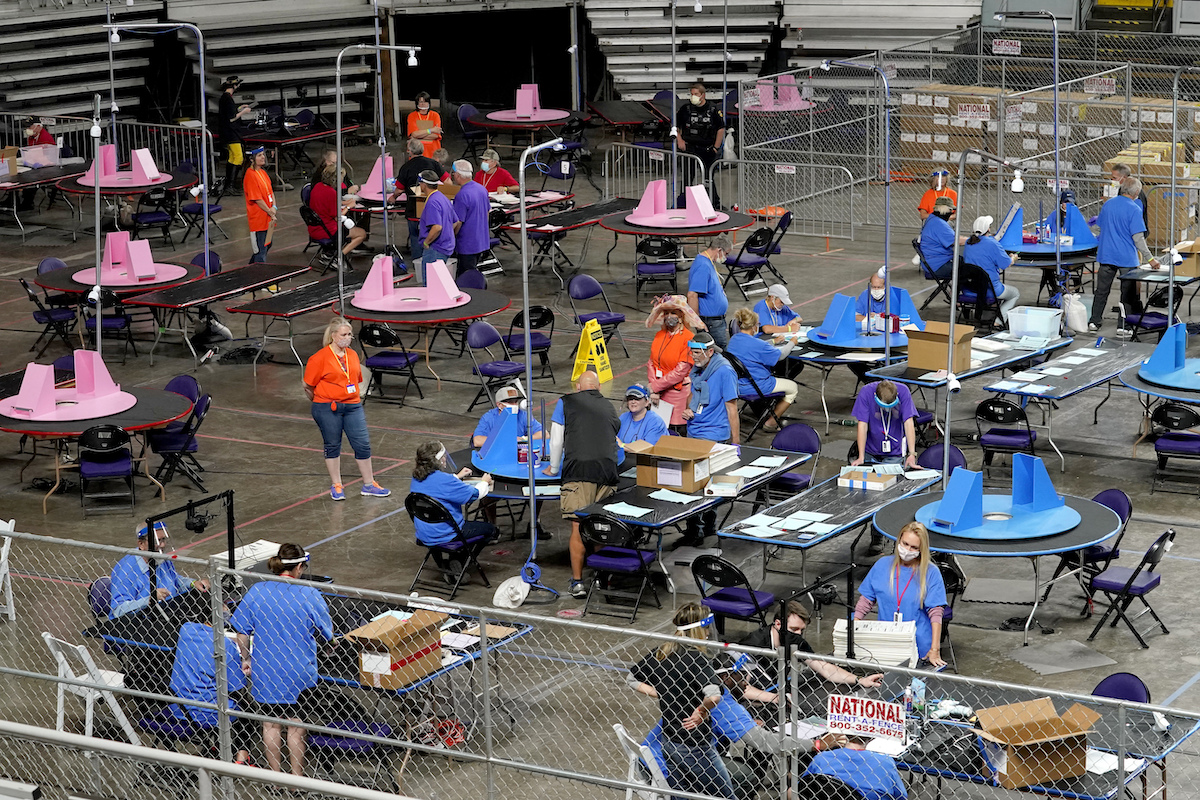 This May 6, 2021, photo shows contractors for Florida-based Cyber Ninjas examining and recounting Maricopa County, Arizona's 2020 general election ballots at Veterans Memorial Coliseum in Phoenix. (AP)
After former President Donald Trump lost the 2020 election, claims about electronic voting machines fueled meritless conspiracy theories that machines "flipped" results or deleted Trump votes. 
Some Republicans, including unsuccessful candidates for statewide office, pushed to replace election machines with hand counts to tabulate results. 
Trump promoted hand counts, stating on Truth Social in April that people want a "hand count" of ballots. In 2021, Trump praised an idea by MyPillow CEO Mike Lindell to melt down Dominion Voting machines and make them into prison bars.
Counting millions of ballots statewide by hand takes a lot more time than electronic counts and could drag on for months. Hand counts pose several logistical challenges, including that ballots often have multiple pages including local, state and federal contests. Lengthening the timeline for producing election results could run afoul of state laws that require official results by a certain date to meet certification deadlines.
When contractors hired by Arizona Republicans hand-counted the 2020 presidential and Senate races on Maricopa County ballots, they started in April 2021 and did not release their findings until September 2021. Their results reconfirmed Biden had won. 
Paper ballots have increasingly become the norm
A voter fills out his ballot, Aug. 8, 2022, at the Stephen P. Clark Government Center in Miami. (AP)
The term "paper ballot" on first blush sounds simple. But voting in person with a "paper ballot" doesn't look the same in every state.
What comes to mind when you hear "paper ballots" — votes hand-marked on paper — is how it works in many states, including Florida. When voters walk into a voting site, they receive paper ballots. The voters fill out their ballots with a pen and feed them into a machine for tabulation.
Federal laws do not dictate whether states or local jurisdictions must use paper ballots. That decision is left up to states, or local jurisdictions. For the past two decades, states have trended toward choosing to use paper ballots. 
"There was a big movement on the left and right to move to paper and it was backed by computer scientists," as well as voting rights advocates and lawyers with expertise in elections, said Susannah Goodman, director of the Election Security Program at Common Cause.
Efforts to get Congress to pass a bill to mandate paper ballots ultimately failed. But the push steered many states away from paperless voting.
Verified Voting, a nonpartisan source of voting machines information,  said the majority of Americans will likely use paper ballots in 2024, even slightly more than in 2022. The group's research is based on voter registration data and information from states and local jurisdictions about election machines. 
It found:
In 2024, about 69% of registered voters are expected to be living in jurisdictions using hand-marked paper ballots, including in Florida, New England and most Midwestern and Western states. Although some tiny jurisdictions count paper ballots by hand, most are tallied using optical scanners with manual counts allowed for audits or recounts. 

About 25% of registered voters are expected to be in jurisdictions using ballot marking devices for all voters. This method lets voters select their choices on a touch screen; the device then prints out a piece of paper showing their choices but does not store vote information. Ballot marking devices were developed in response to a 2002 federal requirement that polling places provide a method for voters with disabilities to vote privately and independently. Georgia uses ballot-marking devices statewide while states such as West Virginia and Texas use them in some jurisdictions. In Georgia, voters insert an activation card into a Dominion Image Cast X Ballot Marking Device, which then displays the voter's ballot on a touch screen. Voters mark their candidate choices, typically with a stylus. The machine prints out a paper ballot and voters double-check the paper to ensure that it reflects their choices and then feed the ballots into the scanner for tabulation. 

That leaves only about 5% of voters in 2024 who are expected to live in jurisdictions with a direct recording electronic voting system, sometimes called a DRE. Such systems present the ballot electronically. But unlike ballot marking devices, direct recording electronic systems let voters record their selections directly into computer memory. Some systems are equipped with voter-verified paper audit trail printers that let voters confirm their selections on independent paper records, often called receipts.
Election security experts are critical of machines that lack paper trails.
Louisiana is the only state left that uses such a system statewide without a paper trail. Secretary of State Kyle Ardoin's efforts to replace voting machines that lack paper ballots have failed, partly because of complaints about the voting machine company bidding process. Ardoin is not seeking re-election; the candidate who wins the race for the seat this fall would decide how to proceed.
Election experts say that paper ballots provide the most security
In this Nov. 20, 2020, file photo, recount observers check ballots during a Milwaukee hand recount of presidential votes at the Wisconsin Center, in Milwaukee. (AP) 
The state-by-state trend toward paper ballots is one of the most successful political movements in elections in the past two decades, said Lawrence Norden, senior director of the elections and government program at the Brennan Center, a liberal law and public policy institute.
"Security experts were warning back in 2004 (that) paperless systems computerized were a major security risk," Norden said.
One reason paper ballots are secure is because they enable voters to check over their own ballots before submitting them.
"When you fill out a paper ballot, you see (and verify) the mark you are making as you make it.  Immediate proofreading using a difficult-to-alter material like ink turns out to be very good," said Doug Jones, emeritus University of Iowa professor and an expert on computers in elections.
Paper trails let officials recount elections. All of the states with close results in the 2020 presidential race had the paper record, and Georgia counted the 2020 ballots three times.
"If we didn't have paper ballots to go back to and prove election totals were right," Norden said, "the ability of people to undermine confidence in the election would have been greater."
RELATED: Why Vivek Ramaswamy's claim about what Mike Pence could have done on Jan. 6 is False
RELATED: Ask PolitiFact: What steps do election officials take to prevent fraud?
Verified Voting, Election day equipment in 2024 and 2020
NBC "Meet the Press," transcript, Aug. 27, 2023
MSNBC, Vivek Ramaswamy on MSNBC with Andrea Mitchell, Aug. 29, 2023
Vivek Ramaswamy, Tweet, Aug. 8, 2023
Vivek Ramaswamy, Tweet, Aug. 14, 2023
Vivek Ramaswamy, Tweet, Aug. 29, 2023
AnOMaly podcast, Sept. 5, 2023
​​Fox News, FLASHBACK: Ramaswamy voiced support for 'mandatory' voting, casting electronic ballots from home, Aug. 28, 2023
Washington Post, The Cybersecurity 202: More states now have paper trails to verify votes were correctly counted, Nov. 5, 2020
Brookings, Why paper is considered state-of-the-art voting technology, Aug. 14, 2019
U.S. Cybersecurity and Infrastructure Security Agency, Joint statement from Elections Infrastructure Government Coordinating Council & the Election Infrastructure Sector Coordinating Executive Committees, Nov. 12, 2020
Georgia Public Radio, New Georgia Voting Machines Get Next Test In Special Election, Jan. 28, 2020
Dominion Voting, ImageCastX, Accessed Sept. 19, 2023
AP, Audit finds folds behind New Hampshire election miscount, July 13, 2021
AP. Candidates jump into Louisiana elections, and many races have no incumbent, Aug. 8, 2023
Business Insider, Trump said Mike Lindell's idea to melt down Dominion voting machines and turn them into prison bars was 'very good' during a rollicking 40-minute interview about election-fraud conspiracy theories, Nov. 16, 2021
Email interview, Mark Lindeman, policy and strategy director  at Verified Voting, Sept. 15, 2023
Email interview, Tricia McLaughlin, spokesperson for Vivek Ramaswamy, Sept. 11, 2023
Telephone interview, Susannah Goodman, director of Election Security Program, Common Cause, Sept. 11, 2023
Email interview, Doug Jones, emeritus professor at University of Iowa, Sept. 11, 2023
Telephone interview, Lawrence Norden, senior director of the Brennan Center's Elections and Government Program, Sept. 12, 2023
Browse the Truth-O-Meter
More by Amy Sherman