Michael Jordan isn't parting ways with Nike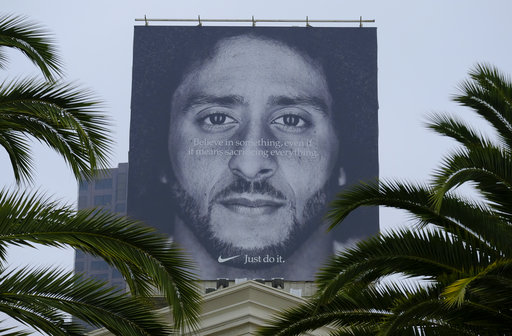 Michael Jordan and his Air Jordans haven't gone anywhere.
The claim that Jordan is leaving Nike and taking his shoes with him is just another false story circulating the internet in the wake of Colin Kaepernick's new deal with the company.
Nike made Kaepernick one of the faces of its "Just Do It" campaign, in its 30th anniversary, and debuted the first ad Sept. 3. Kaepernick confirmed the new deal on social media, generating a mixed response of praise and boycotts.
Then a San Francisco 49ers quarterback, Kaepernick started kneeling during the national anthem before games in 2016 to protest the treatment of people of color in the United States. He's been without an NFL contract for more than a year-and-a-half and has filed a collusion complaint that claims NFL owners have kept him off the field because of his protests, not because of his football ability.
CharlottePost.site posted a fictitious article two days later with the headline, "BREAKING: Michael Jordan resigns from the board at Nike-takes 'Air Jordans' with him."
This story was flagged as part of Facebook's efforts to combat false news and misinformation on its News Feed. (Read more about our partnership with Facebook.)
Jordan's supposed spokesman is quoted in the article saying Jordan is "completely against the hiring of a traitor and is taking his shoes elsewhere." The spokesman's name is Art Tubolls, an anagram of "Busta Troll."
Busta Troll is a pen name for Christopher Blair — the man who runs the America's Last Line of Defense websites, which are among the biggest sources of false news online.
The false CharlottePost.site story was copied from one such website, which self-identifies as a satire site. CharlottePost.site did not include a disclaimer on its home page or on the story.
CharlottePost.site — a month-old stream of anonymous clickbait — should not be confused with The Charlotte Post, a newspaper that has covered minority communities in North Carolina and South Carolina for nearly 140 years.
We have checked two other fake news stories this week that were copied from America's Last Line of Defense and then touted as factual. They were not. We rated both Pants on Fire.
This copy-paste job is no exception. We rate the claim Pants on Fire!