Are migrants with diseases like Ebola being dumped in San Antonio? No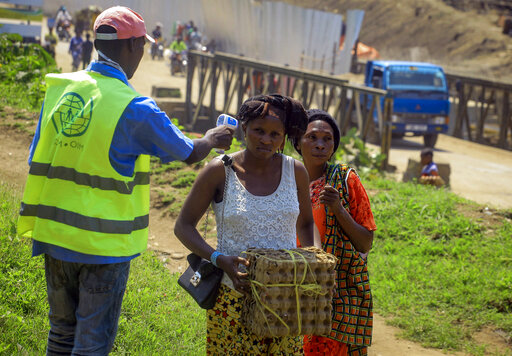 Are Ebola-infected Congolese migrants streaming across the Texas border, endangering residents of San Antonio with a disease that is nearly always fatal?
"Disease-Ridden Congolese Migrants Dumped in San Antonio," reads the headline of one article on the Conservative Daily Post website.
The article begins, "Hundreds of Congolese migrants, with who knows what sorts of diseases given that the nation is chock full of Ebola, were unexpectedly dumped in San Antonio."
The remainder of the Conservative Daily Post article reprints a piece from Breitbart that does not go that far. That article focuses on the arrival of Congolese immigrants, but it does not mention Ebola.
After interviewing federal and local officials as well as infectious disease experts, PolitiFact found that Congolese migrants are indeed coming to San Antonio, but, contrary to the Conservative Daily Post article, they are not carrying Ebola, or, for that matter, any infectious diseases other than common colds and upper respiratory infections that many American citizens grapple with every day.
Customs and Border Protection, the federal agency responsible for border control, put it simply in a statement to PolitiFact: "There have been no encounters of Ebola along the southwest border."
But the flurry of social media attention to Ebola-infected migrants drove the City of San Antonio to hold a news conference to debunk those rumors on June 12.
PolitiFact has written extensively about questionable claims involving Ebola, including one from 2014 by a then-member of Congress who said that amid the "crisis at our southern border," there are "reports of illegal migrants carrying deadly diseases such as … Ebola virus." We rated that Pants on Fire.
We did some reporting to make sure that the claim remains wrong.
Concerns about Ebola at the border are "much ado about nothing," said Colleen Bridger, San Antonio's interim assistant city manager and metro health director. "Any rumors that they are bringing Ebola or risks of Ebola are patently false."
Let's take a closer look at the facts. (We tried to contact Conservative Daily Post through its website, but we did not hear back.)
Is there an Ebola outbreak in the Democratic Republic of Congo?
There is an ongoing Ebola outbreak in eastern regions of the Democratic Republic of Congo. Through early June, the outbreak had killed 1,396 people, according to the World Health Organization, making it the second-biggest known outbreak of Ebola.
"The current outbreak of Ebola in eastern Congo is substantial and has been ongoing for at least 10 months," William Schaffner, a professor of medicine and preventive medicine at Vanderbilt University Medical Center.
The good news, however, is that the outbreak has been contained to one geographic area.
"It remains confined to this remote region — there has been no local diffusion into surrounding areas, and there have been no long-distance exportations into Europe, the U.S., or any other part of the world," Schaffner said. "That's impressively reassuring, but of course public health remains on the alert, ready to respond, diagnose, treat and isolate any suspect case."
Are Congolese migrants coming to the U.S.-Mexico border?
Congolese migrants are reaching the U.S.-Mexico border, although they remain a small percentage of all migrants.
Customs and Border Protection has noticed an uptick in African migrants in recent weeks, reporting apprehension of 15 individuals from Congo on May 28; 116 individuals from Angola, Cameroon, and Congo on May 31; 37 individuals from the Republic of the Congo and the Democratic Republic of the Congo on June 3; and 34 from the Republic of the Congo, the Democratic Republic of the Congo and Angola on June 5.
San Antonio city officials said that the locations of the apprehensions will eventually bring the migrants to the city because it has the closest major bus depot. The migrants were allowed to join relatives or other custodians elsewhere in the country because they are seeking asylum. The first step in that process is to have their case heard by an immigration judge.
"Since June 4, approximately 250 individuals from Central Africa -- some from Angola and some from the Democratic Republic of Congo -- have come to San Antonio," said interim assistant city manager and metro health director Colleen Bridger at the June 11 news conference. "The last of that group is picking up their bus today and heading to their final destination."
A much larger number of migrants from other countries has passed through San Antonio in recent months, said city spokeswoman Laura E. Mayes. A local shelter handling the migrant influx "has seen more than 14,000 come through," she said.
Do any of the Congolese migrants passing through San Antonio have Ebola?
For many reasons, none of the migrants from Congo have Ebola.
First, science makes it impossible.
Officials said the migrants had been in transit for several months, yet Ebola has an incubation period of 21 days.
So, someone who became infected with Ebola in Congo and then started the journey to the United States would come down with symptoms during the trip, far from the U.S. border. The symptoms of Ebola are debilitating, and the infected individual would be unable to continue their journey. They would most likely die long before reaching the United States.
"It is clear that Ebola is not a consideration for a group of travelers who have long been out of Africa," said Thomas Fekete, a professor of medicine, microbiology and immunology at Temple University. "It makes as much sense as keeping Americans out of other countries because we have had over 1,000 cases of measles here."
Second, each of these migrants has been extensively checked for Ebola, as well as for other health concerns.
Most immediately, migrants are only released into the United States after having been cleared by medical screeners from the U.S. government.
"CBP personnel review all travelers entering the United States for general overt signs of illnesses ⁠— visual observation, questioning, and notification to CDC as appropriate ⁠— at all U.S. ports of entry," CBP spokeswoman Stephanie Malin said in a statement to PolitiFact.
Customs and Border Protection and the Centers for Disease Control and Prevention "have closely coordinated to develop policies, procedures, and protocols to identify travelers at all ports of entry who may potentially be infected with communicable diseases and to minimize the risk to the traveling public," the statement said.
In addition, the migrants from Congo would have been screened at every international border they crossed, for Ebola and any other health problems.
"They've gone through more health screenings in the past six months than most of us do in our lifetimes," Bridger said.
Bridger, who said she's been in contact with the CDC on migrant health screenings, said the migrants who show any ill effects have simply had colds or upper respiratory infections.
All told, she said, fewer than 10 percent of the migrants coming through San Antonio are requesting medical services, "and of those, maybe 1 percent have to go for further evaluations at a clinic or a hospital."
And third, there's no guarantee that a migrant from Congo would be from the portion of the country grappling with the Ebola epidemic. The Democratic Republic of Congo is more than eight times bigger geographically than Texas is, and the Ebola outbreak has been concentrated in the North Kivu (or Kivu Nord) and Ituri provinces. Each of those provinces is smaller geographically than West Virginia.
(Wikimedia commons)
So far, Bridger said, "the migrants are not from the area of the Democratic Republic of Congo that is experiencing the current Ebola outbreak. There's a much higher risk of someone bringing measles from New York than for someone who is coming from central Africa as an asylum seeker."
Our ruling
Conservative Daily Post published a headline saying, "Disease-Ridden Congolese Migrants Dumped in San Antonio," and referencing an outbreak of Ebola in that region of Africa.
While there is an Ebola outbreak in eastern Congo and while a number of Congolese immigrants have been showing up on the U.S.-Mexico border before being routed through San Antonio, government officials agree that none of these migrants have Ebola.
Given their months-long journey, they would not have been healthy enough to reach the United States if they had been infected. Moreover, each migrant was screened by U.S. health officials before being let into the country, and they would have received multiple medical screenings before even reaching the United States.
We rate the statement False.