Get PolitiFact in your inbox.
"Obama's Ten Point Plan to 'Change' the Second Amendment…Ban use of firearms for home defense."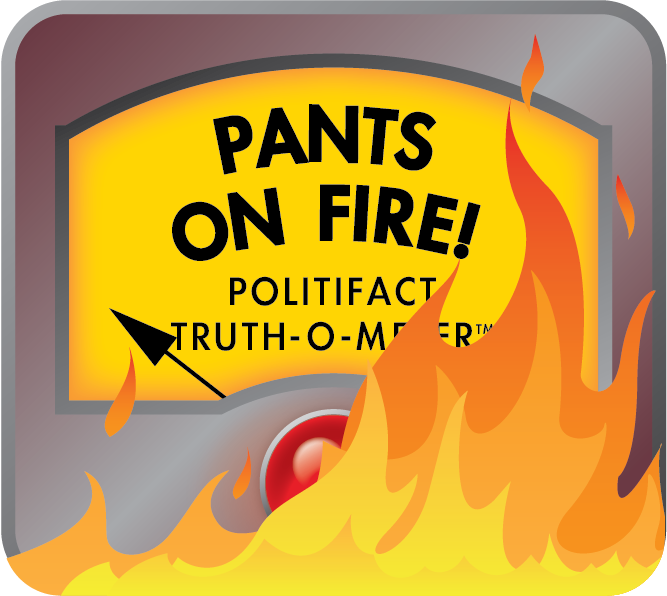 Yes, and outlaw apple pie as well
(Published Sept. 23, 2008)
In a hard-hitting direct-mail piece to its members, the National Rifle Association detailed an alleged plan by Sen. Barack Obama to transform gun-ownership regulations.
Obama's "plan" appeared on a section of the mailer designed to be cut out and carried around in a wallet. The front of the wallet card said, "Barack Obama's Ten Point Plan to 'Change' the Second Amendment." The reverse listed the 10 parts of the alleged plan, starting with, "Ban use of firearms for home defense."
An NRA spokeswoman confirmed the authenticity of the mailer, which first appeared in early August 2008, but would not provide details of what its claims were based on. For that, she referred us to various NRA Web sites.
We could find no support on any of them for the allegation that Obama has a plan to ban the use of firearms for home defense. What we did find, and what we suspect is the root of this allegation, was information about a vote Obama cast as an Illinois state senator in May 2004. (See this essay by NRA executive vice president officer Wayne LaPierre.)
The bill in question was a response to the case of Hale DeMar, a Wilmette, Ill., man who shot and wounded a burglar in his home in December 2003. Prosecutors did not charge him for the shooting, since they determined that he acted in self-defense, but they did fine him $750 for violating the local handgun ordinance. An outcry of sympathy for DeMar prompted the state legislature to take up a bill that would let people claim a self-defense protection for using a gun in their homes in violation of local weapons bans.
Obama voted against the measure. The legislature passed it, and later overrode the veto of Democratic Gov. Rod Blagojevich.
Like Blagojevich, Obama framed that debate as a home-rule issue. He told the Associated Press at the time that he voted against the measure out of respect for local governments' authority to set gun policy.
Here's what LaPierre wrote about the vote: "When Obama turned thumbs down on the bill, he voted against the most basic element of the Second Amendment — the right of defense of self and family — the reason that millions of Americans own firearms."
That's a bit of a leap. In concrete terms, Obama's thumbs-down was a vote against the state legislature tweaking a local gun ban. In any event, there's no fair way to interpret it as evidence that Obama has a future plan to ban the use of firearms for home defense.
Moreover, there's ample evidence to the contrary. Here's Obama speaking at a forum sponsored by WJLA-ABC7 and Politico.com on Feb. 12, 2008: "I think we have two conflicting traditions in this country. I think it's important for us to recognize that we've got a tradition of handgun ownership and gun ownership generally. And a lot of people — law-abiding citizens use it for hunting, for sportsmanship, and for protecting their families (emphasis added). We also have a violence on the streets that is the result of illegal handgun usage…We can have reasonable, thoughtful gun control measures that I think respect the Second Amendment and people's traditions."
That doesn't sound to us like someone planning to "ban use of firearms for home defense." Quite the opposite, actually.
Ignoring that sort of evidence, and instead extrapolating from one vote on a jurisdictional debate in Illinois a broad-ranging plan to ban guns for home defense, is not just misleading, it's intentionally dishonest. That is, Pants on Fire wrong.
NRA mailer, Barack Obama's Ten Point Plan to "Change" the Second Amendment , accessed Sept. 11, 2008
Politico.com, NRA: Obama Most Anti-Gun Candidate Ever, Will Ban Guns , accessed Sept. 11, 2008
BarackObama.com, Barack Obama: Supporting the Rights and Traditions of Sportsmen , accessed Sept. 11, 2008
NRA Political Victory Fund, Barack Obama's Slippery Oratory , April 11, 2008, accessed Sept. 11, 2008
Associated Press, Obama Walks Fine Line With Legislative Votes In U.S. Senate Race, June 13, 2004
Chicago Tribune, Wilmette Man Loses Gun Law Challenge; Judge Says Village Can Bar Weapons, Oct. 30, 2004
Interview with NRA spokeswoman Autumn Fogg, Sept. 11, 2008
Browse the Truth-O-Meter
More by Alexander Lane
Support independent fact-checking.
Become a member!
In a world of wild talk and fake news, help us stand up for the facts.