Stand up for the facts!
Our only agenda is to publish the truth so you can be an informed participant in democracy.
We need your help.
I would like to contribute
Says the Constitution only requires her to tell the census "how many people are in our home."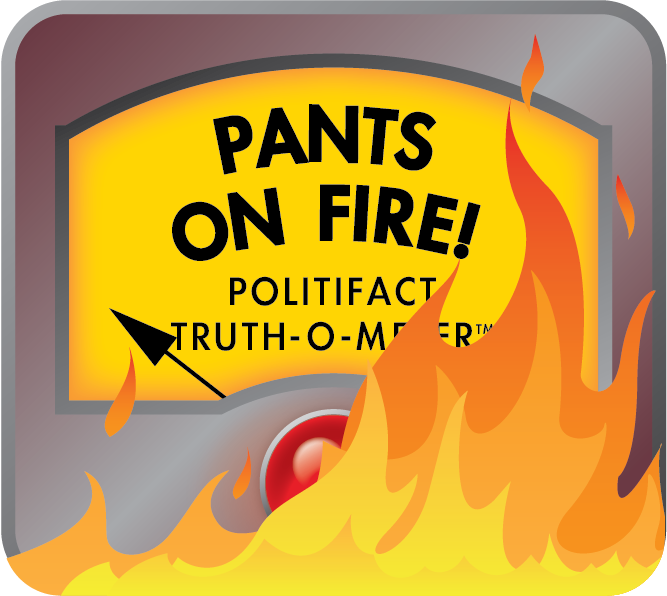 Michele Bachmann claims Constitution only requires you to answer how many people are in your household
U.S. Rep. Michele Bachmann, R-Minn., is no stranger to the Truth-O-Meter. So far, her comments have decidedly bent the needle to the left and, on one occasion, set the meter on fire.
We swear we're not trying to pick on her, but we just couldn't let this latest one go. Recently, Bachmann went on record to declare that because of ACORN's involvement in the Census and other privacy concerns, she would only tell 2010 Census takers how many people are in her household — and nothing more.
Here's how she explained it in a Washington Times interview (which you can listen to here ):
"Now ACORN has been named one of the national partners, which will be a recipient again of federal money," Bachmann said. "And they will be in charge of going door-to-door and collecting data from the American public. This is very concerning because the motherload of all data information will be from the Census. And, of course, we think of the Census as just counting how many people live in your home. Unfortunately, the Census data has become very intricate, very personal (with) a lot of the questions that are asked.
"And I know for my family the only question that we will be answering is how many people are in our home. We won't be answering any information beyond that, because the Constitution doesn't require any information beyond that."
There's a lot wrong in her statement, so we divided it into two Truth-O-Meter items. You can read the one on ACORN's involvement in a different item . In this item, we'll address Bachmann's claim that she's only constitutionally obligated to provide the number of people in her household.
Here's what the Constitution actually says:
"Representation and direct taxes shall be apportioned among the several states which may be included within this Union, according to their respective numbers ... the actual enumeration shall be made within three years after the first meeting of the Congress of the United States, and within every subsequent term of ten years, in such manner as they shall by law direct."
So the Constitution itself does not contain any requirement, as Bachmann claims.
We draw your attention to the last clause, "in such a manner as they shall by law direct." The "they" in that sentence refers to members of Congress. They write laws about the content of the Census and require that people answer the questions.
Even the very first census in 1790 included more than just the question of how many people lived in the household. According to a Census Bureau spokeswoman, the 1790 Census specifically asked about the number of free white males age 16 and over in order to assess the country's military and industrial potential. That first Census also asked for the race and gender of household residents, and whether they were free or enslaved.
Subsequent Census Acts expanded the number of questions exponentially.
According to Census spokeswoman Stacy Gimbel, these laws came under the authority of the "Necessary and Proper" clause of the Constitution:

"The Congress shall have the power . . . To make all laws which shall be necessary and proper for carrying into execution the foregoing powers, and all other powers vested by this Constitution in the Government of the United States, or in any department or officer thereof."
Congress' use of the Census to ask questions well beyond just the number of people has been upheld several times by the Supreme Court, Gimbel said, citing several cases.
What's more, a law passed by Congress requires people to answer "any of the questions on any schedule submitted to him in connection with any Census" from the U.S. Census.
So what if you don't?
The law says those who refuse to fill out the entirety of their Census questionnaire or answer questions posed by Census takers could face fines of anywhere from $100 to $500. Honestly, Gimbel said, the U.S. Census doesn't often enforce those rules.
"It is important to note that Census takers are not seeking to prosecute people; our goal is to gather and return to the public quality information that assures equal representation and determines how billions of dollars of taxpayers' money is spent by their government," Gimbel said.
Bachmann's claims that the Constitution only requires people to say how many people live in their household is "completely baseless," Gimbel said.
Bachmann stuck to her misguided guns in a Fox interview on June 25, this time backing up her concerns about privacy by noting that in the 1940s the Census Bureau handed over information used to round up Japanese people and put them in internment camps.
"I'm not saying that that's what the administration is planning to do," Bachmann said, "but I am saying that private personal information that was given to the Census Bureau in the 1940s was used against Americans to round them up, in a violation of their constitutional rights, and put the Japanese in internment camps. I am just not comfortable with the way this census is being handled, with associating with ACORN, with the questions that are being asked, with Americans being compelled to give this information. How will this be cross-checked? Will it be held privately?"
Bachmann is right about how the Census was used to identify Japanese-Americans in the 1940s. Since then, however, Congress has passed laws to specifically protect the information it collects. Census employees take those privacy laws very seriously, she said. Employees found to have violated laws to protect people's personal identity face up to five years in jail and fines of up to $250,000.
Bachmann is not only wrong here, she is engaging in fearmongering that encourages people to break the law. And in doing so, she's falsely telling people that the Constitution would support them. In fact, the Washington Times reporter followed her answer by saying, "Well, I'm going to take your hint then and that'll save me some time." And so we feel it's necessary to rate this one Pants on Fire.
Washington Times, "EXCLUSIVE: Minn. lawmaker vows not to complete Census," by Stephen Dinan, June 17, 2009
YouTube.com, "Fox News Channel interview with Rep. Bachmann about ACORN and Census," June 25, 2009
Fox News, "ACORN to Play Role in 2010 Census," by Christina Corbin, March 18, 2009
U.S. Constitution Online, U.S. Constitution - Article 1 Section 2
Cornell University Law School, U.S. Code Collection, Title 13, Chapter 5, 141, Population and other census information
Cornell University Law School, U.S. Code Collection, Title 13, Chapter 7, 221, Refusal or neglect to answer questions; false answers
Cornell University Law School, U.S. Code Collection, Title 18, Part II, Chapter 227, Subchapter A, 3551, Authorized sentences
Interview with Stacy Gimbel, spokeswoman for the U.S. Census Bureau, June 25, 2009
Browse the Truth-O-Meter
More by Robert Farley
Support independent fact-checking.
Become a member!
In a world of wild talk and fake news, help us stand up for the facts.