Stand up for facts and support PolitiFact.
Now is your chance to go on the record as supporting trusted, factual information by joining PolitiFact's Truth Squad. Contributions or gifts to PolitiFact, which is part of the 501(c)(3) nonprofit Poynter Institute, are tax deductible.
I would like to contribute
Judge Sotomayor has said "that policy is made on the U.S. Court of Appeals."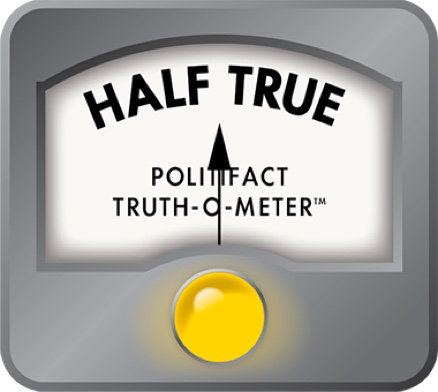 RNC claims Supreme Court nominee Sonia Sotomayor said judges make policy
On the day President Barack Barack Obama announced Sonia Sotomayor as his Supreme Court nominee, many conservative opponents seized on a Sotomayor statement they say revealed her as someone who thinks judges make laws.
While Republican National Committee Chairman Michael Steele struck a measured pose — saying Republicans would "reserve judgment on Sotomayor until there has been a thorough and thoughtful examination of her legal views" — the RNC also sent around a talking points memo to the press and hundreds of influential Republicans that claimed "Judge Sotomayor has also said that policy is made on the U.S. Court of Appeals."
And Wendy E. Long, counsel to the Judicial Confirmation Network, called Sotomayor a "liberal judicial activist of the first order who thinks her own personal political agenda is more important than the law as written. She thinks that judges should dictate policy."
The conservative blogosphere is full of similar sentiments, all based on the Sotomayor statement, "The Court of Appeals is where policy is made."
So we decided to take a look at the context of Sotomayor's statement. It came during a presentation at Duke University in February 2005. Sotomayor was one of three judges who participated in a panel discussion for law students thinking about applying to be judicial law clerks. Snippets of Sotomayor's comments have been popular on YouTube; see the full, unedited video here (the pertinent part starts around the 43-minute mark).
Sotomayor was asked about the differences between clerking for judges in the federal district courts as opposed to those in federal appeals court.
"The Court of Appeals is where policy is made," said Sotomayor, a federal judge on the U.S. Court of Appeals for the Second Circuit. "And I know this is on tape and I should never say that because we don't make law. I know … I know. (some laughs) I'm not promoting it. I'm not advocating it. I'm … you know. Okay. (more laughs)
"Having said that, the Court of Appeals is where, before the Supreme Court makes the final decision, the law is percolating. It's interpretation. It's application."
So keep in mind the audience and the question here, said Tom Goldstein, a partner at Washington law firm Akin Gump and the founder of ScotusBlog, a widely read blog on the Supreme Court. Goldstein watched the full video, and simply sees it as Sotomayor noting that in comparison to district court judges, "there's more policy involved" in the appeals courts.
"The truth of the matter is, in the court of appeals, they are dealing with gaps and ambiguities in the law," Goldstein said.

There's a lot for judges to interpret. Appeals court judges often have to make a call when a statute is unclear. In a sense, the policy is set by those calls made by the judges, even if they don't want to.
To use that one line from Sotomayor to paint her as an activist judge is misleading, he said.
"She's not a sweeping visionary ideologue in any way," Goldstein said. "Conservatives who are genuinely concerned about the direction of the Supreme Court, they are sort of grasping at straws here. That's an awful lot to put on one sentence."
David Garrow, a historian who follows the Supreme Court, agrees.
There has always been two schools of thought on the role of judges, Garrow said: those who see the law almost as an academic exercise, trying their best to mechanically apply the law; and the legal realists, who believe interpreting the law involves making choices, discretion.
"What she (Sotomayor) said there is simply the honest version of what any judge knows and realizes," Garrow said. But "you're not really supposed to acknowledge it on the record."
It's unfair to extrapolate that comment to suggest Sotomayor would mandate policy, he said.
"To anyone who knows the intellectual history of judicial decisionmaking, she's just being honest, not activist," Garrow said.
In short, the quote in question is the first line of a larger discussion about the differences between clerking for a district court rather than an appeals court judge. And Sotomayor goes on to detail those differences. In full context, it's clear that she is making the point that there are more decisions about interpreting and applying policy at the appeals court level. To the extent that the RNC raises the point to suggest it means she would be an activist judge on the Supreme Court, we think that's misleading. Sotomayor even noted that judges don't make law, that she was talking about interpreting and applying it. And so we rule the RNC's statement Half True.
Duke Law, Judicial Clerkship Information Panel , Feb. 25, 2005
The Hill, "RNC fumbles Sotomayor talking points" by Aaron Blake, May 26, 2009
The Judicial Confirmation Network, "JCN Statement on nomination of Sonia Sotomayor to the Supreme Court," May 26, 2009
New York Times, "A Judge's View of Judging Is on the Record," by Charlie Savage, May 14, 2009
Interview with David Garrow, a historian who follows the Supreme Court, May 26, 2009
Interview with Tom Goldstein, a partner at Washington law firm Akin Gump and the founder of Scotusblog, May 26, 2009
Browse the Truth-O-Meter
More by Robert Farley
Support independent fact-checking.
Become a member!
In a world of wild talk and fake news, help us stand up for the facts.