Get PolitiFact in your inbox.
"We actually have not required in this law that you carry health insurance."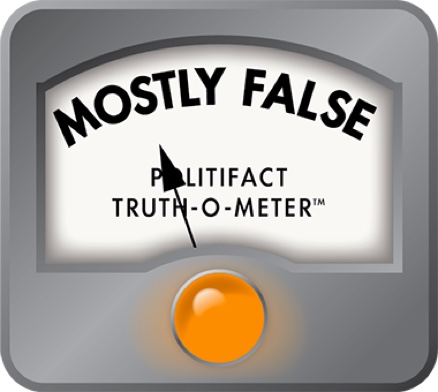 Wasserman Schultz says health care law doesn't require Americans to get health insurance
One of the most controversial elements of the recently passed health care law -- indeed, it has prompted lawsuits by state attorneys general, including Bill McCollum of Florida -- is a provision that tries to corral uninsured Americans into health plans.

In a Jan. 19, 2010, news release, McCollum -- echoing the complaints of many fellow Republicans -- said that "Congress's unprecedented mandate on every citizen to purchase health insurance coverage or to face a penalty raises serious constitutional concerns. The health care individual mandate provisions as currently drafted violate constitutional principles and lack constitutional authority for Congress to enact."

But some supporters of the bill object to the characterization of the new law as including an "individual mandate" to buy health insurance. One of the most forceful proponents of this view is U.S. Rep. Debbie Wasserman Schultz, a Democrat from South Florida.

At an April 5, 2010, town hall meeting in Fort Lauderdale, Fla., an attendee asked, "Congresswoman, who gave you the right or the authority to determine whether or not I have to purchase health care?"

Wasserman Schultz responded, "That's a good question. I'm glad you asked it. We actually have not required in this law that you carry health insurance. Let me explain what we did: What we did is that, just like when you're treated, that we categorize you differently in terms of your tax return when you're married versus single, just like we categorize you differently when you are a homeowner versus someone who doesn't own a home, just like we categorize you differently when you have children versus not having children -- what we are doing is you will be in a different tax status if you carry insurance versus not carrying health insurance. So you can feel free to choose not to carry health insurance. That's just going to be reflected in the tax category that you're in on your tax return. But there is no requirement in this law that you must carry health insurance."

Clearly, there's a huge gap between what McCollum believes and what Wasserman Schultz believes. In fact, the two camps don't even agree on the terminology. Health care experts have traditionally called the provision an "individual mandate." Critics of the bill tend to use this term as well. But the official term written into the bill is a "shared responsibility payment" -- a euphemism that downplays how mandatory the payment is.

Confusing matters further is that the bill includes provisions that are contradictory, in spirit if not in letter.

Section 5000A is titled, "Requirement to Maintain Minimum Essential Coverage." It reads, "An applicable individual shall for each month beginning after 2013 ensure that the individual, and any dependent of the individual who is an applicable individual, is covered under minimum essential coverage for such month. ... In general, if an applicable individual fails to meet the requirement ... for one or more months during any calendar year beginning after 2013, then, except (for hardship cases) there is hereby imposed a penalty" on a predetermined schedule.

So except for people who are exempt -- those for whom insurance premiums would be a financial hardship, Americans with religious objections, American Indians, undocumented immigrants and prison inmates -- this section of the law uses the word "requirement" twice and "shall" once. That sounds like a mandate to us.

Not so fast, says Jonathan Beeton, a spokesman for Wasserman Schultz. He cites two other provisions that would undercut the notion that the law imposes a mandate.

The law also includes a section titled, "Prohibition Against Compelled Enrollment," referring to the newly created health care exchanges -- the virtual marketplaces where uninsured Americans and those without affordable insurance, starting in 2014, can go to buy a health plan.

"Nothing in this title," the section says, "shall be construed to compel an individual to enroll in a qualified health plan or to participate in an exchange."

In a separate passage titled, "Freedom Not to Participate in Federal Health Insurance Programs," the law says that "no individual ... shall be required to participate in any federal health insurance program created under this act (or any amendments made by this act), or in any federal health insurance program expanded by this act (or any such amendments)...."

So, even as the bill talks of a "requirement" to obtain health insurance, it also issues a "prohibition against compelled enrollment" and a guarantee of "freedom not to participate in federal health insurance programs."

What to believe? Essentially, it comes down to the eye of the beholder.

The mechanism for enforcing the policy is the tax code. Indeed, the formula on how the penalties will be levied is defined in a way that only a tax accountant could love. According to a Kaiser Family Foundation summary of the law, "those without coverage pay a tax penalty of the greater of $695 per year up to a maximum of three times that amount ($2,085) per family or 2.5 percent of household income. The penalty will be phased in according to the following schedule: $95 in 2014, $325 in 2015, and $695 in 2016 for the flat fee or 1 percent of taxable income in 2014, 2 percent of taxable income in 2015, and 2.5 percent of taxable income in 2016. Beginning after 2016, the penalty will be increased annually by the cost-of-living adjustment."

Got that?

Some health care experts suggest that the tax penalties are not high enough to push uninsured Americans into health plans. The experts suspect that many people will opt to pay a modest penalty rather than pay for coverage.

So there is indeed an opt-out. But it's a matter of interpretation whether you consider that more like a tobacco tax (in which the government uses taxes to to advance the policy goal of reducing smoking but stops short of using law enforcement to compel people to do so) or like a requirement for car insurance.

For this reason, we don't think Wasserman Schultz's comment merits a False. But we also find that it's a significant exaggeration because she ignores what many people would reasonably describe as a mandate. Using government power to enroll people in health plans has never been a trivial part of the reform effort; it's always been central to the goal of getting more healthy people to pay into the system.

When House Democrats first introduced their health care bill, the summary they released said, "All individuals would be required to get coverage, either through their employer or the exchange, or pay a penalty." While the summary cites the availability of subsidy assistance, it says nothing about ways to get around the requirement.

The White House's own website explains that the law "asks everyone to take responsibility for improving America's health care. In order to lower costs for all Americans and extend coverage to people with pre-existing conditions, all Americans who can afford to purchase insurance will be asked to."

And at the Blair House health care summit on Feb. 25, 2010, President Barack Obama acknowledged that when he ran in the 2008 Democratic presidential primaries, he was "opposed" to the individual mandate. But he added that he was later "dragged, kicking and screaming, to the conclusion that I arrived at, which is, is that it makes sense for us to have everybody purchase insurance."

So, critics of the bill are not dreaming when they say that the individual mandate, by whatever name you prefer to call it, has always been a key part of the Democrats' health care reform push.

Like many complex laws, the health care bill is sometimes contradictory, a reality that has fed confusion over what the newly enacted measure would actually do. We believe that on a technical level, Wasserman Schultz is correct -- Americans are "not required" under the law to carry health insurance. But her statement is still misleading. The bill's supporters may have been loath to remind voters about the individual mandate for understandable political reasons, but the notion of a "shared responsibility" to obtain health insurance has always been a publicly acknowledged part of the Democratic approach to overhauling health care. Wasserman Schultz's comment strikes us as a too-cute attempt to spin the bill in the wake of attacks by the bill's critics. We rate her statement Barely True.
Editor's note: This statement was rated Barely True when it was published. On July 27, 2011, we changed the name for the rating to Mostly False.
CNSNews,com, "Rep. Wasserman Schultz Insists Health Care Law Doesn't Require Individuals to Buy Insurance," April 7, 2010

Office of the Attorney General of Florida (Bill McCollum), "Florida Attorney General: Individual Mandate In Federal Health Care Legislation is Unconstitutional" (news release), Jan. 19, 2010

Text of H.R. 3590, the Patient Protection and Affordable Care Act, accessed April 22, 2010

White House, summary of health care bill ("Shared Responsibility"), accessed April 22, 2010

White House, summary of health care bill ("Hardship Waiver"), accessed April 22, 2010

White House, transcript of Blair House health care summit, Feb. 25, 2010

House Energy and Commerce Committee, summary of House health care bill as introduced, July 14, 2009

Kaiser Family Foundation, side-by-side comparison of health care bills, accessed April 22, 2010

America's Health Insurance Plans, "Individual Health Insurance 2009" (report), Oct. 2009

PolitiFact, "Obama flip-flops on requiring people to buy health care," July 20th, 2009

E-mail interview with Michael Tanner, senior fellow with the Cato Institute, April 21, 2010

E-mail interview with Henry J. Aaron, senior fellow with Brookings Institution, April 21, 2010

E-mail interview with Maggie Mahar, fellow at the Century Foundation, April 21, 2010

E-mail interview with Linda J. Blumberg, senior fellow at the Urban Institute, April 21, 2010

E-mail interview with Tevi Troy, visiting senior fellow at the Hudson Institute, April 21, 2010

E-mail interview with Jonathan Beeton, spokesman for Rep. Debbie Wasserman Schultz, April 13, 2010.
Browse the Truth-O-Meter
More by Louis Jacobson
Support independent fact-checking.
Become a member!
In a world of wild talk and fake news, help us stand up for the facts.