Stand up for the facts!
Our only agenda is to publish the truth so you can be an informed participant in democracy.
We need your help.
I would like to contribute
"Congressman McCollum voted to dismantle Social Security."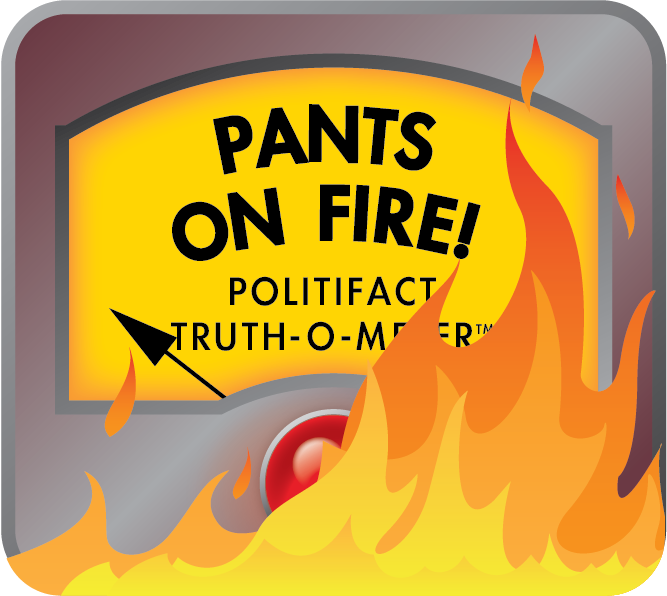 Democrats say McCollum voted to "dismantle" Social Security
The Florida Democratic Party says Attorney General Bill McCollum, a Republican candidate for governor, has targeted a sacred cow: Social Security.

In a press release Feb. 3, 2010, the state party said that when he was in Congress, McCollum "voted to dismantle Social Security."

That's a major charge. The Democrats are not simply saying he voted to reduce the program that provides income for millions of senior citizens, but alleging that he sought to tear it apart.

To back up the claim, the Democrats cited nine votes McCollum took related to Social Security in the 1990s. The McCollum campaign doesn't dispute the individual votes but disagrees with how they're being interpreted.

"Bill McCollum was always a supporter of Social Security, despite the attempts of Democrats to portray him (and every other Republican) as its enemy,'' wrote McCollum campaign spokeswoman Kristy Campbell in an e-mail.

We examined those votes and showed them to experts on Social Security. We then concluded the Democrats are distorting McCollum's votes and making an incorrect claim based on flimsy evidence.

Patricia Dilley, a University of Florida law professor who helped write Social Security legislation in the 1980s, said it was a stretch to describe the votes in such stark terms. "There is not a vote in here directly to dismantle Social Security,'' she said.

The Democrats cite these votes by McCollum to support their claim:

* McCollum voted in May 1995 for a Republican budget resolution that would have used a lower rate of growth in the Consumer Price Index, which is used to calculate cost-of-living adjustments for Social Security and other programs. Some economists have said the CPI overstates inflation, prompting Republican proposals to reduce the growth in the CPI. Henry Aaron, a senior fellow who studies health care for the left-leaning Brookings Institution, said the GOP proposal that McCollum supported would have reduced future benefits -- and reduced the purchasing power of seniors who receive Social Security. But he said "it's not dismantling" the program.

* McCollum voted against using the surplus from the overall federal budget to bolster Social Security. The Florida Democratic Party said that, "In the late 1990's, when both the federal budget and Social Security were running surpluses, McCollum voted seven times against using those surpluses to secure Social Security."

The party is referring to an initiative by then-President Bill Clinton to set aside the surplus for Social Security -- to put the money in the "lockbox" that became the subject of many jokes (and some funny Saturday Night Live skits) during the 2000 campaign. So the Democrats are alleging that because McCollum didn't want to put the money in their version of a lockbox that it's the equivalent of dismantling the program.

Let's examine one of the votes the Democrats cite, a House resolution in May 1999 to do just that. McCollum voted no.

But as the McCollum campaign noted, on the same day, he voted for a measure approved by the vast majority of Republicans and Democrats that aimed to make it more difficult for Congress to borrow from the Social Security trust fund surplus to pay for other programs. The vote was supposed to signal the GOP's support for Social Security, even if Republicans didn't want the surpluses used for it. (Republicans preferred using the surplus to provide broad tax cuts.)

"He absolutely voted for the lockbox,'' said Campbell. "It was a question of how much he put in the lockbox. Do you put everything in the kitchen sink for the lockbox or do you preserve the trust fund itself. It was the question for two or three years."

There's disagreement about the significance of these votes. Aaron said the proposals about lockboxes and securing the surplus were "completely bogus. The surplus of Social Security is secured -- they hold Treasury bonds -- Social Security can cash them in at face value whenever they need the money. I think voting for or against the bills didn't amount to much because Social security reserves are already safe."

But Dilley said the lockbox bills could have had some long-term value. "If the lockbox had passed, it would be much more difficult for people to argue we need to cut Social Security to balance the budget,'' Dilley said. "It would have meant people could not now be making the argument we need to address the federal deficit by privatizing or cutting Social Security."

Still, we don't see evidence here that the votes were to dismantle the program. They simply reflect different strategies by the parties about what to do with the federal budget surplus.

* The Democrats also cite McCollum's votes for $80 billion in tax cuts as "using the Social Security surplus." They contend that McCollum's support of the tax cuts effectively raided the surplus that could have been used for Social Security.

McCollum did vote for the tax cuts, but it's a huge leap of logic to equate that with "dismantling" Social Security. Congress tapped the surplus from the general fund, not directly from Social Security accounts.

Former U.S. Rep. Clay Shaw, a Republican from Fort Lauderdale who chaired the Ways and Means Subcommittee on Social Security, said by the Democrats' logic that "you could make the argument that anything is coming out of Social Security."

And contrary to the Democrats' overall point, we found a few articles that mention votes McCollum took to protect Social Security. McCollum even bucked his party to vote for an amendment by Democrat Rep. Barney Frank to protect the program, according to a Jan. 12, 1995, article in Newsday.

Frank's amendment was to exempt the Social Security Trust Fund from an amendment to balance the budget.

"There should be no temptation to reduce Social Security benefits to achieve the goal of a balanced budget," Frank argued, according to the Newsday article.

McCollum was the "lone Republican to vote for Frank's losing proposal. He comes from Florida, which has a large retired population,'' the Newsday article stated.

McCollum's campaign also pointed to a 1983 bill McCollum supported that was "to assure the solvency of the Social Security Trust Funds."

The Democrats, meanwhile, cited a few news articles with McCollum's comments about George Bush's suggestions during the 2000 presidential campaign to create individual investment accounts for Social Security.

That proposal, which would have retained traditional Social Security benefits for older Americans and given younger workers the flexibility to invest the money in different kinds of accounts, was criticized by many Democrats who said it was an effort to dismantle the program. Republicans said they were merely trying to give younger workers more control of their money and an opportunity for higher returns.

The Orlando Sentinel quoted McCollum as saying, "I don't believe in privatizing Social Security. I do believe, however, that the next generation ought to have the right to grow private saving accounts and have a greater savings opportunity than the seniors have had today," McCollum said.

But it's important to note that their only evidence about the Bush proposal comes from comments in news stories. They do not cite any votes because the proposal did not come before a vote of the full House.

So the Democrats have built a strong charge on flimsy evidence. Yes, McCollum opposed Democratic proposals to use the surplus for Social Security and he wanted to slow the growth in the Consumer Price Index for Social Security and he spoke in favor of Bush's proposal. But it's a ridiculous leap to equate those votes with "dismantling" the program. Pants on Fire!
News articles
The Baltimore Sun, GOP, Democrats inching toward a budget deal; Compromise will likely leave major changes in entitlements intact, Oct. 5, 1995

Newsday, GOP balances budget vote, Jan. 12, 1995

Orlando Sentinel, GOP feelings its oats in House debate; the judiciary committee struck down one Democratic amendment after another,Jan. 12, 1995

Tampa Tribune, Vote seen as danger to social security, Jan. 28, 1995

Tampa Tribune, Balanced budget takes 1st step, May 19, 1995

The Stuart News, Roll Call, Sept. 27, 1998

CQ Almanac, Senate Filibuster Stops Effort to Lock Up Social Security Revenues, June 20, 1999

CQ Alamanac, House Passes 'Safe Deposit Box Act' to Guard Surplus, June 23, 1999


Press release
Florida Democratic Party, "Is Candidate McCollum prepared to keep standing by Congressman McCollum's record all the way to November?", Feb. 3, 2010
Votes
U.S. Congress, H CON RES Vote 345, May 18, 1995

U.S. Congress, HR 3546 Vote 115, April 29, 1998

Washington Post U.S. Congress database of votes, Vote on House Resolution 4579 Vote 469, Sept. 26, 1998

U.S. Congress, HR 5 Vote 4, Jan. 6, 1999

U.S. Congress, H CON RES 68, RC 76, March 25, 1999


U.S. Congress, HR1259 Vote 163, May 26, 1999

U.S. Congress, HR 1259 Vote 164, May 26, 1999


U.S. Congress, HR2488 Vote 378, Aug. 5, 1999

U.S. Congress, HR2990 Vote 484, Oct. 6, 1999

CQ Alamanac, HR 1900, March 24, 1983
Browse the Truth-O-Meter
More by Amy Sherman
Support independent fact-checking.
Become a member!
In a world of wild talk and fake news, help us stand up for the facts.