Stand up for the facts!
Our only agenda is to publish the truth so you can be an informed participant in democracy.
We need your help.
I would like to contribute
"She (Kagan) took money from Goldman Sachs just like her boss, Obama."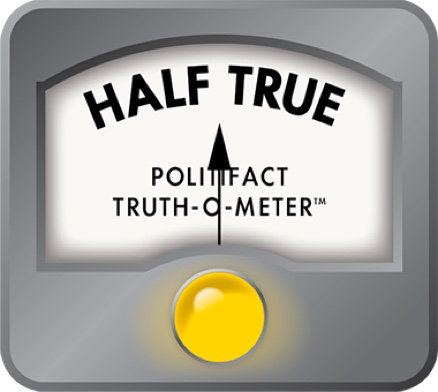 Michael Savage says Kagan took money from Goldman Sachs just like her boss, Obama
Never once to mince words, radio talk show host Michael Savage offered a blistering assessment of Supreme Court nominee Elena Kagan on the conservative World Net Daily website.

Savage said one of the knocks on Kagan is that she was paid by Goldman Sachs, the investment bank under investigation by the Securities and Exchange Commission for fraud related to its dealings in the subprime mortgage market.

"She took money from Goldman Sachs just like her boss, Obama," Savage wrote.

According to a Judiciary Committee questionnaire Kagan filled out when she was tapped by President Barack Obama to be solicitor general in 2009, Kagan was a member of the advisory council for the Goldman Sachs Global Markets Institute. She served on the panel from 2005 to 2008 while she was dean at Harvard Law School. And in 2008, according to financial disclosure forms filed with the Senate committee, she was paid a stipend of $10,000 for her services.

According to its website, the Global Markets Institute at Goldman Sachs "provides research and high-level advisory services to policymakers, regulators and investors around the world." Kagan participated for several years in an annual, daylong conference for the company.

"This advisory group was comprised of leaders from various sectors including academia, the media, business, and other industry," Justice Department spokeswoman Tracy Schmaler told media outlets that inquired about Kagan's role with the board. "They met once a year for a daylong conference organized around public policy matters. The group was not involved in making any investment decisions for the company."

Asked about Kagan's involvement with Goldman Sachs on the day before her nomination, White House spokesman Robert Gibbs said the panel "had absolutely nothing to do with decisions Goldman is being investigated for."

The Huffington Post posted two reports the advisory council completed in 2005 and 2008. Among other things, they assess various risks faced by the world economy (and as the HuffPo article notes, they weren't exactly prescient).

While it certainly doesn't do any political good to be associated in any way with Goldman Sachs right now, we could find no evidence that Kagan's role is tied to any alleged wrongdoing at Goldman Sachs. We also think it's a stretch for some critics to embellish her limited one-day-a-year position into a broad characterization that she "worked for" Goldman Sachs.

But that's not what Savage said. He said Kagan took money from Goldman Sachs, and she did -- at least $10,000 in 2008.

The second part of Savage's claim -- the "just like her boss, Obama" part -- is a bit of a stretch, though.

Obama has never drawn a paycheck from Goldman Sachs and federal law prohibits corporations from making direct campaign contributions. So neither Obama nor his campaign got any money from Goldman Sachs, the corporate entity. And during the presidential election, his campaign didn't accept money from federal political action committees.

But he did accept considerable campaign contributions from Goldman Sachs employees. According to the Center for Responsive Politics, a well-respected nonpartisan group that specializes in analyzing campaign data, Goldman Sachs employees gave the Obama campaign $994,795. That put Goldman Sachs employees No. 2 on Obama's top donors list.

But again, getting a check from Goldman Sachs for services rendered (as Kagan did, albeit a small one) is far different than accepting campaign contributions from the company's employees. By that measure, Obama's Republican opponent Sen. John McCain took money from Goldman Sachs too -- $230,000 in campaign contributions from its employees. So we find Savage's claim to be Half True.
Michael Savage website, "Obama's Judgmental Non-Judge," by Michael Savage, May 10, 2010
United States Senate Committee on the Judiciary, Questionnaire for non-judicial nominees: Elena Kagan, Jan. 15, 2009
United States Senate Committee on the Judiciary, Financial disclosure forms submitted by Kagan to be solicitor general
Huffington Post, "Elena Kagan's Goldman Sachs Ties Brought Up Again," by Sam Stein, May 7, 2010
Center for Responsive Politics, Top Contributors to the Obama presidential campaign
Center for Responsive Politics, Top Contributors to the McCain presidential campaign
USA Today, "Possible Supreme Court pick had ties with Goldman Sachs," by Matt Kelley, April 27, 2010
Goldman Sachs website, The Global Markets Institute at Goldman Sachs
Congressional Quarterly Today, "Obama Seeks to Control the Narrative in Battle to Define Kagan," by Seth Stern, May 10, 2010
Browse the Truth-O-Meter
More by Robert Farley
Support independent fact-checking.
Become a member!
In a world of wild talk and fake news, help us stand up for the facts.