Get PolitiFact in your inbox.
Says Scott Bruun supports allowing corporations to secretly funnel millions of dollars to front groups to finance attack ads.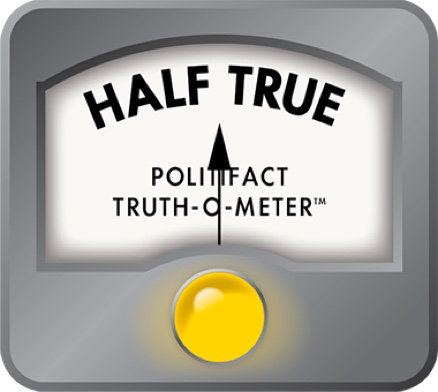 Jeff Merkley accuses Scott Bruun of supporting secret corporate financing of attack ads.
As anyone watching all the television ads knows, freshman U.S. Rep. Kurt Schrader, D-Ore., faces Republican Scott Bruun in Oregon's 5th Congressional District. In a fundraising letter on behalf of Schrader last month, U.S. Sen. Jeff Merkley describes Bruun -- without naming him -- as a big-bank-loving, middle-class-hating Republican. The letter contains this line: "No wonder Kurt's opponent has said he supports allowing corporations to secretly funnel millions of dollars to front groups to finance attack ads."  

Secretly funnel millions? Front groups? Attack ads? It all sounded so very Dr. Evil. PolitiFact Oregon was all over it.

Bruun, in line with most other Republicans, supports the U.S. Supreme Court's 5-4 decision in Citizens United v. Federal Election Commission (January 2010). The ruling loosened restrictions, allowing corporations and unions to spend as much money as they want directly from their treasuries to support or oppose a candidate. Before, donations had to come from employees or union members through a political action committee. Also before the ruling, corporations couldn't spend any money on campaign ads -- the ones that urge a vote for or against a candidate -- within 60 days of a general election.

In general, Democrats call the Citizens United ruling a slap to grass-roots democracy.
Republicans, who get lots of contributions from corporate interests, say there should be no limits on speech. (The majority held that First Amendment protections should apply to corporations as well.)

Asked for evidence that Bruun ever said such a thing, the Merkley campaign offered his response to a question about the Citizens United decision from the League of Women Voters of Oregon guide: "Free speech is messy, noisy and uncomfortable for some. Of course the alternative to free speech is much worse. Political 'speech' is the most important form of speech for a free, open and tolerant society. The Supreme Court has ruled and Congress should leave it alone."

Nothing there about "secret" millions or "front groups." In fact, Bruun never said any such thing. But we wanted to know if the sentiment behind Merkley's statement was accurate.

In other words, is it fair to say that you favor secret donations to front groups to pay for attack ads if you think Congress should leave Citizens United alone?

Citizens United expanded the amount of money allowed and how it can be used, but it was the final nail in a bout of hammering. In 2007, the U.S. Supreme Court started allowing corporate money into elections by letting groups, including corporations, spend money to run "issue advocacy" commercials. The decision in Federal Election Commission v. Wisconsin Right to Life struck down a portion of the McCain-Feingold campaign finance law.

And let's not discount the roles of federal tax law and federal enforcement of elections communications in allowing donations to remain secret. First, the IRS tax code allows 501(c) nonprofit groups to shield donor names even as it allows politically minded nonprofits to engage in political speech. (To compare, political groups identified under IRS tax code 527 must disclose regularly.) Second, the FEC requires disclosure only of corporate money earmarked for "electioneering" -- which few companies do.  

It's true there's been much more money dumped into elections this year, with a lot less disclosure. A Washington Post analysis found that less than half of the total third-party spending this election was disclosed with donors' identities.  

"Nothing is greater than the Citizens United decision in opening the floodgates," said Craig Holman, a government affairs lobbyist for Public Citizen. The nonprofit consumer advocacy group,  based in D.C., has urged Congress to pass a disclosure law to fix the ruling.

In fact, a host of nonpartisan groups interested in open government called for the same. The national League of Women Voters issued a call earlier this month for television stations to reject ads paid for with secret money.

Marge Easley, president of the League of Women Voters of Oregon, wanted to make clear that the nonpartisan group favors neither candidate in the 5th District. But she added that if a candidate is "not in favor of disclosure of campaign funding, then that means they are in favor of keeping things secret."

So is Bruun in favor of secrecy or disclosure when it comes to campaign spending? Significantly, Bruun does oppose the Disclose Act, which would have required groups to name donors behind commercial ads.

Bruun's campaign spokeswoman Alee Lockman wrote in e-mails that Bruun supports "transparency & reporting in campaign finance" but disagrees with the way the Disclose Act "is set up."

"He is, of course, open to bipartisan discussions about campaign finance regulations, but as he is not in Congress yet, he can't speculate on what hypothetical legislation he may or may not be presented with," she wrote.

Bruun has said he favors Oregon's system, which has no limits on contributions but requires full disclosure of donor information.
In sum, as over the top as Merkley's statement may be, PolitiFact Oregon finds it to be Half  True.
E-mails from Alee Lockman, spokeswoman, Bruun campaign, Oct. 8, 2010 and Oct. 15, 2010

Marge Easley, president League of Women Voters of Oregon, phone interview, Oct. 15, 2010

Federal Election Commission, "The FEC and the Federal Campaign Finance Law," January 2010

Federal Election Commission, "FEC Statement on the Supreme Court's Decision in Citizens United v. FEC" Feb. 5, 2010

Public Citizen, "Most Groups Broadcasting Electioneering Communications in 2010 Elections Hide Their Donors' Identities," Sept. 15, 2010

Michael Beckel, Center for Responsive Politics, "The Rise of 'Super PACs' Continues, Leaving Voters in Dark as Attack Ads Fill Airwaves," Sept. 22, 2010

The Washington Post, "Interest-group spending for midterm up fivefold from 2006; many sources secret," Oct. 4, 2010

Peter H. Stone, Center for Public Integrity, "Campaign Cash: The Independent Fundraising Gold Rush Since 'Citizens United' Ruling," Oct. 4, 2010

League of Women Voters, "League Calls on Media to Stop Secret Political Advertising: Supreme Court Erred, Decision Undermines Basic Pillar of American Democracy," Oct. 15, 2010
Browse the Truth-O-Meter
More by Janie Har
Support independent fact-checking.
Become a member!
In a world of wild talk and fake news, help us stand up for the facts.