Get PolitiFact in your inbox.
It's hard to get people in Portland to vote yes on ballot measures, especially when there's opposition.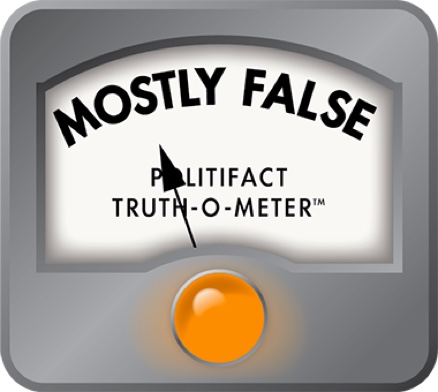 Portland's Voter-Owned Elections failed because voters here like to say no?
In 2005, the Portland City Council approved a campaign finance program to give candidates public money to run for office. It was supposed to get big money out of politics and let candidates focus on talking to voters, not raising campaign cash. It was considered very progressive and very Portland, and city commissioners said they would put the issue to voters in 2010. Last week, those voters rejected it by a slim margin.

Heather Stuart, spokeswoman for the "Yes on 26-108" campaign, issued a statement the day after the election, expressing disappointment over the results. She said the other side had distorted the financial cost of the program, and she said that the campaign had suffered from the bad economy.

Stuart also wrote this: "Historical data shows that it is always more difficult to get a 'yes' vote, especially in the face of organized opposition."

The reporters at PolitiFact Oregon have been in the game long enough to know that, indeed, voters statewide tend to say no when the proposal on the ballot is confusing, is controversial or costs money. But Stuart's implication that statewide skepticism played a role in sinking a campaign-funding measure solely in Portland is suspect.

Portland isn't like the rest of Oregon. Portland, which exists mostly in Multnomah County -- with teeny bits in Washington and Clackamas counties -- likes to say yes.

We have backup from Pat McCormick, a veteran of ballot measure battles, most recently on the losing side over tax-raising Measures 66 and 67. He was hard-pressed to think of a spending plan that Portland didn't like. "You have to do quite a bit to get to a 'no' on a money measure in this city," he said.

Want more evidence? Let's take a stroll through the votes of Multnomah County. (We'll use this because elections usually are conducted by counties, and Portland is the most dominant city in Multnomah County. Where appropriate, we'll cite Portland-only measures.)

November 2010: County voters approved four of six statewide ballots measures, and five of seven county measures. County voters even approved the unpopular TriMet levy that failed because of opposition in Washington and Clackamas counties. And, finally, Portland voters weren't afraid to embrace a property tax levy for new fire trucks and other emergency equipment.

January 2010: Voters approved two statewide tax measures -- 66 and 67 -- by more than 70 percent.

November 2008: County voters approved all three property tax levies on the ballot. They were for the Oregon Zoo, Portland Community College and children's programs.

November 2007: Voted yes on a statewide land-use rewrite, yes on a statewide tobacco tax that went down elsewhere; and yes to a city measure tweaking medical benefits for retired police and firefighters.

May 2007: Of four wonky city measures on the ballot, voters said yes to all but one. (They opted to keep the city's commission-style of government.)

November 2006: County voters renewed a local levy to continue library services and to give Metro more money for fish and wildlife protection. Portland voters also approved a schools levy and a measure to reform the police and fire disability and retirement fund. (But people on the outer edges of the city and county, who tend to be more tight-fisted, said no to levies for Mt. Hood Community College, Reynolds School District and David Douglas School District.)

February 2004: Voters issued a rare no on Ballot Measure 30, which would have enacted a temporary tax surcharge and other changes to avoid budget cuts.

January 2003: But the year before, Multnomah was one of just five counties in Oregon to say yes to Ballot Measure 28, which again would have increased taxes temporarily to plug the budget.

November 2002: Voters approved funding for children's programs, parks and the county library. (Again, Portland voters in the Parkrose and Reynolds school districts said no to operating levies for those schools.)   

And so on. Readers, you get the picture.

Stuart said money is key here, as well as the strength of opposition. And she's right when saying that money measures, historically, have had some money behind them to send the message to voters. In this case, however, the "organized opposition" cited by Stuart spent one-fifth of what supporters did. Supporters spent $311,200, while the main opposition group spent $66,100.

It was more than organized opposition or the bad economy or a general dislike of spending measures that defeated Voter Owned Elections, McCormick said. Voters really don't like it when politicians go ahead and spend taxpayer money "and then come back and ask after the fact, 'Was it OK that I spent your money on this?'" Which is what happened here.

So the statement contains some element of truth -- but it ignores critical facts that would give a different impression. Portland, as a city, is not one that says no a lot. We rate this claim Barely True.
Editor's note: This statement was rated Barely True when it was published. On July 27, 2011, we changed the name for the rating to Mostly False.
Browse the Truth-O-Meter
More by Janie Har
Support independent fact-checking.
Become a member!
In a world of wild talk and fake news, help us stand up for the facts.