Stand up for the facts!
Our only agenda is to publish the truth so you can be an informed participant in democracy.
We need your help.
I would like to contribute
Said Planned Parenthood's early objective was to "help kill black babies before they came into the world."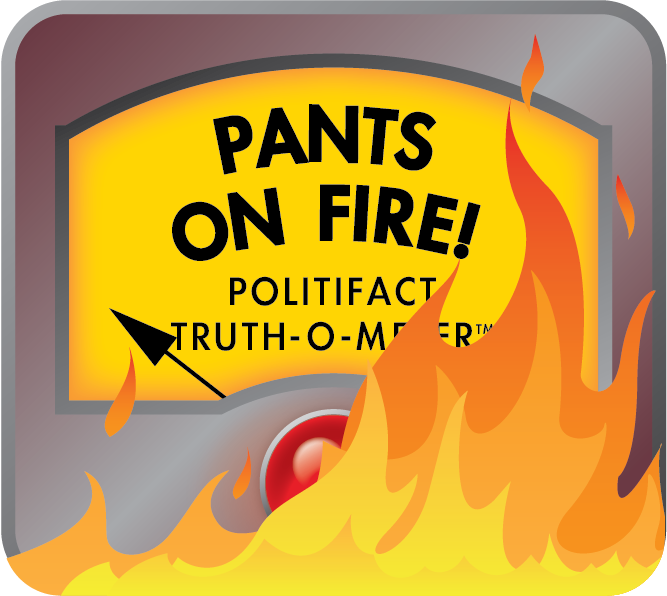 Cain claims Planned Parenthood founded for "planned genocide"
This presidential election season, Georgia's homegrown prospect Herman Cain is talking about race.

Cain, a black, conservative Republican, recently said the media is "scared that a real black man may run against Barack Obama."

And there's this one about pro-abortion rights group Planned Parenthood:

"When Margaret Sanger - check my history - started Planned Parenthood, the objective was to put these centers in primarily black communities so they could help kill black babies before they came into the world," Cain said during a talk in Washington, D.C., at the Heritage Foundation, a conservative group.

"It's planned genocide," Cain added. He wants the U.S. Congress to yank funding for Planned Parenthood, which receives about $75 million a year to provide non-abortion health services.

Was Planned Parenthood founded to help kill unborn black babies?

Cain asked his audience to check his history. So, we did.

First, a disclaimer. Cain, who has launched a presidential exploratory committee, was a talk show host on AM 750 and now 95.5 FM WSB, which, like The Atlanta Journal-Constitution, is part of Cox Media Group.

Cain has more political heft than your average talking head. The former CEO of Godfather Pizza beat a six-term U.S. congressman to finish second in Georgia's 2004 U.S. Senate Republican primary. The Morehouse grad has eight honorary doctorate degrees and has authored four books, and he serves on several corporate boards.

Now some history. Planned Parenthood founder Margaret Sanger is credited with making birth control legal and widely available.

Born 1879, Sanger, who was white, blamed her mother's death on her frequent pregnancies. At the time, speaking about birth control could lead to arrest. She thought that if women could legally control the number of children they bore, their health and economic conditions would improve.

We consulted with scholarship, Cain's camp, anti-abortion groups, Sanger's biographer, and multiple experts on Cain's claim.

The supposed evidence that Sanger supported black genocide is a loose collection of her most objectionable statements, her ties to the disgraced eugenics movement, and her work on what was called the Negro Project. That effort, started in 1939, brought birth control services (but not abortion) to black communities in the South.

These facts don't come close to supporting Cain's claim.

Eugenics was once a wildly popular theory that the human race can be improved through better breeding and genetics. It drew together backers as diverse as President Theodore Roosevelt and black intellectual W.E.B. DuBois.

At its best, the U.S. movement pushed for better prenatal care. At its worst, it enabled forced sterilization laws and let claims that blacks and immigrants were inferior to masquerade as science.

Sanger welcomed some of the movement's more notorious leaders onto the board of a predecessor to Planned Parenthood. She also endorsed paying pensions to women of low intelligence who agreed to be sterilized.

But we found no evidence that Sanger advocated - privately or publicly - for anything even resembling the "genocide" of blacks, or that she thought blacks are genetically inferior.

Every academic PolitiFact Georgia consulted said that Cain's claim is wrong.

"I have never run into any serious academic reference of Sanger or others wanting to 'kill black babies,'" Indiana University professor Ruth Engs, a eugenics movement expert, told PolitiFact Georgia in an e-mail.

What's worse, Cain got his facts mixed up.

Sanger's first birth control clinic opened in 1916 in the Brownsville neighborhood of Brooklyn, N.Y., which was mostly Irish and Jewish.

When she did open a Harlem clinic in the early 1930s, about half of its patients were white. Members of the black establishment, including DuBois and black newspaper the Amsterdam News, supported it. This was hardly the pro-genocide camp.

None of these centers performed abortions.

Those who think Sanger wanted black genocide cite the Negro Project. But even their strongest evidence, a passage from a letter she wrote advocating that organizers recruit black ministers for the project, does not come close to proving a genocidal plot.

Sanger wrote that "We don't want word to go out that we want to exterminate the Negro population and the minister is the man who can straighten out that idea if it ever occurs."

But her correspondence shows this sentence advocates for black doctors and ministers to play leadership roles in the Negro Project to avoid misunderstandings. Lynchings and Jim Crow laws gave blacks good reason to be wary of attempts to limit the number of children they bore. In Harlem, she hired a black doctor and social worker to quell those fears.

The facts of the Negro Project suggest nothing more genocidal than a public health project. Black leaders DuBois and Mary McLeod Bethune, founder of the National Council of Negro Women, and the pastor of the influential black Abyssinian Baptist Church were members of its advisory council. First lady Eleanor Roosevelt was supportive.

For Sanger to launch a genocidal plot behind their backs and leave no true evidence in her numerous writings would require powers just shy of witchcraft.

Really, calling the Negro Project a genocidal plot defies common sense. Why would Sanger try to destroy a race of people by giving them access to the very thing she thought could make life better?

Planned Parenthood's early objective was not to "help kill black babies before they came into the world."

Sanger failed to rise above the ethnic and racial paternalism of her time, but that's a far cry from being genocidal.

Cain's claim is a ridiculous, cynical play of the race card. We rate it Pants on Fire.
CNN.com, "Cain: Planned Parenthood's mission is 'planned genocide' of black babies," March 15, 2011
Politico.com, "Herman Cain: I'm the 'real black man,' " March 31, 2011 http://www.politico.com/news/stories/0311/52312.html
New York University, Margaret Sanger Papers Project, accessed April 4, 2011

"Birth Control in America: The Career of Margaret Sanger," 1970

"Margaret Sanger's Eugenic Legacy: The Control of Female Fertility," 2005

"Woman of Valor: Margaret Sanger and the Birth Control Movement in America," 1992

"War Against the Weak," 2003

"A Century of Eugenics: From the Indiana Experiment to the Human Genome Era," 2011

"Racially Writing the Republic: Racists, Race Rebels, and Transformations of American Identity," 2009

E-mail interview, Ellen L. Carmichael, communications director, Friends of Herman Cain, April 4, 2011

E-mail interview, Ruth Engs, professor, Applied Health Science, Indiana University, March 31, 2011

Interview, Edwin Black, author, March 16, 2011

Interview, Ellen Chesler, author, March 17, 2011

E-mail interview, Ryan Scott Bomberger, chief creative officer, the Radiance Foundation, March 17, 2011

Interview, Linda Gordon, Florence Kelley Professor of History, New York University, April 1, 2011

Interview, Paul Lombardo, professor of law, Georgia State University, April 1, 2011
Browse the Truth-O-Meter
More by Willoughby Mariano
Support independent fact-checking.
Become a member!
In a world of wild talk and fake news, help us stand up for the facts.