Stand up for the facts!
Our only agenda is to publish the truth so you can be an informed participant in democracy.
We need your help.
I would like to contribute
The economic impact of new Atlanta Braves stadium includes 9,241 new jobs and $295 million in wages.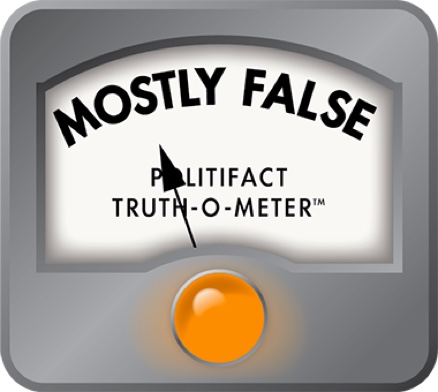 Braves stadium jobs and wages numbers fall short
Backers of constructing a taxpayer-subsidized Atlanta Braves stadium in Cobb want residents to know that the new field of dreams will grow jobs and money.
Revitalize Cobb, a pro-business interest group, announced the expected yield in a glossy mailer. 
"9,241 New Jobs + $295,000,000 in Wages + $0 Tax Increase for Homeowners + $3,000,000 Annually for Cobb Schools = 1 Great Deal for Cobb Residents," said the ad, which was sent to residents late last month.
Should county taxpayers bet the farm on these numbers?
Supporters of major publicly subsidized projects have made similar claims to fend off criticism that taxpayers are getting a bad deal. The Truth-O-Meter has checked a few that reference economic impact studies they say prove their point. But in many cases, they don't come close.
An earlier PolitiFact analyzed the claims that the stadium would require no tax increase for homeowners and provide $3 million for Cobb schools. They were rated Half True.
Now it's time to look at Revitalize Cobb's jobs and wage figures.
The group's source is an economic impact study commissioned by the Cobb Chamber of Commerce, which has championed the stadium. It estimates the effects of two phases of the project — construction and the stadium's operations over 10 years.
Analysts assumed the ballpark will have 41,500 seats and attract 3 million fans during its first year. (The stadium is projected to open in 2017.) Attendance will stabilize at 2.7 million three years later.
Construction will require 5,227 jobs over three years, according to the report, which was prepared by program management firm Brailsford & Dunlavey. 
The report also states that each year, operating the park will require 1,187 full-time jobs, 1,753 part-time jobs, and 1,074 "nonprofit jobs," an unusual category that we will explain later. 
Add them up and you get 9,241 jobs, which is the figure used by Revitalize Cobb. The estimate of $295 million in wages combines the salaries earned over three years of construction with one year of wages for workers operating the park.
We found a few problems with Revitalize Cobb's portrayal of the study's findings. Most jobs will not go to Cobb residents. And from a metro Atlanta and state perspective, by and large, these jobs aren't "new."
First, let's consider construction jobs. These were calculated using a measurement called a "job year," which is equivalent to one full-time job lasting one year.
Economists use this measure to express the number of jobs created during the construction phase of a project because in this industry, positions can last for only a few months. So if four different plumbers worked three months each on the stadium, their combined efforts would equal one job year.
According to the study, only 784 of these jobs -- or about 15 percent -- will go to Cobb residents. However, because of the nature of a job year, the stadium may put more than 784 Cobb residents to work.
For the ballpark's operation phase, the study counted a "job" as one position. Only about 27 percent of the full-time jobs and 30 percent of the part-time jobs are expected to go to county residents, the study states.
Revitalize Cobb's claim that the Braves move will result in $295 million in wages is also based on a regional number.
"The overall amount of wages is absolutely not the Cobb County payroll. No way," said Bruce Seaman, a professor at Georgia State University who has studied the economic impact of the Braves. 
Revitalize Cobb did not hide this fact. Some of this breakdown appears in smaller type on the other side of the mailer.  
But because the group used these numbers as proof that the stadium is "1 Great Deal for Cobb Residents," readers could get the impression that the 9,241 jobs and $295 million in wages would go to locals, Seaman noted.
From a state or regional perspective, these are not "new" jobs. For the most part, jobs that already exist in downtown Atlanta are simply moving to Cobb.
"You're taking money out of one pocket and putting it in another," said Robert Baade, a Lake Forest College professor who studies the economics of sports.
And many workers at the downtown stadium may not move with the Braves.
If these current workers stay behind, Cobb residents have a good shot at the vacancies. 
"It's a more direct opportunity for Cobb County residents," said Jason Thompson, a vice president at the firm that produced the study. Plus, new ballparks often provide services that require teams to boost their staffing, he said.
Another problem with Revitalize Cobb's claim is the group's decision to count 1,074 "nonprofit" jobs among the new positions that would be created by the Cobb stadium.
These positions are the result of a Braves program where nonprofit volunteers work for free in stadium jobs, Thompson said. The wages they would have earned go to their nonprofit.
This volunteer work does have an economic impact. Their labor infuses money into the economy. However, this isn't what your average person counts as jobs.
By including them, Revitalize Cobb boosts its job numbers by 13 percent.
While the study's annual jobs figures seem a little high, the study's findings appear to be in the ballpark, said Georgia State University professor Seaman, who reviewed the study at the request of PolitiFact Georgia.
Our ruling:
Revitalize Cobb used numbers generated by an economic impact study commissioned by the county's Chamber of Commerce, which supports the stadium. The study's findings are not unreasonable.
But the mailer published by Revitalize Cobb uses its findings in a confusing way that could give the impression that a new stadium's impact on Cobb is greater than the study predicts.
While the interest group tried to provide context through the mailer, it didn't do enough. It also added projected "nonprofit" positions to its jobs figures, which gives an inflated impression of the number of jobs the stadium is estimated to provide. 
The pro-stadium mailer had an element of truth, but was a less-than-accurate portrayal of a flawed study commissioned by stadium boosters.
Revitalize Cobb earns a Mostly False.
Email exchange and telephone interview, Tal Wright, partner, COMM360, Dec. 4, 2013, through Dec. 10, 2013
Telephone interview, Jason Thompson, regional vice president, Brailsford & Dunlavey, Dec. 10, 2013
Telephone interview, Bruce Seaman, associate professor, Andrew Young School of Policy Studies, Georgia State University.
Telephone interview, Robert Baade, A.B. Dick Professor of Economics and Business, Lake Forest College, Dec. 5, 2013
Brailsford & Dunlavey, "Summary of the Economic and Fiscal Benefits of a MLB Team and New Ballpark to Cobb County," received Dec. 6, 2013
Browse the Truth-O-Meter
More by Willoughby Mariano
Support independent fact-checking.
Become a member!
In a world of wild talk and fake news, help us stand up for the facts.