Stand up for the facts!
Our only agenda is to publish the truth so you can be an informed participant in democracy.
We need your help.
I would like to contribute
Undocumented students who qualify for in-state Oregon tuition are "actively working toward U.S. citizenship."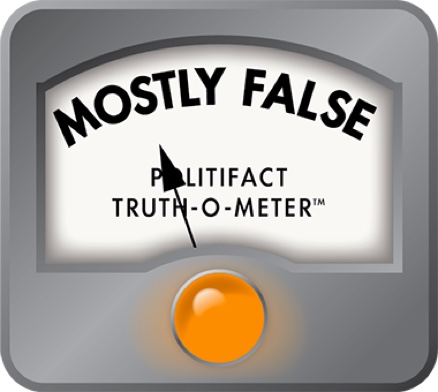 Tuition equity supporters say undocumented students in Oregon are working toward U.S. citizenship
Among the hot topics of the Oregon Legislature this session is Senate Bill 742, which would grant cheaper in-state tuition to undocumented students brought to the country as children. Supporters say it's only fair that these high school graduates, who are for all intents and purposes "Oregonians," get a shot at a more affordable state university education.

Qualified students would have to meet specific credentials to get in-state tuition. They must have attended a U.S. school for at least five years, attended an Oregon school for three years, and graduated from an Oregon high school.

But there is a puzzling final criterion. According to a fact sheet by Oregon Rep. Michael Dembrow, D-Portland, the students "are actively working toward U.S. citizenship." Senate Majority Leader Diane Rosenbaum, D-Portland, also says this in a press release:

"The students who will benefit from SB 742 have attended a U.S. school for at least five years, graduated from an Oregon high school, and are on the path to citizenship. By allowing a student to stay in Oregon and attend college, we're keeping some of our best and our brightest in the state."

Now we at PolitiFact Oregon understand just enough about federal immigration law to know that applying for citizenship or legal residency as an undocumented person still living in the United States is really tough under current law. So we wanted to find out what it meant to be "actively working toward U.S. citizenship."  

Let's turn first to the language of Senate Bill 742, section 2(1)c, which states that the student "shows intention to become a citizen or a lawful permanent resident of the United States by filing an affidavit with the institution of higher education... stating that the student has filed an application to legalize the student's immigration status, or will file an application as soon as the student is eligible to do so."  

Well, filing an affidavit with the Oregon University System does not mean that that person is actively working toward citizenship. Sorry,that's not a step in the onerous process to achieve legal status.

Now let's look at the process if you are undocumented and in the country illegally, but you want to apply for U.S. citizenship. For that, we turned to Sharon Rummery, a longtime spokeswoman for U.S. Citizenship and Immigration Services.

Rummery says there are a few ways an "out of status" person could seek to become a permanent resident and then apply for citizenship. The person could apply for political asylum. The person could be petitioned by an immediate family member who is here legally.

Or the person could be petitioned by a potential employer who swears that he or she can't find a legal resident or citizen to do the job that's open. (That's called an H-1B visa -- and frankly, it's used by high-tech companies to get more skilled engineers and programmers to the United States; those, and fashion models.)

Also, here's the kicker from Rummery, which shows why it's so daunting for undocumented students: Even if these petitions are made, "you still can't get permanent resident status without leaving the U.S.  If you've been here out of status for more than a year, you'll be subject to a 10-year bar on returning." There's a waiver to the 10-year bar, but in most cases, you have to leave the country to apply for that waiver.

David Leopold, national president of the American Immigration Lawyers Association, attests to the difficult position these students are in. "Other than some minor, minor, some very narrow exceptions, it's not legally possible to put somebody on a pathway to citizenship who is undocumented," he said.

Dembrow, in defense, argues a broader definition of the phrase. "'On the path to citizenship' simply means that they have begun the process of seeking citizenship," he wrote in an email. "By signing an affidavit and swearing their intention to put themselves through the complicated, lengthy process, they have started that journey."

Tell that to USCIS. Look, we realize that immigration law is full of unique situations and exemptions, and we know that the law can change. In other words, just because it's difficult for undocumented students to get legal status now -- which is why some in Oregon want tuition equity -- doesn't mean they can't get legal status in the future.

The federal Dream Act, which failed in Congress last year, would have granted a way for those students here illegally to become U.S. citizens. But the federal Dream Act is not Oregon's Tuition Equity Bill and for supporters to claim that these students are all "actively working toward" or "on the path" toward citizenship is misleading.

To sign an affidavit that the student will file an application as soon as the student is eligible to do so is essentially meaningless for most students. Unless students are already in the process of applying for citizenship, which might be the case for some, the moment where they are eligible likely will never come for most undocumented students under current law.  

There's an element of truth -- signing an affidavit indicates some intention on the part of the student who hasn't yet applied -- but it's nowhere near the same as applying for legal status with USCIS. We rate this Barely True.
Editor's note: This statement was rated Barely True when it was published. On July 27, 2011, we changed the name for the rating to Mostly False.
Interview with David Leopold, April 5, 2011

Emails from Sharon Rummery, April 4, 2011 and April 7, 2011

Interview with Francisco Lopez, April 4, 2011

Emails from and interview with Michael Dembrow, April 4, 2011 and April 5, 2011

"Statement from Senate Majority Leader Diane Rosenbaum on passage of Tuition Equity Bill."

"SB742, Tuition Equity," Rep. Michael Dembrow
Browse the Truth-O-Meter
More by Janie Har
Support independent fact-checking.
Become a member!
In a world of wild talk and fake news, help us stand up for the facts.