Stand up for the facts!
Our only agenda is to publish the truth so you can be an informed participant in democracy.
We need your help.
I would like to contribute
"I started with a $3.7 billion budget deficit. Now we are projecting a $1.2 billion surplus."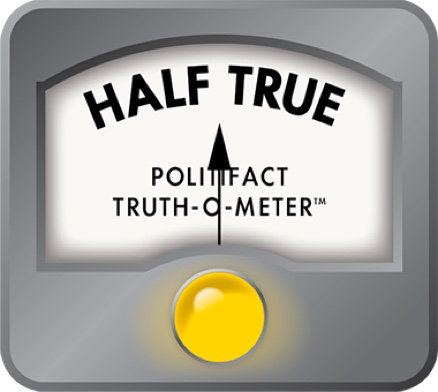 Gov. Rick Scott says deficit turned into surplus
The state's finances are in the black -- with more than a $1 billion surplus, according to Florida Gov. Rick Scott.

In an Aug. 10, 2011, interview with the Miami Herald editorial board, Scott summarized the state's financial picture this way:

"When I walked into office we were projecting somewhere between a $3.4-3.7 billion budget deficit. Right now we are projecting for the fiscal year that started July 1 a $1.2 billion surplus, on top of that right now state revenues are up a little bit better than that." 
He repeated that claim Aug. 17 in an interview with CNBC:

"I started with a $3.7 billion budget deficit. Now we are projecting a $1.2 billion surplus."
Scott's using the language of the federal government, but the state budgeting process is different. Scott referred to a budget "deficit" -- but the state's Constitution forbids a deficit -- not having enough money to pay its expenses. What Scott was referring to is a "shortfall" -- projected revenues falling short of projected expenses. When facing a shortfall, legislators have to come up with a way to erase the gap and balance the books.

We wanted to check both of Scott's figures so we turned to Amy Baker, the state's chief economist. Baker sent us this summary showing how they started planning for the 2011-12 year with a shortfall and ended with what Scott called a surplus. The same information -- plus additional details about Florida's budget -- are included in this August 2011 report from the state's Office of Economic and Demographic Research.

State budgeting process
When the state puts together its long-term financial outlook, it looks at what it would cost to continue existing services taking into account growth factors such as inflation and whether the number of students or prisoners will increase.
When the state released its initial long-term financial outlook for the current 2011-12 budget year, economists projected a budget shortfall of about $2.5 billion. But as estimated revenues declined and projected expenditures grew, the shortfall rose to $3.6 billion. That's where Scott got his figure about the "deficit" -- or more accurately, "shortfall."

On top of that, legislative leaders decided to increase the state's reserves -- setting aside $1 billion for its general revenue reserve fund. So legislators crafting the 2011-12 budget had to cut $3.6 billion in order to balance the books and an additional $1 billion to offset an increase in reserves.

Legislators ultimately cut about $4.5 billion in projected, additional spending from the budget -- eliminating thousands of state jobs and slashing money for schools, hospitals and other services. Combined with Scott's vetoes, the state spent about $181.2 million less then it had available in addition to the $1 billion it set aside in reserves.
That's the $1.2 billion "surplus" cited by Scott. (As of July, that figure grew to about $1.3 billion because of increased revenue estimates.)

But do you call it a surplus?
The dollar figure isn't in dispute, but would we call the unspent reserves a "surplus?"

Scott spokesman Lane Wright argued that it is a surplus and sent us a dictionary definition of a surplus: "An amount of something left over when requirements have been met; an excess of production or supply over demand," he wrote.

We asked Baker to define surplus. "A surplus means it was available for expenditures," she said. The $1.2 billion was available and the Legislature decided not to spend it and set it aside, she said. "Normal folks in their daily lives might think of 'surplus' as a windfall. It wasn't a windfall -- it was planned, it is still a surplus. The more accurate term would be 'reserve' since they planned to do it. It's really more clear to say 'reserve' but surplus isn't wrong. ... It is only a surplus to the extent that it wasn't appropriated."

Technically, the state's economists including Baker call the extra money "planned general revenue reserve after appropriations" or "unallocated general revenue," not a "surplus."

And in fact, having money left over is commonplace. Baker provided us a chart that shows Florida having "unallocated general revenue" every year since the 1984-85 budget year. The amount of leftover money has fluctuated from year to year. From 1984-2003, the size of the reserve has generally been less than $400 million. The reserve fund grew to a peak of $1.9 billion in 2006-07, before decreasing.

Wright, the governor's spokesman, sent us a different chart showing the general revenue fund financial statement as of July 27, 2011. That chart doesn't use the word "surplus" but it shows an ending balance for the 2011-12 year of about $1.3 billion. The balance was $433 million for the 2010-11 year (Charlie Crist's last as governor) and about $1.5 billion the year before that.
That means, by Scott's definition, Crist left office with both a $433 million surplus and a $3.6 billion deficit.

How can that be? Because Scott is comparing apples to oranges -- a projected budget shortfall that accounts for growth and inflation, versus an actual budget "surplus" that is a result of the state's requirement that legislators pass a balanced budget.

No matter how big a projected shortfall the state has at the beginning of its budgeting process, it will end up with some type of  "surplus" as Scott calls it, or  "reserve" as Baker calls it.
"We can't end the year with a deficit," she said. "They cannot pass a budget that's not balanced."

Kurt Wenner, vice president of tax research at Florida TaxWatch, said that Scott should have used the word "shortfall" rather than deficit but generally agreed with Scott characterizing the money as a surplus. But he also agreed that the two figures are analyzing different things.

Wenner described the shortfall as a soft number while the surplus is an actual number.

Our ruling
Let's go back to Scott's statement. He said, "When I walked into office we were projecting somewhere between a $3.4-3.7 billion budget deficit. Right now we are projecting for the fiscal year that started July 1 a $1.2 billion surplus."

Scott's numbers are generally right but his word choice is problematic and the comparison is misleading.

The Legislature had to cut around $3.6 billion from the amount of money it was expected to have to spend in 2011-12. It wasn't a deficit -- which would mean the state didn't have the money to pay its bills -- but rather a projected shortfall. After making those cuts -- and cutting an additional $1 billion so it could beef up its reserves -- the state now has around $1.3 billion more than it needs to pay its bill as part of the 2011-12 budget. 

But having the extra money is actually common practice for the state. 

In fact, after Crist's last budget as governor, the state had an extra $433 million, or as Scott would say, a "surplus." 

It also had a projected $3.6 billion shortfall.

See the problem in making the comparison?

In reality, the state ends most every year with what Scott calls a surplus because the state is required to pass a balanced budget and generally can't borrow money to pay its bills. And in recent years, because state revenue has been declining, the state enters the next year with a projected "deficit" using Scott's word -- or more accurately a shortfall.

The fact is that while Scott has his numbers right, he's comparing apples to oranges to paint his fiscal policies in the best light. 

We rate this claim Half True.
General Revenue Fund Financial Outlook Statement
, July 27, 2011
Interview, Amy Baker, Florida's chief economist, Aug. 11-16, 2011
Interview, Lane Wright, Gov. Rick Scott spokesman, Aug. 11-12, 2011
Interview, Kurt Wenner, vice president of tax research, Florida TaxWatch, Aug. 11-15, 2011
Browse the Truth-O-Meter
More by Amy Sherman
Support independent fact-checking.
Become a member!
In a world of wild talk and fake news, help us stand up for the facts.