Stand up for the facts!
Our only agenda is to publish the truth so you can be an informed participant in democracy.
We need your help.
I would like to contribute
Suzanne Bonamici votes with her party a partisan 98 percent of the time.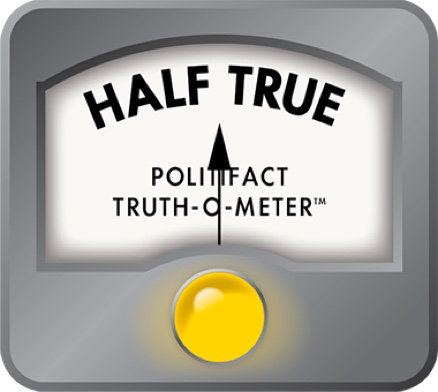 Does Suzanne Bonamici vote a partisan 98 percent of the time with her party?
Both major party candidates in the Jan. 31 election for the 1st Congressional District want voters to think they are independent, bipartisan, above party-line bickering.

So it's no surprise that Republican Rob Cornilles and his supporters like to say that former Democratic state Sen. Suzanne Bonamici "votes 98 percent of the time" with her caucus. He said that the day after winning the special primary election. And he said it again at a recent debate.

"She has talked about separating herself from her party but the reality is she votes 98 percent of the time with the Democrats in Salem. I don't know how that represents bipartisanship; that represents to me more of the same," he said. (And in a follow-up press release.)

Allen Alley, chairman of the Oregon Republican Party, repeated the sentiment in a Nov. 15 press release: "Bonamici's narrow world and economic view explains why she's voted in the Oregon legislature with her party 98 percent of the time," he said.

Bonamici's campaign pleaded with PolitiFact Oregon to provide context for the claim. After all, legislators take many votes that are routine, so Democrats and Republicans end up voting the same way more often than you'd think. Game on, we said.

Mary Anne Ostrom, Cornilles' campaign manager, said the 98 percent figure comes from The Oregonian's "Your Government" website. The O's web designer and developer Mark Friesen set up the site so readers can see how legislators voted on a bill, and how often they voted with their party.

The 2011 Oregon Senate was split 16-14, with Democrats in the majority. The Senate took about 950 floor votes. It's true that, according to our website, Bonamici voted with her party 98 percent of the time -- but voting with your party 98 percent of the time doesn't mean you necessarily voted against the other party.
We asked Friesen to check Bonamici's votes against three Republicans in the Senate: Minority Leader Ted Ferrioli of John Day; Jackie Winters of Salem; and Bruce Starr of Hillsboro. Winters is a fierce advocate of social services and Starr is a leader on transportation issues. All three are considered solid Republicans.

Bonamici voted the same way as Winters 89.6 percent of the time; with Ferrioli, 76 percent; and with Starr, 73 percent. In other words, she and a Republican voted the same way anywhere from 73 percent to nearly 90 percent of the time. (During the 2010 special session, she voted with Winters 87 percent of the time and in 2009, 77 percent of the the time, for an overall average of 83 percent from 2009-11.)  

In our view, that makes Bonamici more than a "button-pushing" partisan.

We went a step further, just to see how she sides with Democrats on narrower votes. We took a database of 2011 session votes provided by Bonamici's campaign and  winnowed the list down to 106 votes that were lopsided -- 20 votes out of 30 -- or where Bonamici voted no. Here's what we found:

She voted with her party in roughly 91 instances where the issue fell along party lines. For example, she approved a bill to increase driver fees, and she joined other Democrats in voting against legislation favoring online charter schools. Bonamici also voted to change the kicker "refund check" into a kicker "credit" and she voted in favor of expanding Oregon's Bottle Bill. Those are all positions taken by the majority of her party.

In some 15 instances, she was among the no votes, sometimes joining with other Democrats or with Democrats and Republicans. For example, she voted against compromise legislation creating a health exchange. But we don't see her siding with Republicans against her party.

We need to add a crucial bit of information, since Cornilles brings up bipartisanship. Bonamici was chairwoman of the Senate Redistricting Committee and successfully helped negotiate a redistricting agreement with a split House. Lawmakers failed to do that in 2001 or in 1991; redistricting occurs every 10 years.  

Where does that leave us?

Well, we know that the methodology relied on by the Cornilles campaign is incomplete because it ignores votes that are unanimous or near unanimous. Also, Bonamici was one of the legislators charged with creating a bipartisan redistricting map, and by most accounts she did splendidly. So it's not accurate to say she lacks bipartisanship skills. On the other hand, we find that she usually votes with her party on significant issues.

Based on the evidence, we rate the statement Half True because he ignores her bipartisan work and because he fails to acknowledge how often she votes with Republicans. The statement is partially accurate, but missing important details.
Go back to OregonLive to comment.
The Oregonian, "Cornilles attacks Bonamici as Oregon's congressional special election enters new phase," Nov. 9, 2011
Oregon Republican Party, "Oregon's Republican Party Congratulates Rob Cornilles," Nov. 15, 2011
KATU.com, "Bonamici, Cornilles debate ideas on job creation," Nov. 27, 2011
Cornilles for Congress, "Rob Cornilles is uniquely qualified to spur job creation," Nov. 28, 2011
Email from and interview with Mary Anne Ostrom, Dec. 6, 9, 2011
Emails from Mark Friesen, Dec. 7, 9, 2011
Emails from and interview with Jillian Schoene, Bonamici campaign, Nov. 28, Dec. 9, 2011
Interview with Carol Butler, Bonamici campaign, Dec. 9, 2011
Browse the Truth-O-Meter
More by Janie Har
Support independent fact-checking.
Become a member!
In a world of wild talk and fake news, help us stand up for the facts.