Get PolitiFact in your inbox.
"As speaker, Gingrich even supported taxpayer funding of some abortions."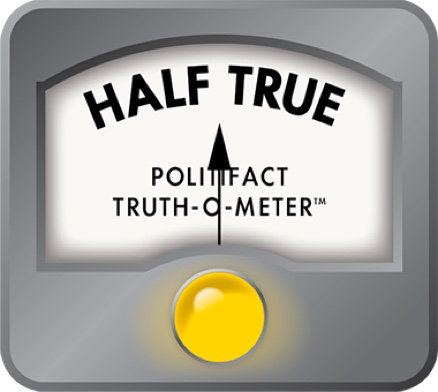 Ad claims Newt Gingrich favored federal funding for some abortions
A pro-Mitt Romney super PAC is keeping up its attacks on Newt Gingrich with just before the Iowa caucuses.

An ad posted to YouTube on Dec. 20, 2011, asks, "Know what makes Barack Obama happy? Newt Gingrich's baggage."

Suitcases adorned with Gingrich campaign stickers slide down an airport baggage carousel as a female voice launches into a list of attacks on the former House speaker's record.

Here, we're checking this one: "As speaker, Gingrich even supported taxpayer funding of some abortions."
What we found is a case of cherry-picking his words to paint him as supporting abortion rights, which he clearly does not.

The ad and what's behind it

Airing in Florida and Iowa, the ad is paid for by a political action committee, which isn't formally tied to any candidate or campaign but can spend money influencing elections. The one behind this ad is known as Restore our Future and is staffed and funded by supporters of Mitt Romney.

For reference, the ad cites NewtFacts.com, where a list of supporting material for its claims is displayed. On the abortion charge, NewtFacts.com quotes news stories from April 1995, when Gingrich appeared on the CBS show Face the Nation. He had just completed his first 100 days as speaker and was talking about his next priorities, particularly regarding social issues.

"What about the abortion issue?" asked Gloria Borger, then of U.S. News and World Report. "There are people in your Republican conference and Republican presidential candidates who believe that there should be no federal funding at all, even in the cases of rape or incest. Do you agree with that?"

"No," Gingrich responded. "First of all, I think you should have funding in the case of rape or incest or life of the mother, which is the first step."

Gingrich was taking the position of many moderates, who believe abortion should be allowed only when a woman is raped or impregnated through incest, or if carrying the pregnancy to term threatens her life. He went a step further in saying federal money, such as through Medicaid, should be allowed to pay for such abortions.

What else?

So Restore our Future is right about what Gingrich said on Face the Nation. But we also wanted to look at his overall legislative record on taxpayer-funded abortion.

We contacted NARAL Pro-Choice America, a group that advocates for abortion rights and considers Gingrich anti-choice.

NARAL researchers found that Gingrich voted for an amendment to the 1984 Labor-Health and Human Services Appropriations bill that would have prohibited Medicaid funding for abortion care in all cases.

More recently, he voted repeatedly to prohibit the District of Columbia from using public funds to provide abortions for low-income women, NARAL said, and he supported rules that barred abortion coverage from health care plans for federal employees.

In 1993, he voted for the Hyde Amendment, an attachment to the annual federal spending bill first introduced in 1976 by Illinois Rep. Henry Hyde and employed each year since. Although its language changes from year to year, the amendment generally (including in 1993) bans the use of public funds for abortions except in cases of rape and incest and when the woman's life is in danger.

The Hyde Amendment is widely considered a legislative achievement by groups that oppose abortion rights because it keeps taxpayer money from being spent on most abortions. The National Right to Life Committee, a prominent antiabortion group, lists it as one of the tests for where candidates stand on protecting life. In its presidential candidate scorecard, Gingrich is noted as having voted for the amendment.

Gingrich's own website, Newt.org, devotes a section to "setting the record straight" on his record, citing a 98.6 percent Lifetime Pro-Life Rating from the National Right to Life Committee. (We reached out to the Right to Life Committee but did not hear back.)

He has signed the Susan B. Anthony List Pro-Life Leadership Presidential Pledge, in which candidates promise to "permanently end all taxpayer funding of abortion in all domestic and international spending programs."

Gingrich spokesman R.C. Hammond recently told the Des Moines Register  that Gingrich remains opposed to abortion with the exception of cases of rape, incest and to save the life of the mother. But he has changed his position on using taxpayer money and now opposes funding abortion no matter what the circumstances.

Our ruling

Restore Our Future's ad said that "as speaker, Gingrich even supported taxpayer funding of some abortions."

His remarks on Face the Nation in 1995, when he said "I think you should have funding in the case of rape or incest or life of the mother," align with that statement. While he was serving in Congress, he voted for the Hyde Amendment, which bans public funding of abortions except under those three circumstances. That's a position widely embraced by those who want to restrict abortion. The ad implicitly portrays Gingrich as opposing those interests. While its wording is accurate, its message is misleading. We rate it Half True.
Restore Our Future video ad, Dec. 20, 2011

NewtFacts.com, accessed Dec. 21, 2011

Boston Globe, "GOP targets mandates for Medicaid abortions," March 2, 1995, accessed via Nexis

New York Times, "Speaker Shows Moderation On 2 Issues Dear to the Right," April 10, 1995, accessed via Nexis

Chicago Tribune, "Gingrich Backs Federal Funding for Some Abortions," April 10, 1995, accessed via Nexis

Des Moines Register, "Christian conservatives split on Gingrich's right-to-life record," Nov. 28, 2011

Legislative profile of Newt Gingrich, NARAL Pro-Choice America, Dec. 21, 2011

"Where Do the Candidates Stand on Life?" National Right to Life Committee, accessed Dec. 22, 2011

Departments of Labor, Health and Human Services, and Education, and Related Agencies Appropriations Act, 1994, 103rd Congress (1993 - 1994), accessed via Library of Congress

Susan B. Anthony List Pro-Life Leadership Presidential Pledge, accessed Dec. 22, 2011
Newt.org

CBS, Face the Nation, April 9, 1995, transcript accessed via Nexis
Browse the Truth-O-Meter
More by Molly Moorhead
Support independent fact-checking.
Become a member!
In a world of wild talk and fake news, help us stand up for the facts.