Stand up for facts and support PolitiFact.
Now is your chance to go on the record as supporting trusted, factual information by joining PolitiFact's Truth Squad. Contributions or gifts to PolitiFact, which is part of the 501(c)(3) nonprofit Poynter Institute, are tax deductible.
I would like to contribute
Says Planned Parenthood provides about 140 visits for prenatal care in each state.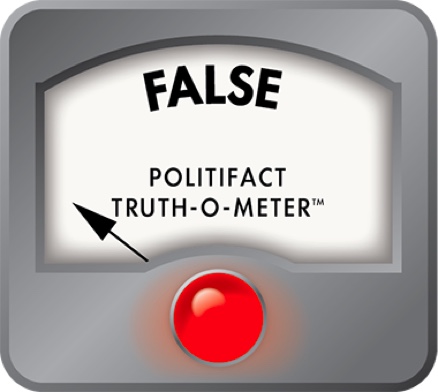 Sen. Michael Doherty claims Planned Parenthood only provides 140 visits for prenatal care in each state
When Democrats and Republicans met on the floor of the New Jersey Senate on July 11 to discuss overriding vetoes handed down by Gov. Chris Christie, the debate ultimately turned to whether $7.5 million for family planning services should be reinstated -- some of which would go to Planned Parenthood centers.

Democrats touted the importance of that funding for New Jersey families. Sen. Loretta Weinberg (D-Bergen) said of the clients served: "They are women who come for prenatal and postnatal health services so that they do have healthy families."

But Republican Sen. Michael Doherty argued that the organization doesn't provide much prenatal care.

"There's a lot of talk about prenatal care and the fact is that Planned Parenthood just does not provide many prenatal visits. It's about 140 visits for each state in the entire country," said Doherty, who represents Warren County and parts of Hunterdon County. "So we're talking (about) an organization we're supposed to be sending people we care about to get top-notch care for prenatal visits and it turns out that they don't really see a lot of patients."

A resolution to override that veto failed in a 25-14 vote.

PolitiFact New Jersey found that Doherty, a conservative, was right about prenatal care representing a small part of the services offered by Planned Parenthood, but he is wrong about there being about 140 visits in each state.

Using the senator's own reasoning, the number would actually be around 800 visits per state.

First, let's explain where Doherty received his information.

Doherty referred us to a fact sheet prepared by the Planned Parenthood Federation of America, Inc., showing that 7,021 prenatal clients were served nationwide in 2009. Based on that figure, Doherty determined there were, on average, about 140 prenatal patients per state.

Here's the problem: the fact sheet said "clients," but Doherty referred to "visits" on the Senate floor.
Clients refers to people. Visits refers to the numbers of times a client goes to Planned Parenthood.
When we checked with Michele Jaker, executive director of Planned Parenthood Affiliates of New Jersey, she said Planned Parenthood centers provided a total of 40,489 prenatal visits across the country in 2009, which is the latest data available.

Using the same formula that Doherty did, that number equates to about 809 visits per state.

Jaker could not provide the number of visits in New Jersey, but said 581 prenatal clients were served in the Garden State in 2009.

"His number right off the bat is wrong," said Jaker, referring to Doherty.

Jaker added in an email that Doherty's approach -- dividing the number of prenatal patients by 50 states -- was not an accurate assessment, because several states "only have one health center and don't have the facilities to provide prenatal care."

Told about our findings, Doherty said: "I think you're splitting hairs."

But for his overall argument that Planned Parenthood sees few prenatal patients, Doherty is right.

According to the same fact sheet, "other women's health services," which includes prenatal care, only accounted for 10 percent of all services provided by Planned Parenthood nationwide in 2009.

According to figures provided by Jaker, prenatal clients represented about 0.6 percent of the 91,617 patients served by New Jersey centers in 2009.

Jaker said the number of prenatal clients served by Planned Parenthood is due to limited funding and the needs of the community. If a center cannot provide prenatal care to a woman, it will refer her to another resource in the community, she said.

"If there are enough providers who do prenatal care for low income women, it may not be a service we need to provide," Jaker wrote in an email. "We could cover the needs of our patients through referrals."

Pointing out how many pregnancies may go unnoticed, Dr. Donald Chervenak, president-elect of the New Jersey Obstetrical and Gynecological Society, noted how Planned Parenthood is helpful in providing pregnancy testing. Through earlier prenatal treatment, other medical problems can be addressed sooner, Chervenak said.

Back to Doherty's statement:

The senator said Planned Parenthood doesn't provide many prenatal visits, saying the figure was "about 140 visits for each state in the entire country." That figure is way off, because Doherty was using the number of clients. The actual number would be more like 800 visits per state.

Figures provided by Planned Parenthood confirm that prenatal care represents a small part of the services offered, but since the senator's figures were inaccurate to such a large degree, we rate the statement False.
To comment on this ruling, go to NJ.com.
New Jersey State Senate session, July 11, 2011

Interviews with Sen. Michael Doherty, July 14-15, 2011; emails sent by Doherty, July 14, 2011

Fact sheet prepared by the Planned Parenthood Federation of America, Inc., accessed July 14-15, 2011

Phone and email interviews with Michele Jaker, Planned Parenthood Affiliates of New Jersey, July 14-15, 2011

Senate Concurrent Resolution No. 210, voted down 25-14 on July 11, 2011

The Star-Ledger, N.J. Sen. Doherty slams Planned Parenthood hours before vote on bill to restore $7.5M to family planning clinics, May 23, 2011

Interview with Dr. Donald Chervenak, New Jersey Obstetrical and Gynecological Society, July 15, 2011

PolitiFact New Jersey, State Sen. Loretta Weinberg says six of New Jersey's 58 family planning centers closed because of budget cuts, June 10, 2011
Browse the Truth-O-Meter
More by Bill Wichert
Support independent fact-checking.
Become a member!
In a world of wild talk and fake news, help us stand up for the facts.