Stand up for the facts!
Our only agenda is to publish the truth so you can be an informed participant in democracy.
We need your help.
I would like to contribute
Says the Simpson-Bowles deficit reduction proposal urged raising $2 trillion in new revenue.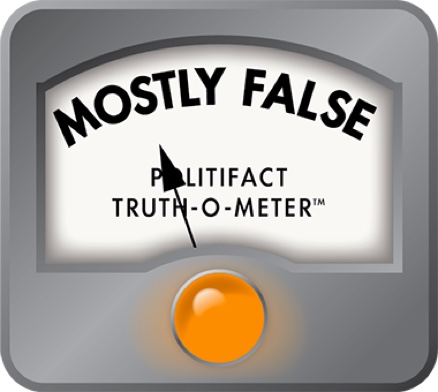 John Kerry says Simpson-Bowles proposal raised $2 trillion in new revenues
On the Nov. 20, 2011, edition of NBC's Meet the Press, Sen. John Kerry, D-Mass., was grilled about the congressional "supercommittee" of which he's a member.

At the time the show aired, a deadline was looming for the supercommittee, which was created by the August 2011 deal to increase the debt ceiling.

Host David Gregory asked Kerry about some of the negotiations over handling the growth of Social Security and Medicare -- programs dear to the hearts of many Democratic lawmakers, just as low taxes are dear to many Republicans.

Kerry said that "a whole bunch of things were on the table for the right amount. If people wanted to do a $4 trillion deal, there were discussions about dealing with the major sacred cows of our side. I'm just telling you, every one of them was on the table, and they know it. And it will be documented, ultimately, in papers that I know will come out of this. But I don't want to get stuck there right now. The answer is, every one of them are on the table."

The problem, Kerry said, is that Republicans "would not do the revenue." To draw a contrast, Kerry cited details from a few other deficit-reduction proposals, including one known as Simpson-Bowles, after the panel's co-chairs, former Sen. Alan Simpson, R-Wyo., and Erskine Bowles, a former chief of staff to President Bill Clinton. The Simpson-Bowles commission was a bipartisan panel convened by the White House that produced a final recommendation in December 2010.

"Look, put it in a perspective," Kerry told Gregory. "Simpson-Bowles worked for thousands of hours. Bipartisan, Republican, Democrat, people outside of the Senate and elected politics. They came out and said, in order to do a deal you need $4 trillion, and you need $2 trillion of it as revenue."

By making this point, Kerry was attacking Republicans for their unwillingness to join with a bipartisan group in accepting significant tax increases. But is Kerry right that the Simpson-Bowles plan would have raised $2 trillion as revenue? We turned to the group's final report to find out.

The panel's summary table shows that the plan's total deficit reduction between 2012 and 2020 would be $3,885 trillion. That's slightly lower than the $4 trillion Kerry cited, but the Simpson-Bowles report itself rounded that up "nearly $4 trillion" in its summary, so we think Kerry is on safe ground for that figure.

But Kerry is off-base on the revenue side. Of the $3.885 trillion in total deficit reduction, the panel proposed cuts in discretionary and mandatory spending totaling $2.217 trillion and estimated interest savings of $673 billion. The remainder of the deficit reduction total involves new revenues -- a combination of closing tax loopholes and increasing in certain types of taxes and other revenue streams. The new tax revenues work out to $995 billion over that period -- slightly less than half of the level Kerry said and, in absolute terms, a difference of more than $1 trillion, which isn't pocket change.

We asked Steve Ellis, vice president of Taxpayers for Common Sense, if we were missing anything with our analysis. He cited two caveats.

The first is that the commission proposed changes to the Social Security system, including payroll taxation of 90 percent of wages by 2050. That's more than the 86 percent of wages subject to the payroll tax in 2009 and the estimated 83 percent that would be subject to the tax by 2020.

The report recommends that the Social Security changes be made for their own sake, and not for the explicit purpose of deficit reduction, so the panel didn't include these changes in its deficit-reduction math. But we can extrapolate how much additional revenue would come from Social Security by reverse-engineering from data elsewhere in the report.

The maximum of all net changes from Social Security reforms is $229 billion through 2020. This figure actually includes more than just the payroll tax provision we cited above. But even if all of the $229 billion represented revenue increases, it would still not bump up the total revenue increases under Simpson-Bowles close to the $2 trillion that Kerry cited.

The second caveat, Ellis said, is that other analyses based on the Simpson-Bowles proposal suggest that tax revenues could indeed reach $2 trillion by 2020. One was published by the Republican majority on the House Budget Committee, and another was published by the conservative Heritage Foundation.

They get to this alternative number by using a different baseline. A "baseline" is the current budgetary level to which future deficit savings are compared.

We asked Kerry's office to clarify what he meant, but we did not hear back. Ellis, for what it's worth, said he thinks it's unlikely that Kerry was basing his comment on either of the two alternative analyses by the House Budget Committee Republicans and by the Heritage Foundation, both of which are Kerry's ideological opposites.

Our ruling

While it's possible to get to $2 trillion using the alternative baselines, we think the best way to analyze Kerry's comment is to use the commission's own math. After all, in Kerry's words, Simpson-Bowles "came out and said, in order to do a deal you need $4 trillion, and you need $2 trillion of it as revenue." But the Simpson-Bowles report didn't come close to suggesting $2 trillion in new revenue. The actual figure is slightly less than half of that. We rate his statement Mostly False.
EDITOR'S NOTE: After our story was posted, Kerry's office got back to us. Press secretary Whitney Smith confirmed that the senator understood that the choice of baseline determines how much revenue the proposal generates, as our story indicated. However, we stand by our position that the best number to use in this context is the one the Simpson-Bowles commission used itself, so we're sticking with our ruling of Mostly False.
SECOND EDITOR'S NOTE: A few days after our story appeared, we received a letter from Ed Lorenzen, executive director of the Moment of Truth Project, a project co-chaired by Simpson and Bowles to carry on the work of their commission. Lorenzen argued that even though the committee did not use the $2 trillion figure in its report, it was fair for Kerry to have used it in the context of comparing Simpson-Bowles to subsequent deficit-reduction proposals. His comments are detailed, so we've provided them separately here. However, we've decided to stick to prior our ruling of Mostly False, based on another point Lorenzen made — that if Kerry were to use the $2 trillion figure, then applying the same counting methodology to the total deficit reduction figure would result in a reduction of $5 trillion. That would have made incorrect the other half of Kerry's statement, in which he said Simpson Bowles would have produced $4 trillion in deficit reduction.
John Kerry, interview on NBC's Meet the Press, Nov. 20, 2011 (CQ subscribers only)

The National Commission on Fiscal Responsibility and Reform, "The Moment of Truth," December 2010

House Budget Committee, "Expanded Views on the Fiscal Commission," Dec. 4, 2010

Heritage Foundation, "Fiscal Commission Report: Too Much Taxes, Not Enough Spending Cuts," Dec. 3, 2010

ABC News, "'Supercommittee' Draws to a 'Disappointing' Close, Members Still Searching for Deal," Nov 21, 2011

E-mail interview with Steve Ellis, vice president of Taxpayers for Common Sense, Nov. 21, 2011
Browse the Truth-O-Meter
More by Louis Jacobson
Support independent fact-checking.
Become a member!
In a world of wild talk and fake news, help us stand up for the facts.