Stand up for the facts!
Our only agenda is to publish the truth so you can be an informed participant in democracy.
We need your help.
I would like to contribute
Says Gov. Jeb Bush vetoed the "Quiñones Plan" because it was "taxation without representation on a large scale."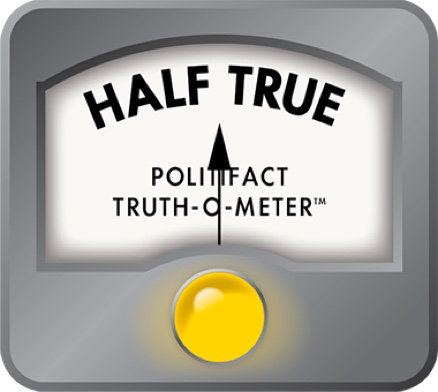 Alan Grayson says Jeb Bush rejected "Quiñones Plan" as taxation without representation
Let's say you're a Florida Republican seeking public office. If there's one nickname you don't want, it's "Tax Man."

And if there's one man you don't want dissing your ideas, it's former Gov. Jeb Bush.

Alan Grayson, the former Democratic U.S. House member from Orlando, is trying to stick both of these toxic GOP labels on former state Rep. John Quiñones. Grayson is unopposed for the 9th congressional district, but Quiñones, R-Kissimmee, must pass the Aug. 14 primary.

"John Quiñones: The Tax Man," claims a mailer from Grayson's campaign.

The mailer says Quiñones voted to raise various taxes as a Tallahassee lawmaker and as a current member of the Osceola County Commission.

The kicker: "Gov. Jeb Bush vetoed the Quiñones Plan because it was 'taxation without representation on a large scale.' "

Grayson cites a June 28, 2006, story by the Tampa Bay Times as backup for the Bush claim. We cracked open the archives and found references to rental cars but nothing about Quiñones or the "Quiñones Plan."

We wondered what Grayson was talking about.

The plan in question was a wide-ranging transportation bill, SB 1350, that would have raised money for city and county transportation projects by adding a $2-a-day tax on rental car customers, if voters approved it in a county referendum.

Central Florida Republicans had backed the idea for years, including former state Sen. Daniel Webster, who ousted Grayson from his U.S. House seat in 2010. They argued the surcharge wasn't really a tax because it would be up to county voters, and the state needed money to pay for urgent transit needs.
An Orlando Sentinel editorial praised the surcharge as "the Holy Grail of Central Florida lawmakers for nearly a decade." The charge would have targeted tourists, who come to Orlando for theme parks and clog the highways.
If approved by voters in Orange, Osceola and Seminole counties, the proposal would have generated $40 million for local transportation needs, or $80 million coupled with matching funds, according to the newspaper.
SB 1350 passed the House by a vote of 103-14 and the Senate by 34-4. Quinones -- along with now-U.S. Sen. Marco Rubio and most House conservatives -- voted yes.

Rental car companies and Americans for Tax Reform, the anti-tax group of Grover Norquist, attacked the plan as unfair to tourists. In the end, Bush agreed.

He threw down a veto a few days before the law was to take effect. In his veto message, Bush praised legislators for trying to solve rising transportation costs and make transportation project contracts more competitive. But he drew the line at the optional increase on rental car taxes, and Grayson accurately quotes part of his explanation:

"While I appreciate the inclusion of voter approval as a prerequisite to implementing the new tax, these taxes will be paid disparately by tourists visiting Florida, consequently creating taxation without representation on a large scale. Philosophically, I cannot support this."

So where does Quiñones come in? Even though his name isn't on the final legislation, he played a role in the rental car surcharge issue. He introduced the House companion to Webster's Senate bilion Oct. 31, 2005. Quiñones' bill, HB 301, exempted motorists who rented cars while their automobiles received repairs.

His bill was never brought up for a full floor vote on its own, but the idea was amended to the final version of SB 1350.
Quiñones defended the idea in committee.
"In this situation, you have an opportunity to allow tourism to help on the transportation problem that we have in our community," he said, according to the South Florida Sun-Sentinel. "This way it would have less impact on the local residents. I didn't want to have an added burden on the local constituencies."
The Orlando Sentinel editorial credited Webster and now-state Sen. Andy Gardiner for guiding the measure through session, "with the help of Rep. John Quiñones."
Our ruling
Grayson says Bush vetoed the "Quiñones Plan" because it was "taxation without representation on a large scale." His mailer accurately quotes Bush's veto message but lacks context about what the vetoed "Quiñones Plan" entailed.

There's no denying Quiñones played a hand in legislation that would have allowed county residents to vote on an additional $2 per day surcharge on rental cars, which would mostly have hit tourists. He sponsored language that ended up in the final bill.

But the mailer has no details for voters, unless residents somehow connect it with the words "rental cars" in a cluster of items Grayson says Quiñones taxed. It's unfair to say Quiñones taxed rental cars when the "plan" in question would be up to county voters and it never happened because of Bush's veto.

Plus, even though Quiñones sponsored a version of the surcharge legislation, his clout trails the influence of two Central Florida colleagues widely credited for getting the language in the final version of SB 1350 -- which was certainly not known as the "Quiñones Plan" around the Capitol.

We rate the claim Half True.
Gov. Jeb Bush's veto message of SB 1350

2006 Florida House bill, HB 301

2006 Florida Senate bill, SB 1350

Interview with Kirsten Borman, Quiñones campaign consultant, Aug. 2, 2012

Interview with Todd Jurkowski, Grayson campaign spokesman, Aug. 3, 2012

HB 301 committee analysis

Florida House Clerk's Manual 2005-2006

Orlando Sentinel, "Road money will be lawmakers' top focus," March 5, 2006 (accessed via Nexis)

Tampa Bay Times, "Bush says no to rental car tax increase," June 28, 2006 (accessed via Nexis)

South Florida Sun-Sentinel, "Car rental tax would tap tourists to pay for mass transit," April 17, 2006 (accessed via Nexis)

Orlando Sentinel editorial, "A good solution: Our position: It makes sense to allow voters to OK rental-car surcharge for transportation," May 8, 2006 (accessed via Nexis)
Browse the Truth-O-Meter
More by Katie Sanders
Support independent fact-checking.
Become a member!
In a world of wild talk and fake news, help us stand up for the facts.