Stand up for the facts!
Our only agenda is to publish the truth so you can be an informed participant in democracy.
We need your help.
I would like to contribute
Under Charlie Crist, Florida lost 825,000 jobs and the unemployment rate increased from 3.5 percent to 11.1 percent.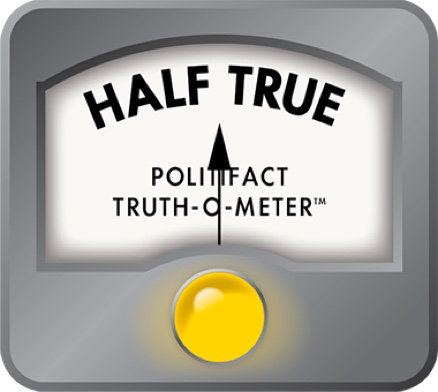 Rick Scott says Florida's economy soured under Charlie Crist
Former Gov. Charlie Crist has the Florida political world buzzing about a potential face-off with Republican Gov. Rick Scott in 2014.

Scott's response to the hypothetical showdown with the Republican-turned-independent-turned Democrat has been simple: Avoid direct comment but point out how Florida hemorrhaged jobs under Crist's watch.

"The four years before I became governor, the state had lost 825,000 jobs. Unemployment had gone from 3.5 percent to 11.1 percent. We incurred another $5.2 billion, I think, worth of debt," Scott said at a Dec. 11, 2012, news conference.

We thought his talking points about Florida's economy under Crist merited a fact-check. It probably won't be the last time Scott takes a dig at his predecessor.

In this item, we'll examine Scott's claims about the unemployed under Crist. We will examine the debt claim in a separate item.

PolitiFact has addressed similar jobs claims about governors in many states. We often find the numbers are right but the blame is exaggerated. The impact of a governor on a state's economic health is usually pretty small, experts say.

Jobless ranks swelled

Scott's math on the number of jobs Florida lost during Crist's tenure is correct if you compare the month before his inauguration (December 2006) with his last month in office (December 2010).

Florida's workforce contracted from 8,043,000 non-farm workers to 7,217,500 -- a loss of 825,500 jobs, according to Bureau of Labor Statistics figures.

The state lost half of its construction jobs during that period, shrinking from 668,600 to 336,400.

Scott has touted the state's declining unemployment rate under his tenure as a sign of economic improvement. (But a rapidly declining rate is not always worth bragging about, as we noted in this fact-check, because it has been the sign of a shrinking workforce as a result of discouraged workers giving up on finding jobs in the state.)

There's no denying Florida's employment situation went from robust to bleak under Crist. In December 2006, the state's unemployment rate was 3.5 percent. (Remember those days?!) In December 2010, the rate was 11.1 percent.

The state's unemployment rate has inched down in the months since Scott took office. The most recent rate was 8.5 percent in October 2012.

Whose fault is it?

Mark Vitner, Wells Fargo senior economist, said assessing who is responsible when thing go bad -- or when they improve -- is a difficult task. The more pertinent question, he said, is "What policy action did you try to take to try to mitigate the economic recession or engender an economic recovery?"

"Whether it was luck or whatever, during his tenure Florida's economy sank into the worst recession since the Great Depression," he said.
We asked Scott's press office for examples of how Crist played a role in Florida's economic downturn. Scott spokesman John Tupps wrote in an email, "Florida's economic improvement and job creation under Gov. Scott is undeniable." 
Chris Lafakis, a senior economist at Moody's Analytics who studies Florida, said Crist is not responsible for the state's economic decline because "the seeds of destruction" had already been sown by the time he took office.

Home sales and prices had already peaked in 2005 and 2006. Behind the scenes lurked a number of major issues: mortgage lending to borrowers who couldn't afford to repay their loans and Wall Street bankers buying those loans and selling them to investors.

"I don't remember hearing about states in 2004 taking a stand against home building," said Sean Snaith, director of the Institute for Economic Competitiveness at the University of Central Florida. "It was bringing in revenue. There was a lot of benefits that the boom side of the housing market created. There were significant costs when we went into bust."

Added Lafakis: "That had very very little to do with Charlie Crist."

The onset of the housing crisis, coupled with the state's dependence on a constant flow of new residents, meant Florida suffered more than other states, he said.

The wealth of out-of-state retirees "was eviscerated" during the recession, he said, making them less able to retire in Florida. And working-age people faced either reduced job opportunities in major metro areas like Tampa and Orlando or could not sell their homes and relocate here, Lafakis said.

"Would it have been different with someone else in office?" Lafakis said. "The wheels were already in motion. He (Crist) suffered from the worst timing that you could pick."

And unlike the federal government, the state government cannot run deficits in an effort to stimulate the economy because of balanced budget requirements. States basically "have to ride it out," Snaith said.

Our ruling

Scott is right about the grim jobless figures: The state's employment picture worsened almost as soon as Crist became governor and did not let up.

But Scott misses the mark for implying the state's recession was the result of a poor handling by Crist. Florida's economy tanked largely as a result of the housing market crisis, a tornado of issues over which Crist had little to no control.

We rate Scott's statement Half True.
Update: This fact-check was updated shortly after publication to include comment from the governor's office.
Interview with Mark Vitner, Wells Fargo senior economist, Dec. 12, 2012

Interview with Chris Lafakis, senior economist at Moody's Analytics, Dec. 12, 2012

Interview with Sean Snaith, director of the Institute for Economic Competitiveness at the University of Central Florida, Dec. 13, 2012

PolitiFact New Jersey, "Chris Christie says Democrats are to blame for private-sector job losses from 2000-2009 by increasing taxes, regulation and state spending," Oct. 29, 2012

PolitiFact, "Did Mitt Romney's Massachusetts rank 47th in job creation?" Sept. 7, 2012

PolitiFact Texas, "Michael Williams says gas prices are up $2 since Obama became president," May 22, 2011

PolitiFact, "Rick Santorum says a 2008 spike in oil prices caused Florida's economy to falter," Jan. 24, 2012

Interview with John Tupps, Rick Scott spokesman, Dec. 13, 2012

Bureau of Labor Statistics chart, Florida non-farm jobs from 2006-2012

Bureau of Labor Statistics chart, Florida unemployment rate, 2006-2012

PolitiFact Florida, "Rick Scott brags about Florida's declining unemployment rate," Sept. 17, 2012
Browse the Truth-O-Meter
More by Katie Sanders
Support independent fact-checking.
Become a member!
In a world of wild talk and fake news, help us stand up for the facts.