Stand up for the facts!
Our only agenda is to publish the truth so you can be an informed participant in democracy.
We need your help.
I would like to contribute
"More than a quarter of mortgage borrowers are underwater, and 11 percent of all homes are vacant."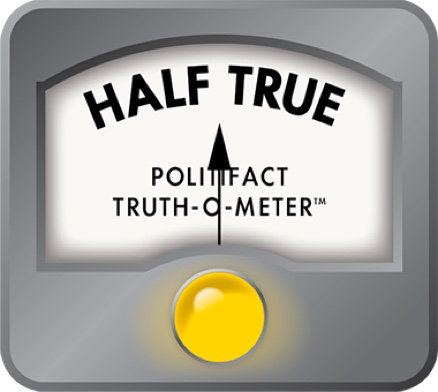 Marcia Fudge says 25% of mortgage borrowers are under water and 11% of all homes are vacant
Mortgage foreclosure problems have been a top concern the past several years for many politicians including, Democratic Rep. Marcia Fudge.

Fudge, of Warrensville Heights in suburban Cleveland, took to the House of Representatives floor on Dec. 15  to call for legislation to revitalize neighborhoods plagued by vacant and abandoned homes.

"Remnants of the foreclosure crisis linger everywhere," said Fudge, citing home values pummeled by the plague of blighted and abandoned houses. "More than a quarter of mortgage borrowers are underwater and 11 percent of all homes are vacant."

Fudge's statistics on underwater mortgages and home vacancies certainly sounded alarming so we asked Fudge's office where she got them.

According to spokeswoman Laura Allen, Fudge got her data on underwater mortgages from the Zillow real estate information and sales service. The group's number crunchers found that in the third quarter of 2011, 28.6 of the nation's mortgage borrowers owed more money on their houses than their property was worth.

Borrowers can end up underwater on their mortgages if their homes decline in value or if their mortgage debt increases. Sometimes the two factors combine. Negative equity makes borrowers more vulnerable to foreclosure because it makes it harder to sell or refinance their houses if they can't keep current on their mortgage payments.

Underwater borrowers who can still afford their mortgage payments sometimes walk away from the loss and allow their homes to enter foreclosure. Such "strategic defaults" add to the glut of vacancies and further drag down home prices.

Statistics that Zillow provided to Fudge's office indicated 41.5 percent of single-family homes with mortgages in the Cleveland metropolitan area were underwater during the third quarter of 2011. To compute its statistics, Zillow looks at the total amount of loans taken out by a homeowner at the time of purchase and compares it to the current value of the home. It obtains its raw data from county recorders' offices around the nation.

But those statistics only look at the borrowed amounts and the property valuations. A Zillow spokeswoman acknowledged the statistics don't reflect equity that a longer-term homeowner could build up over years of making payments.

We also checked with another organization, CoreLogic, which incorporates the extra home equity accrued by longer-term homeowners into the negative equity statistics it compiles. CoreLogic's latest study found that 22.1 percent of all mortgaged residential properties were underwater during the last quarter of 2011.

Fudge obtained her home vacancy numbers from the U.S. Census Bureau.

Its data on the nation's housing showed an 11.4 percent vacancy rate in 2010: 14,988,438 empty residences out of a total of 131,704,730. But further examination of that national data reveals that  31 percent of those empty homes were "for seasonal, recreational or occasional use," 27.6 percent were for vacant rental properties, and 12.7 percent were unoccupied  homes for sale.

In hard-hit Cuyahoga County, Fudge's home county and Ohio's most populous, 2010 Census figures showed a vacancy rate of 12.3 percent, with 42 percent of those vacancies for rent and 12.6 percent for sale. A mere 3.2 percent of Cuyahoga County's vacancies consisted of seasonal or recreational property.

So while the 11 percent figure for vacancies is on point, it appears there are many reasons homes can be unoccupied. So has the foreclosure crises has had a lasting impact? In her floor speech, she mentions it as she discussed "remnants of the foreclosure crisis."

To examine whether the foreclosure crisis actually boosted the vacancy rate, we looked at national data from the 2000 Census, which was taken long before the foreclosure tsunami hit. It showed a 9 percent vacancy rate that year - or 10,424,540 vacancies out of a total 115,904,641 units.

A comparison of data from the two Censuses shows a the proportions of vacant units for sale and for rent both increased slightly since 2000. Over that 10-year period, the ratio of vacant homes that were for sale rose from 11.6 percent to 12.7 percent. The ratio of rental vacancies rose from 25.1 to 27.6 percent. A higher proportion of the vacant homes in 2000 were categorized as being for "seasonal, recreational or occasional use" - 34.3 percent.

U.S. Census Bureau statistician Melisa Kresin said the Census Bureau does not measure foreclosures, and its survey of vacant homes would not accurately measure them. She noted that homes can be vacant for numerous reasons, and that many people continue to occupy their homes while the foreclosure process is underway. She attributed some of the increased vacancies to the rise in multigenerational households.

"Once a child graduates, there is a greater chance now that it will move in with parents instead of getting an apartment," said Kresin. "There are lots of factors that go into these rates."

Fudge's claim is partially accurate. The Zillow number she used for mortgage borrowers who are underwater does exceed 25 percent, although that data doesn't consider payment history that could affect the results. CoreLogic's negative equity analysis produced a smaller number by using a different methodology. That number was less than 25 percent, but in the ballpark.

Her statement that 11 percent of the nation's homes are vacant is technically accurate. But there are many reasons that those homes are unoccupied and a researcher for the source of her figure, the U.S. Census Bureau, cautioned that its survey of vacant homes would not accurately measure foreclosures.

And, the fact that 9 percent of homes were unoccupied in the 2000 survey, long before the foreclosure crisis took hold, indicates a large proportion of the vacancies Fudge cites are not foreclosure-related.

That's important information that puts her claim into context.

On the Truth-O-Meter, Fudge's statement rates Half True.
Congressional Record for Dec. 15, 2011, page H8981

Emails and conversations with Fudge press secretary Laura Allen, Jan. 3-4, 2012

Zillow.com, Home Values Essentially Flat in Third Quarter, Rate of Depreciation Slows on Road to Housing Market Bottom, Nov. 8, 2011

CoreLogic, news release, "Third Quarter 2001 Negative Equity Data Shows Slight Decline But Remains Elevated," Nov. 29, 2011

Emails with Lauren Riefflin of Zillow.com, Jan. 4-10, 2012

U.S. Census Bureau, American Fact Finder, General Housing Characteristics: 2010

U.S. Census Bureau, American Fact Finder, General Housing Characteristics: 2000

U.S. Census Bureau, Residential Vacancies and Homeownership in the Third Quarter 2011, Nov. 2, 1011

Interview with Census Bureau statistician Melissa Kresin
Browse the Truth-O-Meter
More by Sabrina Eaton
Support independent fact-checking.
Become a member!
In a world of wild talk and fake news, help us stand up for the facts.