Get PolitiFact in your inbox.
The proposed Keystone XL oil pipeline is a bipartisan proposal.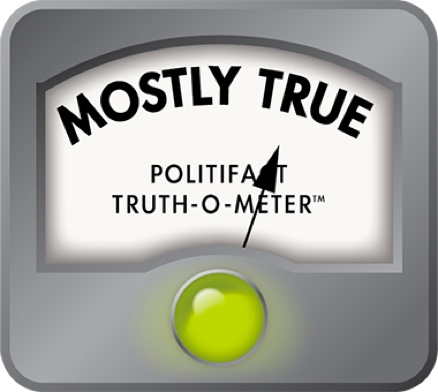 How bipartisan is support for the Keystone XL oil pipeline?
The major party candidates in the 1st Congressional District are on opposite sides of whether President Barack Obama should approve the building of a massive oil pipeline project from Canada to Texas.

Democrat Suzanne Bonamici is opposed; she worries about the environmental impact. Republican Rob Cornilles is supportive; he said in last week's televised debate, about halfway throughthe program, that the project has bipartisan support.

"I do support the Keystone Pipeline. It's a bipartisan proposal. Democrats and Republicans alike in Congress want this to move forward, because it's not only a job creator, it's also a way for us to responsibly manage how that oil is transferred from Canada to Mexico.

Does the pipeline have bipartisan support?

Much of the really vocal support for this project comes from Republicans. Democrats, not so much, although there are some who want the project. Environmentalists are opposed while labor's AFL-CIO has decided not to take a formal position.

Senate Democrats who like the project are Max Baucus D-Mont., Jon Tester D-Mont., Mary Landrieu D-La., Mark Pryor, D-Ark., and Mark Begich, D-Alaska, Claire McCaskill, D-Mo., and Kent Conrad, D-N.D.  

We queried our delegation. Sens. Ron Wyden and Jeff Merkley are opposed. Rep. Earl Blumenauer was among 32 House Democrats who sent a letter urging the State Department
to reject the route. Schrader is opposed to the expedited process, but not necessarily against — or for — the project.
   
We don't think the support of one Democrat or one Republican makes a proposal bipartisan,
but it's clear some Democrats are on board with the project. If we had to picture a bipartisan meter, the needle probably would surpass the halfway mark but fall short of 75 percent.

We rule the statement Mostly True: Requiring clarification that Democrats who are opposed are really opposed.
KGW/The Oregonian 1st Congressional District debate (video), Jan. 10, 2012
National Public Radio, "Keystone Oil Pipeline Deadline Puts Obama In A Pinch," Jan. 4, 2012
Chicago Tribune, Reuters, "Republicans hope for 'yes' on Keystone, prepare for 'no,'" Jan. 11, 2012
Politico, "Keystone XL Pipeline vote getting pre-spun," Dec. 16, 2011
The Hill, "Pro-Keystone Senate Democrats push House to approve payroll-tax bill," Dec. 19, 2011
The Hill, "AFL-CIO divided on Keystone pipeline," Jan. 12, 2012
Corvallis Gazette-Times, "Merkley voices constituents' concerns over shaky economy," Jan. 12, 2012
Email from Tom Towslee, Wyden's office, Jan. 12, 2012
Interview with Paul Gage, Schrader's office, Jan. 12, 2012
Rep. Earl Blumenauer, "Blumenauer, 32 House Dems to State Department: Reject Keystone XL Pipeline Route," Oct. 17, 2011
Email from Jamal Raad, Merkley's office, Jan. 13, 2012
Browse the Truth-O-Meter
More by Janie Har
Support independent fact-checking.
Become a member!
In a world of wild talk and fake news, help us stand up for the facts.