Get PolitiFact in your inbox.
Suzanne Bonamici supports a plan that will cut choice for Medicare Advantage seniors.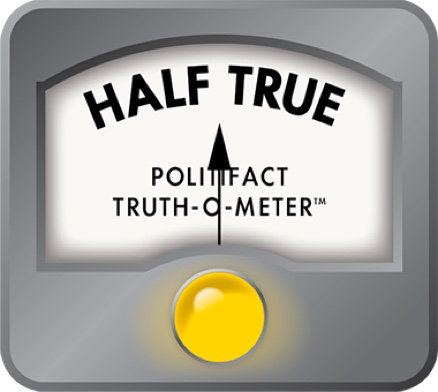 Does Suzanne Bonamici support a plan that reduces choice for Medicare Advantage seniors?
Republican Rob Cornilles continues his attack on Democrat Suzanne Bonamici, claiming once again this week on Think Out Loud that her support of President Obama's 2010 health care reform act means that she supports cuts to seniors on Medicare and Medicare Advantage.

"…She supports taking $500 billion away from Medicare. I don't support that. It would largely affect those seniors who are on Medicare Advantage, which is about a quarter of a million Oregon seniors. They've chosen that option. I want to maintain they have that choice. She does not."  

Cornilles and Republicans nationally have refused to back off their erroneous claim that Obama's Affordable Care Act cuts $500 billion from Medicare. As we reported in November 2011 and in October 2010, the act reduces Medicare spending by $500 billion over the next 10 years.

But those dollars don't come out of the current budget, they are not actual cuts, and nowhere does the bill actually eliminate any current benefits. As PolitiFact Oregon's Ryan Kost reported: "The $500 billion is all in future spending reductions and come through the law's attempts to slow projected growth, not cut spending."

An initially estimated $136 billion of the $500 billion in future savings is to come from Medicare Advantage. What is Medicare Advantage? Let's back up for a moment. Every person 65 or older gets what's called original Medicare or traditional Medicare. It consists of Part A, which covers hospital care, and Part B, which covers doctor visits. You can get these services from any provider who sees Medicare patients. Part A is free; Part B premiums usually come out of your Social Security check.

Some private insurers also offer what's called Medicare Advantage, Part C, where seniors can pay an extra monthly premium for services not covered by plain Medicare A and B, such as vision, hearing and dental. Often, these plans will include Part D, which is the prescription drug plan pushed by then President George W. Bush in 2003.

Some seniors prefer Medicare Advantage plans because they are comprehensive, with all billing through one entity, said Joe Baker, president of the nonpartisan advocacy group Medicare Rights Center. Other seniors might prefer traditional Medicare because they travel a lot and don't stick to one region, or they want services that aren't covered by advantage plans.

"There are trade-offs with both," Baker said.

Now, why would Congress want to reduce future growth in Medicare Advantage spending? Because it's considered bloated. As the Kaiser Family Foundation reported in a 2010 video primer, Congress in previous years had increased payments to private insurers who offer Medicare Advantage plans in order to increase enrollment in those plans. Insurers used that extra money to offer more benefits to those people, such as vision and dental care.

"However, as a result of this payment system Medicare actually pays more for beneficiaries who enroll in Medicare Advantage plans than it pays for beneficiaries in traditional Medicare," says Tricia Neuman, a vice president  of the Kaiser Foundation and director of the Medicare Policy Project.

"This has increased costs to the Medicare program. These over-payments also contribute to Medicare's fiscal problems, shortening the life of the Medicare trust fund and actually increasing payments paid by other beneficiaries."

(Kaiser Health News reported in December 2011 that according to the Medicare Payment Advisory Commission, the government spent in 2011 "10 percent more for beneficiaries enrolled in (Medicare Advantage) plans than if those beneficiaries were in fee-for-service Medicare.")

Ah-ha! So private insurers are making out nicely off of Medicare Advantage plans, leaving traditional Medicare recipients to pick up the slack. We can see why government would want reform.

Mary Anne Ostrom, Cornilles' campaign manager, says that's besides the point. Bonamici supports the Affordable Care Act. Ostrom says that means Bonamici supports eliminating choice for seniors.

"Whether services are cut, contracts terminated or out-of-pocket expenses grow unaffordable, it is completely reasonable to suggest that when people must drop from a plan they like, they are forced out. A $900-a-year increase in out-of-pocket costs would be considered unaffordable by many seniors. They have no choice," Ostrom said in an email to PolitiFact Oregon in November 2011.

Is Ostrom correct on that front?

Richard S. Foster, chief actuary of the Centers for Medicare and Medicaid Services, projected in an April 2010 memo that "[t]he new provisions will generally reduce (Medicare Advantage) rebates to plans and thereby result in less generous benefit packages." He estimated that by 2017, enrollment will be 7.4 million rather than the originally projected 14.8 million. (As of September 2011, 11.9 million were enrolled.)

A follow-up from Foster, as posted to the U.S. Senate Committee on Finance website in October 2010, states that out-of-pocket costs for Medicare Advantage beneficiaries should grow to $873 a year by 2019.

Yet, the Kaiser Family Foundation cautions against sweeping predictions inits October 2010 report: "The HHS Actuaries predict a decline in enrollment between 2011 and 2019, and an erosion of extra benefits. However, such predictions are difficult, and at the present time, Medicare Advantage appears to remain an important part of the Medicare program."

It turns out that enrollment in Medicare Advantage plans increased 6 percent from from 2010 to 2011, according to the Government Accountability Office. Enrollment was projected to increase again in 2012 and average premiums decrease.

In the past we gave Cornilles a False for perpetuating the inaccurate statement that Bonamici and other Democrats support $500 billion in cuts to Medicare, hurting seniors. Here, however, he's making a more specific point about seniors on Medicare Advantage.

It's hard to know what will happen to Medicare Advantage, but it's undeniable that reduced payments to insurers could result in higher costs or decreased benefits for seniors. We acknowledge that truth in the statement.

Still, there's significant information missing. The Affordable Care Act was designed to save money by slowing future spending, including future spending on Medicare Advantage plans. But spending still goes up. In addition, many outside factors can affect the cost and range of benefits, making it impossible to know how Medicare Advantage might change.

While the statement from Cornilles is partially accurate, it is taken out of context and ignores important details on a politically volatile subject. We rate the statement Half True.
The Oregonian, "Your guide to Medicare decision time, one month early," Oct. 8, 2011
The Oregonian, "Medicare Advantage plan ratings out: Kaiser Permanente gets highest rating in Portland area," Oct. 12, 2011
U.S. Government Accountability Office, "Enrollment Increased from 2010 to 2011 while Premiums Decreased and Benefit Packages Were Stable," Oct. 31, 2011
Kaiser Health News, "Enrollment Still Growing In Medicare Advantage Plans, GAO Says," Dec.1, 2011
Kaiser Family Foundation, "Health Reform and Medicare: Overview of Key Provisions," July 2010
Kaiser Family Foundation, "MEDICARE ADVANTAGE 2011 DATA SPOTLIGHT," October 2010
Kaiser Family Foundation, "MEDICARE ADVANTAGE Fact Sheet," November 2011
Kaiser Family Foundation, "MEDICARE ADVANTAGE 2012 SPOTLIGHT: PLAN AVAILABILITY AND PREMIUMS," November 2011
PolitiFact Oregon, "Another look at a favorite Republican talking point," Nov. 14, 2011
PolitiFact, "Romney says only Obama has cut Medicare," Dec. 12, 2011
NPR.org, "History Shows Medicare Can Be Cut While Sparing Beneficiaries," July 22, 2011
Reuters, "Q+A: How does healthcare overhaul affect Medicare?" March 22, 2010
Medicare.gov, The Official U.S. Government Site for Medicare
AARP, "Medicare Education Hub"
Medicare Rights Center, http://www.medicarerights.org/
Interview with Joe Baker, president Medicare Rights Center, Jan. 19, 2012
Email from Mary Ann Ostrom, Nov. 17, 2011
Interview with Mary Anne Ostrom, Cornilles' campaign manager, Jan. 19, 2012
Emails from Carol Butler, Bonamici's campaign manager, Jan. 20, 2012
U.S. Senate Committee on Finance, "Actuary's Analysis Shows Medicare Advantage Beneficiary Costs Going Up Under Health Overhaul," Oct. 13, 2010
U.S. Department of Health & Human Services, Office of the Actuary, "Estimated financial effects …" April 22, 2010
U.S. Department of Health & Human Services, "Medicare Advantage & the Affordable Care Act"
U.S. Department of Health & Human Services, "2012 Medicare Advantage premiums fall and projected enrollment rises," Sept. 15, 2011
Rob Cornilles, speech, Nov. 9, 2011 Oregon Public Broadcasting, Think Out Loud, "Candidate conversation: 1st Congressional District," Jan. 17, 2012
Browse the Truth-O-Meter
More by Janie Har
Support independent fact-checking.
Become a member!
In a world of wild talk and fake news, help us stand up for the facts.