Stand up for the facts!
Our only agenda is to publish the truth so you can be an informed participant in democracy.
We need your help.
I would like to contribute
"My opponent, in 2008, had contributions investigated by the federal government."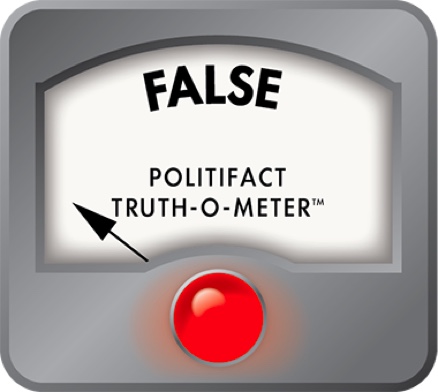 Jim Renacci says a government investigation targeted contributions to election foe Betty Sutton
Attacking a political rival when one of their donors runs into trouble is a campaign tactic that's as old as dirt.

Republican Rep. Jim Renacci tossed plenty of that dirt two years ago when the incumbent Democrat he defeated, former Rep. John Boccieri of Alliance, hung onto campaign cash he got from veteran New York Democratic Rep. Charles Rangel after the House Ethics Committee chided Rangel for taking a Congressional Black Caucus trip that was improperly funded by corporations.

"As if John Boccieri's voting record isn't troubling enough, the fact that his campaign coffers have been fueled by the fruits of Washington's culture of corruption raises further questions about his judgement and his ethics," said a March 1, 2010 statement from Renacci's campaign.

Similar attacks have been leveled at Renacci since a May 18 article in The New Republic revealed that federal law enforcement authorities were examining donations that Renacci's campaign got from employees of a North Canton direct marketing firm called Suarez Corporation Industries.

Federal agents sought contribution records from  the campaigns of Renacci and GOP U.S. Senate candidate Josh Mandel after the Toledo Blade published a report about large donations Suarez employees made to the two campaigns.

Wealthy political donors sometimes try to skirt limits on the amount they can give campaigns by having other people write checks and reimbursing them. That practice is illegal. The company and its employees deny any wrongdoing, as do the political campaigns. Mandel subsequently returned the money.
But Renacci held on to the cash, pending the investigation's outcome, and that has prompted the same sort of attacks as this year's election looms that Renacci directed at Boccieri two years ago.

"Since news broke that over $100,000 in questionable donations to Congressman Jim Renacci's re-election campaign are the focus of a federal investigation, Jim Renacci has yet to do the right thing and return or donate them," says a notice on the campaign website of Renacci's Democratic election rival, Rep. Betty Sutton of Coply Township, near Akron..

Renacci was queried about the controversy at a June 14 town hall meeting in Rocky River. He responded with an attack against Sutton: "My opponent, in 2008, had contributions investigated by the federal government."

Sutton, he said, "kept them for two years until there was a final decision made, and then she returned them."

PolitiFact Ohio wasn't aware that the federal government had investigated political contributions that Sutton received, so we asked Renacci's campaign to explain his assertion.

Campaign spokesman James Slepian said the congressman misspoke, and that he instead meant to reference a past investigation into Rangel, her campaign donor. Slepian said Renacci accidentally referred to Sutton's campaign "contributions" rather than using the word "donor."

"When he said 'contributions' under investigation in reference to Sutton, what he clearly meant to say was 'donor' under federal investigation," said an email from Slepian. "As you know, Jim has issued numerous statements to the press (including The Plain Dealer) that one of Sutton's donors was under investigation for two years and that he is following the same course she took by waiting for the outcome of the investigation before deciding whether or not to return the donations. That is what he was trying to communicate."

Slepian also blasted Sutton and the Democratic Congressional Campaign Committee, the campaign arm of House of Representatives' Democrats, for stating that Renacci himself is under investigation by the Federal Bureau of Investigation. The DCCC made that claim in a June 1 press release. PolitiFact Ohio rated that it False after the head of the FBI's Canton office debunked the accusation.

Sutton was among dozens of Democratic office holders to whom Rangel donated money. It is true that allegations about Rangel began to surface in 2008, when The New York Times ran a series of articles about Rangel that suggested irregularities.

Allegations in those articles included abuse of  rent-stabilized apartments and failure to report $75,000 in income, as well as his protection of a tax loophole that favored one of his donors. Within a week of the House Ethics Committee's Feb. 25, 2010, report on Rangel's improper junket, Sutton announced that she was giving the $7,000 she got from Rangel to charity. Sutton subsequently called on Rangel to resign from the House of Representatives.

Slepian says Renacci's decision to wait until the FBI probe is complete before deciding whether to get rid of the the Suarez money parallels Sutton's decision to wait. But does it?

The Rangel conduct under investigation had nothing to do with Sutton or the donations Rangel made to her campaign. The FBI's investigation specifically involves donations made to Renacci.

Also, Rangel was being probed by the House Ethics Committee for violating House of Representative rules. The FBI is probing donations to Renacci as potential crimes.

And the amounts of money involved are significantly different: $7,000 from Rangel to Sutton's campaign; more than $100,000 from Suarez employees to Renacci's campaign. Data compiled by the nonpartisan Center for Responsive Politics says Suarez is Renacci's biggest political donor.

Regardless, the claim on the Truth-O-Meter is Renacci's statement to the town hall audience that "my opponent, in 2008, had contributions investigated by the federal government."

PolitiFact Ohio doesn't play "gotcha" games. To their credit, the folks in the Renacci camp acknowledged he provided incorrect information to the crowd in Rocky River.

But to those in attendance, the information they have to go on is what Renacci told them that night. That's why the comment merits a check from PolitiFact Ohio.

On the Truth-O-Meter, Renacci's statement rates False.
U.S. House of Representatives Committee on Standards of Official Conduct, Investigation into officially connected travel of House members to attend the Carib News Foundation Multi-National Business Conferences in 2007 and 2008, February 25, 2010

The New Republic, The Battleground, May 18, 2012

Toledo Blade, Canton firm's workers making unusual donations, August 19, 2011

Democratic Congressional Campaign Committee press release, "Congressman Jim Renacci Named as "Corrupt Republican of the Month," June 1, 2012

Democratic Congressional Campaign Committee website, "Republican House of Scandal," accessed June 18, 2012

The Plain Dealer, Justice Department probing campaign donations to Rep. Jim Renacci, U.S. Senate candidate Josh Mandel, May 21, 2012

Canton Repository, FBI probes Suarez employees' campaign contributions, May 21, 2012

Canton Repository, Suarez: FBI agents 'terrorizing' employees, May 24, 2012

The Plain Dealer, U.S. Senate Candidate Josh Mandel returns $105,000 in questionable campaign contributions to 21 donors, May 23, 2012

Notice on the website of Betty Sutton for Congress, Tell Jim Renacci to return or donate questionable donations, accessed June 18, 2012

Jim Renacci for Congress, news release "Boccieri campaign cash tainted by corruption, Renacci campaign calls on Boccieri to return Rangel's dirty money," March 1, 2010

Jim Renacci for Congress, news release "Despite ethics violations, Boccieri refuses to part with Rangel cash," July 26, 2010

Press release from Jim Renacci for Congress, "Boccieri's base of corruption broadens, while refusing to return Rangel's money, another Boccieri financial backer indicted," August 2, 2010

The Plain Dealer, Rep. Charles Rangel's ethics charges fuel political charges in Ohio, July 29, 2010

The New York Times, For Rangel, four rent-stabilized apartments, July 11, 2008

The New York Times, Rangel failed to report $75,000 in income, September 5, 2008

The New York Times, The Congressman, the donor, and the tax break, November 24, 2008

The Plain Dealer, Rep Betty Sutton will give Rangel donations to local charities, March 2, 2010

Emails with Renacci spokesman James Slepian, June 15, 2012

Interview with Andrew Hayden, Supervisory special agent of Canton's FBI office, June 18, 2012

Opensecrets.org, webpage on Rep. Jim Renacci, accessed June 19, 2012
Browse the Truth-O-Meter
More by Sabrina Eaton
Support independent fact-checking.
Become a member!
In a world of wild talk and fake news, help us stand up for the facts.