Stand up for the facts!
Our only agenda is to publish the truth so you can be an informed participant in democracy.
We need your help.
I would like to contribute
Says Josh Mandel's campaign is under FBI investigation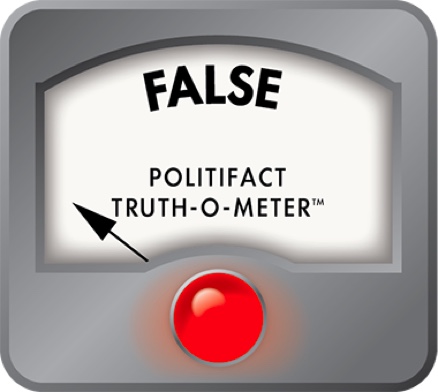 Workers' Voice says Josh Mandel faces FBI investigation
Josh Mandel's campaign is not under FBI investigation.

But Democrats, labor unions and their allies keep suggesting the Ohio treasurer is.

The latest comes from a "super PAC" affiliated with the AFL-CIO, called Workers' Voice. The AFL-CIO helped form the political committee and administers it from its headquarters in Washington with donations from member unions and supporters, according to records it filed with the Federal Election Commission as well as press reports.

The PAC spends money on political advocacy ads, such as a recent online ad that said that Mandel, a Republican running for U.S. Senate, is under investigation for shady campaign practices.

Specifically, Workers' Voice on June 19 announced it was spending $100,000 for an ad appearing on Cleveland.com (the online home of The Plain Dealer), the Akron Beacon Journal's website, Google and Twitter. The ad was a spoof on Nike's ad featuring LeBron James, which carried the theme, "We are all witnesses."

The anti-Mandel ad's title was, "Witness the Mandel investigation."

This was a reference to an investigation of donations that employees of a North Canton direct marketing company made to Mandel's campaign to unseat incumbent U.S. Sen. Sherrod Brown, a Democrat. The ad says people should ask that Mandel "come clean on campaign cash," and the ad asks: "When did Josh Mandel know his campaign was being investigated by the FBI?"

The problem here? Mandel's campaign is not being investigated by the FBI. The FBI specifically told us this.

Rather, the FBI is investigating employees of Suarez Corporation Industries who gave donations to Mandel totaling $105,000, and to U.S. Rep. Jim Renacci. PolitiFact Ohio separately addressed the same claim when the Democratic Congressional Campaign Committee made it against Renacci, and ruled it was False.

The size, number and timing of donations to Mandel from Suarez employees on June 2, 2011, caught the attention of Democrats and reporters last summer. They wondered whether the employees could really afford the donations and if the employer had actually supplied the money and used his workers to hide that fact. If so, it would violate federal campaign finance laws that limit the size of donations and require the true identity of each donor.

Suarez and his employees have denied wrongdoing.  The Toledo Blade first reported on the contributions in August 2011.

Facing ongoing criticism from Democrats, Mandel in May returned the donations, citing an abundance of caution. Critics say Mandel's campaign should have suspected the donors might be in violation of the law when it first received the checks.

That's an assertion of judgment. PolitiFact Ohio is interested in assertion of fact.

Is Mandel under FBI investigation?

"No," Andrew Hayden, the supervisory senior resident agent of the FBI's Canton office, told us on June 21.  "He is not and he has not been. What we're looking at is contributions to both campaigns from employees of the Suarez Corporation. Neither the Mandel campaign nor the Renacci campaign are under investigation."

Brown, the incumbent senator, came close to making the same claim as in the Workers' Voice ad, but he caught and seemingly corrected himself. In an interview with Findlay, Ohio, radio station WFIN-AM on June 21, Brown said of Mandel: "He is under FBI investigation," then quickly added, "or his campaign contributions are under FBI investigation."

Even that milder assertion suggests Mandel is implicated. But you could tie yourself up in knots over Brown's phrasing, whereas Workers' Voice left no room for even that.

While the ad states in one part that the FBI is investigating donations to the Mandel campaign, it then asks: "When did Josh Mandel know his campaign was being investigated by the FBI?"

And it had the title, "Witness the Mandel investigation."

We sent AFL-CIO spokesman Michael Gillis an email to ask about the wording. He replied, "Any contribution includes a contributor and a recipient. Josh Mandel's campaign was the recipient, and is therefore being investigated by the FBI as a party in that transaction."

The FBI presumably knows whom or what it is investigating, and was clear on this. It is not investigating Mandel.

To say otherwise is False. 
Workers' Voice, web ad "Witness the Mandel investigation," June 19, 2012

Email and telephone exchange with ALF-CIO spokesman Michael Gillis, June 21-22, 2012

Telephone interview with Andrew Hayden, FBI Canton office, June 21, 2012

Workers' Voice, statement of organization and reports of receipts and disbursements filed with Federal Election Commission, accessed June 22, 2012

WFIN-AM, radio clip from Sen. Sherrod Brown interview, June 21, 2012

Los Angeles Times, "AFL-CIO formers a 'super PAC' focused on union organization," by Melanie Mason, April 12, 2012

PolitiFact Ohio, "DCCC claims FBI is investigating Jim Renacci over campaign donations," June 21, 2012

Toledo Blade, "Canton firm's workers making unusual donations," by Tony Cook, Aug. 19, 2011

The Plain Dealer via Cleveland.com, "U.S. Senate candidate Josh Mandel returns $105,000 in questionable campaign donations to 21 donors," by Pat Galbincea, May 23, 2012

The Plain Dealer via Cleveland.com, "AFL-CIO super PAC casts U.S. Senate hopeful Josh Mandel as LeBron James in $100,000 online ad buy," by Henry Gomez, June 19, 2012
Browse the Truth-O-Meter
More by Sabrina Eaton
Support independent fact-checking.
Become a member!
In a world of wild talk and fake news, help us stand up for the facts.